Welcome to Tea and a Sewing Machine's first ever sewalong!
I'm very excited about it and I hope you'll join in.
Over 4 weeks starting on the 1st May, I'll be walking you through sewing the Cherry Blossom Dress.
You'll be drafting your own pattern, but don't worry, I've kept things as simple as possible!
The dress is simple in its construction. The skirt is a circle, made from 4 pieces, and the bodice is in 2 sections. There's an invisible zip in the side seam (there's an easy way of putting zips in if they cause you alarm!), and the raw edges are all finished with bias binding.
The posts will be twice a week, to give everybody a chance without feeling overwhelmed. The steps are all achievable in an evening, or maybe 2 if you don't have much time or you like to space things out a bit with plenty of thinking time and cups of tea!
If you want to join in, the best thing you can do at this stage is to sign up for the emails using the form below.
When you receive the confirmation email, there'll be links to 5 free printables to help you with the sewalong.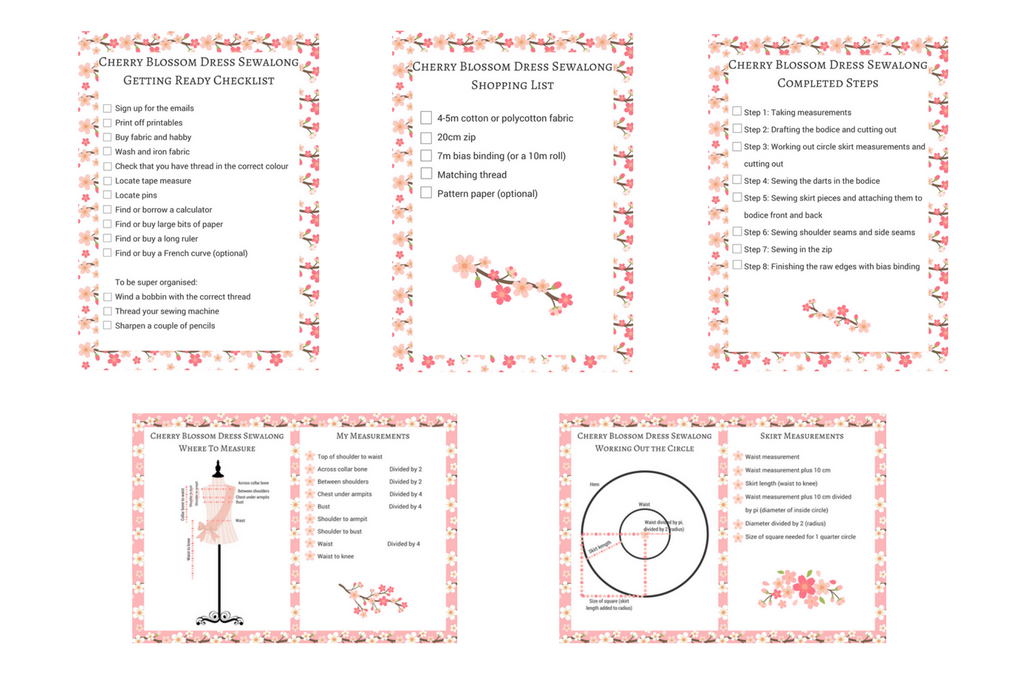 So to get these and a reminder when a sewalong post goes live, please enter your email address below. I promise no spam and your email won't be shared. However you will be added to the newsletter list. If you don't want to receive these, you can unsubscribe at any time.
[chimpy_form forms="35″]