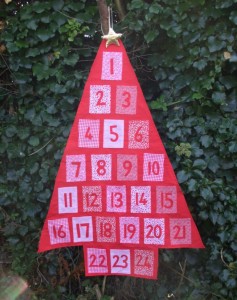 I'm now 39+2 with Boy 4 and he is showing no signs of wanting to make his way into the world. I don't know whether to be annoyed or relieved. I remember how much it hurts but I want it to be over!! Anyway, at least this time the baby's bed is ready for him and is not full of jumpers.
I've been using the time to do some crafting too, of course! Carrying on with the Christmas theme (and using the same fat quarter bundle as for the patchwork star in my previous post) I have made an Advent Calendar. There's lots of inspiration out there, some of it's on my Pinterest Christmas board. The boys usually have a Playmobil Advent Calendar (that's Daddy, not me!), usually stuffed with such Christmas themed things as police and pirates. This year they will have an actual Christmassy Advent Calendar because in each pocket I will put a bit of the Christmas story, some sweeties and a decoration for their own tree.
The calender was easy to make but time consuming. First of all I cut 24 rectangles
measuring 11cm x 14cm. I arranged them on the table to get a sense of how big I would need to make the tree, and also so that I could take a photograph to help me to remember the order I had decided to put them in. Using a ruler and a large piece of greaseproof paper I made a template for the tree.
The next task was the numbers. Using the same polycotton backed with interfacing and some number templates from Craftseller magazine I cut out the numbers then sewed them on to the patches. Next I hemmed the top of each pocket, then folded in the three remaining raw edges, pinned and ironed them.
To prepare the tree, I cut out a piece of interfacing using the paper template I had made earlier and a slightly larger version out of red polycotton. After I had ironed on the interfacing, I hemmed the tree.
My next job was to pin the pockets to the tree and then sew them on. As you can see from the picture, some of them are a bit wonky!! I'm blaming my astigmatism! The very wonky one I corrected, but the others I actually did not notice until I looked at the photograph!
To finish it off I made a star out of a tiny piece of gold lame I had (it became tinier because the first star I made broke. Lame needs interfacing, as I discovered!) and attached a loop of ribbon.
The pockets still need stuffing but I'll save that job until nearer Christmas.
I'm pleased with the results but if I was to make another there are several things I would do to make it quicker as it took a long time to make.
I would use either bondaweb or felt for the numbers and glue them on.
I would use felt for either the pockets, so that they would not need hemming, or the tree, for the same reason, or even both 🙂
Gluing and not hemming would definitely make it quicker.
I've still got lots of crafty tasks to complete! Ideally before the baby comes but that is becoming less and less likely! Tasks include:
Finish painting boys' room (hills and sky, then mural)
Make curtains for boys' room
Make changing bag for baby (I've bought some gorgeous fabric from Fabric Rehab, with houses on it)
Make instructions for patchwork star and list on Etsy
Make instructions for bauble and tree shaped decoration and list those too
Finish knitting dinosaur puppets and sew up
Finish unfinished heart decorations
Phew!! How I get on we will have to see!!