Sewing a Backpack
One of the things I have discovered about being a parent is the sheer amount of stuff you end up carrying about.
When my boys were babies, it was little cups, bibs, nappies, wipes and spare clothes. Now they're older, there's not much less stuff, it's just different stuff! No cups now, but bottles of water, macs, jumpers, post its and pencils (a great distraction if the smaller ones are getting restless!), cameras and assorted rocks, twigs and bus timetables they pick up while we are out.
Last summer, while we were in Germany, my husband was carrying all this stuff about, and it occurred to me that my no longer babies were perfectly capable of carrying this stuff for themselves!
So I came up with a design for an easy backpack.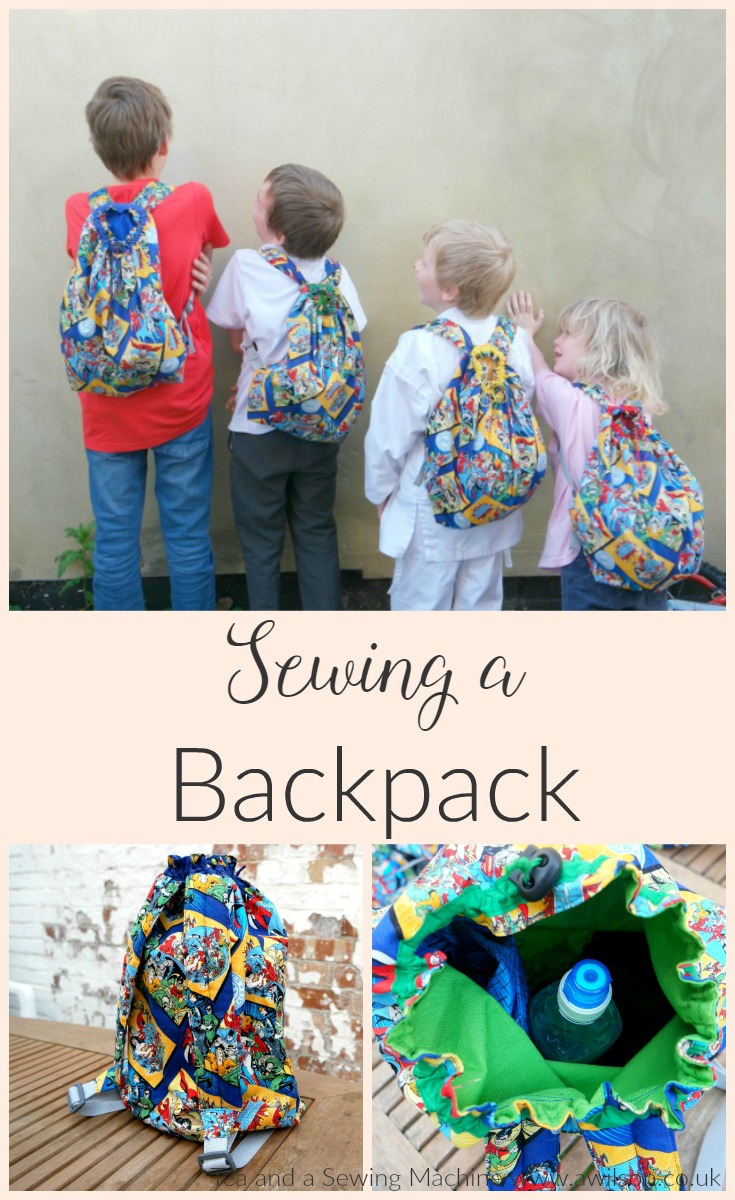 As I was going to need to make 4, I needed them to be easy and quick to make. I also needed them to be big enough and strong enough to hold their clobber, without being too big.
The bag part is very simple. It's 2 rectangles sewn together with boxed corners. The lining is made in the same way, then they are sewn together at the top.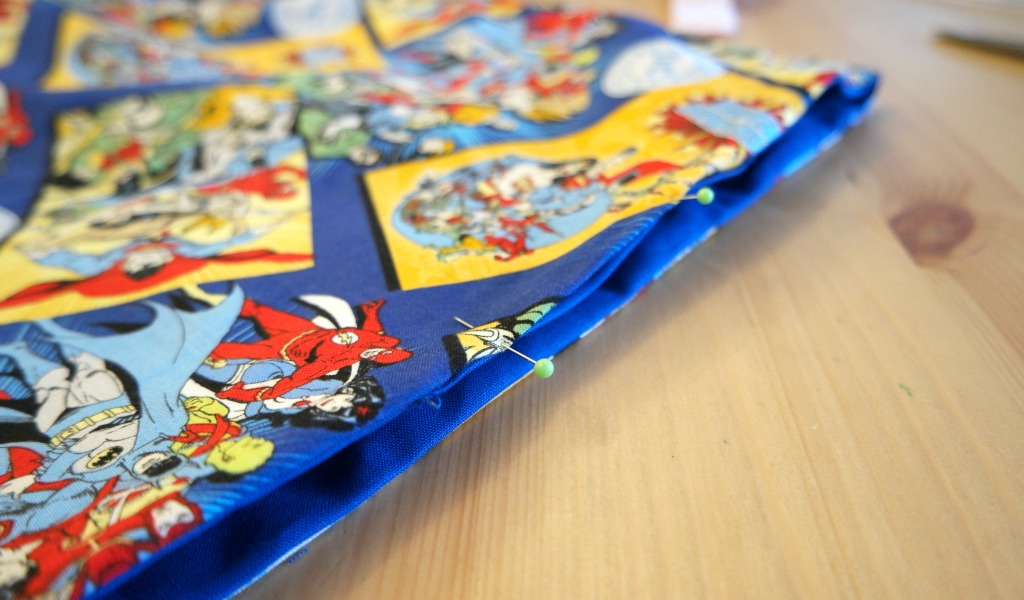 When sewing a backpack, if you use plain fabric or a non directional print. Then you wouldn't even need to cut the rectangles. You could just fold the fabric in half instead.
Once the bag part is made, the casing is sewn to the outside. I used bias binding in the same colour as the lining.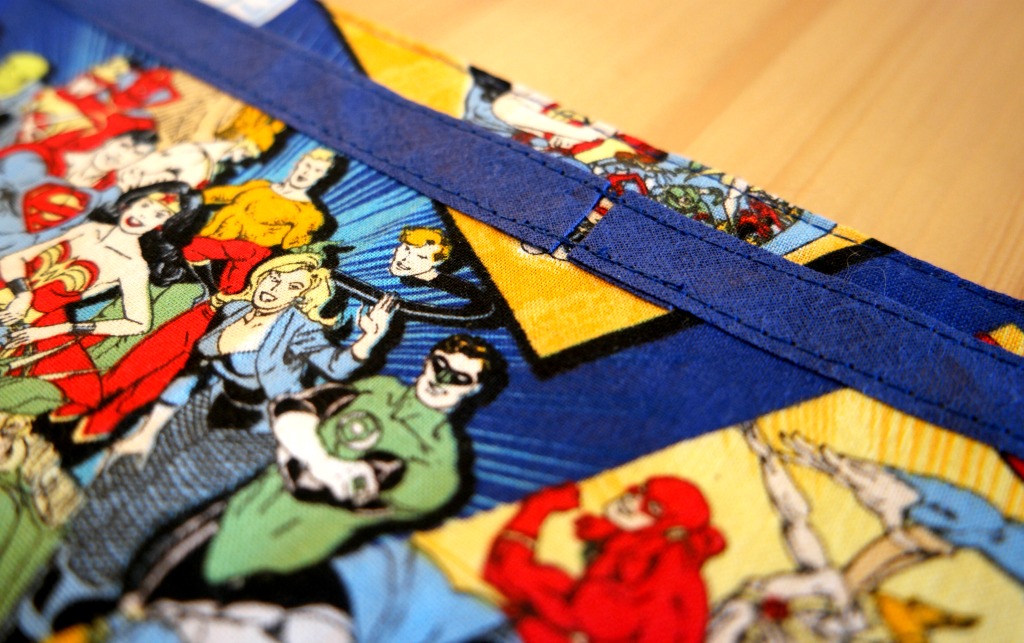 Each bag has a different lining so that the boys know which bag is theirs.
The straps have some wadding in them to make them comfortable to carry. I don't want to end up carrying 4 little back packs! I sewed webbing to the ends of the straps and 2 more pieces of webbing are sewn to the bottom corners.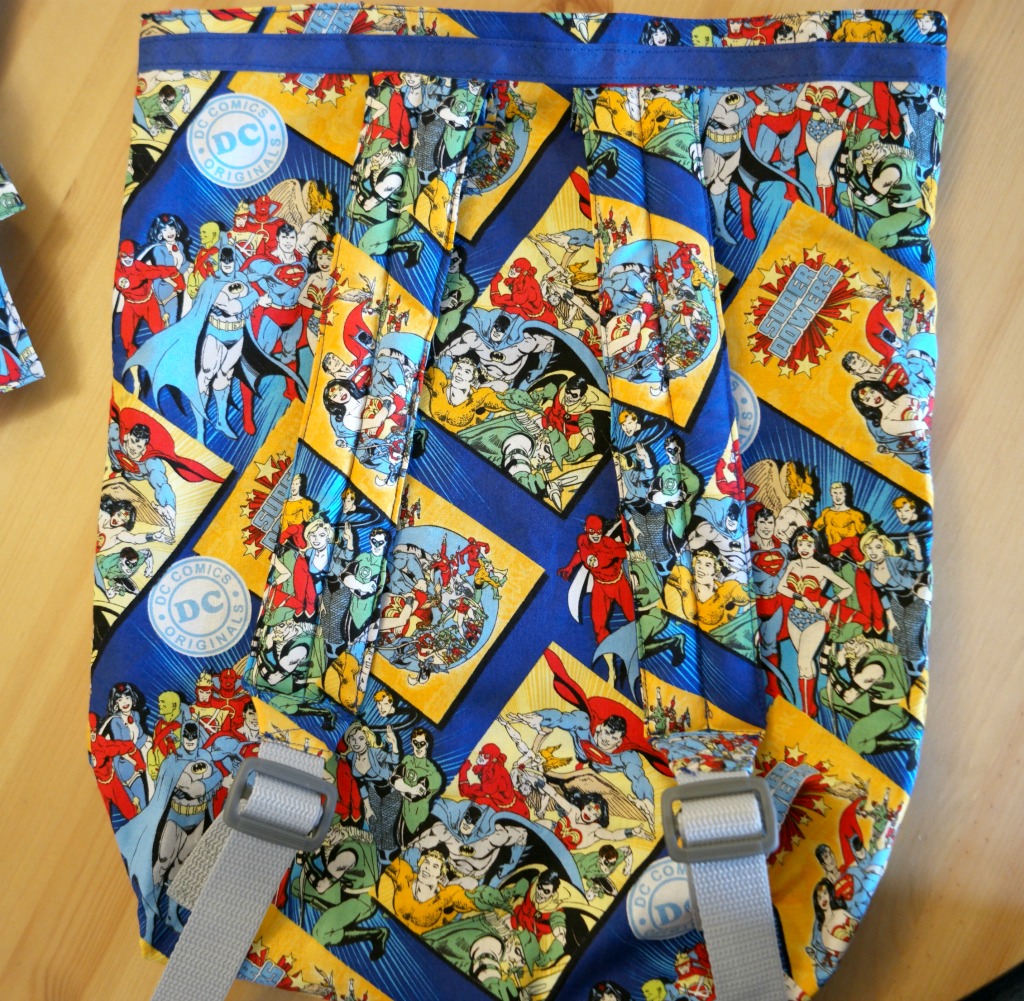 A plastic buckle makes the straps adjustable, so I could make them all the same and then adjust them according to the size of the boy.
To finish them off, I threaded the casing with coloured elastic and added a toggle.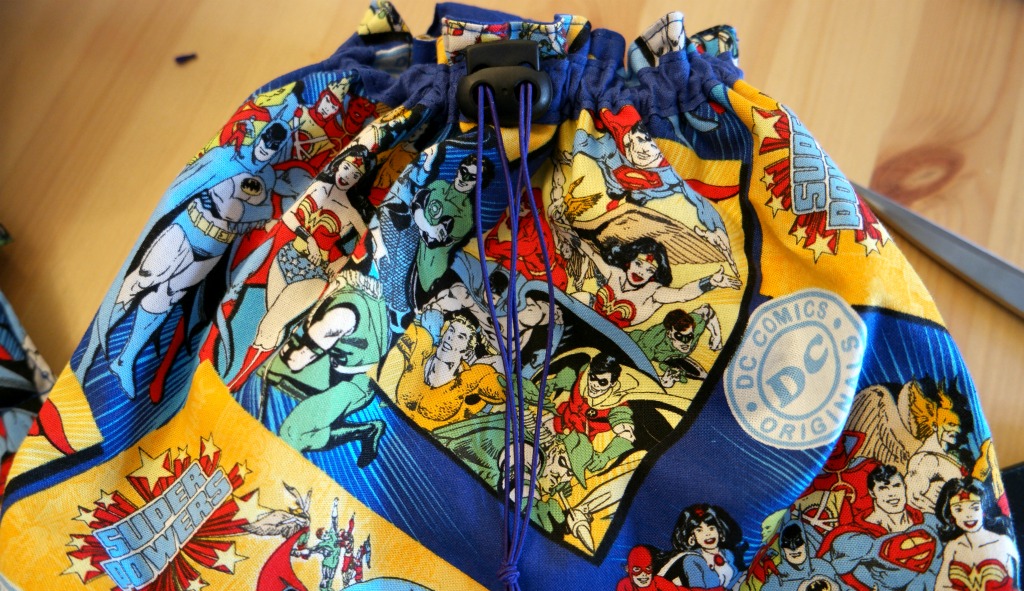 Sewing a backpack is simple and fairly quick to do. However I am ashamed to admit that I although I finished one, the others ended up in the unfinished projects pile. I took my own advice to start with and batched them, but I wanted to get one finished so that I could post the tutorial. So one got finished and the others didn't.
We have had some trips away since, but they were to cold places and at cold times of the year so people were going to be wearing waterproof coats and were unlikely to need bottles of water, so the backpacks stayed unfinished.
Now the warm weather has come back round again and we've got a trip planned to the Peak District. The boys are going to need their macs and things, so I got them out again and I've actually finished them!
When I retrieved them I found that I'd done more on them that I had thought! All I needed to do was sew on the straps and the webbing and thread the elastic through the casing.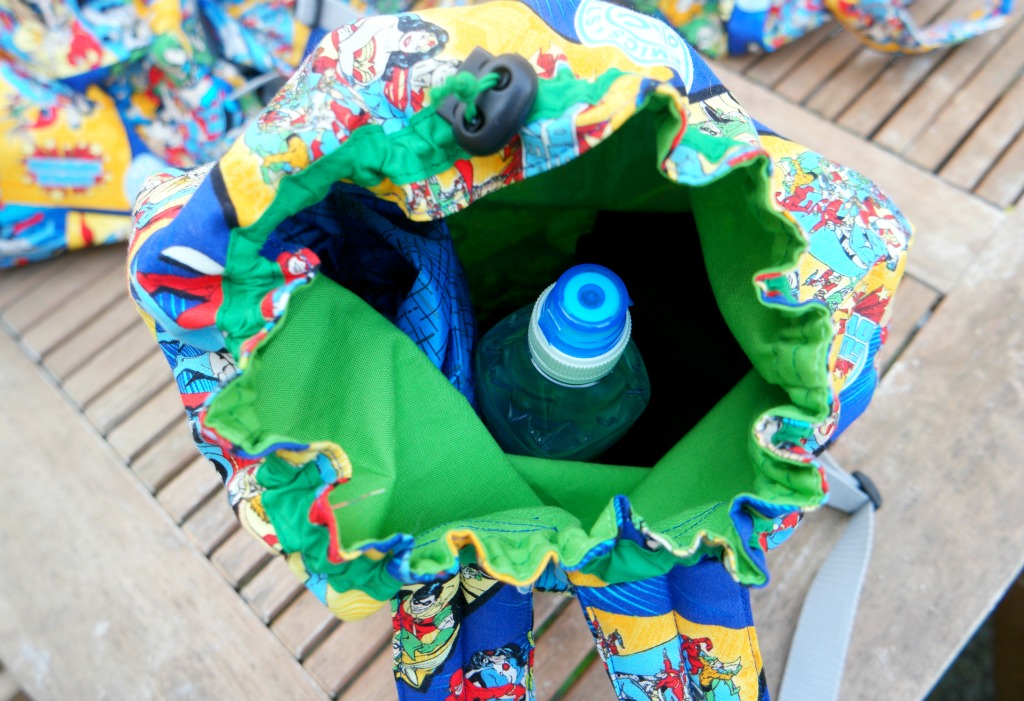 Each boy will have his own bag with his water, camera, mac and micro fleece. They can also carry their own rocks and bus timetables.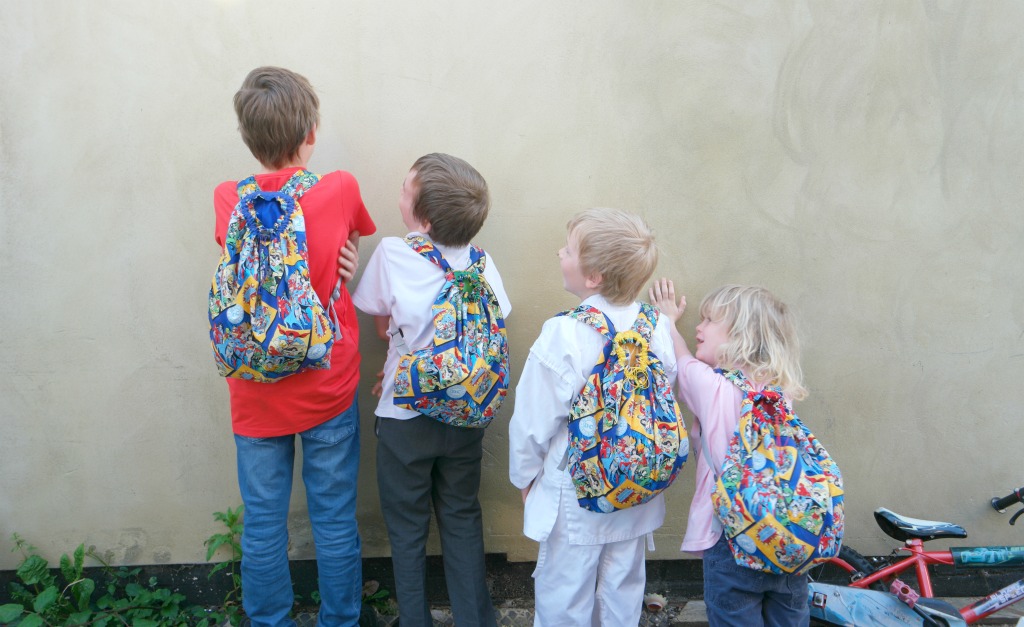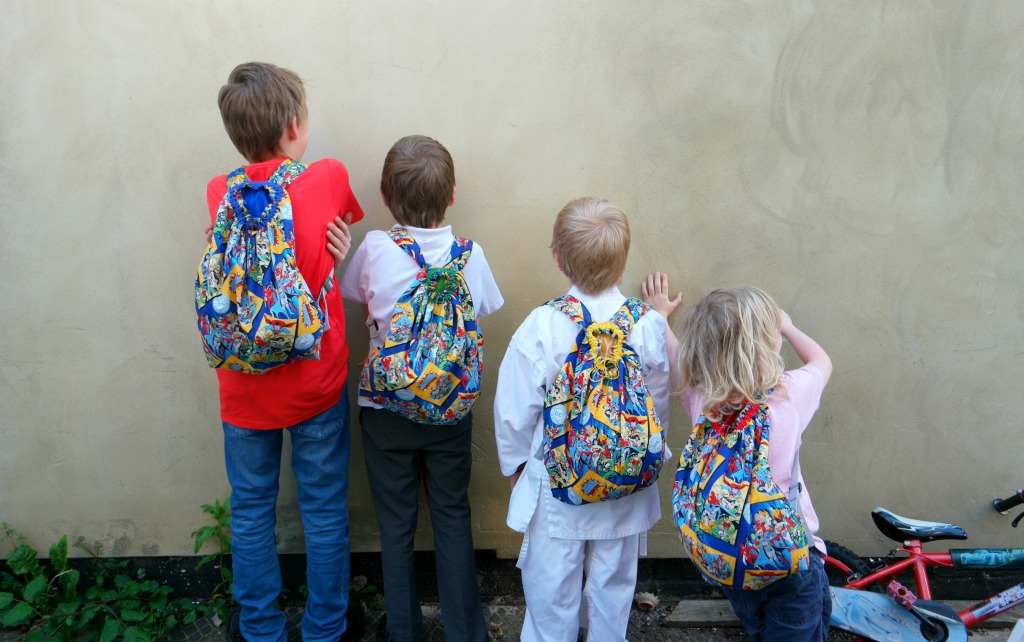 If you want to read the full tutorial for sewing a backpack, you can find it here.
The fabric is fun isn't it?
It came from Minerva Crafts, along with the webbing. These are affiliate links.
Superhero fabric
Linking up here.