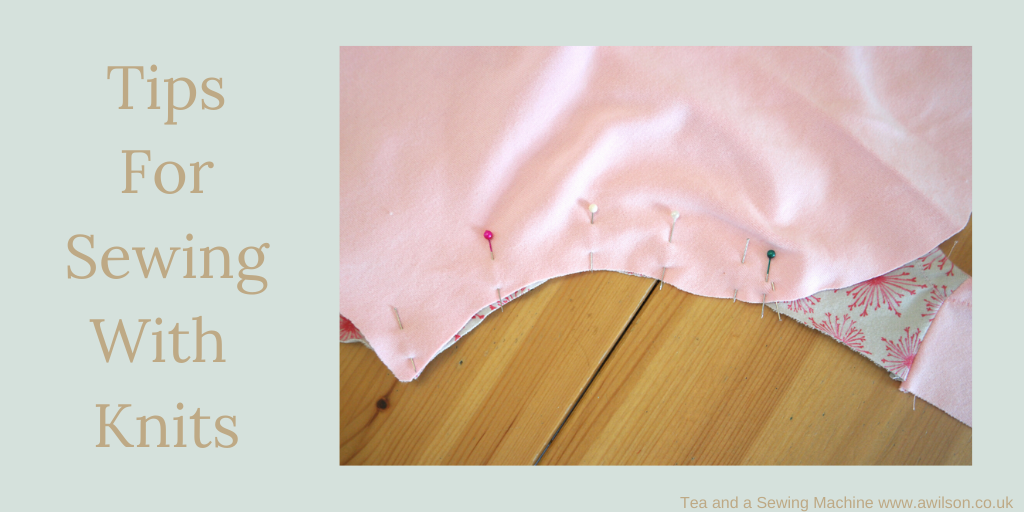 This post contains affiliate links.
Sewing woven fabrics, like cotton and polycotton, is without question easier to sewing with knits. A big part of this is because they don't stretch and they hold their shape. There's no need to faff with the settings on your sewing machine, and no extra skills or knowledge are needed.
So when people first learn to sew, they usually learn with cotton or polycotton.
Sooner or later though, you're going to want to sew with different kinds of fabric, and jersey knits will probably be on the list!
What is a Knit Fabric?
Knit refers to the way in which the fabric has been constructed.
Woven fabrics are made with up and down threads (warp) and side to side threads (weft). These are woven together by passing the weft threads alternately over and under the warp threads.
Knit fabrics are made using a single thread in loops threaded through each other, like knitting.
This is why knits are stretchy and woven fabrics are not.
Knits also have a stretchy element in the fibres they are made from, like lycra or spandex, which also helps to make them stretchy.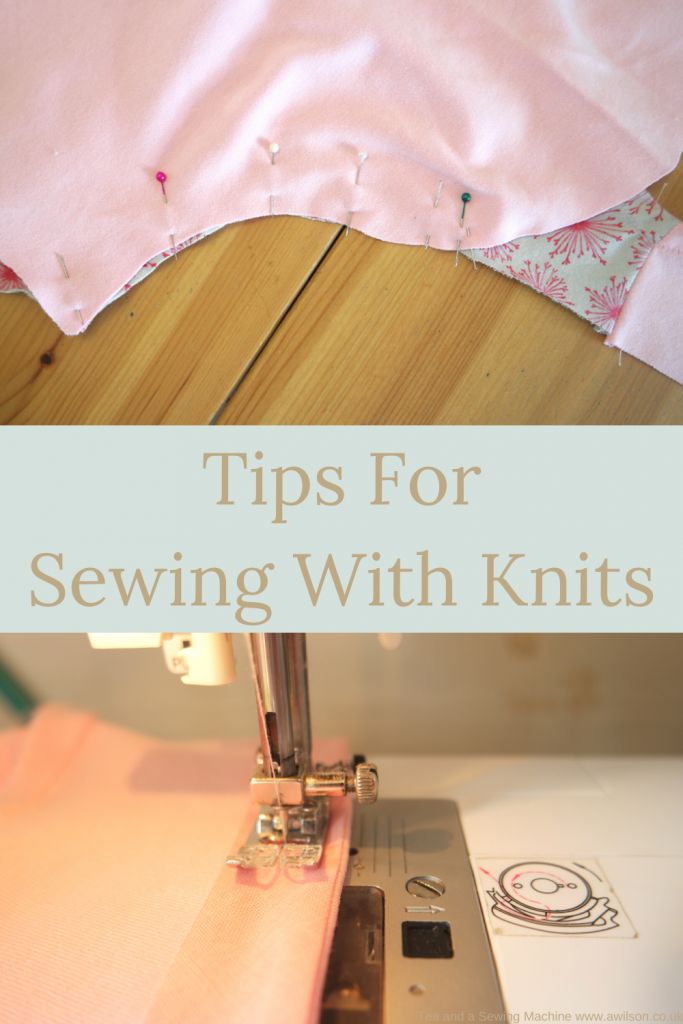 Why Would I Want To Sew With Knits?
There are lots of reasons for sewing with knit fabrics.
Clothes made from jersey often don't need darts and rarely need zips.
You can make all kinds of things with stretchy fabrics, from skirts, tops and dresses to pyjamas and exercise clothes.
There are thicker sorts of jersey, including terry and sweatshirt fabric, which are more suitable for the colder months.
It's very comfortable to wear.
Problems With Sewing With Knits
If you are new to sewing, or if you just haven't tried it, the idea of sewing with jersey knits can be off putting.
How on earth do you sew something that stretches?
What if the edges curl up and make it impossible to sew?
Do I have to do something complicated to my sewing machine in order to sew it?
How do I sew hems without them looking frilly?
How do I use bias binding on this stuff when it doesn't stretch enough?
Fortunately there are few things you can do to make sewing with jersey easier.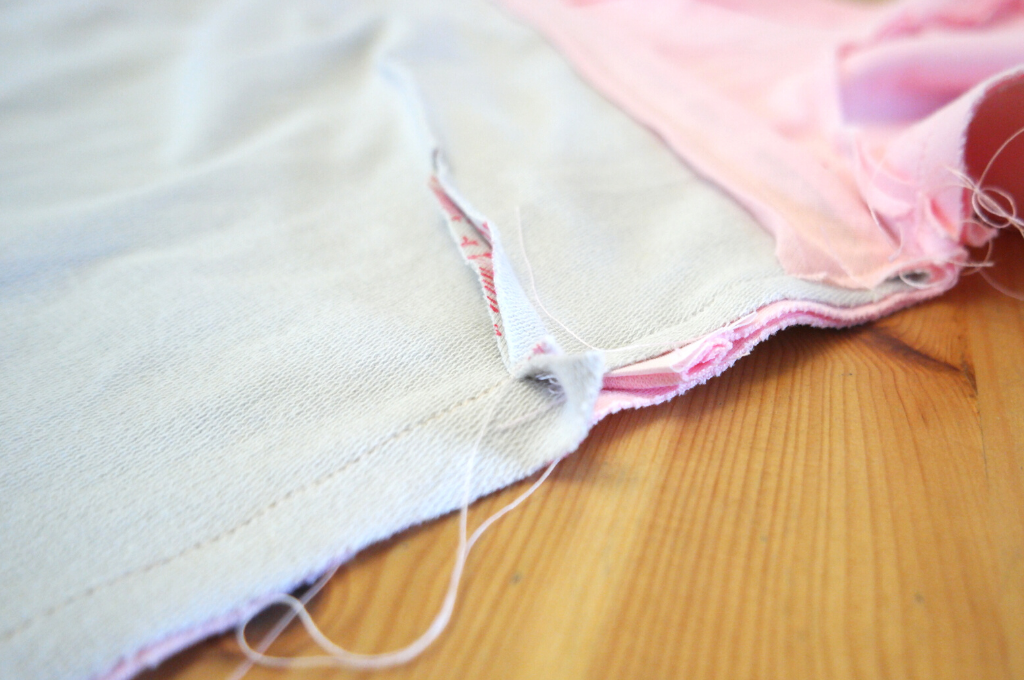 Tips For Sewing With Knits
Choosing Fabric
Use jersey with a two way stretch. Usually this will stretch quite a bit between the selvedges, but won't stretch very much the other way. It's easier to sew fabric that only stretches one way than the kind with a 4 way stretch that will stretch all over the place!
Choose a cotton interlock jersey. Ponte Roma is similiar. It's made using two layers of threads, so it's usually thicker and more stable than other knit fabrics.
Check how much the fabric curls before buying. The thinner and stretchier it is, the more likely it is to curl.
If you buy your fabric from a bricks and mortar shop, check the fabric first. Assistants are often knowledgeable and happy to help, so ask them if you need advice.
When buying fabric online, this is a harder thing to check!
One clue to look out for is the percentage of lycra or spandex compared to the other fibres. The higher the lycra/ spandex content the more likely it is to curl.
If something is very lightweight, it will probably be more to be difficult to sew.
Often you can have samples sent to you if you want to check the fabric before committing to buy, or you could call the shop and have a chat with them before making a decision.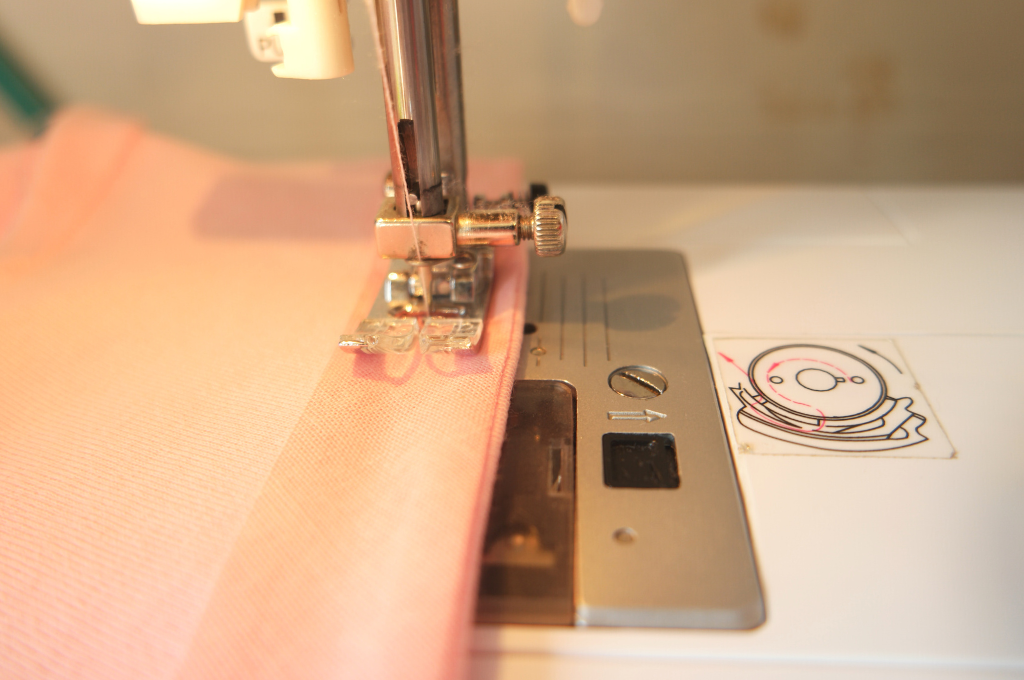 Sewing With Knit Fabrics
Once you've got your fabric, there are things you can do to make sewing it easier.
Use a stitch for knits. Most modern machines have a stitch specifically for knits. If yours doesn't, use a zigzag. This will allow the stitches to stretch with the fabric.
Try using a stretch needle. A universal needle might work perfectly well, but if you find that you're experiencing problems, then try swapping it for a stretch needle.
Try not to pull the fabric through the sewing machine. It can be tempting to do this! But pulling the fabric will cause it to stretch and will result in puckering. If you are tempted to pull it, just guide the fabric from the back.
Use stabilising paper or tape on seams. This stuff dissolves in water, or you can use this which specifically for stabilising seams. Alternatively you can use tissue paper instead. Just slip it underneath when you are sewing and pull it away when you've finished.
If you need to use interfacing, use the kind for knits. Until a couple of years ago, I had no idea that this stuff existed! It allows you to add weight to your fabric where you need to, without losing any of the stretch.
Stay stitch necklines and arm holes. Using a long stitch, sew just inside the seam allowance. Doing this will help to stabilise the fabric when you sew the neckline and the armholes and reduce the chances of them becoming stretched and frilly looking.
If you're finishing the raw edges with bias binding, use stretch bias binding. This was something else I've only discovered quite recently! Regular bias binding does have a stretch to it, but it might not stretch as much as your fabric. Stretch bias binding will stretch with the fabric.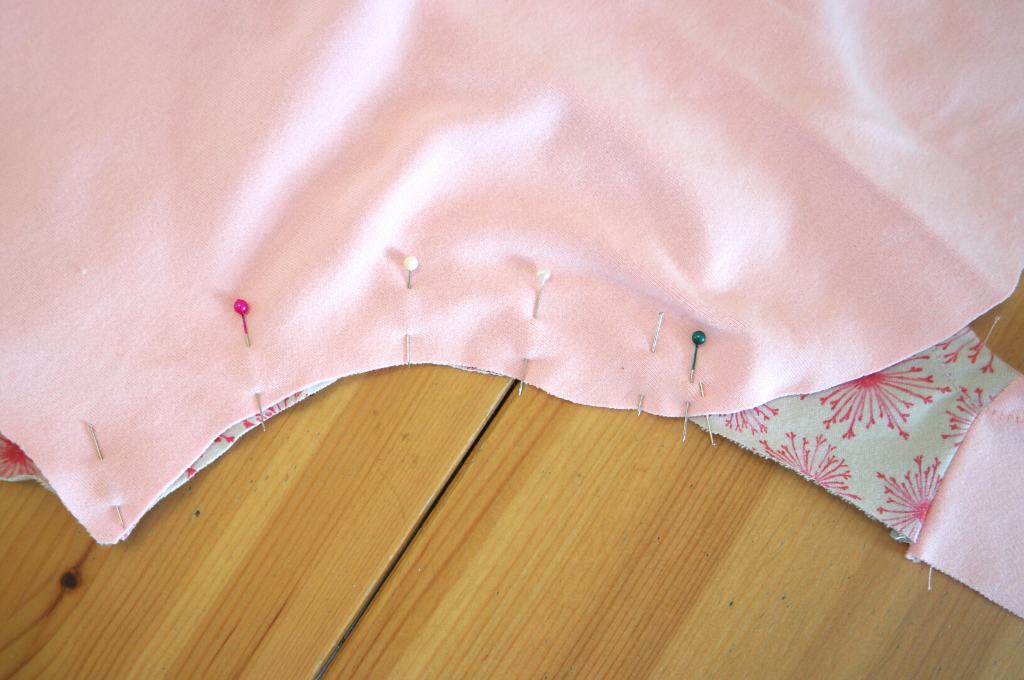 What Next?
Now you've read the tips, the best thing to do is to grab your sewing machine and some stretchy fabric and have a go! Practise first, then when you feel comfy, you might like to try one of these projects that uses stretchy fabric.
This is a tutorial for a half circle skirt made from jersey, so no zip required!
These are instructions for a dress I made from cotton interlock jersey. I wore it a lot and it was as comfy as pyjamas!
There's a link here to an easy tutorial for making tracksuit bottoms for a child.