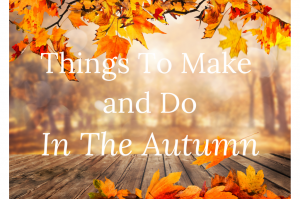 Things To Make and Do in the Autumn is a 70 plus page ebook filled with ideas of things you can do to make the most of this season.
Sections include Things To Do in the Garden, Things to Do at Home, Things to Do in the Kitchen, Things To Do Out of Doors, Other Things to Make, Things To Do For Yourself and Start Planning For Christmas.
The Things To Do in the Kitchen section includes some recipes, and Other Things to Make has instructions for seasonal bunting, pumpkins, cushions and blankets.
The last section contains a Christmas craft planner to help you prepare for Christmas crafting so that it doesn't sneak up on you and there's actually time to do some!
There are also templates and patterns for bunting and applique.