Every September, All Free Sewing host National Sewing Month.
This involves lots of sewing tutorials and a giveaway. This year they are giving away a Handi Quilter sewing machine. Unfortunately you have to live in the USA or Canada to enter. The information about it is here.
I was very pleased to be asked to contribute to National Sewing Month again, and this time my contribution is a tutorial for an appliqued tote bag.
Tote bags are so useful! Not just for shopping, but for library books, knitting, unfinished projects, taking things to the beach, for bringing art materials with you on holiday and for hiding mess that you don't know what to do with. The possibilities are endless!
If you want to make this tote bag, there's a good chance that you'll have what you need already.
Obviously if your tote bag is going to be used for carrying heavy things, it needs to be made from strong fabric, like a medium weight cotton.
Otherwise you could just use what you have! In the past I've used polycotton to make bags for storing wrapping paper, and I've turned old pillowcases into bags for toys.
Applique is an easy way to decorate a tote bag. Fabric scraps are perfect for this, especially fabric scraps left over from a coordinated fat quarter bundle.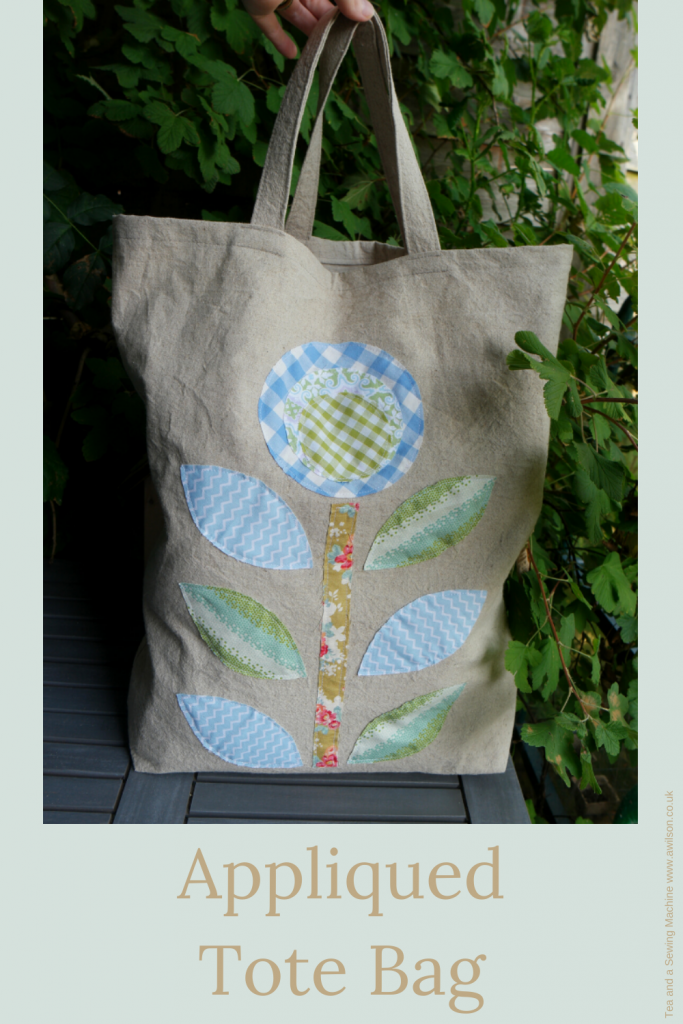 This bag is made from a medium weight linen fabric I bought by accident thinking it was something else, and the applique is made from cotton scraps left over from other things.
The finished bag is quite large. It's big enough to hold quite a lot of shopping or to take towels to the beach or the lake.
Of course if you didn't want to make one that big, it's easy to adapt it and make one that is smaller.
The templates for the flower are free to download.
The post is here on All Free Sewing.
If you like tote bags, you might like this tutorial here which shows how to make a shopping bag that appliqued bunting on it.
You might also be interested to know that I have "Bunting Makes Everything Better" tote bags for sale, and you can find out more here.