Why Make Clothes Without a Pattern?
I wrote this ebook as a result of my own frustrations with using commercial patterns.
I have been sewing ever since I was a little 10 year old girl, and over the years I've had problems with some of the patterns that I've used.
One common problem is sizing. The dress sizes on the back of the pattern usually bear no resemblance at all to actual dress sizes! Women's body shapes have changed since the 1950's and, although dress manufacturers have acknowledged this, pattern producing companies have yet to.
Patterns are made with a particular body shape in mind. It is possible to alter a pattern, but even so that is no guarantee that what you are making will end up being a good fit.
Patterns are often confusing. Being able to read a pattern is almost a skill in itself! But making clothes doesn't have to be complicated or confusing.
Patterns will show the right way of doing something, not the easy way. Yet often there is no obvious difference to the finished garment whichever way you did it!
So about 3 years ago, with all this in mind, I decided to have a go at making clothes for myself without using a pattern.
I was pleased (and a little surprised) to find that it was perfectly possible!
That summer I made myself 3 dresses. The first one had some issues but I learnt a lot along the way. The other 2 I still wear 3 years on!
Then last year, I needed something to wear to a wedding. I decided to make a dress but, as I didn't have a lot of time, it needed to be something simple enough to make quickly. I came up with the idea of making a circle skirt, then adding a simple bodice out of 2 pieces of fabric. Darts would give the front pieces some shape and a zip at the side would enable me to get in and out of it.
The dress was a success! You can find it here: Cherry Blossom Dress Without a Pattern.
I loved it so much that after the wedding, I wore it all summer. I even made another one in different fabric!
When autumn came round again, I reluctantly put my pretty dresses to the back of the wardrobe. But I started to hatch a plan to make something similar that would be more suitable for colder weather. I decided to make a jersey version with sleeves and a version made from warmer fabric with buttons down the front that could be worn over a long sleeved top.
These are the first 4 projects in the ebook!
Why Write an Ebook?
I want to encourage you to have a go!
It is possible to make clothes without a pattern.
It is possible to make something that fits well, in a style and colour that suits you and that isn't the same as what everybody else is wearing.
It is not necessary to have a PhD in pattern reading before you can do anything.
It is all possible providing you keep it simple.
In this ebook, I walk you through 6 projects, all using the circle skirt as a starting point.
Project 1 is a circle skirt. These are the easiest things to make and you really don't need a pattern.
Project 2 is a sleeveless summer dress, the same as the Cherry Blossom dress. A simple bodice made from 2 pieces with a zip at the side turns a circle skirt into a 50s style summer dress.
Project 3 is a button down version. Make it from cotton and you could wear it in the summer, or make it from something thicker and you could wear it in the winter over a warm top.
Project 4 is a jersey version with sleeves.Project 5 is a crossover wrap top. The pieces for this are drawn from the bodice pieces from the sleeveless summer dress.
Project 6 is a crossover wrap dress, combining the top from Project 5 and the circle skirt.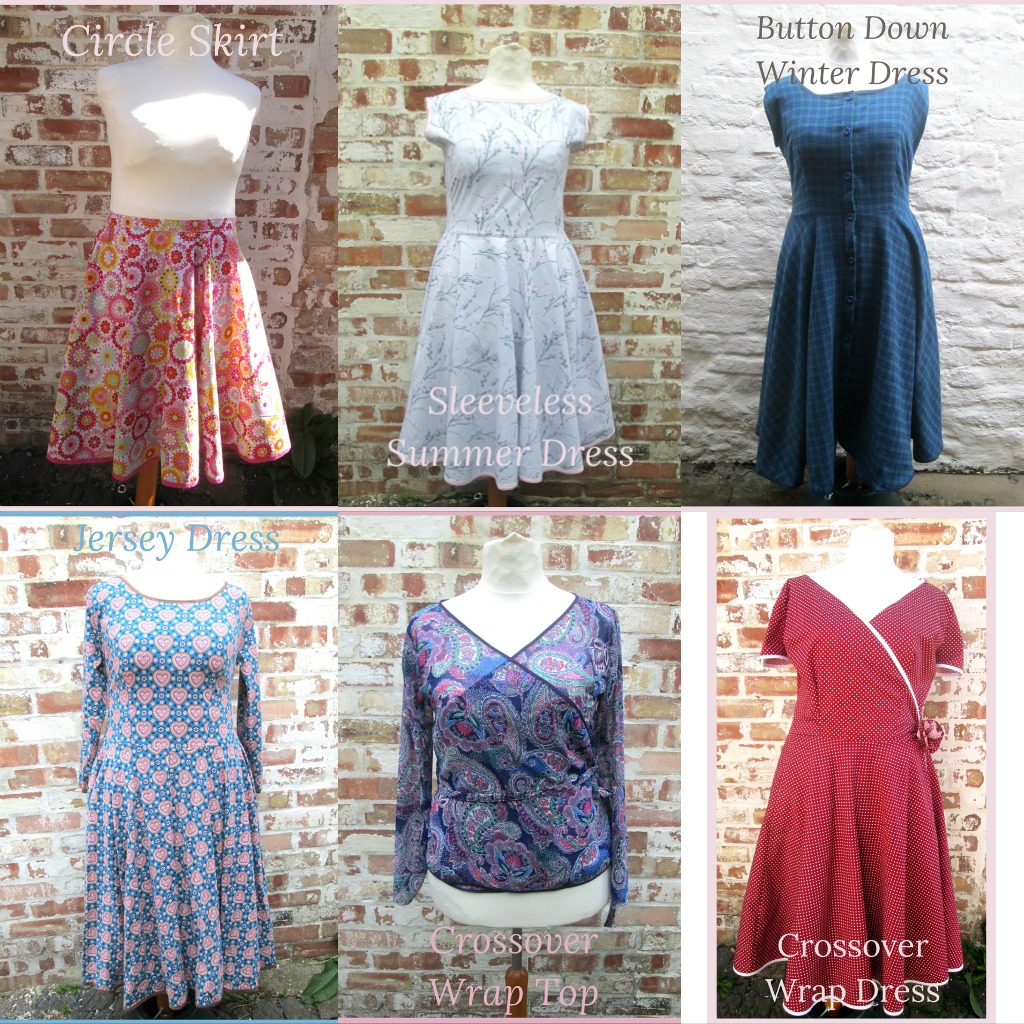 Who is This Ebook For?
If you are a confident beginner you will probably be able to cope with these projects.
The techniques involved include putting in a zip, attaching a waistband and adding darts.
If the idea of zips and darts scares you, don't worry! There's an easy way of putting in a zip and darts are just simple, triangular shaped tucks that give a bit of shape. Clear instructions are given at every step.
And of course if you can do these things with your eyes shut, you'll be whipping up new outfits in no time!
At the moment, for a limited time, Sewing Clothes Without a Pattern is available as part of bundle, which you can find out about here.