Year of Bunting June Challenge: Bunting For Outdoors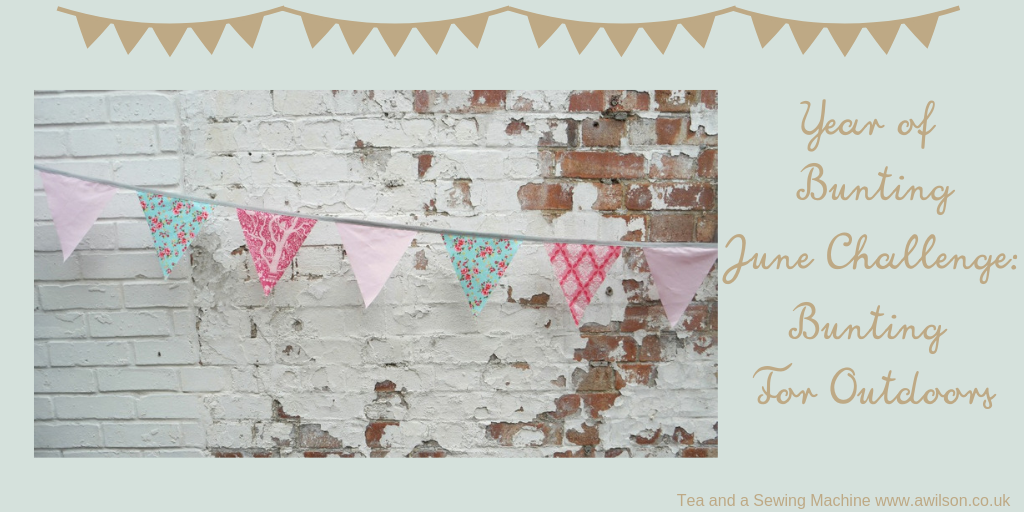 Welcome to the June challenge for the Year of Bunting!
May's challenge was to make some bunting featuring flowers.
Hazel made some lovely bunting for her dresser with appliqued flowers. I was thinking about doing something similar to this myself, only I didn't quite get around to it!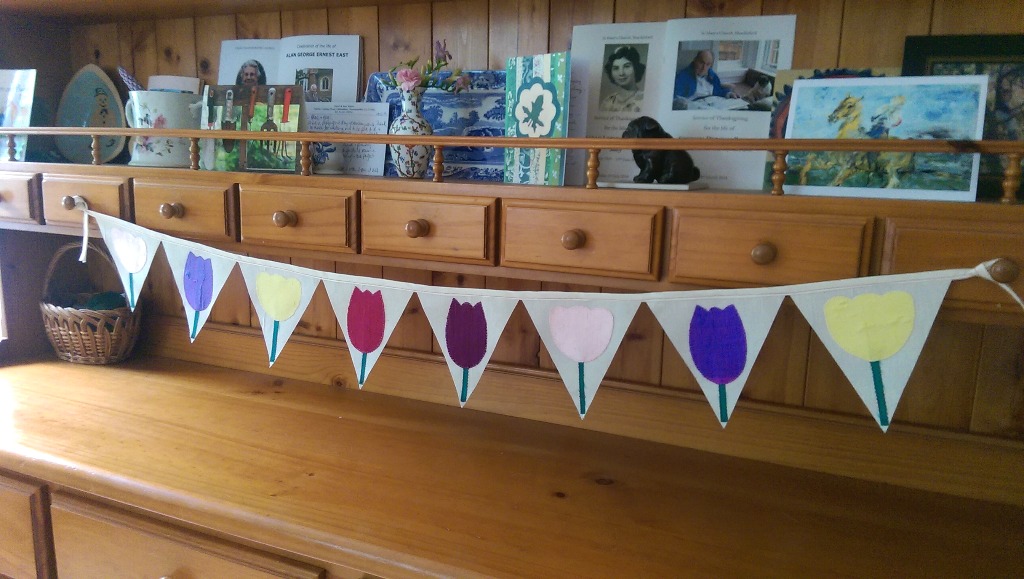 Julie made a floral bunting birthday card for her friend with scraps of pretty paper and floral washi tape. There's a tutorial for her card on her blog here.
Liberty made some bunting with some treasures she found in the American equivalent of Poundland, and you can see what she made here on her blog.
If you entered, thank you. I love to see what you've made and it makes it fun!
June's Challenge
This month the challenge is to make some bunting for outdoors.
From time to time, I make bunting to hang off the front of my house. I used to hang it between to brackets for hanging baskets, but a few years ago some clown decided to swing on one of the brackets and it came down. I still haven't got round to putting it back up.
It also means that I haven't made hanging baskets for a few years.
I think bunting is an acceptable alternative to hanging baskets, and it doesn't need watering!
Also the front of my house is tatty, so I hope that the bunting serves as a distraction!
This time last year my insomnia was bad (it's quite a lot better now), and I used a sleepless early morning to make this.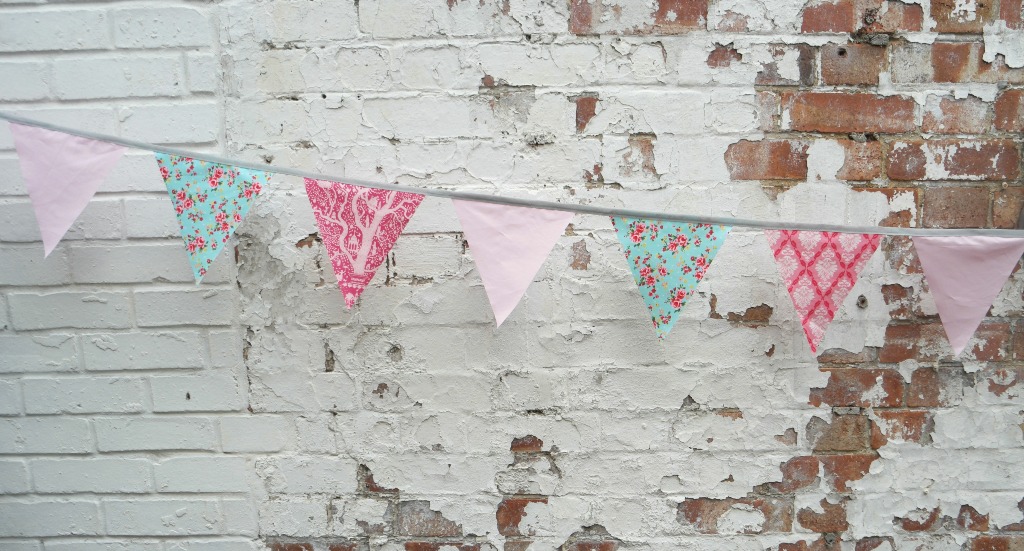 I wrote a post afterwards called The Easiest Bunting Tutorial because it was very easy!
I had some pretty cotton fabric left over from other things, so I chose some pink and blue and cut triangles.
Each flag was only one triangle. It was decent fabric so wouldn't fray very much. I sewed it to a length of bias binding and tied it to the outside of my house.
It was every bit as cheery as my neighbours' hanging baskets!
Making Bunting For Outdoors
Unless you live somewhere where you have glorious summers year after year, the weather needs to be taken into account when making for bunting for outdoors. You don't want it to be so precious you have to run outside to retrieve it every time the skies open!
I've made mine from cotton and polycotton in the past. You could also consider:
Doilies (might be precious though!)
Net curtains
Tea towels
A duvet cover that's seen better days
A plastic table cloth (my friend Wendy did this and hung it off her fence. It looked nice.)
You could sew the flags to bias binding like I did, or you could use twine or garden string.
Some Suggestions For Using Bunting Outside
Make some to decorate a patio or deck area.
Hang it off a fence.
Use some bunting to brighten up a little yard or children's area in your garden.
If you're lucky enough to have a big garden, string some between 2 trees. You could put a hammock there too (affiliate link)!
If you have a wreath on your door, you could make some bunting to match and hang it near your door.
For those of you who are campers, you could make some to hang on your tent. This is especially useful if you go to a festival or something and there are other people there with similar tents!
The challenge will run to the end of June. I'm hoping it will stop raining here for long enough so that I can hang some bunting up outdoors!
Hoping you'll join in!