A few weeks ago I joined a Facebook group called stashbusting something or other. It's been started by the lady who writes the Cation Designs blog http://cationdesigns.blogspot.co.uk/ I'm not doing it right though! I've got a pile of fabric and projects either not finished or not started, which I'm working my way through, but I have also bought more fabric. Sshh don't tell anyone!
Here are some projects that I have completed recently.
Tie Backs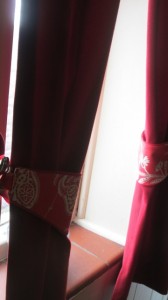 Apologies for the horrible photo. There is a white wall behind that window and I don't know how to work my camera. It must be possible to get rid of the glare but I have no idea how!
This was a nice, quick project to use up a small amount of red and white Amy Butler fabric I had left over from something else. They are reversible and the piping effect was achieved using some red bias binding, also left over from another project. I had the d rings already and the hooks are just some cheapy things with sticky backs that I got from our local hardware store. Now when I go downstairs there is a pocket of prettiness at the bottom! There are not nearly enough of these in my house, but I'm working on it.
Drawstring Bags
These are brilliant for using up leftover fabric! We had the usual problem after Christmas of new toys and nowhere to put them, so I made a couple of these bags to contain some of the new toys and I have plans to make some more! They were very easy, just a long rectangle of fabric folded in half, sides sewn up, casing at the top for the ribbon and voila! Mess contained! I also made a little bag for one of the boys' friends who had a birthday party not long after Christmas. The boys gave her some lego and I decided that her parents would probably appreciate it if she also had somewhere to put her half built models. We were eating round unfinished lego models for several weeks after Christmas because the boys had left them on the table and there was nowhere else to put them.
The only problem is where to put the bags, so I am considering putting some hooks up in the playroom at boy height. I actually found some hooks while I was having a sort out, so this might be a way of using those too.
Toddler Dungarees
I've had these on the go for a while. Boy 4 took his first steps a few days before Christmas and he is still growing unbelievably fast. I wanted to make him some dungarees that were roomy and comfortable and warm. I found the fabric on Ebay. It's a beautiful, soft, brushed cotton and I've used some jersey (not nearly as stretchy as I was expecting, thankfully!) to line them. I've also made him a pair of trousers and I am planning to make a couple of tops with the rest of the jersey. I used a pattern here, it was a nice Burda one with several patterns in one, with a cute little boy on the front.
My Tardis Bag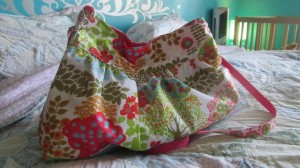 Who doesn't love a new bag? I decided I needed a new one. The bag I was using was a tiny little thing from Primark, it barely had room for my purse and my phone, never mind anything else. I've never been one for the huge mummy bags, I have no idea what people fill them up with! A couple of nappies and some wipes and I am good to go! Unfortunately there was no room in the Primark bag for these, or my lovely new diary, or my kindle, so If I needed these too I had to use a bigger bag, but I couldn't wear them like I could the Primark one, which made things awkward, especially on the bus.
The design of the bag is similar to a blue and white paisley one I made a while ago. This one is bigger and I have since learnt how to square off the corners to give it more shape. The main body of the bag is two rectangles sewn together at the bottom and at the sides and gathered at the top. This is what makes it tardis like, because it expands depending on how much stuff is in it.
The main part of the bag is attached to a band. The size of this was determined by the size of my diary as this was the chunkiest thing I was going to be putting in it.
The straps are attached using lobster clasps and d rings. A magnetic snap keeps it closed.
I did actually buy more fabric for this, rather than using up stuff I already had. I needed it to be waterproof, so the fabric is ripstop and it is lined with cotton fused with interfacing to make it hard wearing.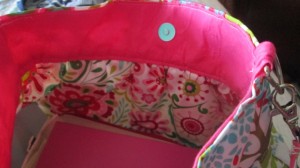 See how pretty the inside is! I wanted it to be a treat every time every time I had to rummage in there for something. And actually, standing at the bus stop yesterday in the pouring rain trying to find my ticket in amongst the baby wipes, diary, receipts, tissues and letters from school, it was.
Happy crafting x