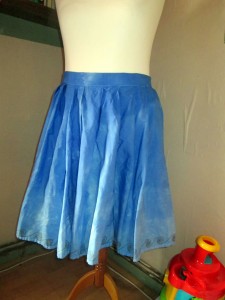 In my last post I explained how to make a full skirt and the instructions are here. This post features Phase 2, drawing on the skirt with a Sharpie and Phase 3, dip dying it a pretty shade of blue so that marmite, chocolate, mud and vomit won't show up on it so much.
I found my inspiration via Pinterest at Second Chances by Susan. Here she takes a white jacket, draws flowers on it, dyes it and a tired old jacket is transformed into something beautiful!
Susan is clearly very talented at drawing. I am not. When I was a teacher, once I drew a plane and the children thought it was a dog. Knowing your limits can be useful though, because it means that you don't try something that is beyond your capabilities. So I did not even consider drawing a work of art all over my skirt. Instead I stuck to something I knew I could draw, which was celtic inspired swirls.
Sometimes pictures explain better than words, don't they? For those of you who are not visual learners, it's a spiral two and half times inwards, then back on itself, then a long kind of elephant's trunk thing to join it to the next one. I think the pictures explain it better!
The pen bled a bit on the fabric. I thought it might as the fabric was quite thin, but I was confident that the bleeding would be less obvious once I had dyed the skirt.
Susan splodged some washable glue onto her flowers so that there would be different shades of blue there, a similar (but much easier!) technique to batik where wax is used instead of glue.
So I splodged some glue onto the middle of the spirals.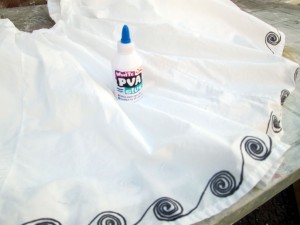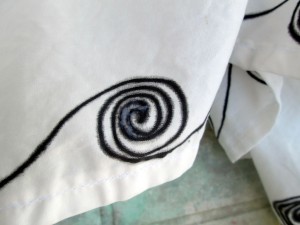 Once the glue was dry I could dip dye the skirt.
I used some Dylon djollop that makes up in cold water and takes an hour.
To achieve a graded effect, I put the top part in for 15 minutes, then put a bit more in every 10 minutes until it was all in the dye. Then I rinsed it in cold water and washed it in the washing machine and, for anybody who is worried about doing this, I've put two loads through the washer today and my washing is not blue.
The overall effect is a gradual lightening rather than a blockier effect. It's also a little bit mottled in places. The dying process did not receive my full attention as I was also cooking dinner and Boy 4 was "helping", ie turning the hob off. However, I quite like my mottled dip dyed skirt! 
I have another packet of dye so I'm keeping an eye out for white stuff!