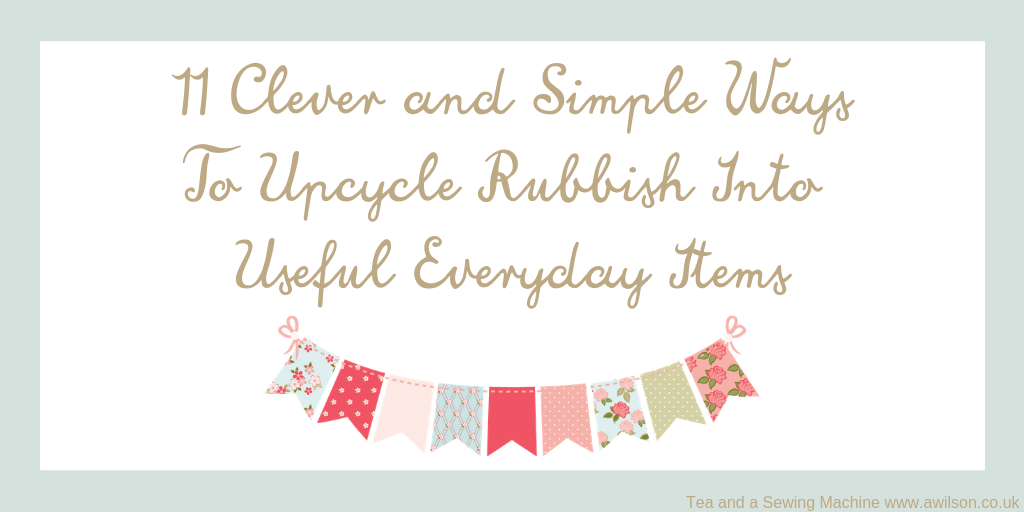 11 Clever and Simple Ways You Can Upcycle Rubbish Into Useful Everyday Items
This is a guest post written by John Stuart for PT Winchester. They sell all sorts of interesting things including webbing, various kinds of thread, different sorts of cord and plastic fittings that might be useful for bag making.
Keeping hold of old items can often be looked down upon. However, there is a difference between hoarding and being economical and trying to resist the throwaway culture. Whether it's down to sentimental value or ensuring yourself it'll come in handy one day, we're all guilty of holding onto things we don't use. The solution? Use them!
Upcycling is great for a number of things. Taking something we don't need or use anymore and making it into something useful is economical and great for the environment. It can also help free up some space in the home, but most importantly, it's fun! Take a look at 11 ways you can take everyday discarded household items and transform them into something you'll use every day!
1.Glass Jars and Bottles Into Lights
There are tonnes of things you can do with old wine bottles and condiment jars. For trendy lamps, simply place some fairy lights through a hole in the lid of the jar or bottle. These look great in the house or the garden!
If you want to use hanging lights and need to cut the end of the bottle, you can do this using a cotton wick and acetone. Simply soak your cotton wick in the acetone, tie the wick around the part of the bottle you wish to cut, then light the wick with a lighter. Twist the bottle to make sure the flame catches all of the wick, then dip the bottle into a bowl of ice water. Once you gently lift the bottle, the bottom will drop off by itself. Then all you need to do is sand the edges so they're nice and smooth.
2. Colander Into a Flower Pot
Old colanders make perfect hanging flower pots. They're an ideal size and shape, but best of all, they already have drainage holes! They're easy to paint whatever colour you like, for a bright or rustic look. Simply add some string or chains to the handles and hang them up outside.
3. Straw Decorations
Straws make great snowflakes and Christmas decorations, however, if you use your imagination, you could make decorations for any occasion. They come in a variety of colours and materials. Paper can look more authentic and natural than plastic and come in different patterns, however, plastic is waterproof, making it a viable option to have outside. It's also easy enough to paint or spray paint either material to get the look you want.
4. Pillowcase Into an Apron/ Kids Dress
There are a few reasons why you may want to recycle an old pillowcase. Maybe you've decorated and they don't fit the room decor anymore, or perhaps one is missing and you don't want to throw the other away. Luckily there are a few things you can do to reuse it.

It can be used as the fabric for a child's dress, or (if you want it for yourself!) a kitchen apron. Simply cut out some armholes for the dress and add a ribbon to hang over the shoulders. The shape will be slightly different for the apron, you just need to add some trim so it will hang around the neck and you can wrap it around the waist.
5. Ladder Into Shelving

You can buy expensive ladder shelves from all sorts of home stores, as they're trendy and in fashion. With a bit more ingenuity and effort, why not make your own? Simply sand and paint your old ladder, or keep it rustic for a vintage look then add your decor for a simple, trendy piece of furniture.
6. Tins Into Storage Pots
Old tins of soup and beans are easy enough to dispose of nowadays. They can easily be recycled and aren't harmful to the environment. Nevertheless, they can still be used handily to store all sorts of clutter. Whether it's cutlery, stationary or even plants, they can be painted easily and give a great rustic look, or even covered with fabric or wrapping paper.
7. Paper Plates Into Dream Catchers
Not only do these paper plate dream catchers look great, but they're also a fun activity to keep the kids occupied! They're simple, and a fantastic opportunity for the kids to be as creative ad they like! You can use real feathers or paper ones, and beads and string are simple and cheap enough to get hold of too. Simply cut a hole through the middle, place drawing pins around the edges and go nuts with some string!
8. Old Picture Frame Into a Serving Tray
Another simple yet effective transformation you can try is turning an old picture frame into a serving tray, or even a vanity tray. You can also try this with an old mirror. One of the best things about this project is that there are so many different things you can do to make it unique to your taste. You could keep the style of the frame how it is or paint it any colour or design you want. Also, you can choose to keep the glass in or remove it, keeping a wooden, printed or fabric base. However, if this is going to be used a serving tray, I'd recommend keeping the glass above any printed images you place underneath. For added personalisation, a collage of family photos will do the trick.
9. Hankerchief Into Tablecloth/ Quilt/ Bunting
This project really depends on how many handkerchiefs you have to spare! If you happen to have a few dozen, then making a duvet cover or bunting is simple and effective. It gives a personal, vintage feel, as the variety of colours and patterns you're familiar with will be reinvented as another object in your home.

However, if you've only a few spare, making a table runner only requires 5 or 6. Simply stitch these together for a chic, vintage and cheap table accessory.
10. Paint Chip Earrings
If you've recently decorated and have plenty of paint chip lying around, why not make the most out of these ready-made colour combinations? These are especially easy to make as you don't need to worry about the colour or style. You just need to arrange them in the order you want then cut into the desired shape. As they are made from finished card, they are surprisingly durable and can often be wiped clean. Once you've cut and arranged the paint chips into your desired shape, you simply need to add hooks or a chain to make the jewellery into earrings or a necklace.
11. Garden Rake Into Kitchen/ Garden Organiser
If you own a garden rake which is now more rusty than trusty, it may be time to move on and put it out of its misery. This doesn't have to be goodbye though. If you can detach the head of the rake from the body, it can be used to tidy up your itinerary. Whether you want a rustic, stylish wine glass holder in the kitchen or you think it should stay in the garden to hold the other functioning garden tools, you can put those spokes to work for another good few years. You can either spray paint the rake head to fit your decor or give it a good hose down for a vintage look.
There you have it! If you can use your imagination and get the creative juices flowing, you can take almost any "useless" household project and transform it into something new, imaginative and functional! Not only can this be fun for you and your family, but it will also save you money and reduce your waste. Plus keeping items you used to own and making something yourself adds more sentimental value to your home than anything you could buy in store.