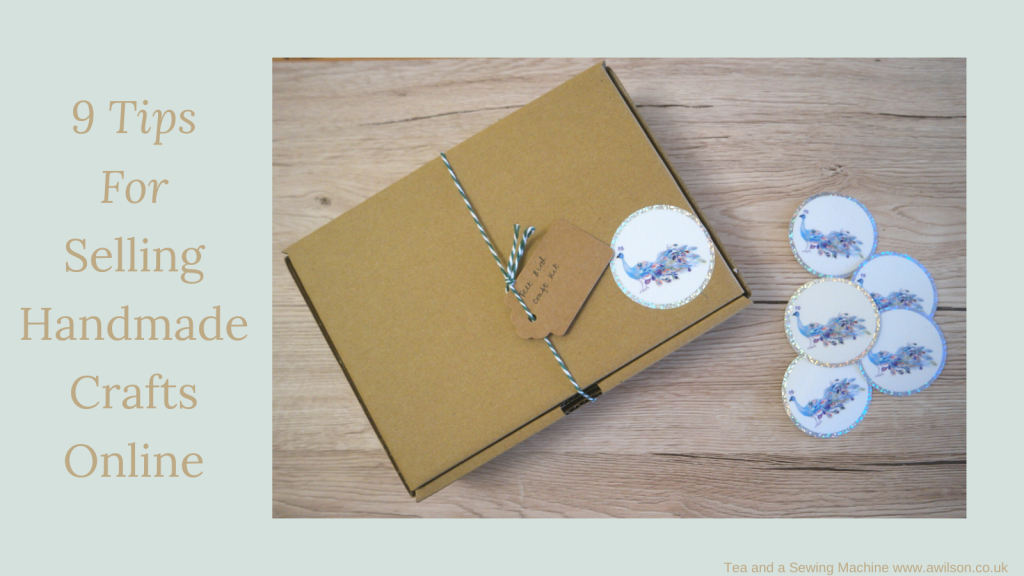 9 Tips For Selling Your Handmade Crafts Online
I was given the stickers mentioned by Stickerit.co. The opinions expressed are my own.
If you've been following me in internetland for a little while, you'll probably know that as well as blogging here at Tea and a Sewing Machine, I sell craft kits and pdf sewing patterns in my Etsy shop, Peacock in a Pear Tree.
I started trying to sell handmade crafts online in 2011, and to start with it was not a success!
I didn't have a clue what I was doing and none of the advice I read made any sense. As a result I didn't sell a single thing and the shop became dormant for a few years.
In 2016 I made some changes, and since then it's all been going quite a bit better!
I wouldn't say it's a runaway success, but the steady trickle of income from it has funded a new laptop that's mine and not for my kids to play games on!
It's also paid for activities for the boys and for stuff I've wanted but not needed, like unnecessary pairs of shoes.
Here are some of the things I've learnt about selling handmade crafts online. If you're thinking about doing the same, I hope you find them helpful :).
Tips For Selling Online
1. Use a Platform Like Etsy, Folksy or Amazon Marketplace
Although selling your handmade crafts via another website has its downside, trying to establish your own website for selling your stuff is difficult and takes a lot of work.
Before I revamped my Etsy shop, I tried selling my stuff on Tea and a Sewing Machine. Apart from the ebooks, it wasn't a success, even though I knew that there was a market for craft kits and sewing patterns!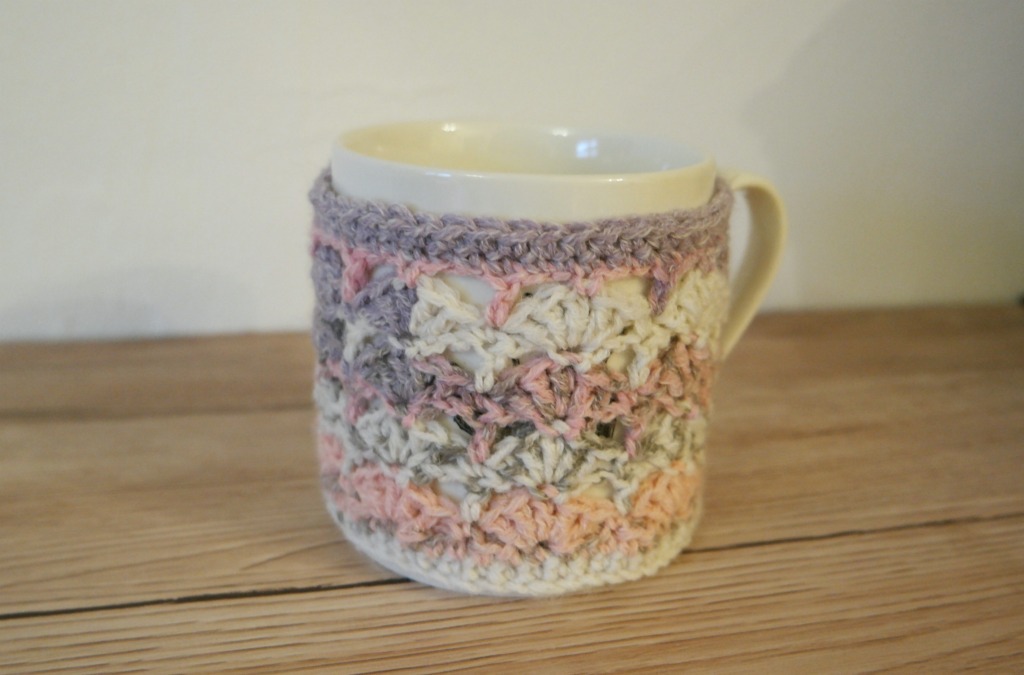 The idea of paying listing fees, Etsy Payments fees, VAT processing fees, plus a percentage of sales and even a percentage of what I charge for postage, is off putting to say the least.
But here's the thing.
Etsy has millions of visitors, far more than little corner of the internet. And more than that, they're all people who want to buy stuff.
So I put up with the annoyances because even sales minus Etsy's cut are still sales that I wouldn't have made otherwise.
2. Factor In All Costs Including Fees And Allow For a Profit Margin
Pricing your handmade items to sell can be very difficult. Always at the back of our minds is what we would pay if we bought something similar from a high street shop.
However there are reasons why stuff on the high street is relatively cheap. Mass production, inferior materials and exploitation of workers in poorer countries being among them.
People who buy from Etsy do so because they don't want mass produced. They want something special, one of a kind or at least one of a limited number, and from a small business not a from faceless corporation.
If when you're selling your handmade things you don't charge enough to make a profit, then it's a hobby, not a business!
So take into consideration:
How much the materials cost to make the item
How long it took to make it
How much skill was involved and how easy it would be for somebody to make the same thing themselves.
Materials for packaging the item, eg a gift bag or a box.
It's important to also factor in listing fees and other charges, so find out what they are so that they don't take you by surprise! Costs to look out for include:
Listing fees
What percentage of sales your selling platform will take
Whether or not this will include postage costs (Etsy do this)
Paypal fees and Etsy Payments fees
VAT
At the very least, you need to add up how much it cost to make it, plus listing fees, then multiply that by between 2 and 2.5. That way you'll be making something on every item you sell.
3. Learn How The Online Marketplace Works
Etsy, Amazon and other online marketplaces are basically search engines. If people are going to buy your things, they're going to need to find them.
This means learning a little bit about search engine optimisation.
The easiest thing to do here is to think about what people might put into the search bar if they were looking for an item that you are selling, and include that in the title of your listing.
So if you sell handmade knitting needle cases, your title might be, "Knitting Needle Case, Knitting Needle Organiser, Gifts For Knitters, Knitting Needle Tidy."
If you're stuck for ideas, try searching for similar things yourself and see what comes up.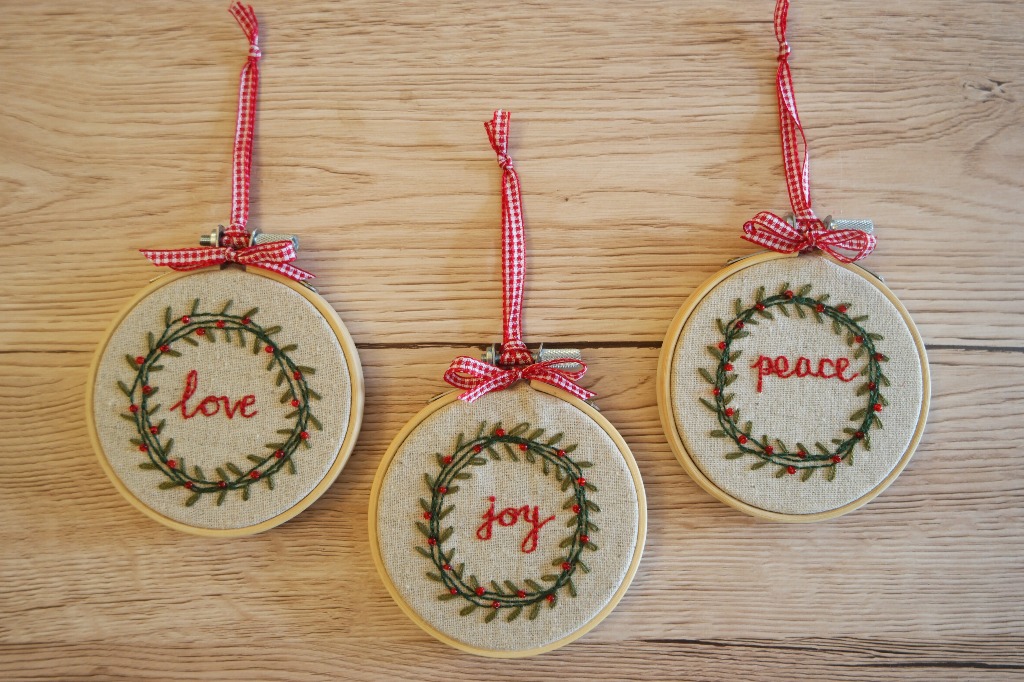 4. Take Good Photos
Having good photos is so important!
When I was starting out I heard this a lot if times, and I ignored it! My photos were awful, grainy and dark and as a result I didn't sell anything.
When you walk into a shop, you can see the stuff that's for sale. You can touch it, pick it up and have a good look at it before deciding whether or not to buy it.
Selling handmade crafts online means that you can't see the physical items, so your photographs have to do justice to the beautiful things that you've made.
Think about it. When you are internet shopping, you're more likely to click on an item that has a good photo that's clear and well lit. If it's dark, grainy, blurry or grubby looking, you'll keep on scrolling.
If you don't have a fancy camera, it doesn't matter. You just need good photos!
The best tips I can give for getting good photos are to use natural light, turn the flash off and use a clean, uncluttered and preferably light coloured background.
5. Consider Your Brand and The Experience You Want Your Customers to Have
This might seem unimportant. After all, surely the wonderful things you've made will speak for themselves!
The point here is that people are more likely to buy things from somebody who looks like they know what they're doing. And one way to achieve this is by having a shop that looks together.
Think about it for a moment. Would you rather shop somewhere where the place is a mess, the lighting is bad, nothing matches, there's no order and things are spilling out everywhere? Or would you rather visit a shop where everything looks nice, the colours compliment each other and it feels like a treat just to be there?
When I was starting out, although I understood this as an idea it took me a while to figure out what this meant in practical terms.
If you're struggling with this too, here are my suggestions.
Pick a couple of fonts and 2 or 3 colours. For colours you could use a colour wheel, or just choose some that you like. With the fonts, you could try a serif with a sans serif, or something bold with a script. Or you could just google "font pairings" and see what comes up.
Use these fonts and colours to make a shop header. You might want to make a logo as well. You can also use it on business cards, compliment slips and anything else you might need.
You can recycle the same header and logo on your Facebook page and your blog if you have one associated with your online shop.
Don't get too caught up in this though! It doesn't have to be fancy, it just has to be done. Sometimes the simplest things look the nicest.
Give your photos a cohesive look. An easy way to do this is to take all your photos in the same place. Perhaps you have a well lit kitchen table, or a pretty dresser in a nice light room.
Another option is to use a piece of board and either paint it or cover it in something.
I use the keyboard section of an old Ikea desk, which I covered in fake wood sticky backed plastic. It doesn't look great in real life, but in photos it looks like a nice old wooden table. I use that for most of my photos. For any that aren't the kind of picture taken from above, I use the same bit of old desk and photograph it outside, in front of the white wall in the garden.
Another thing you might like to consider is having some custom patches made to attach to your handmade items.
Imagine sending off your lovely handmade goods with a label sewn into them that says, "Handmade for you by Claudia", or with the name of your shop or website address!
6. Give Some Thought To Your Packaging
Something to always bear in mind is who your customer is and why they are buying from you.
People sometimes buy handmade things for themselves, but quite often they'll be buying a gift for someone else.
Either way, it's much nicer to have something arrive through the post that's been beautifully packaged, rather than just thrown into a jiffy bag without any thought.
Packaging items in a thoughtful way that reflects your shop helps to pull it all together and helps your brand.
One way to do this is to pop your beautiful handmade something into a box or a little bag, perhaps with some tissue paper or some other recyclable material,
An easy way to customise bags and boxes so that they reflect your shop is to get some stickers printed to use on your packaging.
One place where you can get custom stickers printed is Stickerit.co. They sent me these lovely stickers! Stickerit.co offer a variety of options and you can find out more here.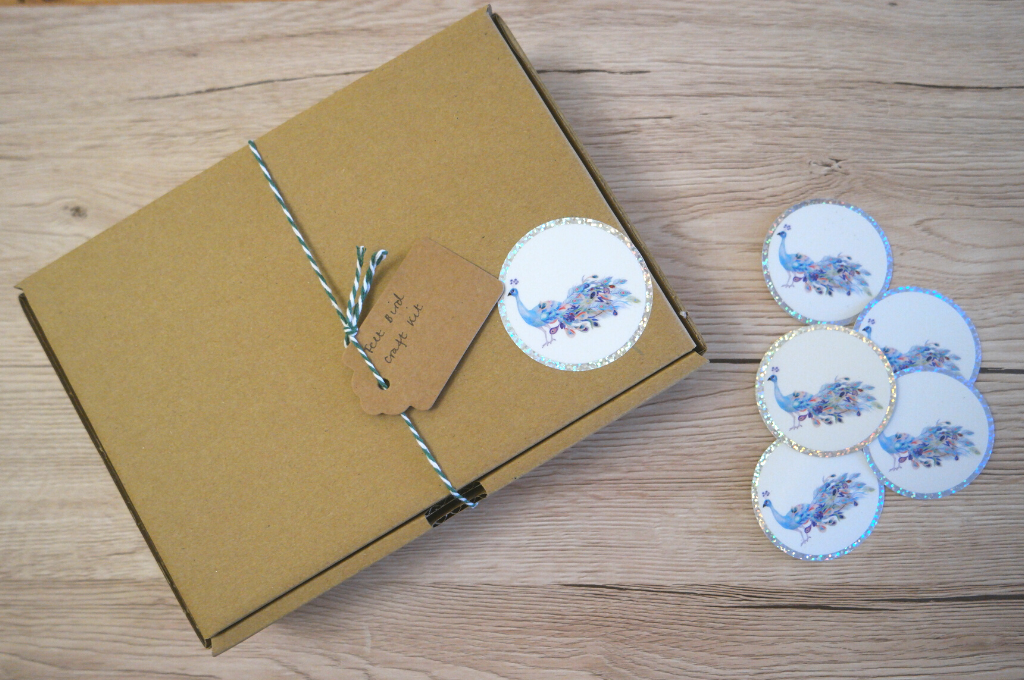 7. Choose Something For Your Shop That's Sustainable
When deciding on what handmade items to sell online, it's best to choose things that you can make well, reproduce easily, and enjoy making.
If each thing takes you ages and you can't fully reflect the time that it's taken in the price, or it's fiddly, or you find it boring, or the materials are hard to find, then it's not sustainable.
Having a lot of one of a kind things can also be difficult to sustain.
One thing you could do here is to use the same design but change the fabric.
With other items there might be other things you could change. For example, although these aren't one of a kind, I have several purse kits in my Etsy shop. The basic purse is the same, but the embroidered design is different. This has made it easier to develop new items and also streamline processes when restocking.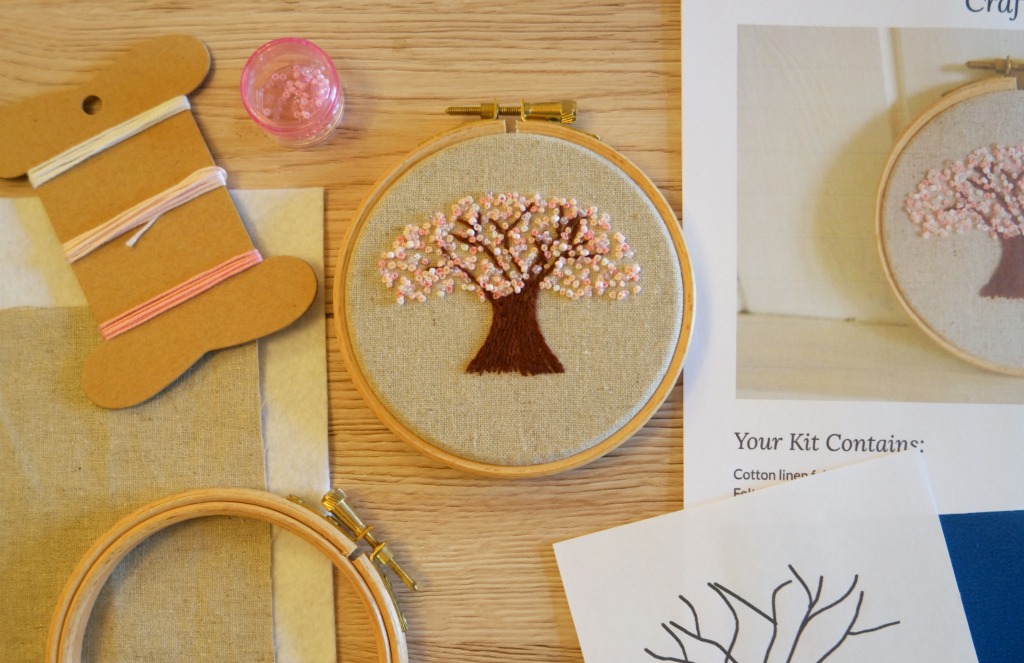 8. Have a Range of Items to Suit Different Budgets
When people buy handmade, it's because they want something special, and often because they want to support small businesses. They're not all that interested in finding something for the cheapest price possible!
So it's fine to have things in your shop that cost a bit more. But there are also people who will be looking for smaller, more inexpensive things, so it's important to have some stuff in your shop that will cater for their needs too.
I've found that although I've sold more of the cheaper and mid range things in my shop, the items at the more expensive end have greater profit margins. The smaller things are quicker and easier to put together, whereas the pricier things take more work, so it all balances out.
9. Keep Working On It And Keep Learning
Although the craft magazines would have us believe that selling our handmade stuff online is easy, I've found that there's an awful lot to learn. It's not as simple as just sticking your stuff on Etsy or Amazon Marketplace and waiting for people to buy it.
There are lots of people on the internet who have advice to give about selling handmade online. Some of that advice will only be given in exchange for money, but there's plenty out there that's either free or in the form of inexpensive ebooks.
So make the most of other people's experiences.
Keep an eye on what's selling and what isn't.
Give things a chance. Sometimes it takes a while for things to pick up.
If things aren't working don't be afraid to change them. After all, you're the boss!
If you're thinking about selling your handmade things online, the perfect time will never come. Now is as good a time as any, so go for it!
PS If you enjoyed this post about selling handmade crafts online, you might also like this post about the issues involved in pricing our handmade crafts.