A Guide to Sewing Machine Needles
Knowing which needle to use in your sewing machine can be confusing, especially if you are new to sewing.
It's another one of those things that might make you want to shut your eyes tightly, stick your fingers in your ears and sing loudly until it goes away.
Or at least, just ignore it, carry on using the same needle that you always do and hope for the best!
I use a universal size 10 needle in my sewing machine for most things and it's usually fine. I'm not obsessively switching needles every time I start something new.
However, there will be times when you might want to consider using a different needle.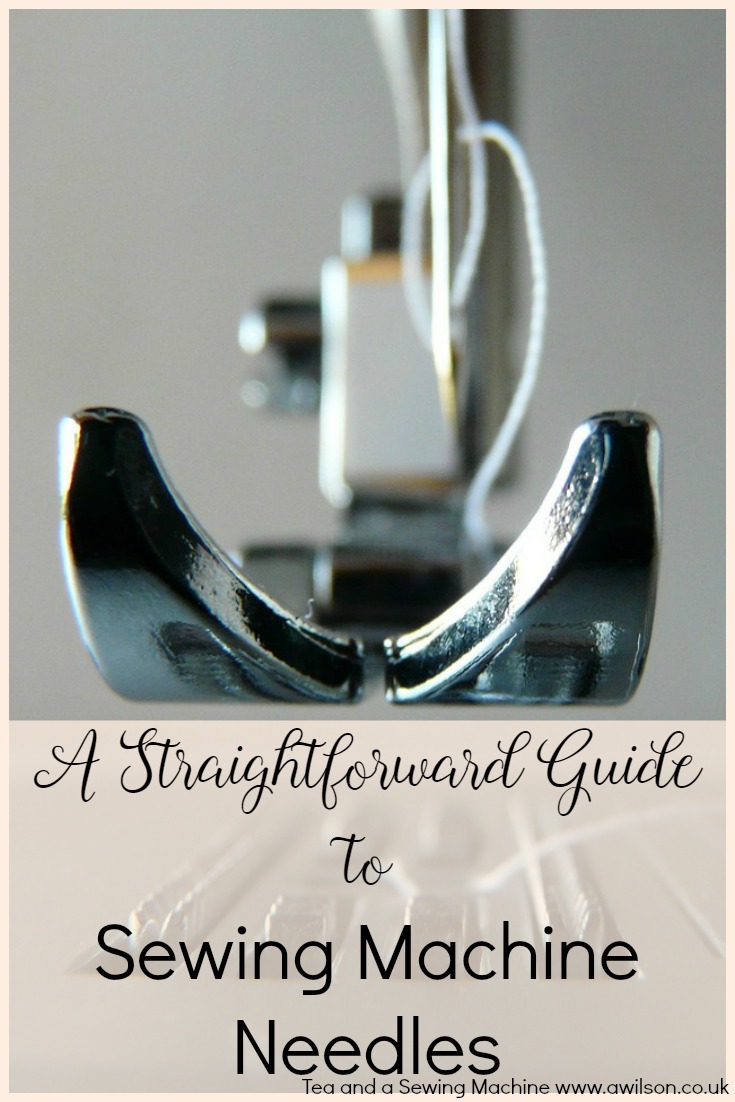 Why Use a Different Needle?
Just as with hand sewing there are different needles depending on what kind of sewing you are doing, it's also the same with sewing machine needles.
If you use the wrong needle, there's a chance that you might either damage the fabric you are sewing or your sewing machine.
When it comes to knowing which needle to use, there are different sizes and different types.
Different Sizes of Needle
Sewing machine needles come in different sizes. The sizes are:
60/8
65/9
70/10
75/11
80/12
90/14
100/16
110/18
120/19
The reason for the 2 numbers is because one is metric and the other imperial. Basically, the smaller the number, the thinner the needle.
For sewing cotton, an 80/12 needle will be fine and will probably be the size you'll use for most things.
For sewing lighter fabrics, it's best to use a thinner needle. You wouldn't want a chunky needle going through that delicate fabric and making huge holes in it!
Thinner needles also require lighter, thinner thread.
Heavy fabrics, like denim, will need a fatter needle. If you try using an 80/12 needle on denim, it will probably break.
Although you could try to manage with an 80/12 needle, there is a good chance that you will either damage the fabric if it is very light, or break the needle and possibly damage your machine.
Different Types of Needle
As well as different sizes of needle, there are also different types.
Universal needles are the kind you'll probably use most often, as they're good for most fabrics.
Microtex needles, also known as sharps, are good for sewing delicate fabrics. If you are sewing and the fabric is snagging, you could try using a microtex needle (although I would probably try a new universal needle first!).
Ballpoint needles are used for sewing knits. They have a rounded point so that they slip between the stitches. Stretch needles are a kind of coated ballpoint needle for using with very stretchy fabrics.
Metafil needles (also known as metallic needles) are used for sewing with metallic threads. They have a larger eye and are designed so that the thread will be less prone to breaking than if you use a metallic thread with a universal needle.
Denim needles are heavier duty needles for sewing with heavy weight fabrics, like denim, canvas and upholstery fabrics. It's also a good idea to use thread designed for heavier fabrics too.
Leather needles are obviously for sewing with leather! The point is designed to cut the leather as it sews.
There are also specialist needles for quilting and machine embroidery.
Some people might disagree with me here, but my advice would be to choose a universal needle that's the right size for the weight and type of fabric. Test it on a scrap piece. If it's fine use it. If not, consider using a different type of needle. I rarely use anything other than a universal needle. However sewing machines do vary and you want to take care not to damage your machine.
How Often Should I Change my Needle?
Officially sewing machine needles should be changed after 6 hours of sewing. They start to get blunt after a while and any damage to the needle, even if it is imperceptible, can cause problems when sewing and potentially damage your machine.
To be honest, I don't keep track of how many hours I've been sewing for. It's all I can do to remember what days my kids need packed lunches and where I left my phone. All I can say about hours spent sewing is that things always take longer than I think they will!
If you're having difficulties with your sewing machine, one of the first things you should try is changing the needle. Snagged fabric, skipped stitches, the thread breaking and the machine jamming can all be caused by the needle that needs to be changed.
If you are experiencing problems with your sewing machine, you might like this post with tips for fixing a jammed sewing machine. And if you sign up for the emails, you'll receive a checklist of what to do when your sewing machine jams!
These are affiliate links for sewing machine needles on Amazon. Schmetz needles are generally considered to be the best and all of these needles have an average 5 star review on Amazon.

Linking up here.