Productivity Hacks for Crafters
Making things takes time.
There are often several steps involving doing different things. It's messy. You need to spread things out.
You need to make stuff but your family need to eat off the table. You need to cut out a dress and keep your sewing machine out, but you need them to not get covered in ketchup or pasta sauce. You need to put your cutting mat and rotary cutter on the floor to use it, but your husband needs to get to the telly without having his toes sliced off.
So what can we do?
The best thing we can do is to make the most of the time we have and to be as productive as we can. If we can work on our projects in the most efficient way possible, our kids will be able to eat their dinner at the table and our finished projects won't look like they started off as aprons on Masterchef.
When I write posts about how to plan a sewing project, or how to find time to make stuff when you just don't have time, or put up pictures of my sewing machine area and people remark that I'm tidy and organised, it really makes me giggle.
It makes me wonder whether you all think that I run my life, my home and my family with the precision of a military leader, with my kids in uniforms and responding to whistles ( like the Von Trapp children) and with me barking orders, using the 24 hour clock instead of normal time, arranging books alphabetically and sorting the shoe rack in order of shoe size.
Because, to tell you the truth, I am nothing like that at all! By inclination I am extremely scatty, very messy and I have the concentration span of a gnat.
It took several hours of intensive tidying up to get my sewing area to look like this.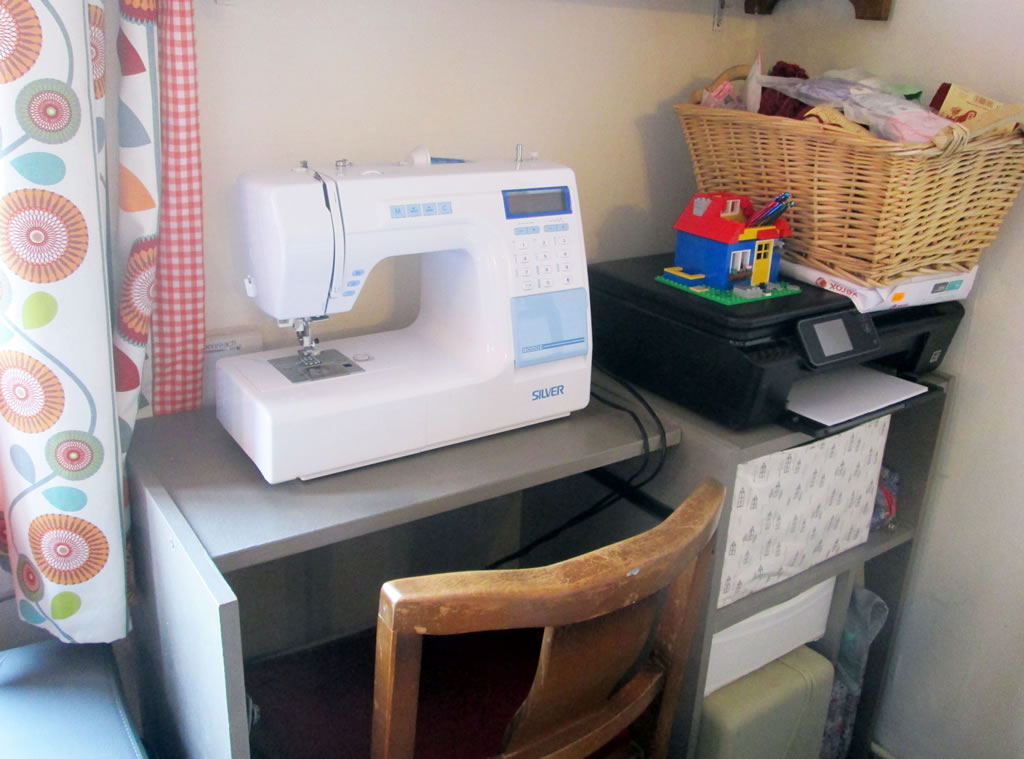 However I don't like to feel that I am wasting time. I like to feel productive and I want to have time to do things I like to do as well as the things I have to do, so I have fought all my natural inclinations and forced myself to become more organised.
A book that changed the way I approach things and enabled me to get things to run more smoothly, thus freeing up time, was this book, Time Management for Manic Mums
 (affiliate link). I read it a few years ago when I had 3 little people under 5. If you feel like you are constantly in a rush and dealing with disasters, I can recommend this book, even if you are not a mum!

We are all busy.
So when we do have time to make stuff, we need to make those minutes count!
Whether you are making something for fun, or an outfit for a particular occasion, or something that somebody has asked you to do, or whether it's because you are or want to be a wahm running a little craft business, here are my top productivity hacks for crafters.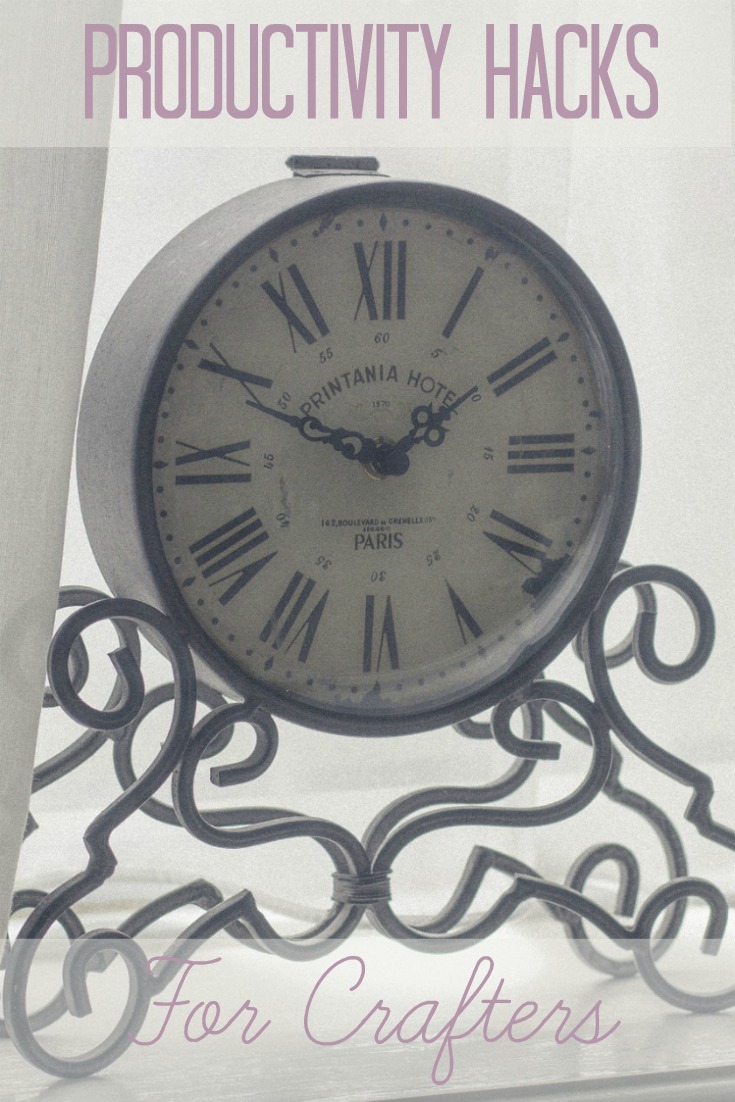 Productivity Hacks For Crafters
1. Decide what you are going to make. I know this sounds obvious, but deciding this first and having a clear idea in your head will reduce dithering time later.
2. Make a list of what you need. Check your fabric hoard and your sewing supplies and identify what you need to buy. Sometimes the cheapest way is to shop around and to buy stuff from different places. The downside of doing it this way is that it can take ages, and once you've factored in postage, it's often cheaper to just get everything you need from one place. Even if individual items cost a bit more, you'll only pay postage on one package rather than lots. If I need several things, I'll usually get them from Minerva Crafts (affiliate link) because they have masses of stuff, or Hobbycraft (also an affiliate link) for the same reason, or Plush Addict (not an affiliate link, I just love them!).
3. Collect up all your supplies and put them in a box, a little bag or a pretty basket. Doing this means that you will have everything you need to hand when you are ready to start. If you are waiting for the postman to bring you stuff, you can put it straight in the basket when it arrives.
4. Identify when you are going to make your thing. Putting things on a to do list alone isn't enough! You have to decide when you are going to do the things on your list. We're all busy and finding time to make stuff will probably mean making things instead of doing something else. Perhaps you could choose an evening. Or a Sunday afternoon. If you have tiny children who nap in the daytime, could you rearrange the jobs you normally do then and use that time instead? Or maybe you could go to bed a bit earlier and get up earlier (or stay up later if you know you can have a bit of a lie in). Here are some more ideas for finding time for making stuff.
5. Make a list of everything you need to do. You might find it helpful to rearrange your list so that there is some kind of order. It's much easier to make progress quickly if you know what you are doing and what you need to do next!
6. Get everything ready beforehand. The night before is a good time! Thread your sewing machine with the correct thread. Check that you have your scissors and unpicker. Check that you have everything in your basket of supplies. That way you'll be ready to start straight away!
7. Turn off all distractions. This is a good tip for any kind of productivity. You don't need to check your phone every time it pings, so if you can, turn it off. Or at least turn the email/ social media pingy alert off.
8. Stay focused. This relates to the one above in that some of us are very good at distracting ourselves! Laundry, what we're having for dinner, whether we need milk, Facebook, feeding the cat who won't stop mithering for food. There's a million things flying round our heads. Now is not the time. This is time you have allocated for making stuff. Focus and be purposeful. Facebook will still be there in half an hour and so will the laundry.
9. Batch process. This basically means doing like tasks together and it is usually the most efficient way of working. So you get your cutting out done then clear away what you don't need. Pin as many of the bits as you can, then sew them. Then trim the seams and press them. Keep going like this, doing as many similar tasks together as you can. This way, the amount of time you spend switching from task to task is reduced. That's less time jumping up from the table and wedging yourself in behind the sewing machine, then extricating yourself from the sewing machine and back to the table again. It also means spending less mental energy refocusing on a different task.
10. Consider what has to be done then and what can be done later if you run out of time. This is where having a list is useful!
For me, the trickiest thing is sewing with the sewing machine. I can't really do this when Cosmo's around as I can't give him any attention. It's also noisy, so I need to use it at a time when a bit of noise doesn't matter. So for me, the best time to sew is on a Saturday morning. If I start early, I can get a good bit done before we go out.
Other things are easier to get done. For example, it's possible to sew on buttons while chatting to a toddler over the playdough or while people are finishing their dinner.
So identify what absolutely has to be done in that time you have allocated and what can be done later.
For creative people, our natural inclination often is to be a bit scatty, but being organised and having a plan means you can get stuff done. It works in other areas of life, so why not apply it to making stuff too!
PS If you are now wondering what to make so that you can try out these tips, you might like to have a look at these sewing projects here. Or if you want to jump straight in with a quick and easy project you can make in an evening, sign up here to receive a free circle skirt tutorial that includes a place to record your measurements!