Here is something I meant to write a post about some time ago.
My boys were not actually christened. They had a dedication instead, which is very similar to a christening except that the babies are not initiated into the Christian religion. We chose to have a dedication for them instead because we wanted to mark their births in a spiritual way, but we want them to make that decision for themselves when they are old enough.
A dedication is just as special to a family as a christening so I wanted my boys to have an outfit that they could keep.
For Boys 1, 2 and 4 I made a traditional style christening gown as they were babies. Boy 3 was 3 and would not have appreciated being made to wear what was basically a dress, so I made him a different kind of outfit (more about that later!).
The first one I made using a pattern from a book called Make it For Baby. When I scaled the pattern up to make it big enough for Boy 1 who was 4 months old at the time, it seemed ridiculously long so I hacked a chunk of fabric off the end.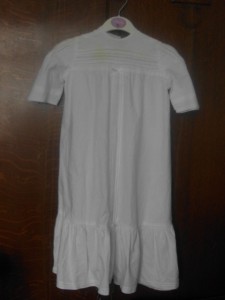 I learnt a weird technique that involves removing some of the up and down threads to leave the horizontal threads.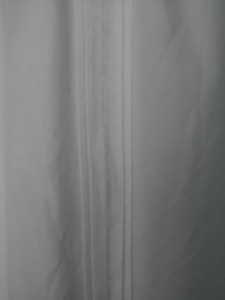 It was quite quick to make and I don't think the bows are too much for a baby boy!
When the time came for Boy 2's dedication, he was 9 months old so too big for the christening robe I made for Boy 1. I wasn't going to complain about making another  one though! I also liked the idea of Boy 2 having his own.
I don't like making the same thing over and over because I get bored, and I also didn't want to faff about scaling the pattern up again, so this time I made my own pattern. One of Boy 2's t shirt formed the template for the yoke and the skirt part is two rectangles sewn together and gathered.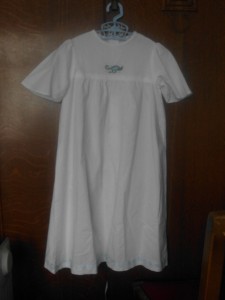 To make Boy 2's different to Boy 1's, I embroidered a border of Celtic inspired swirls using some beautiful Anchor embroidery thread I found in a craft shop.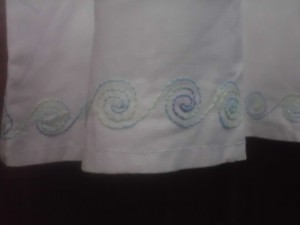 Despite being a terrible drawer, I managed to design a Celtic looking bird with a swirly thing round its neck. Because the fabric was quite thin I was able to trace it onto the fabric. I embroidered it using satin stitch, and for the swirls I used back stitch.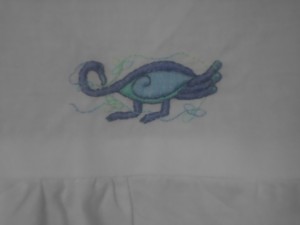 For Boy 4's christening robe I employed the same technique, using one of his little t-shirts as a template for the top and a large gathered rectangle for the skirt section. To embellish his robe I sewed star shaped mother of pearl buttons along the bottom. I had just got my new sewing machine and I was very happy to try out its button sewing capabilities!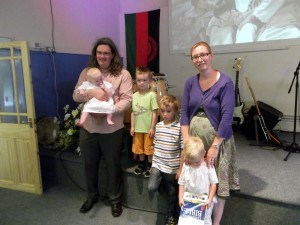 I thought I had a photo that showed Boy 4's robe better but I can't find it. The robe is actually longer, it's just caught up round him. Also I'm not actually pregnant,  just a bit fat.
Because Boy 3 was older, he needed a different kind of outfit, so I made him a pair of white trousers and a peasant style top. Unfortunately I misjudged the trousers and they were a little bit tight. Our pastor said he looked like John Travolta! Boy 3 looked at home like he had 4 heads, he has no idea who John Travolta is!