How to Draft a Trouser Pattern
One of the things I love about sewing for little ones is that they don't care about what other people think!
My youngest boy, Cosmo, is 4. He doesn't think in terms of some things being for boys and other things being for girls, he just thinks about whether he likes them. His favourite colour is pink.
With Cosmo starting school in September, I know that these days of him being free to be just who he is in the way that only small children are are coming to an end, and try as I might to keep him this way, he will be dictated to a bit by other kids at school.
So when I had to go into King's Lynn to rescue a pair of shoes that got left on the bus, I jumped at the chance to take my little lamb to the fabric shop and let him chose something that I could make into a pair of trousers.
Cosmo chose some fabric with the bees on, which I think will make a lovely pair of trousers for the rest of the summer!
I didn't have a pattern and last time I made trousers, I drew round a pair of trackie bottoms. This worked out ok, but they were a bit baggy around the top.
So this time, I decided to draft a trouser pattern properly so my little boy will have a pair of gorgeous bumble bee trousers that fit his sweet little self perfectly!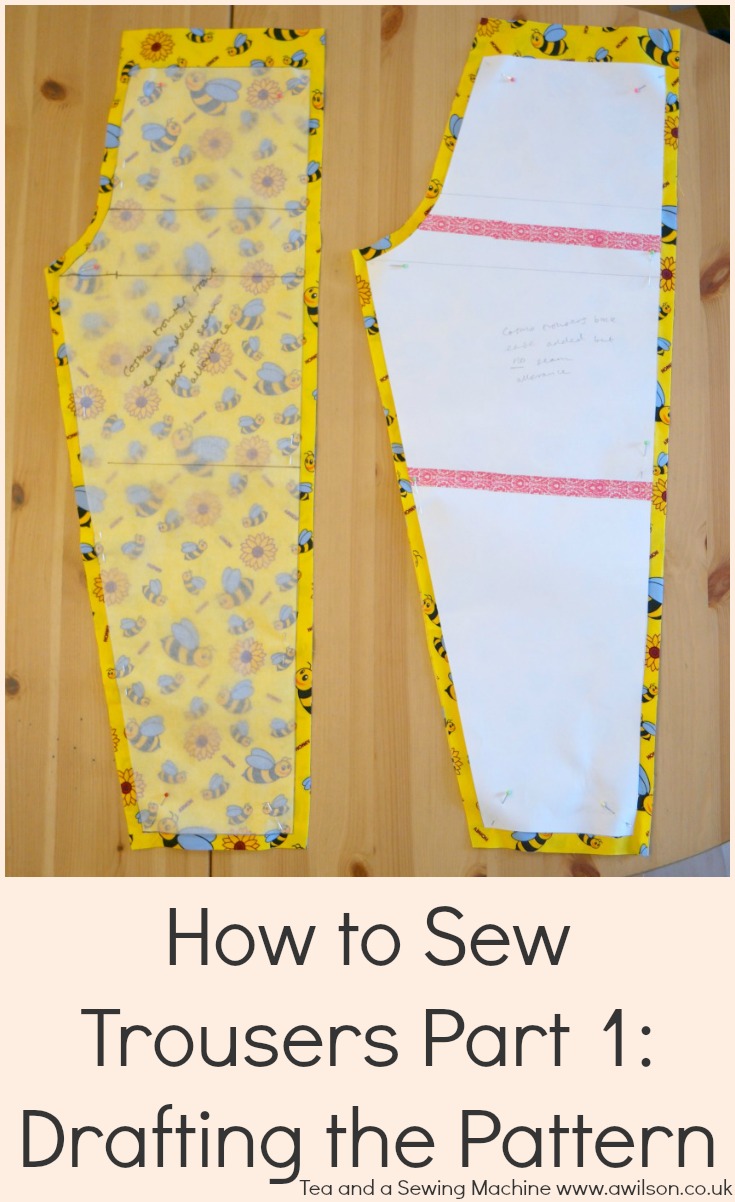 How to Draft a Pair of Trousers
It's easier than you might think to draft a trouser pattern! Although this was a pair for a little boy, the same principles apply whatever the size of the person.
You Will Need
Pattern paper
or greaseproof paper, a pencil, a ruler and a tape measure. A French curve
is useful but you could use a plate instead if you don't have one. These are affiliate links.
Taking Measurements
The key to sewing clothes that fit properly is taking accurate measurements.
To draft a trouser pattern, you will need to measure:
Waist to ankle (the easiest way to do this is to dangle the tape measure upside down)
Waist to knee
Waist to hips (at the widest point)
Rise (sit on a chair, then measure from your waist to where your butt meets the chair)
Around your waist
Around the front of your hips at the widest point
Around the back of your hips
Around your knee
You'll also need to decide how wide you want the trousers to be at the bottom.
Drafting the Pattern
The pattern will be drafted in 2 sections. There'll be one section for the back, and one for the front. These sections will then be cut on doubled fabric, so you'll have 2 back pieces and 2 front pieces.
Trouser Front
1. Take your pattern paper and down one edge, draw a vertical line the same length as the distance from your waist to your ankle. If you are making trousers for yourself, you might need to stick pieces of paper together.
2. On that vertical line, mark on your waist (that's at the top), distance from waist to hips, your rise, and waist to knee.
3. Now you're going to draw on the horizontal lines. These will go where you marked on the vertical line.
Take your waist measurement and divide it by 4. Add 1 cm for ease and draw that line at the top of the vertical line.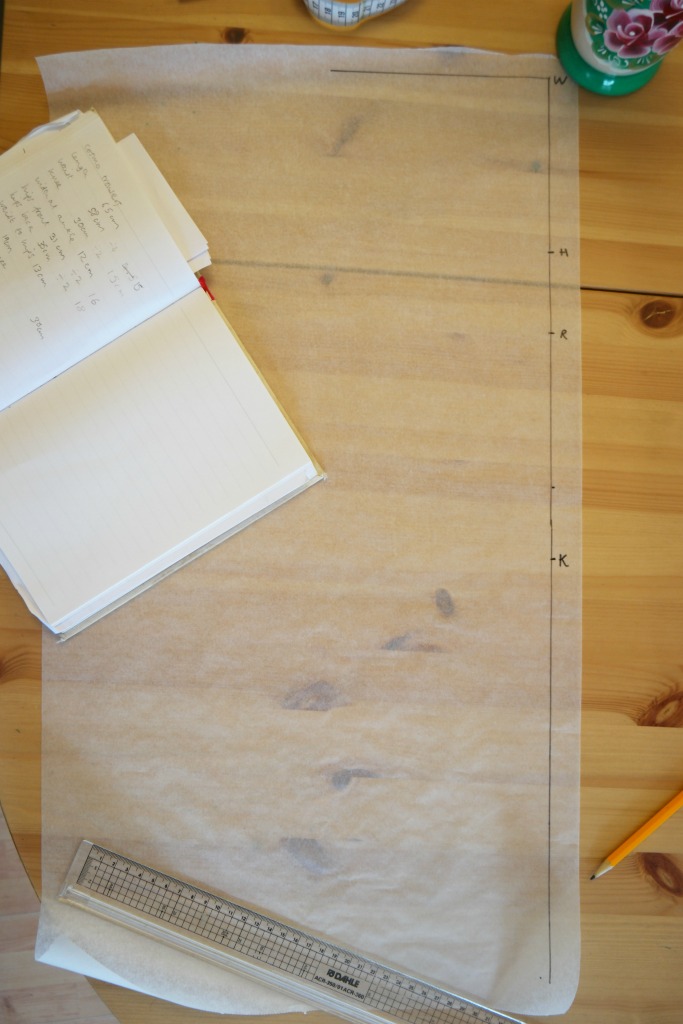 4. Take your front hip measurement and divide it by 2. Add 1 cm, then draw that horizontal line where you marked your hips.
5. Underneath that, where you marked your rise, draw another horizontal line the same length as your front hip measurement.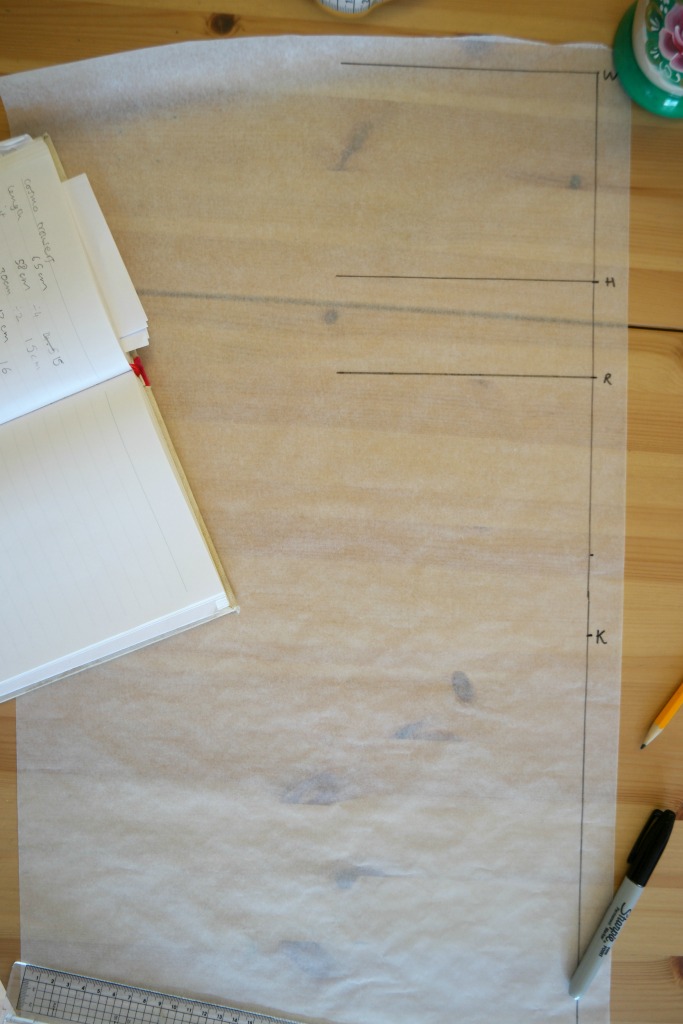 This line will need to be longer, so we have to calculate the crotch extension (I wish they'd call it something else!). How long was the line you just drew? Multiply that by 0.25, then extend the rise line by that amount.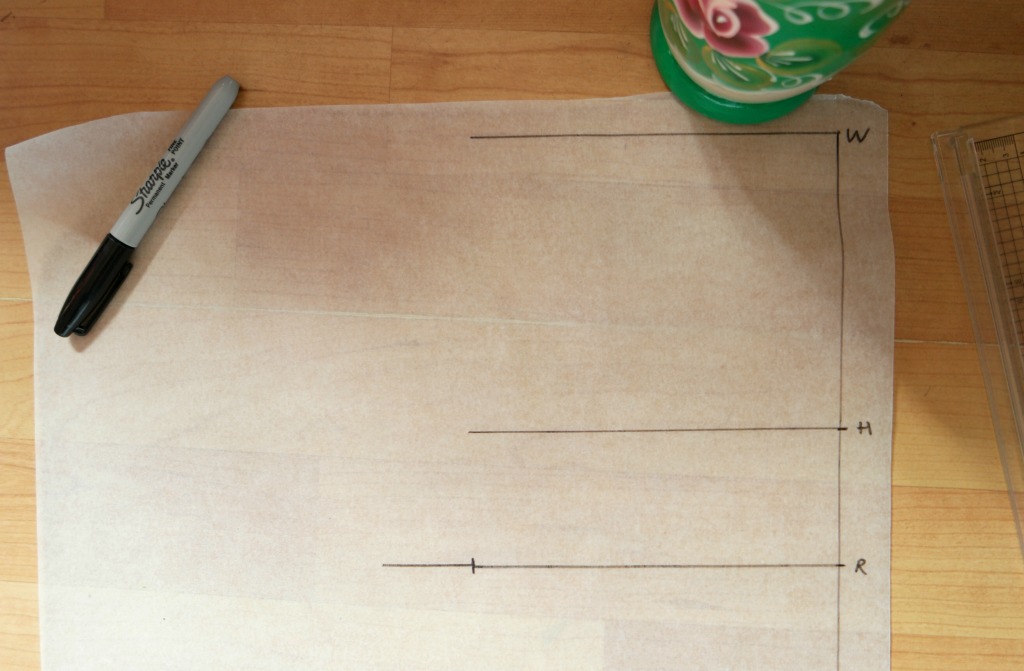 6. Now find where you marked your waist to knee measurement on the vertical line. Divide your knee measurement in half, and 1 cm for ease and draw it on.
7. At the bottom of the line, draw a last horizontal line. This will be the width you want the trousers to be at the bottom.
8. Now join the lines up! The waist to hip line will be straight.
The next part, the hip to rise, will need to be curved. For this you can use a French curve, or a plate will do if you don't have one.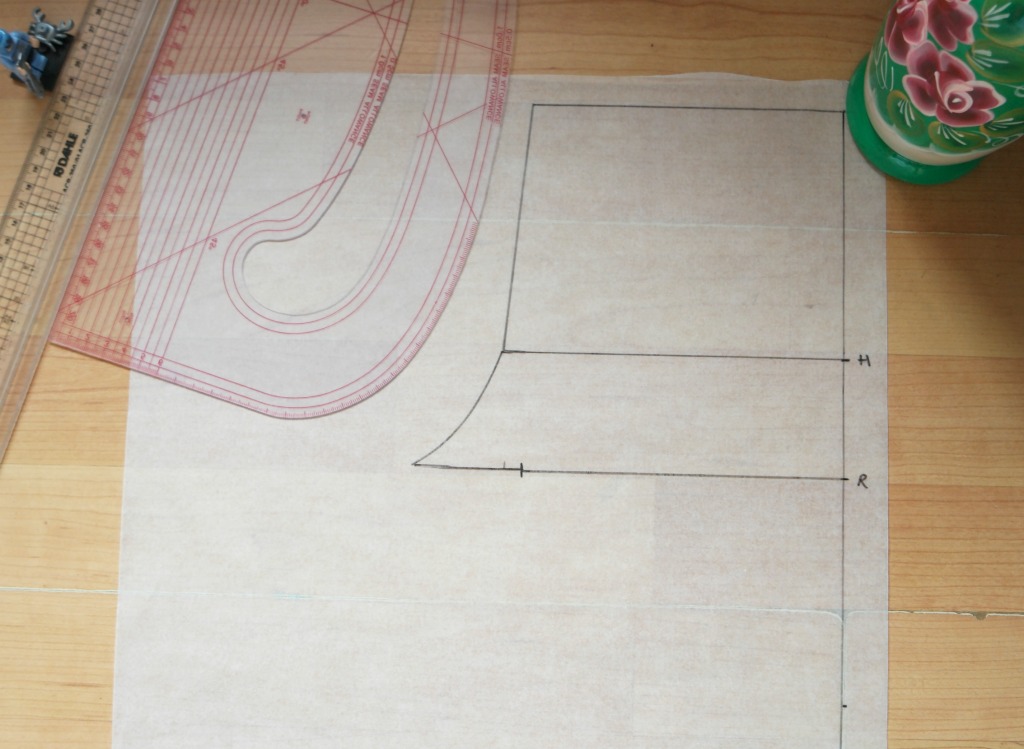 The rise to ankle will also be a straight line.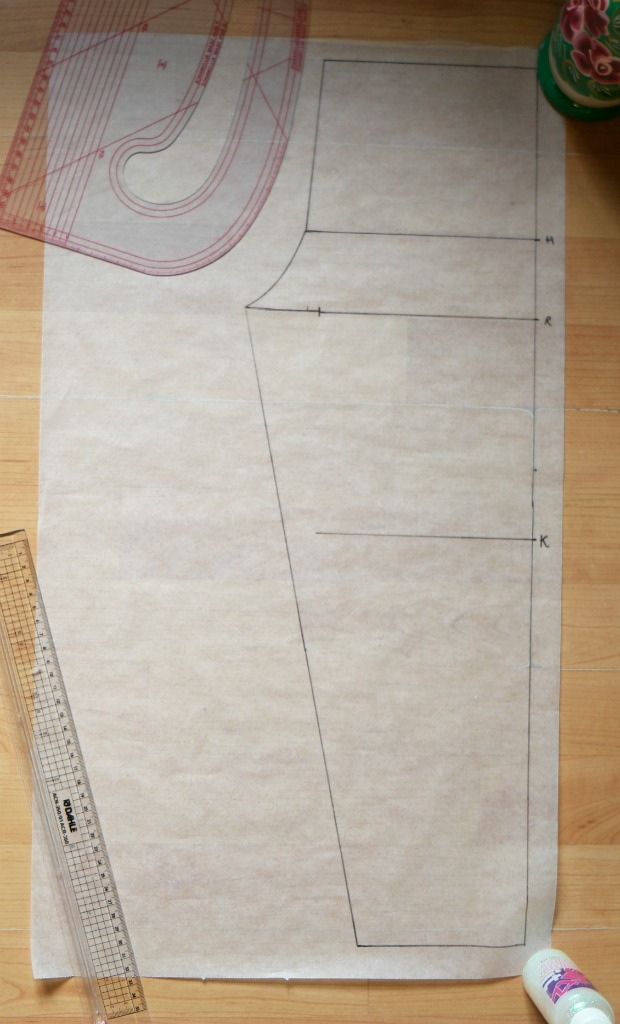 Don't worry about joining it to the knee line. Just make sure that you don't go through that line, or you'll have issues getting your trousers on!
Drafting the Trouser Back
Drafting the back section is done in exactly the same way as the front, with 2 exceptions.
The first is that where you draw you hip line, you will need to use the measurement you took around the back of your hips, divided by 2, plus 1 cm for ease of wearing.
The other exception is that to work out the crotch extension, you will need to multiply the hip line by 0.3.
Adding the Seam Allowance
You will need to add a seam allowance to your pattern pieces. You can either draw around your pattern piece to add a seam allowance, or you could just add it in when you're cutting out.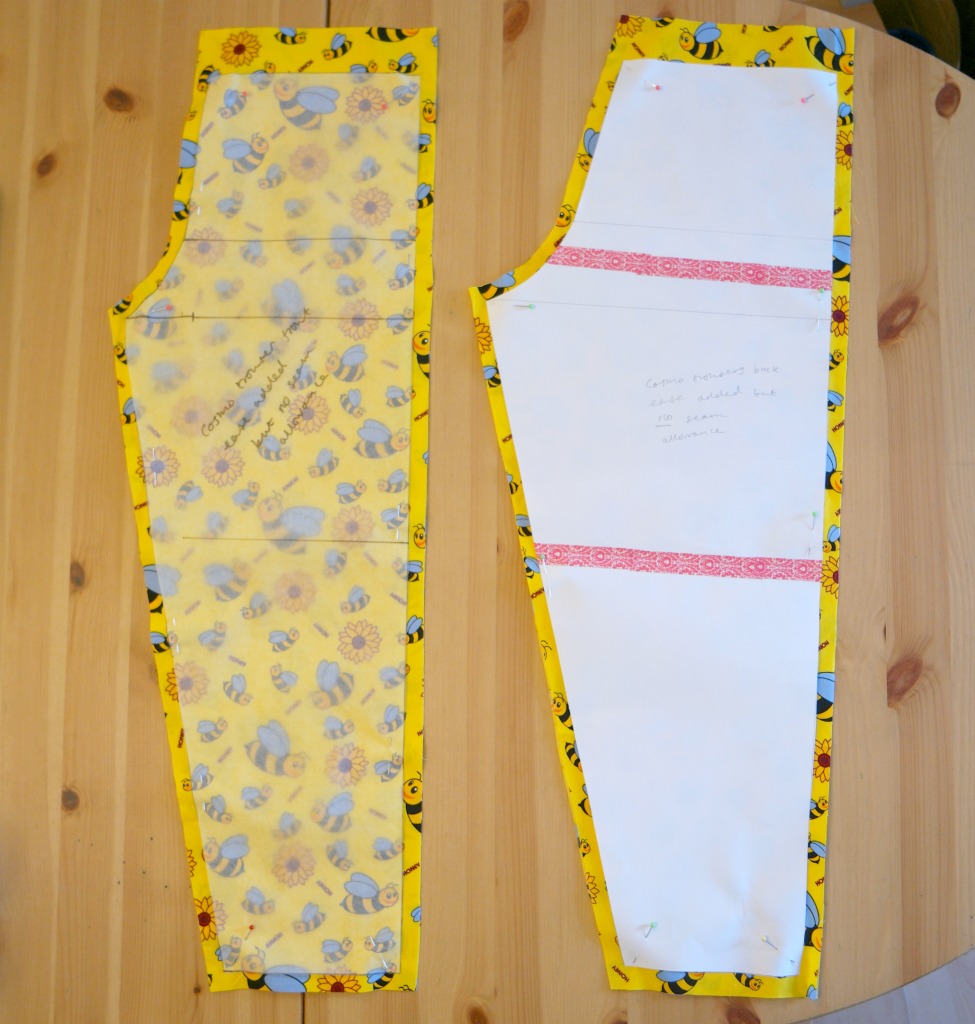 It's a good idea to write on your pattern pieces whether you've added in the seam allowance or not to avoid causing yourself confusion if you decide to make yourself another pair at a later date.
Next week I'll be showing you how to sew the pieces together to make the trousers!
Linking up here.