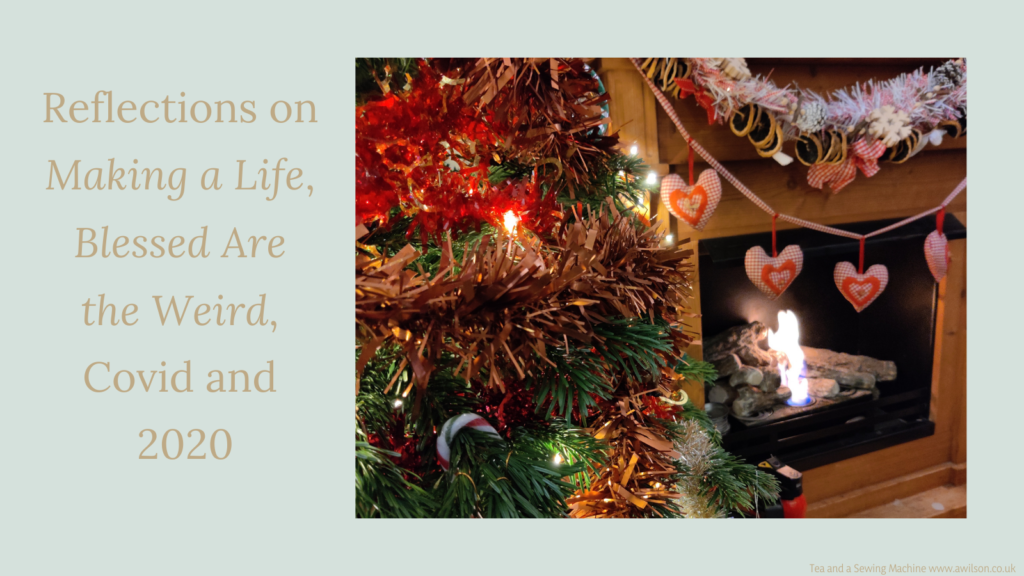 Reflections on Making a Life, Blessed Are the Weird, Covid and 2020
What with all the pre Christmas busyness of Christmas, I thought I'd write a different kind of post this week.
I know lots of you have probably ended up here because of a tutorial. I love to make things and I also love to share the things I've made. Doing this as a tutorial means giving people ideas of things they can do themselves. 
But I want my little corner of internetland to be more than that, which is why from time to time I write posts about other things. 
We're now in December of the weirdest year ever, and there's lots of Christmas crafts flying about and everybody's busy. Some people are pretty much there in their Christmas preparations. The rest of us are still panic buying pants for our nearest and dearest.
So we're going to put all that to one side, make a cup of tea, find an armchair that doesn't have stuff on it and have a bit of think about some other things.
I was recently reminded of a book I read last year. It was a book called Making a Life and I was sent a copy to review (the review's here if you want to read it).
There are lots of books out there about making things, but this one was different, and I enjoyed it very much. It was about people who have, in one way or another, made making things a way of life.
When I read it, it made me think of another book I read at about the same time. This was Blessed Are the Weird by Jacob Nordby. One of themes in this book is how creativity was valued much more highly in the past than it is now, and how for the most part, we've lost this. Priorities have been redefined and the arts are now seen as frivolities. This kind of life is not doing us any good and we need to regain some of this that we've lost.
A common theme that runs through both books is the idea of being able to live the kind of life where creativity is a part of it. Not a part that gets squeezed in when the we've finished for the day at our important job, when the kids are in bed and the housework's all done, but the kind of life where creativity and life go hand in hand.
This kind of life means slowing down. Any sort of creative process takes time. Sometimes we have to leave things for a bit for them to dry, or for the dye to take, or for the things to grow. Other times things need to be left so we can come back to them with fresh eyes.
During Lockdown 1 lots of us no choice but to slow down. Many people found themselves spending more time with their families. The circumstances made us re evaluate what was important to us. People talked about being stuck at home, like they were trapped in a prison, but in an odd way, we were made free. There was freedom from endlessly rushing about, commuting, being stuck in traffic, having to do things because of other people's expectations. We were free from some of the pressures of modern life.
And lots of people, once they'd got used to it a bit, rediscovered the desire to make things. It provided an outlet for processing what was going on and a distraction that kept hands and minds busy.
So here are a few random thoughts about both books and the weird year that is almost over.
Being Forced to Slow Down
We know that living life at a million miles an hour doesn't do us any good.
We have become human doings, rather than human beings.
Modern life pre covid could be held responsible for all kinds of things, including:
Stress related illnesses
Health problems caused by eating things that are not good for us
Intensive farming practices, leading to reduction of different species of insects, animals and plant life, inhumane treatment of animals and risks to health and the environment.
Fast fashion and a throw away culture
Consumerism and a focus on having more or better stuff, rather than what we actually need.
A preoccupation with stuff rather than relationships.
Unhealthy work practices where we work long hours to pay for the stuff.
Pollution caused by traffic we rush from one thing to the next, and by delivery vans bringing the stuff we've bought that we wanted yesterday.
Being made to slow down encouraged us change how we see some of things, at least for a short while.
2020 Has Made Us Re Evaluate Our Priorities
When we went into lockdown, things that previously seemed important suddenly didn't matter as much anymore. The foremost things in our lives became food, health, family and community.
Having money didn't make any difference when the supermarket shelves were empty.
People who could sort us out with food and take care of us if we became ill were suddenly the most important people in the world.
The coronavirus doesn't care about your status. Having a big house or a fancy car or feeling important because of your job makes little difference if you catch it.
It will be interesting to see how life will look when we come out of this. I'm hoping that the world will have changed for the better. Remote working is definitely an option for lots of people, even if it's just for some of the time. We've enjoyed the cleaner air and we've realised we don't need half the stuff we think we do. And people have rediscovered the benefits of making things.
We'll Attach More Value to the Things We Have
One of the reasons we don't value things is because they don't cost what they used to.
In the past, a winter coat was an investment, as was a pair of shoes. It was acknowledged that skill was involved in making them and the materials used were expected to last.
Now we can pick these things up for a few pounds, wear them for a couple of months then throw them away.
There are reasons why these things are so cheap. The two main ones are that the people who make them are paid a pittance, and they are made of cheap materials.
When there is still some use left in clothes that we have simply got bored of, we hand them off to charity shops as a way to relieve any feelings of guilt we might have. But the unfortunate reality is that a lot of what gets donated to charity shops still ends up in landfill anyway.
Making things ourselves gives us a sense of the skill and the effort involved.
If you've spent hours making a dress, it's very unlikely that you'll only wear it a couple of times before deciding that you're bored of it or that you don't like it!.
Usually much more thought goes into making something than buying things often on impulse from high street shops.
You get to choose the style, the colour, the kind of fabric and whether it's a print or plain.
Every step of the way you can check that it fits, and if it doesn't, you can adjust it. 
You can modify the pattern as you like, make the sleeves longer or shorter, add a contrast panel, change the length of the skirt. Ultimately you're far more likely to end up with something that you like and that fits properly!
Even when it reaches the end of its life as a dress, you might decide that there's still useable fabric there and turn it into something else.
It's not just clothes either. Everything that we have made, cultivated or nurtured with out own hands is much more likely to be used because we know the effort that we put into them. 
So the ripe tomatoes get eaten and the unripe ones turned into chutney, the weird pottery bowls get used, the hand painted flower pots are given as gifts and tie dyed experiments are turned into cushion covers.
This leads to less need for mass produced things, less waste and much more satisfaction at using things we have made with our own hands.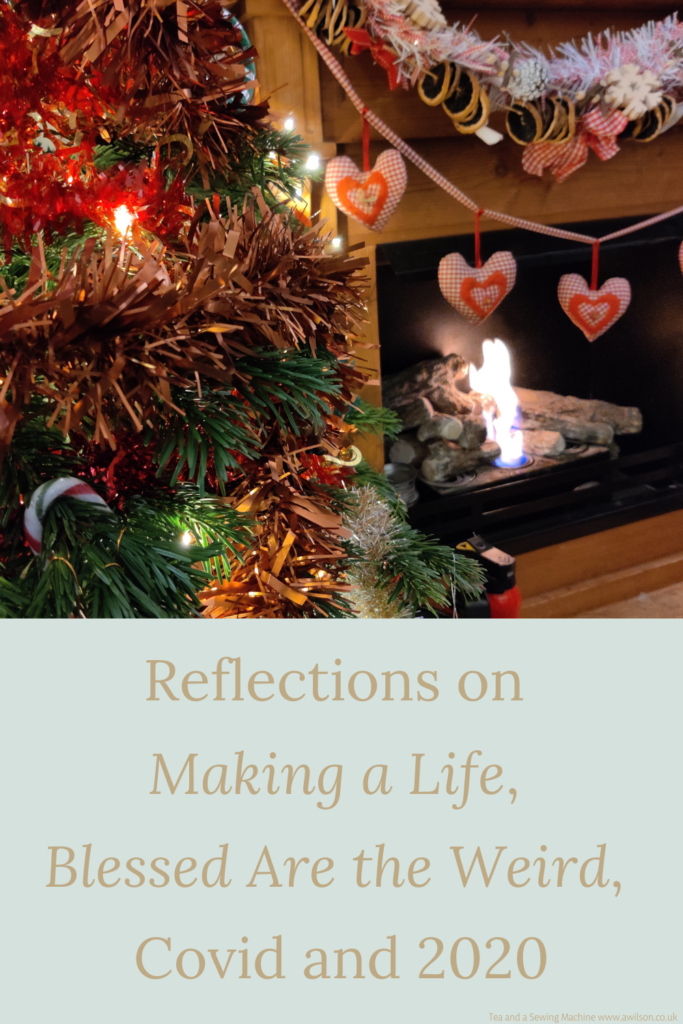 Creativity is at the Heart of Humanity
Countless generations of humans have made things.
Our primitive ancestors made bowls and cooking pots and tools. There's even a theory that modern day humans survived was because they learnt how to sew!
The Vikings travelled all the way to North America in beautiful boats they carved by hand.
Beautiful cathedrals have been built from stone and filled with stained glass windows and other works of art.
Even in the post industrial age, there is still skill and beauty in the things that humans have made. Steam trains are beautiful things. The Millau bridge in France is a wondrous feat of engineering.
The boys and I have been watching a series on Netflix about design. Our favourite episodes so far have included a guy who designs trainers and the architect who designed the Lego house in Denmark. There was another episode about a car designer, and another about a chap who makes funny little animations. 
One thing that is clear here is that humans are designed to make things. Some of us have never lost this, but some people were in danger of forgetting.
We know that making stuff makes us feel better. It makes us feel happier, calmer and less tired and grumpy. There's evidence to suggest that it can help with depression and PTSD.
We might not recognise this as a spiritual thing, but scientists have discovered that losing oneself in a creative project actually has a similar effect on the brain as mindfulness and meditation. If you've ever forgotten to eat because you've been engrossed in something, you'll know what I mean!
For some people creativity allows them to connect with their cultural heritage. For certain groups this is a big thing, often because they were in real danger of losing their heritage at the hands of other people, for instance the First Nations of North America. 
But white Europeans have a cultural heritage too, and there's a very high chance that we will lose it because we don't realise that we have something to lose.
To sacrifice our creativity in favour of a life of consumerism and mass produced junk means to lose touch with an essential part of our humanity.
Living a Life With Meaning and Purpose
The good news is there has never been a better time to be a creative person.
Government funding for the arts before the pandemic was already at an all time low. This includes school budgets for creative subjects, although there is still money for endless educationally dubious testing of children.
In spite of this, we are seeing a creative revival.
The fact that Etsy is as huge as it is now shows that there is an increasing interest in buying handmade.
Upcycling has also gained in popularity. Not only does it offer an alternative to throwing things away when they still have life in them, it's another option instead of buying everything new.
The wonder that is the internet means that whatever you want to learn, there are blog posts, YouTube videos and online courses.
And you have something to offer, you can. Anybody can write ebooks, start a blog, post videos on YouTube or sell things on Etsy.
It's worth remembering that when it comes to creativity, there is a huge variety. Anything from basket weaving to growing tomatoes and knitting mittens to drawing mandalas.
I'm going to let you in on a little secret: you don't have to be an expert! Never mind about 10,000 hours of practice, you just need to be a couple of steps ahead of the people who want to learn from you, or be able to make something that somebody without your skills wouldn't be able to.
There's no avoiding it that 2020 has been a horrible year. But hopefully some good can come out of it.
We've had the chance to reconsider what is important and realised that health and family are more important than money and status.
Perhaps as a result of this success can be redefined as a life well lived, a life that allows us to exercise our collective human heritage as creative people.
And maybe normal can be redefined so as to encompass the whole of the human experience with creativity at its centre.