Tips For Sewing a Winter Dress From a Summer Pattern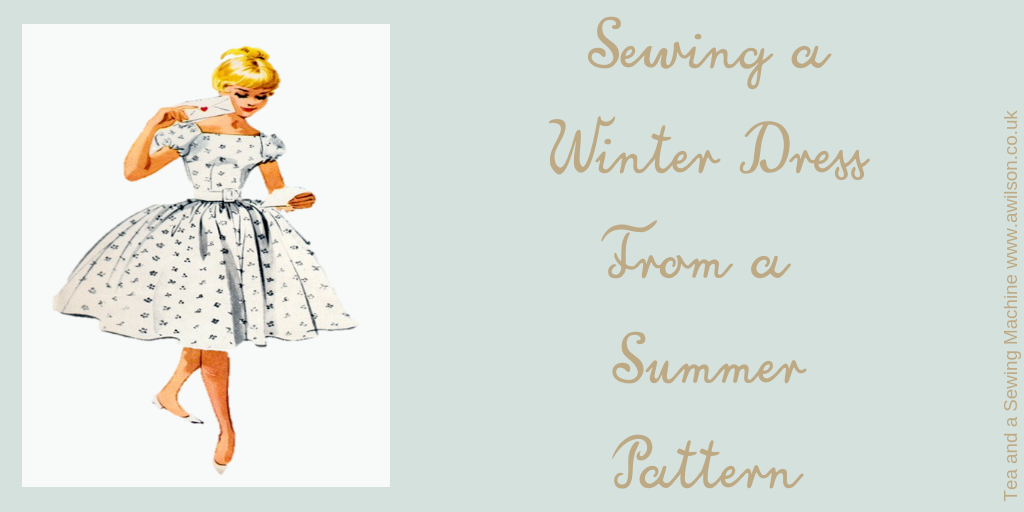 When you find a pattern you like, do you make lots of versions of it in different fabrics?
It's taken me a while to find my comfy spot clothes wise, but now I've found it, I have lots of vintage style things in my wardrobe that I love to wear!
The Cherry Blossom Dress that I used for the sewalong in the summer is the pattern I've used as a starting point. I currently have 4 versions of that dress in my wardrobe (admittedly 3 of them don't fit any more!), plus one that's very similar but has a different neckline, a sundress and a halter neck version. I also have a couple of circle skirts and a circle tutu.
It might be my imagination, but it seems to me that there are more patterns (and more tutorials) for sewing summery things than for winter clothes.
It's an odd thing. I love making things from pretty cotton fabric, but that doesn't mean I want to be mooching about in shop bought things in boring colours when the weather's cold.
There's plenty of choice when it comes to warmer fabrics, so why the lack of choice when it comes to patterns?
One answer to this is to take one of your favourite summer patterns and adapt it a bit so you can make something wintery from the same pattern.
To do this, there are a few things you'll need to take into consideration. So here are some tips for sewing a winter dress from a summer pattern.
Using a Summer Pattern to Make a Winter Dress
Fabric
When sewing a winter dress from a summer pattern, the first, most obvious thing to consider is fabric. You don't want to be shivering in a little cotton dress when there's snow on the ground!
Cotton prints are an obvious choice for dress making. There's a huge choice of colours and prints, it's easy to sew and it washes well.
Yet there's plenty of choice when it comes to warmer things too! Flannel is nice for wintery things (not just pyjamas!), velvet, tartan and suiting, especially a wool blend suiting are all options. There isn't as much choice but there's still a good range of colours.
So if you're sewing a winter dress from a summer pattern, leave the cottons to one side and have a look at warmer fabrics!
Colours
So many wintery clothes seem to be in drab colours, but there's nothing like wearing something bright and cheerful for scaring off the winter blues!
There's also no law that says you can't wear pastel colours either if you really want to! They're perfectly good wintery colours, especially if you combine them with a grey cardi or something sparkly.
Tartan comes in a variety of colours and size of check. If you're not feeling brave enough for powder blue or a bright purple and orange combo, a mild tartan might be a good place to start until you're feeling braver.
Style
With a little bit of imagination, you'll be able to work out which of your favourite summer patterns will lend themselves well to colder weather.
A halter neck dress might not seem like the best of ideas, but made from something shiny with a foofy bit underneath, and a sparkly cardi or a shawl, you could wear it for a Christmas party.
A sleeveless cotton dress could be made instead from wool suiting and worn over a long sleeved top.
Other things might be less suitable though, so you'll need to consider how you're going to wear it and decide whether you need to adapt the pattern.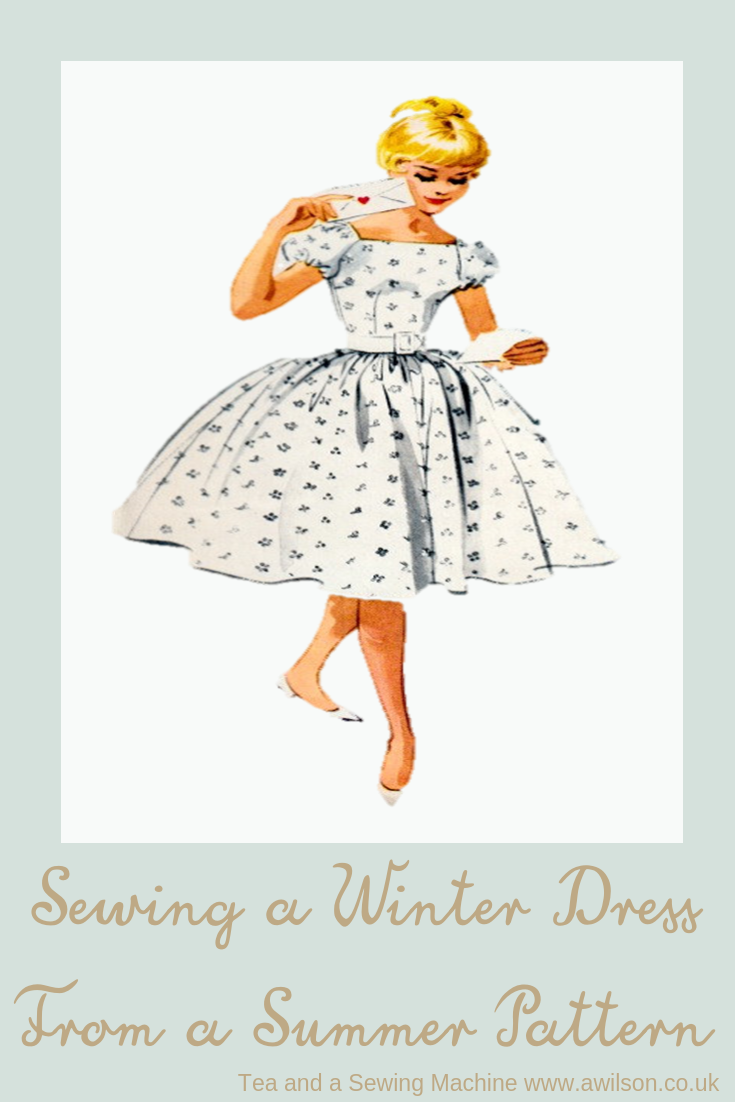 How Would You Wear It?
Some outfits can be adapted easily to suit the seasons.
Just because a dress doesn't have sleeves doesn't mean that you can't wear it in winter! So when sewing a winter dress from a summer pattern, think about how you'd wear it.
Things to consider:
Will you wear something under it?
Will you wear a cardi/jumper/shawl?
Would it work with boots or would it be better with shoes? I prefer brown boots with pretty things.
Would you wear it with tights? Or leggings? Or both?!
Length
If you're worried about having cold legs, you could make the skirt a bit longer. If you're going to wear it with leggings over tights, you could even make it a bit shorter!
It Might Need Lining
Some warmer fabrics might be itchy, especially if it is wool or a wool blend. Being warm on a cold day is a good thing but being driven by an itchy outfit isn't!
Adding a lining can make everything much more comfortable.
Even if your pattern doesn't have instructions for making a lining, it's easy enough to do. Just make a second version of your dress out of lining fabric with a slightly shorter skirt.
Then join the lining to the dress at the neckline and at the armholes. You might want to add some stitches at the waist too. I added a lining to this sundress, not because it was itchy but so that I could get a neat neckline without having to use facings.
You could also add a lining to make your dress warmer. This is especially good if you've got your heart set on some beautiful fabric but it's totally unsuitable for winter because it's just not warm enough!
Adapting the Pattern
I've already mentioned the length, but there are other ways in which you could adapt the pattern to make it more suitable for colder weather.
If it has short sleeves, you could either leave the sleeves off so that you could wear a  long sleeved top underneath, or make them longer.
You could also change the shape of the neckline or the back of the dress if you're worried about being cold!
Allow a Bit More For Seams and Ease
Another thing to consider when sewing a winter dress from a summer pattern is that you might have to allow a bit more for seams and ease.
Using heavier fabric will probably result in bulkier seams. Although some fabrics won't fray any more than cotton does, so might fray quite a bit, so cutting the seams right down might not be an option.
Also if you're planning on wearing your dress over something, you'll need to allow a bit more for that too.
The best thing to do is to try it on while your making it (always good advice!), and make sure you're wearing whatever you're planning on wearing underneath it when it's finished. Don't trim the seams until you're sure it fits!
If you fancy having a go at different kinds of seams (lapped seams are good for heavier fabric), you might like to read this post here.
Other Easy Ways to Change the Dress
You could:
Add a bow or a sash.
Sew broderie anglaise to the bottom of the skirt (I did this here).
Add different coloured sections to the skirt.
Sew different bits in different coloured fabric
Add some embroidery.
Make a foofy underskirt.
So what do you think? Do you have a favourite pattern that you've reused? Would you consider sewing a winter dress from a summer pattern? Let me know your thoughts in the comments!