10 Tips For Getting Fabric For Cheap or Free
Buying fabric can be expensive, not to mention patterns and the haberdashery that's needed for a sewing project as well.
So how can you feed your need to sew without it breaking the bank and instead getting fabric for cheap or free?
Here are 10 tips for getting fabric for cheap or free.
1. Don't throw anything out! Small pieces can often be used in scrap projects or for patchwork or applique. You never know when those little bits might come in handy! It can save you money if you don't need to buy extra fabric for applique because you already have stuff you can use. Which brings me on to the next point!
2. Look at what you have already. This might sound obvious, but if you've been sewing for a while, you've probably accumulated a collection of fabric, with some larger pieces as well as scraps. It's very easy to forget what you have! If you have a rummage, you might find stuff that you could use without having to buy anything more.
3. Consider what else you have that you could use that didn't come from a fabric shop. Duvet covers, sheets, old curtains and tablecloths all have plenty of fabric in them. Even if they are a bit tatty at the edges or have a tear in them, you could still use them. Mens' shirts are also a good source of fabric, especially for making smaller things and clothes for children.
You could also have a look in your own wardrobe and see what you have that you could either use for fabric or repurpose in some way.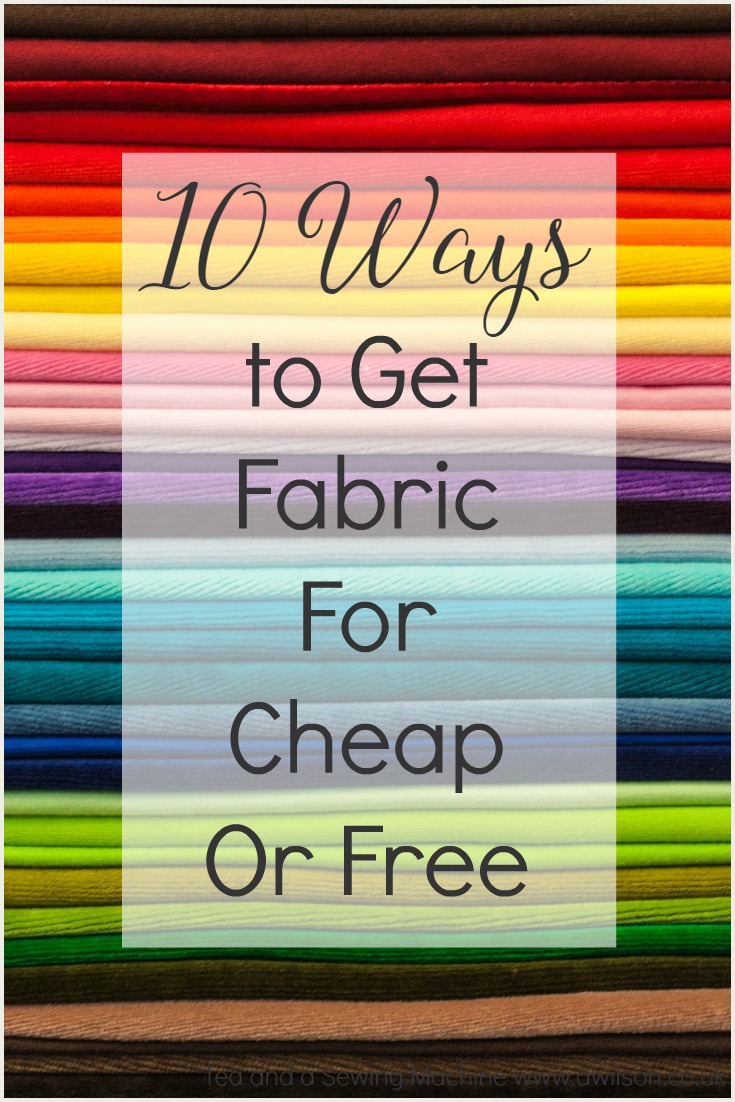 4. Raid the charity shops. If you don't have old duvet covers and curtains, charity shops and junk shops often do! A couple of years ago, I found 2 Liberty tablecloths in a junk shop for 50p. They were worn at the edges, but still beautiful and with plenty of useable fabric in them.
5. Look out for sales. January (and often the summer as well as shops have a clear out before getting new Christmas stock in) can be a good time to buy Christmas fabric. Even if there is not a sale on, fabric shops often sell off bolt ends and remnants at a reduced price. Following your favourite fabric shops on Facebook is an easy way of finding out about sales, as they'll often put them on social media.
6. Look on Ebay. You might have to spend some time trawling, but there are bargains to be had. The fabric I bought for this coat was £5 a metre from Maggie's Fab Fabric. There are other similar sellers too, especially if you look for fabric that's not quilting cotton, like suiting or jersey.
7. Ebay is also a good source for tablecloths and old sheets, so it's worth a look if your local charity shop/ junk shop doesn't have anything. Just bear in mind that you will have to pay for postage!
8. You could also check out Freecycle. You can post on there that you are looking for old curtains and stuff if you can't find anyone who's trying to get rid of some.
9. Ask your friends and family. You could put out a request via Facebook, or email, or just ask! You never know what people might be wanting to throw out. I find that people occasionally offload stuff on to me because they know I'll use it! I've come into some nice cotton fabric in the form of gently used pillowcases, old jeans and felt squares in this way!
10. Swap some stuff with your sewing friends. If you have some fabric that you know you're probably not going to use, see if you can swap it for something else with a sewing friend. They probably have stuff that they know they won't use either, and will be happy to swap with you.
Do you have any more tips for getting fabric for cheap or free? Leave me a comment and I promise I'll reply!
Happy sewing!