Finding Space to Sew in a Small House
Finding space to sew in a small house can be tricky, but it's not impossible!
As someone who sews a lot, I know how much of a difference it makes when you can leave your sewing machine out.
Suddenly sewing for 10 minutes is an option. If you have to allow 10 minutes to get it out before you can start sewing, then clear up your sewing stuff and pack your machine away again at the end, you need to have a good chunk of time to make it worth it. And there's no point if you know that people are going to need to sit down for dinner at the table you want to use in half an hour's time!
With all the beautiful sewing rooms on Pinterest, it's easy to feel that having a permanent space to sew not an option for you if you live in a small house or flat and if you don't have the spare cash to splurge beautiful storage that all matches.
Well, I'm going to tell you a secret. You don't need a whole room!
It's true!
I sew all the time. We live in a fairly small house. There are 6 of us, plus the cat. There's Lego everywhere, and usually piles of laundry. I can't justify taking a whole room when the kids are already sharing.
So I don't! Instead, I have a corner in the living room. I leave my sewing machine up and I have some space for sewing related stuff.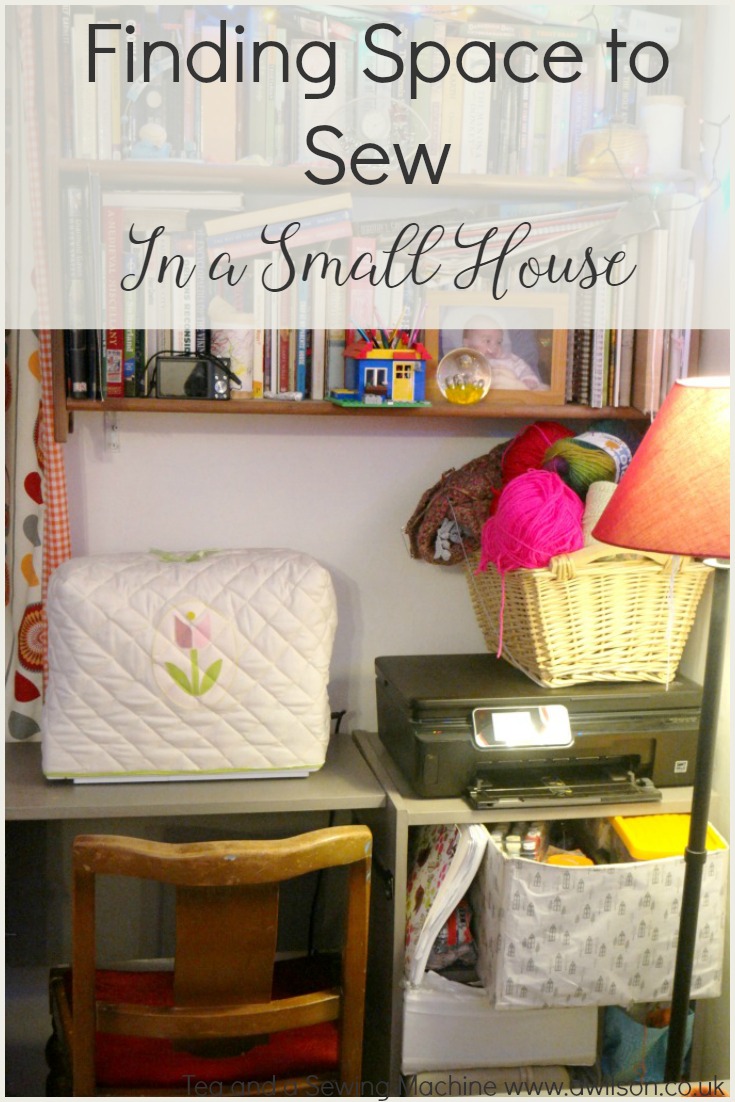 If you're wondering where on earth my fabric is, it's behind the bedroom door. I've shared my fabric mountain before and I've resolved to do something about it this year, as it's started to spawn mini mountains elsewhere in the bedroom. That's another blog post!
So what do you do if you need a space to sew but you don't have the space, the furniture or the money? Here are some tips for you if you are struggling with finding space to sew in a small house.
Finding a Space
Like I said, your space to sew doesn't need to be a whole room. You just need enough space to wedge yourself in with your sewing machine.
1. Do you have any space that you are not currently using that would be big enough for yourself and your sewing machine? Think hallway, landing, under the stairs, empty corner of bedroom/ living room.
2. Could you rearrange things a bit to make some space? My sewing area became free when we got new sofas and changed the layout in the living room.
If moving the furniture around won't give you more space in that room, could you move some of it to a different room?
3. If you're lucky enough to have a room or an area that doesn't get used very often, you could use it for your sewing machine. Even if you have to pack it away every couple of weeks, that will still give you more sewing time than if you have to put things away before every meal time.
Furniture For Your Sewing Space
Lovely as it would be to spend a fortune on purpose built craft furniture, for lots of us it just isn't an option. But like with whole sewing room myth, you don't need bits of expensive furniture either!
My sewing desk thing is actually a computer table bought from Ikea 15 years ago. It became redundant when we swapped the enormous desktop computer for a laptop. At the time, I took it apart and stashed it down the side of a wardrobe.
When I need a table for my sewing machine, I remembered that I had this, so I got it out and put it back together! It had turned an unattractive shade of orange, but mercifully a couple of coats of Annie Sloan paint improved things quite a lot! There's room for my sewing machine (and my legs!) and there are cubbies for storing sewing stuff. I do have to share it with the printer though.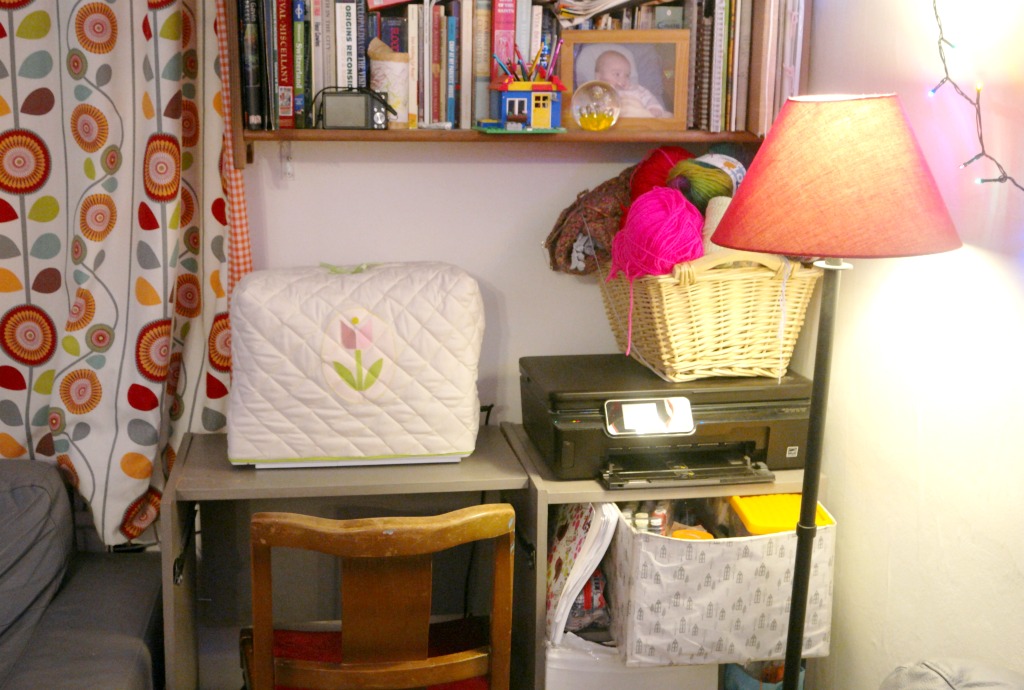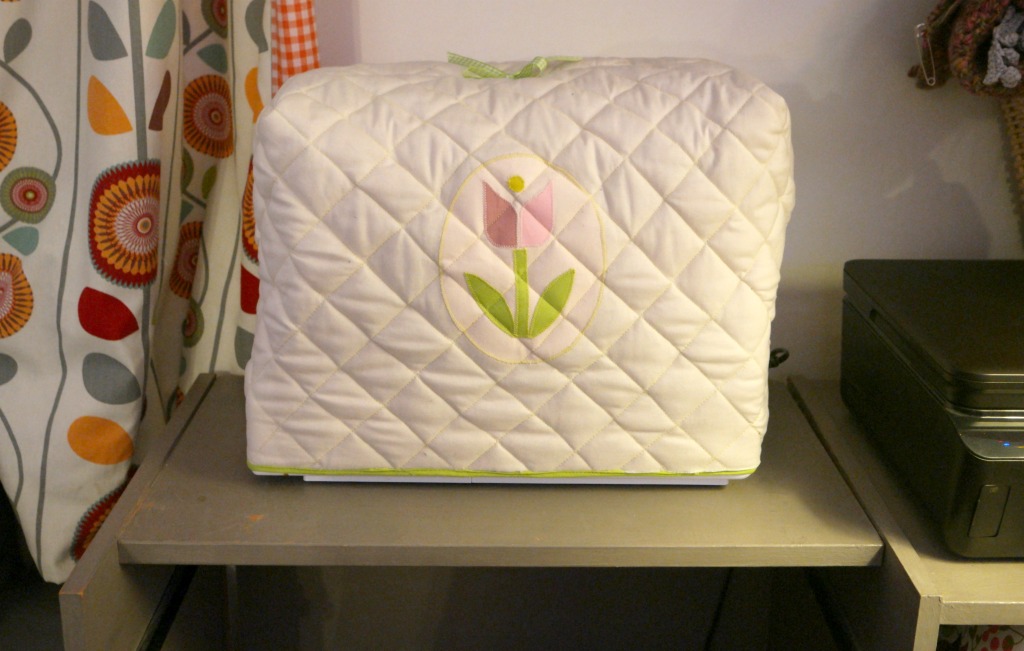 The computer desk had a fold away section for the keyboard. I removed this and covered both sides in sticky backed plastic. One side looks like wood, the other side looks like wood painted white. I use it for photos for Instagram and it lives under the sofa when it's not being used.
So here's what you can do to find furniture for your sewing space.
1. Look at what you have already. You might be surprised to find that you already have something you can use. It doesn't need to be fancy or perfect, it just needs to be big enough for your sewing machine and your legs.
2. If you really don't have anything, try charity shops or junk shops. You might even find that somebody is throwing out something you could use! If it's a horrible colour you can always paint it.
Storage
The sewing rooms on Pinterest all have beautiful storage. Every kind of caddy, box and container and beautiful co-ordinating colours, with sewing supplies tastefully and carefully organised. And if you don't want to spend a fortune, well, you could take 2 months out of your life to make it all yourself!
Of course, most normal people probably don't have the money or the time. Although you could make some stuff yourself (these little fabric boxes come together quite quickly), you'll never use your sewing space if you take several months making stuff for it!
Instead, you could try these.
1. See what you have already. A bit of a sort out or some reorganisation might free up a basket or box or two. The basket where my wool lives was previously home to toiletries I was never going to use and other junk that I threw out or rehomed.
2. Cover cardboard boxes in pretty paper, fabric or sticky back plastic. My drawer is a cardboard box covered in wrapping paper. I reinforced the edges with sellotape.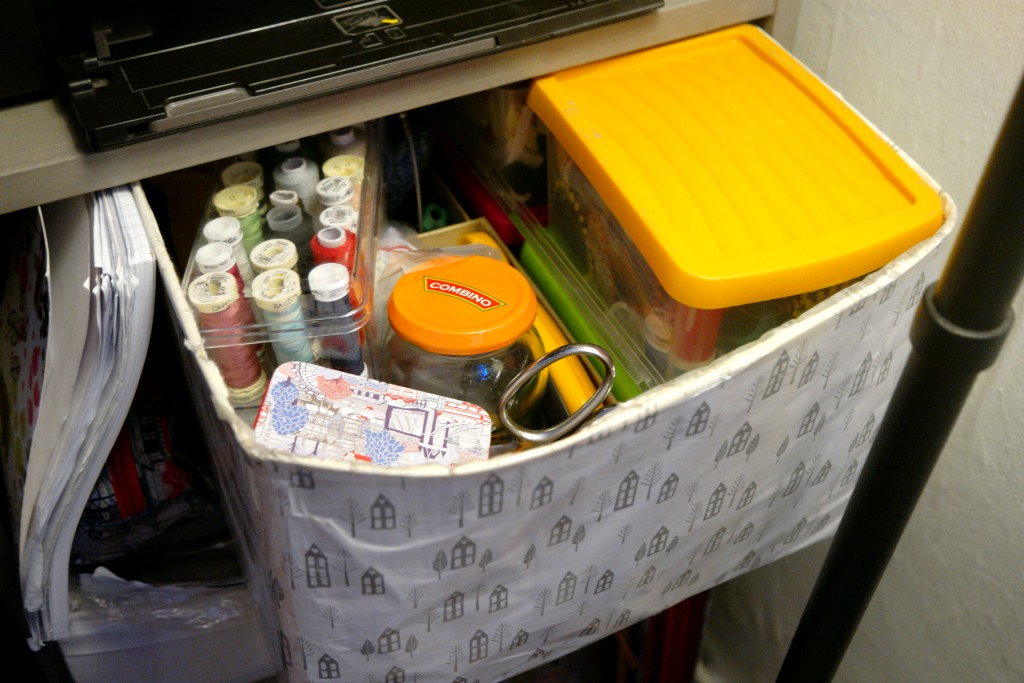 3. Buy cheap plastic or cardboard boxes. I got some little plastic boxes from Wilko. They were £5 for 4. Or Tesco have Chinese takeaway sized plastic boxes at  £2 for 8. These cardboard boxes from Amazon
 are £15 for 10. The sides are not very strong but the lids help them to keep their shape.
4. Be super thrifty and keep all your jars and tins! These will work for keeping buttons and ribbon safe.
If you're trying to find space to sew at home, I hope you found this useful. If you have tips to add, please leave them in the comments! I'll do my best to reply to all of them!