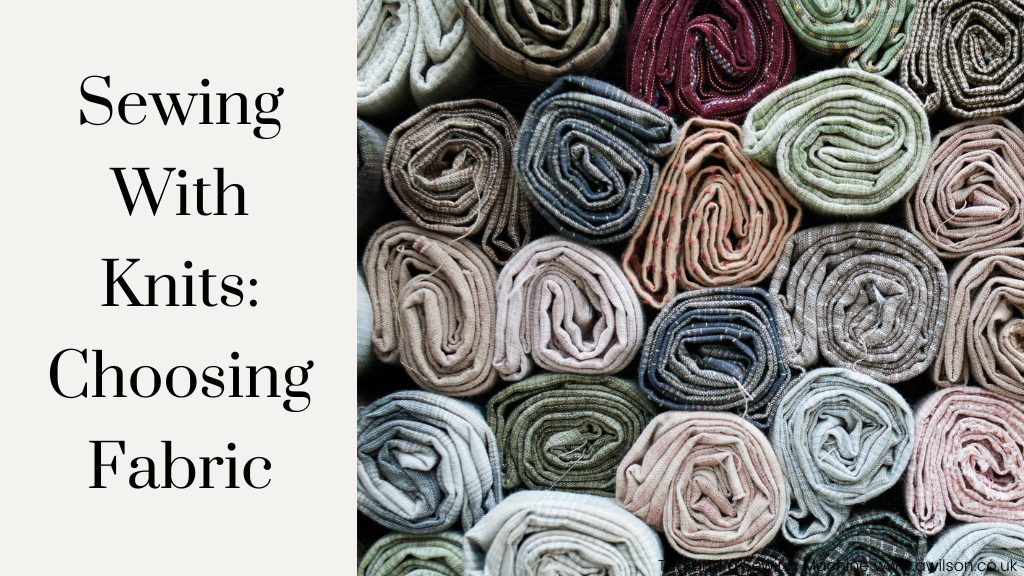 Whatever you are sewing, it can be difficult choosing the right kind of fabric for your project.
It's hard enough when you need for a lightweight cotton! There are so many colours and prints to choose from.
With knit fabrics, not only are there lots of colours and prints, there are also different types, weights and levels of stretchiness.
Obviously the kind of fabric you're going to choose will be dictated a little bit by what you're going to make. Also it will depend on when you are planning to wear the thing you are making. One of the advantages of sewing with knit fabric is that there are good options for colder times of the year, as well as lighter fabrics for when the weather is warmer.
Easiest Fabric
The easiest kind of stretch fabric to sew with is cotton interlock jersey. Ponte Roma is very similar.
Cotton interlock jersey is basically t shirt material. It's usually a bit thicker than the fabric used in ordinary t shirts, and although it does stretch, it doesn't stretch too much. Usually it will stretch a little bit up and down, and more side to side. That's what is known as a 2 way stretch. A 4 way stretch is when it will stretch quite a lot up and down as well as side to side. A 2 way stretch is easier to sew with.
Being made from cotton, it will wear and wash well. It will probably fray when you cut it, but only a little bit. Being a bit thicker will make it easier to sew with as well.
Cotton jersey comes in an array of colours and prints, so there is plenty to choose from.
Other Easy Fabrics
The easiest stretch fabrics to sew with are ones that don't stretch too much and are a bit thicker. As I've already said, cotton jersey will be a good choice for most everyday things, like tops and dresses.
Other fabrics that stretch a bit but not too much include sweatshirt fabric and fleece. Obviously you can make sweatshirts out of sweatshirt fabric, but you can also use it to make other tops and dresses, and they will be nice and warm in winter.
I don't think I'd make a dress out of fleece, but it is good for jackets.
One thing to be aware of when using fleece and sweatshirting is that it is quite thick. It's always a good idea to have a practise first to see how your sewing machine will handle it.
The other thing is that both these fabrics tend to shed fluff. Some of it will end up inside your sewing machine, so it might need a clean when you have finished your project.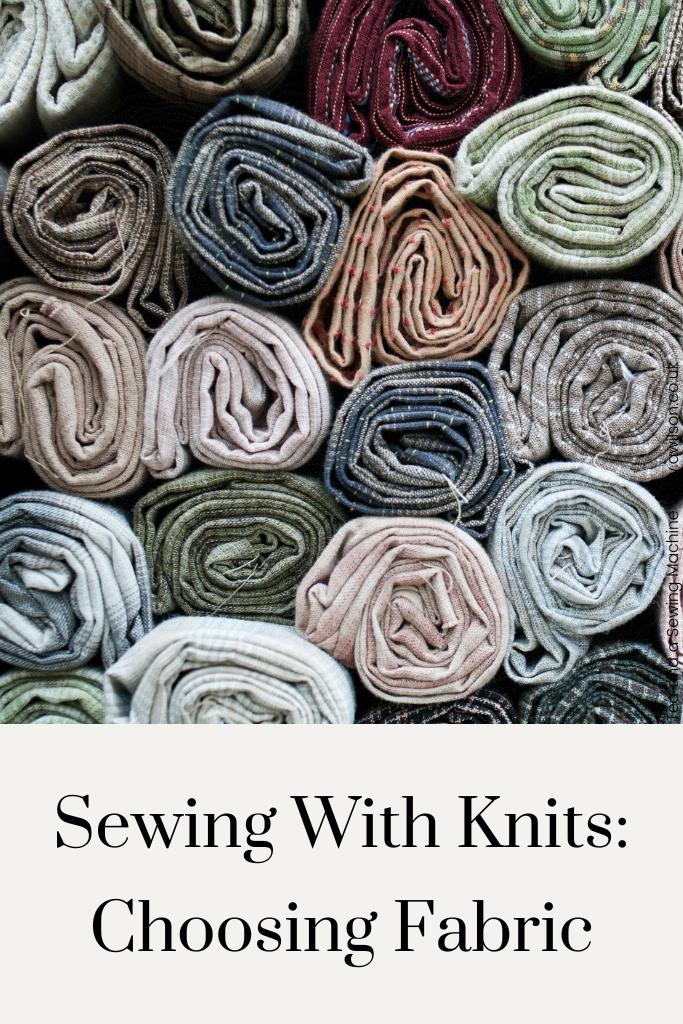 What to Look For When You Are Not Sure
If you are shopping for knit fabric for a project, and you're not sure what fabric to buy, here are some things to look out for.
2 way stretch. Unless your project specifically calls for fabric with a 4 way stretch, 2 way stretch fabric is easier to work with, and will stretch enough to not need darts and zips and things.
Fabric that isn't too stretchy. The stretchier it is, the harder it is to sew. Unless you're making swimwear or exercise clothes, a bit of a stretch will be enough.
Check how much it curls up at the edge. If it curls up a lot, it will be difficult to sew. If it curls a bit, it will be annoying but not too difficult.
Things to Avoid Unless You Are Looking For a Challenge
Sequins and beads. It will take ages to sew because you'll have too keep stopping. Your sewing machine won't like it, there will be broken bits of sequin flying about and you will probably break at least one needle. I would either sew these kind of fabrics by hand or avoid them entirely.
Anything excessively stretchy. As I've already said, sewing fabric that is a bit stretchy isn't too bad. If it is very stretchy, it's much harder to sew because even it passing under the foot of the sewing machine will be enough to stretch it. There are ways to reduce it getting stretched while you are sewing, like using seam stabiliser or tissue paper, but if you are not used to stretchy fabrics, it's best to start out with something that only stretches a bit.
Anything with a high lycra or spandex content. If you are buying fabric online it can be hard to know how stretchy it is. One clue is in the content. If there is a high percentage of lycra or spandex, it will be very stretchy and harder to sew.
Anything that is shiny as well as stretchy. Shiny fabrics come with their own set of challenges, and combining those challenges with stretchiness is probably best avoided, at least in the beginning.
Fabric that doesn't hold its shape. Even worse than shiny fabric is fabric that is mobile and doesn't hold its shape. If it's stretchy as well, it's going to be a real challenge to sew.
The next post in this mini series will be about choosing a pattern. There will also be a post of tips for sewing with knits over the next couple of months. Happy sewing!