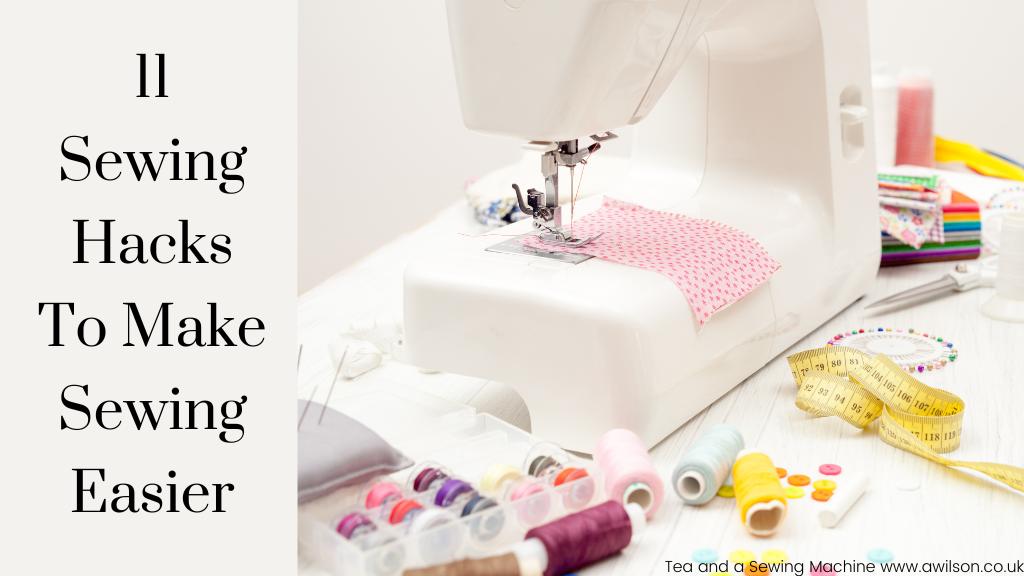 If you've been sewing for a while, you'll know that on the way you pick up some sewing hacks, little tricks and tips that make it easier. Sometimes it's organisational things that help you to not lose your pincushion! And sometimes, you might find that as well as the proper way of doing things, there is an alternative way which is easier and often makes little difference to the finish of the item you are making.
Here are 11 of my favourite sewing hacks.
If You Are Sewing, Cutting or Folding in a Straight Line, Use Fabric With Stripes, Checks or an Obvious Repeat.
Of course, you could use a ruler and a piece of chalk and measure it, but if you use fabric with checks or stripes of one kind or another, it's already been done for you and it makes things so much quicker!
Use Bias Binding for Curved Hems
I started using bias binding for curved hems a few years ago when I discovered circle skirts.
Sewing a curved hem can be a real pain. Sewing them the usual way by folding them over involves constantly adjusting with little tucks to allow for the curve, and it's easy to end up with something that looks messy.
Because bias binding is stretchy, it stretches with the curved edge. The result is a much neater finish with a lot less effort! There's a tutorial for finishing a hem with bias binding here.
It's also good for finishing armholes and necklines. Facings sometimes have a habit of popping out, and using bias binding instead means that doesn't happen.
You can either sew them so that the bias binding isn't visible, or do them as a bound edge to add a little bit of colour.
Start Sewing Necklines and Waistbands in the Middle
The problem with necklines and waistbands is that if you start at one end, by the time you get round to the other end, there's a good chance things have got pulled out of shape. This is especially true of stretchy fabrics, but I've had it happen with cotton as well!
One way to minimise this happening is to start in the middle instead. So if you are sewing a neckline, start in the centre back, and if you are sewing a waistband, start at the side opposite the zip. Sew half way round, then go back to where you started and sew the other half.
Sew Up a Sleeve Seam After You've Put the Sleeve In
The official way to sew in a sleeve is to sew up the side seam of the bodice and sew the seam of the sleeve, then sew along the top of the sleeve within the seam allowance. The sleeve is then pinned into the armhole, and the stitches can be pulled and the gathers spread out so that the sleeve fits inside the armhole. This is known as ease.
This might be the proper way to do sleeves, but if you have ever tried it, you'll know that it is a faff!
It's much easier to skip the easing and sew the open sleeve into the open armhole, then sew up the sleeve seam and the side seam. I use this method myself and the sleeves still look fine.
Sew Sleeve and Side Seams by Starting at the Armpit
If you do sleeves in the way I've talked about above, you'll need to be careful that the armpit seams all match up so that it doesn't end up looking messy.
If you start at the wrist and sew all the way down to the waist, there is a chance that the fabric will have slipped or distorted, and the bodice bits won't match up where they need to, meaning that the thing you are making won't hang right.
One way round this is to start at the armpit instead. So beginning at the armpit, sew the side seam of the bodice, then go back to the armpit and sew the sleeve seam.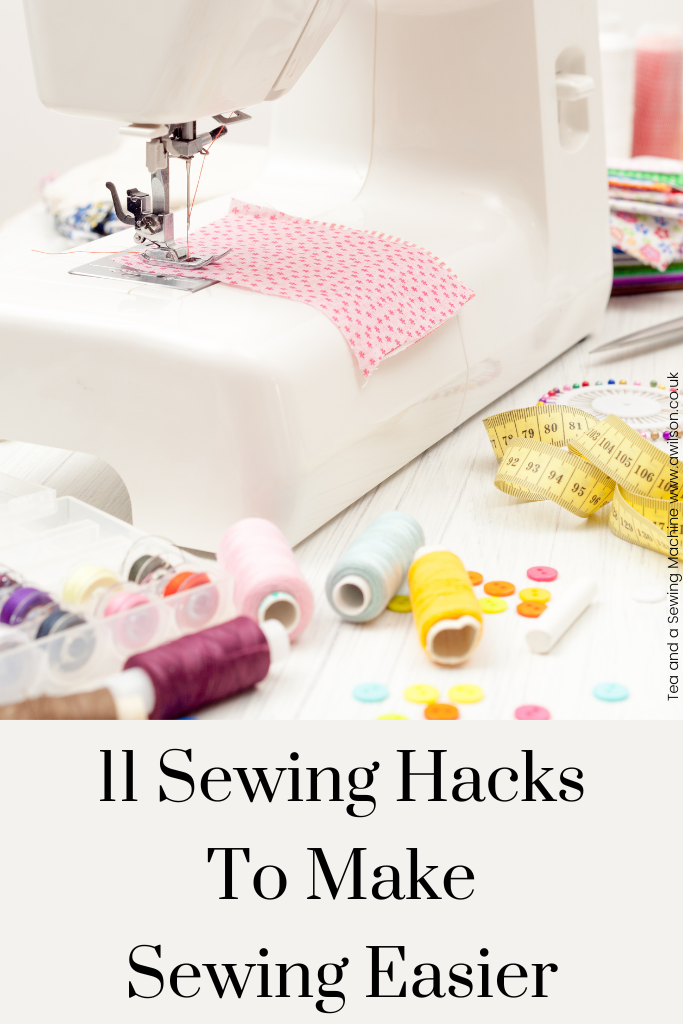 If Your Sewing Machine Doesn't have Guidelines, Make Your Own With Washi Tape
Lots of modern sewing machines have guidelines on the footplate so all you have to do is line the edge of your sewing up with the correct mark on the footplate.
If your sewing machine doesn't have these lines, you can make your own. Decide which measurements you use the most. For us metric system users, it's usually 1 cm and 2 cm. Measure the correct distance from the needle hole, and pop a bit of tape on the footplate.
The advantages of using washi tape rather than sellotape are that it won't go brown and crispy, and it's less likely to leave sticky goo on your sewing machine.
Wear a Pincushion
Years ago, while I was watching the Great Britih Sewing Bee, I noticed that one of the contestants had a pincushion that she wore on her wrist.
Lots of people have them now, but back then they were a new thing. So I made one!
I can't say that now all my pins live in my pincushion all the time unless they are holding fabric together, because that would be a lie! However most of them are there at least most of the time.
Wearing a pincushion on your wrist means that you won't waste time hunting for you pincushion, and pins you are not using are less likely to be spread out all over the place or in your mouth, which can be dangerous.
Use a Fork For Pleats
The difficult thing with pleats is getting them all the same size. A fork makes a handy measuring tool. There's a tutorial showing how to use a fork to make pleats here.
Use Hairgrips Instead of Pins If Pins Will Leave a Mark
Usuaully pins are fine, but with some kinds of fabric, like silk or laminated cotton, the pins will leave a hole.
Sometimes pinning inside the seam allowance is an option. You can also buy little clips to use instead of pins. But hairgrips are a handy hack if you don't have any clips.
Use Lip Balm When Sewing Laminated Cotton
One of the things that makes sewing laminated cotton difficult is that it sticks to the foot while you're sewing!
There are various ways round this, but the easiest one is to pop a little bit of lip balm or chapstick where you want to sew, and the whole thing will glide along nicely.
If you don't have lip balm, I've found that hand cream also works!
When Sewing Unstable Fabrics, Pop Something Else Underneath
Sewing cotton is easy. It doesn't slide around and it holds its shape. But sooner or later on your sewing journey, you're going to want to try different fabrics, and fabrics that don't hold their shape are tricky to sew with.
Having some form of stabiliser underneath makes all the difference. You could use water soluble interfacing, or seam tape which is similar and comes already the right kind of size and shape. Even sliding some tissue paper underneath will help, and you can pull it away afterwards.
What are your favourite sewing hacks? Pop one in the comments underneath!