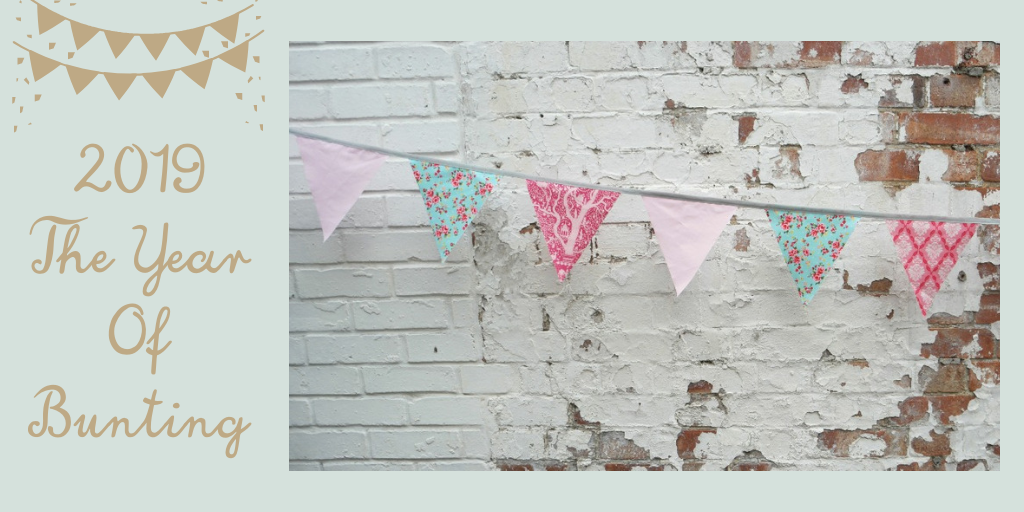 I've decided that 2019 will be the Year of Bunting.

This time last year I wrote a post about what I learnt in 2017. For various reasons I don't want to write a similar post at the moment. I learnt plenty of things, but not all of them good or related to sewing and making stuff!

2018 was an odd year at Tea and a Sewing Machine HQ. Although nobody here died, got divorced or became seriously ill, I'm still quite glad to see the end of it and I'm looking forward to 2019.

In the words of my favourite folk singer, "Just take with you what makes your heart glad," and bunting makes my heart glad.
Here are some reasons why bunting is best.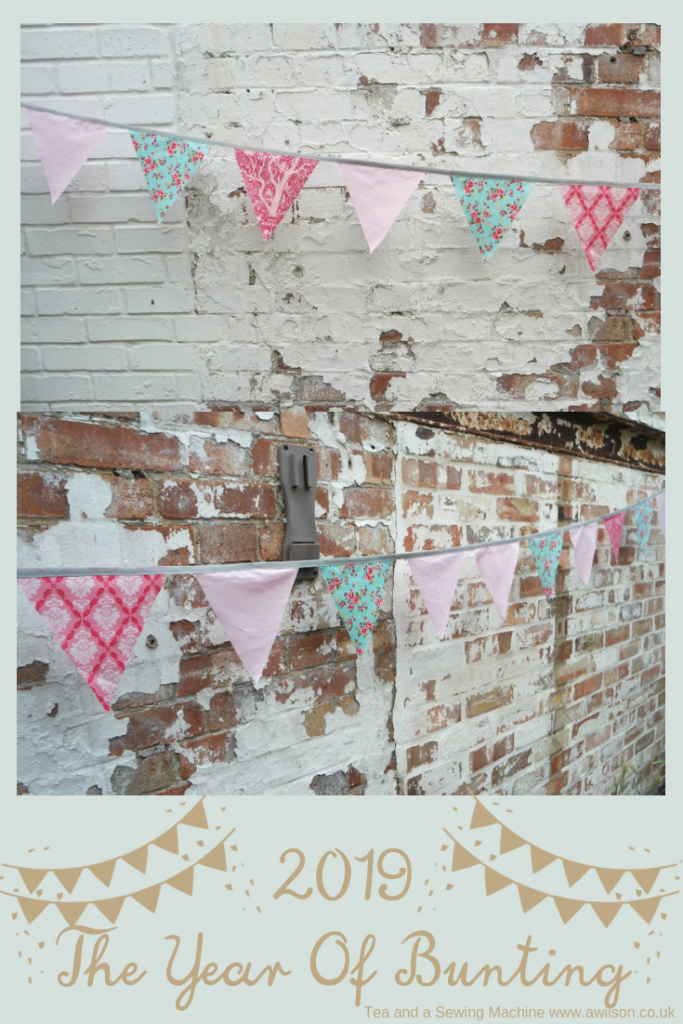 1. It's impossible to look at a row of little flags fluttering cheerfully in the breeze and not feel at least a little bit happy.
Bunting has never solved anybody's problems. But one thing I have learnt is that sometimes, simple things make you happy. If you're not happy, then things that otherwise would make you happy at least make things less bad.
2. Bunting turns any occasion into a special day.
A bit of advice that comes up time and again is that we shouldn't hang around waiting for a special occasion. If you have nice perfume or bath stuff, just use it. And any little thing can be turned into a reason for a celebration with bunting and cake!
3. Making basic bunting is very easy and quick.
Just cut some triangles from cotton or polycotton, then sew them to some bias binding. If you have more time, you can make 2 of each triangle and sew them together. For a special occasion (or just because you want to), you can add appliqued letters or shapes, embroidery, fabric flowers or whatever you like!
4. It's a good way to use up fabric from other projects.
You can also use fat quarter packs you bought but couldn't decide what to do with!
So as well as making something cheery that makes other people and yourself feel happy, it makes your fabric mountain a bit smaller.

5. You can go all out and hang yards and yards of it out in your garden, or you can make a bit and hang it up indoors.
Or if that's still too much, you can just make a little bit of mini bunting and put it on a dresser, a bookcase or a fireplace.

6. Although usually made from triangles of cotton or polycotton, it can also be made from ribbon, felt, lace, doilies or paper.
The flags don't have to be triangles either. They can be any shape you like!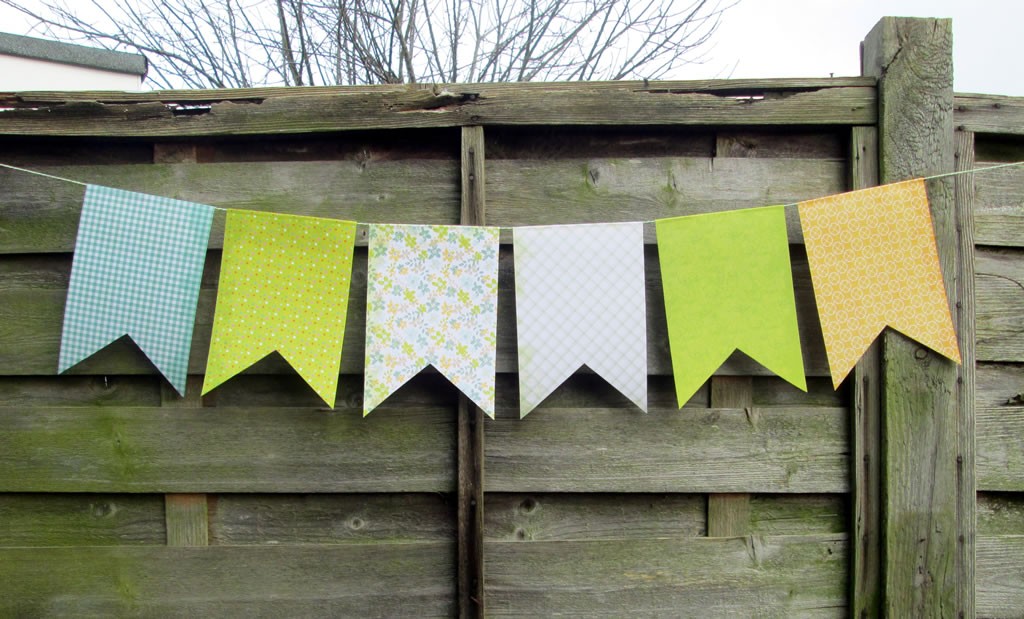 7. It's easy to add appliqued bunting to a cushion or a bag.
Just cut some triangles, sew them on, then sew ribbon or bias binding over the top of the triangles to join them together.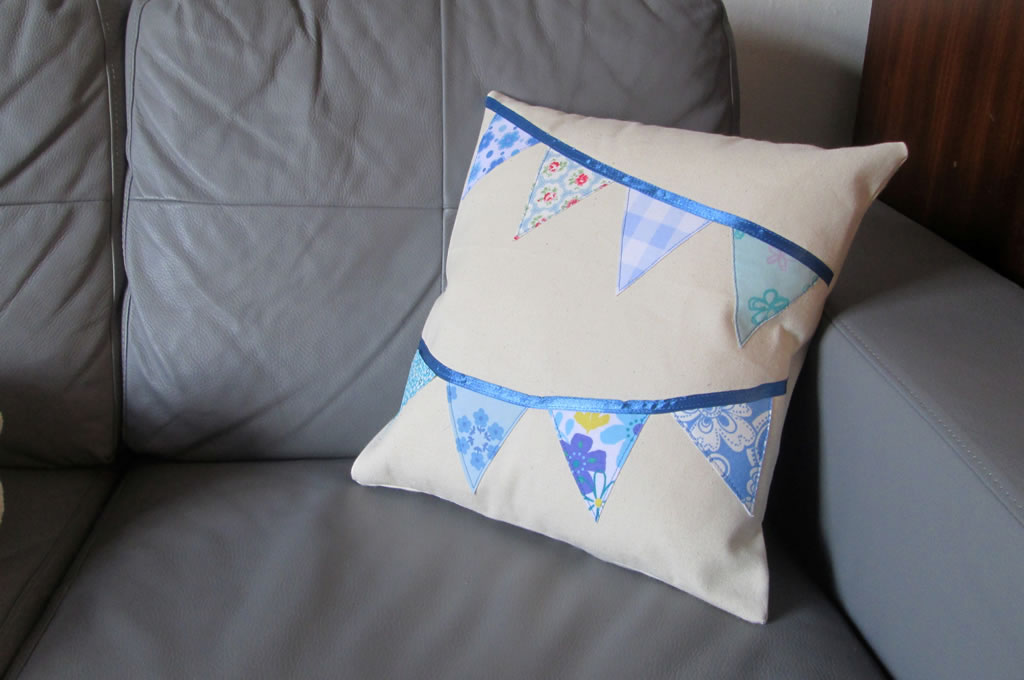 8. You can make bunting for any season.
Choose appropriate colours and add appliqued letters or shapes if you want to.
I made autumn bunting once with trees in autumn colours. I've also made some with a spring theme for the garden, and summer and Christmas bunting for the front of my house.
So this year I'm going to be making lots of bunting themed things. Will you join me?