It's wreath time again!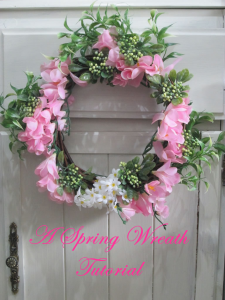 It's only been a couple of months since I last replaced the wreath on our door, but signs of spring are definitely here.
I hadn't decided what to do, maybe tidy up last year's spring wreath (you can read about that here!), but at our church a couple of weeks ago they were wanting to get rid of a huge pile of silk flowers. By the time I got over there, they had been raided! But I still managed to find these lovely pink ones and some fake greenery.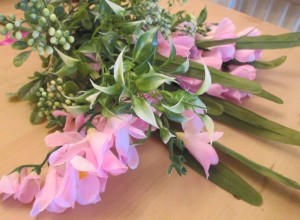 I retrieved my willow wreath from the cupboard, very glad that I had not glued on the flowers for my summer wreath (you can read about that one here!) and had just pushed them through the twigs instead.
Once I had removed the summery flowers, I was all set!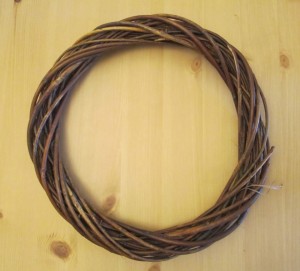 Here's how I made it in case you would also like to!
How to Make a Spring Wreath
You Will Need: SIlk flowers and buds, plastic greenery, a willow wreath.
1. Separate the flowers and buds from the main stems, leaving about 5-8 cm of stem.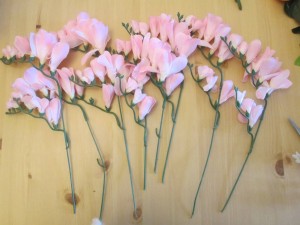 2. Start attaching the flowers to the wreath by pushing the stems through between the twigs. Start with one type and try to space them out evenly.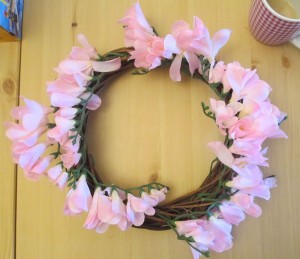 3. Add the buds. As I had 5,I put 2 near the bottom, one at the top and the other two in the middle on opposite sides. I alternated putting them on the inside and outside edge of the wreath.
4. For my bits of greenery, as they had wire in them, I bent them round a little bit so that they would follow the curve of the wreath.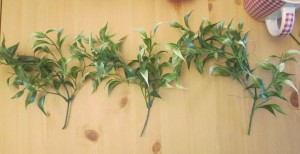 Then I put one at the top and the other two on either side.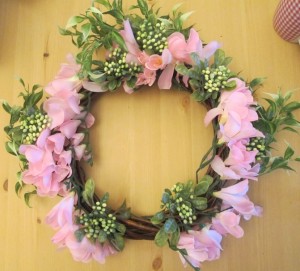 5. I had planned to put a bow in the gap at the bottom, but when I looked in my box of ribbons I didn't have anything wide enough and the bows I made just looked wrong! So instead I took some of the little white flowers I'd used on the summer wreath, twisted some florists' wire around them then tucked the ends of the wire into the willow.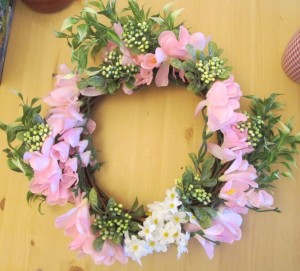 Here it is hanging on my door!