I've been on a bit of a crocheted flower frenzy recently. I have made loads. Quite a lot of them got used up when I made my crocheted flower garland (you can read about that here!) but I've still got some left.
So here are 10 ways to use crocheted flowers so they don't just sit in a heap on the unfinished projects pile!
10 Ways to Use Crocheted Flowers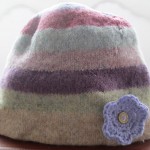 1. Sew them to a hat. It's an easy way to pretty up a boring old beanie.
2. Sew them to a jumper. You could add one or two, or several! Try sewing them all round the neckline to add some new life to an old jumper. It's be almost as good as having a new jumper!
3. Sew or glue a flower to a hair bobble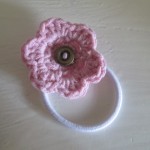 or a hair clip.I made these for Boy 3's nursery's Easter Fair last year. If you prefer something that looks a bit more grown up, you could slip a flower onto a hair grip or glue some onto a comb instead.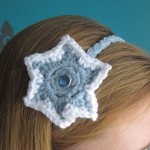 4. Make a hairband. Either stick them to an existing hair band or crochet or plait a band and join the ends with a piece of elastic and sew the flowers on.
5. Make them into a bracelet. I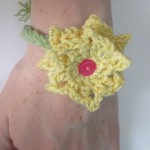 plaited a band, sewed the flowers on and tied the ends together.
6. Attach them to a bag. You could add one or two for a subtle change or, if you have lots, or some big ones, you could completely transform it!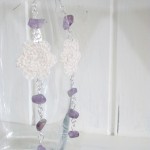 7. If you have some lacy ones made from embroidery thread, you could make some earrings like these. Full instructions for making them can be found here!
8. Use crocheted flowers to embellish a cushion.If you have an old jumper you don't wear any more, you could easily turn it into a cushion cover and sew the flowers on to decorate it.
9. Make a flower garland like the one I did here.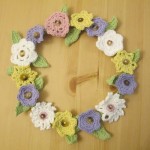 It's a great way to use up flowers, the cord is very easy to make and it adds a little piece of spring to wherever you choose to put it!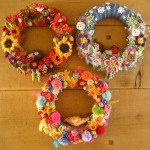 10. If you have a lot of flowers you could make a wreath like these from Attic24. These are among the most beautiful things I have ever seen and I would never have thought of using crocheted flowers like this!
How do you like to use crocheted flowers?
PS if you need patterns for flowers, here are some!
Crocheted Flower with Contrasting Centre
Crocheted Flower with Lacy Petals pdf