Last Sunday afternoon Boy 1 had a birthday party to go to, so I took the opportunity to have some autumn crafty fun with the other boys.
This is not an exhaustive list of crafty things you can do with leaves, but it was enough to keep my boys occupied on Sunday afternoon!
Leaf Printing in Play Dough
I put the leaves on the table with the sycamore seeds and some pine cones I collected last year, along with some play dough. (For a play dough recipe and lots of excellent ideas for play dough fun, visit The Imagination Tree.)
The boys pushed the leaves into the play dough so that an imprint of the leaf was left.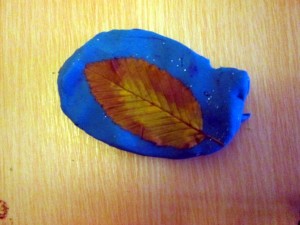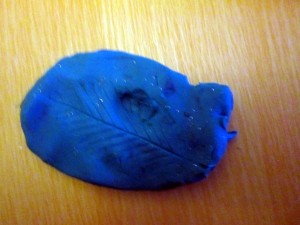 They also tried this with the sycamore seeds and the pine cones.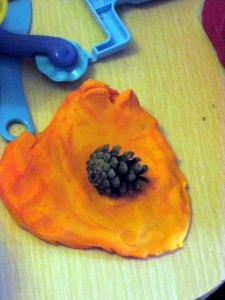 It kept them entertained for ages! Then they got the play dough tools out and Boy 4 tipped them out all over the floor. That kept Mummy busy for a while!
Leaf Rubbing
To make this a bit easier for the boys, I taped the leaf to the back of the paper so that it would move about less.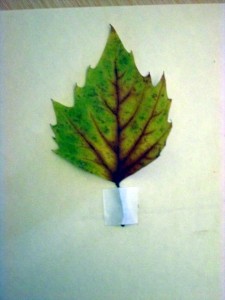 It works best if the leaf is wrong side (ie bumpiest side) up. I had some crayons that didn't have any paper on which was much easier than picking the paper off!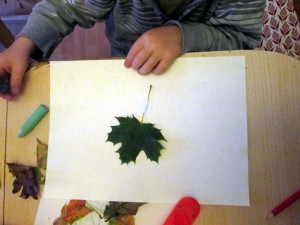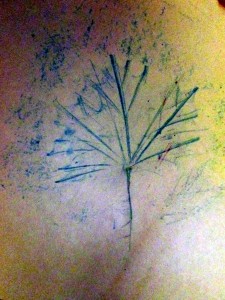 This was not as popular as the play dough thing. The play dough was still out and the boys chose to carry on playing with it. Boy 2 in particular was enjoying it so much he didn't do a leaf rubbing at all!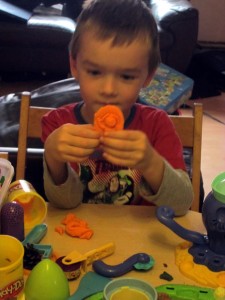 On Fifth wizardry there ideas for creating a large artwork with children using leaf rubbings. There are also instructions for making crayon cakes to make things easier for little people.
If you have a laminator, the rubbings could be made into autumnal themed placemats.
Leaf People
To make these, we taped leaves to paper, stuck googly eyes and drew features on the leaf with a Sharpie.
The boys were very excited about using these! Usually they are not allowed to as the ink is permanent, so bad news in the hands of little boys! However, I didn't think ordinary pen would work on the leaves and thankfully Boy 4 was happy tipping play dough tools out everywhere at this point and was not interested in drawing on leaves, the sofa or anything else!
Once we'd given our leaves faces, we drew bodies.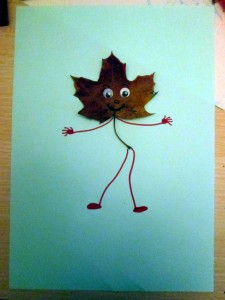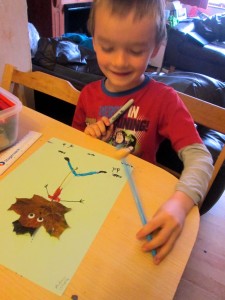 The leaves started to curl a day or too afterwards, so I'd recommend using plenty of tape or pva glue.
What are your favourite autumn crafts for children?