I know this might make me odd, but I like winter. I don't mind the cold. That's what warm coats and boots and gloves are for! Summer's fine, but I don't like being too hot. Given a choice, I prefer the colder months.
Having said that, I live in the UK where we don't have very much snow (last year it didn't snow at all) and it is rare for it to hang around for more than a week. Mild winters are probably easier to tolerate than harsh, snowy winters.
It is cold though, and dark early. It can be tempting to wish away your life to the next season, especially once Christmas is over, but instead I like to enjoy it! Here are some of the things I love about winter.
The Best Things About Winter
Snuggly Throws
My boys, especially Boy 2, like to wrap themselves up in blankets. Usually this happens in the evening once they're changed for bed, but they have been known to stomp around the house draped in blankets in the middle of the day!
Snuggly throws make the place feel cosier and I can always wrap myself up in one if the need arises (and if there are any spare once my boys have grabbed them!). I made this orange throw last year and it gets a lot of use.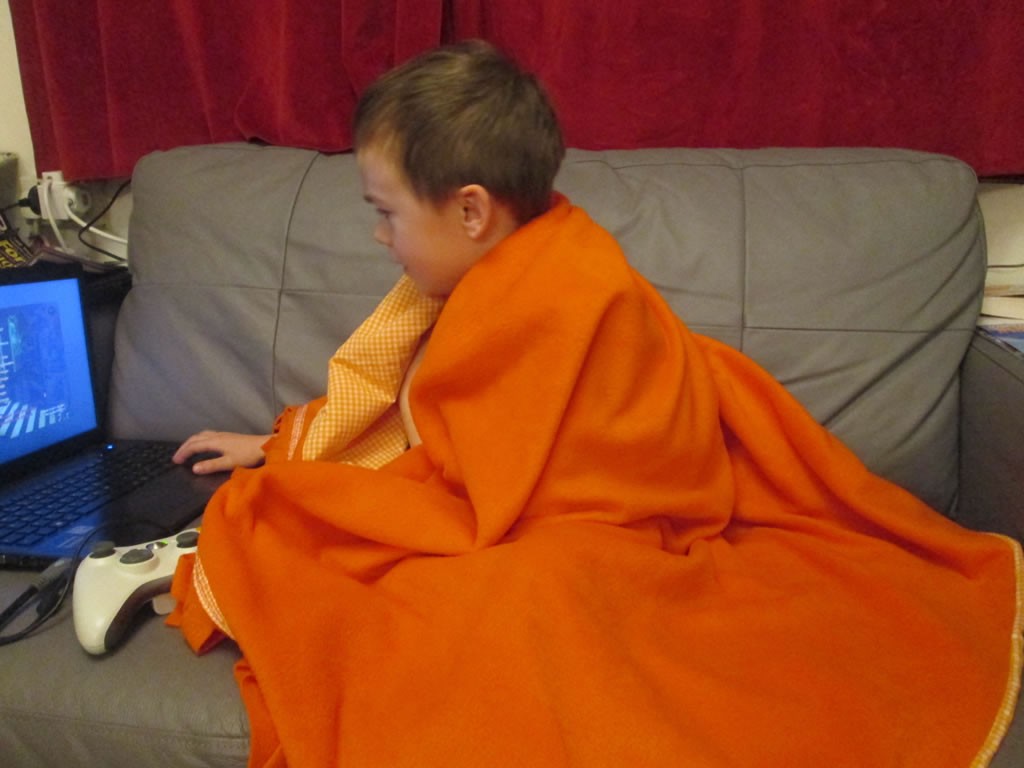 Wearing Jersey
Jersey must be the most comfortable thing known to humankind.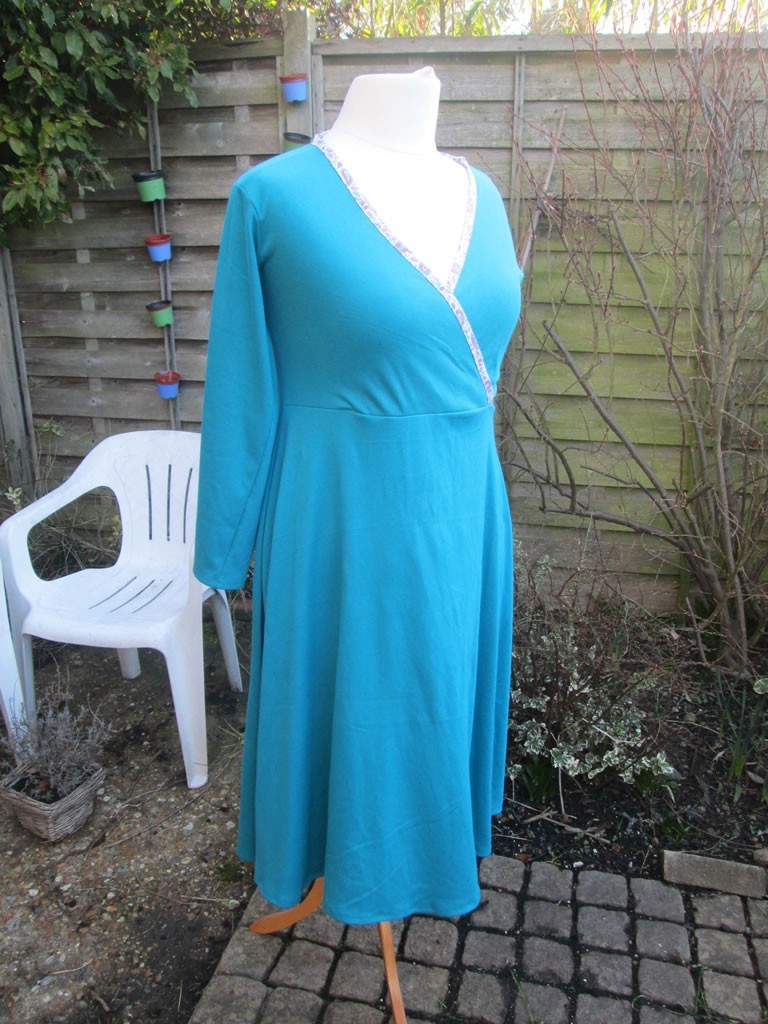 This is a dress I made at the end of the winter last year. I'd had the jersey in my hoard for a couple of years before I finally got around to making something from it. I didn't use a pattern and it's very simple. It is the most comfortable thing I own. It's actually like wearing pyjamas! It's warmer than cotton and, being stretchy, you don't have to faff with putting a zip in!
Using the Slow Cooker All the Time
I love my slow cooker
. In the winter I have it going most days. I can chuck the stuff in it in the morning and by teatime it's ready. During the day I can enjoy the delicious smells coming from the kitchen. It's such a shame people never want to eat casseroles in the summer!
Beautiful Winter Days
This is one of my favourite favourite things about winter. When the sky is clear, the sun is shining and the air is crisp and cold. It's easy to only look down and just see the mud, but if you look up, it can't help but chase away the winter blues.
Grey Days
Clear days are an obvious choice, but I even like the grey days. They have a wintry beauty all of their own.
Coming Home Out of the Cold
It's always lovely to come home to a warm house after you've been out, especially if the slow cooker's going and you're reminded that you don't have to sort dinner out because it's already done! It's almost as though my funny old house knows I prefer winter. In the summer it's stifling, but in wintertime it's much nicer, cosy and concooning and even the clutter is comforting.
Lamps, Candles, Firelight
There's nothing like the cosy feeling a real fire or even a lamp can give. Even though we live in the country, we don't have real fire, so we make do with a bioethanol fireplace
. It smells a bit weird but it's almost as good as the real thing.
Dark Evenings
I like dark evenings for 2 reasons. The first is because of the cosiness of being indoors  when it's dark and cold. The second is that it is so much easier to put young children to bed! Nobody wants to go to sleep when it's light outside and people who are prone to waking up early are more likely to when there's bright sunshine streaming in and the birds are all singing loudly! So in winter I can pack them off to bed early then I've got more time to make stuff. Yay!
This does not work so well once they learn to tell the time.
My Cat
When it's summer, the cat is out all the time. When it's winter however, he's indoors, adorning the place with his beautiful furry self. He's not a lap cat, but he will sit on your feet and warm them up nicely.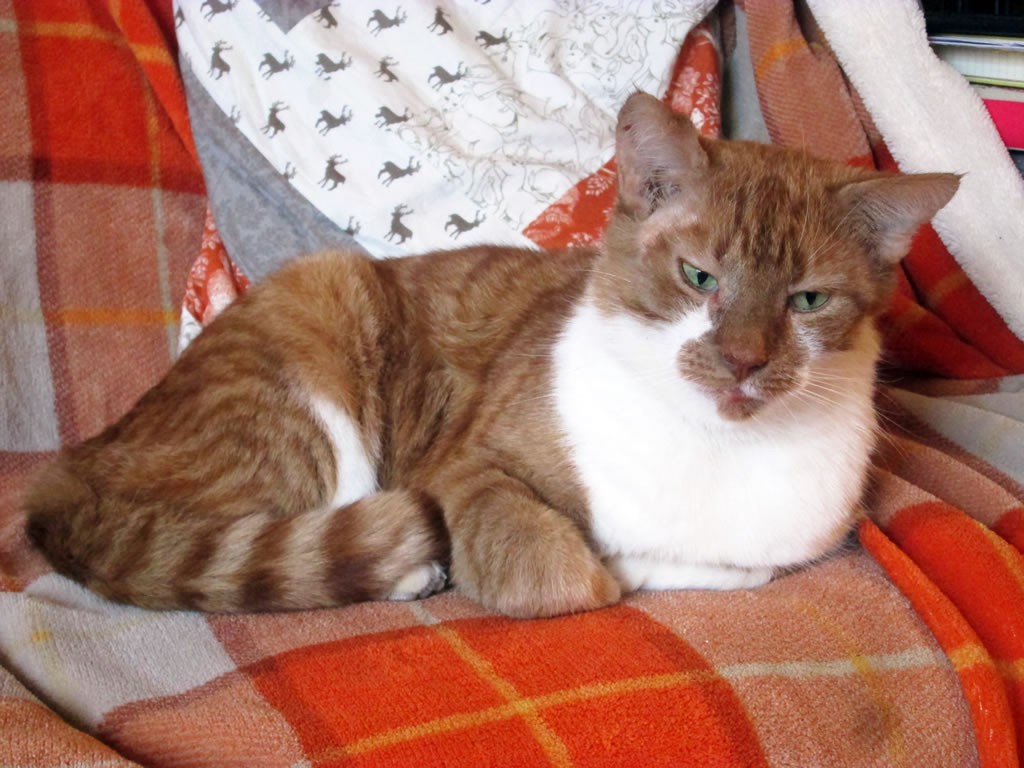 Crocheting
I always crochet more in the winter than in the summer. I don't want to think about cosy blankets or scarves or mug cosies when it's warm.
The Winter House

This is a little ebook written by Alison May of Brocante Home. In it she describes everything I love about winter. It includes puttery treats, which are little tasks we can set ourselves to make life just a little bit nicer, housekeeping recipes, books to read and journalling prompts. Some of the tasks are crafts, most of them are home related. Even if you don't like winter, I'm pretty sure that doing just some of these things will have you at least considering changing your mind!
What do you like best about winter?
This posts contains affiliate links.