Christmas Embroidery Hoop

Last month I was invited to contribute to a series of posts on All Free Sewing for National Sewing Month.
One of the suggestions was sewing for Christmas and, as it had been a long time since I'd made anything Christmassy, I decided to hatch some Christmas themed embroidery.
I've recently jumped on the handlettering band wagon. If you haven't tried it, it's a lot of fun! It doesn't matter if you're not arty or if your handwriting is normally not very nice. Mine's dreadful and I did not do well in my Art GCSE.
I was given this book as a birthday present, and I'd recommend it if you want to give handlettering a try (this is an affiliate link)! There are step by step instructions and space in the book to try them out. Even if your handwriting normally looks like a spider rolled in ink then ran across the page, with a little bit of practice you'll be handlettering everything beautifully. The lady who wrote the book also has a blog here, which I discovered before the book.
Anyway, fuelling my love for my new hobby, I had an idea for making a little Christmas embroidery hoop with the word joy embroidered inside a garland.
I was very pleased with the results! Actually I was so happy with how it turned out I made 2 more with the words love and peace.
The Christmas embroidery hoop was easy to do and it came together quite quickly. Most of the embroidery is worked in back stitch The leaves are lazy daisies and the berries are seed beads. If you didn't have any beads, you could sew French knots instead.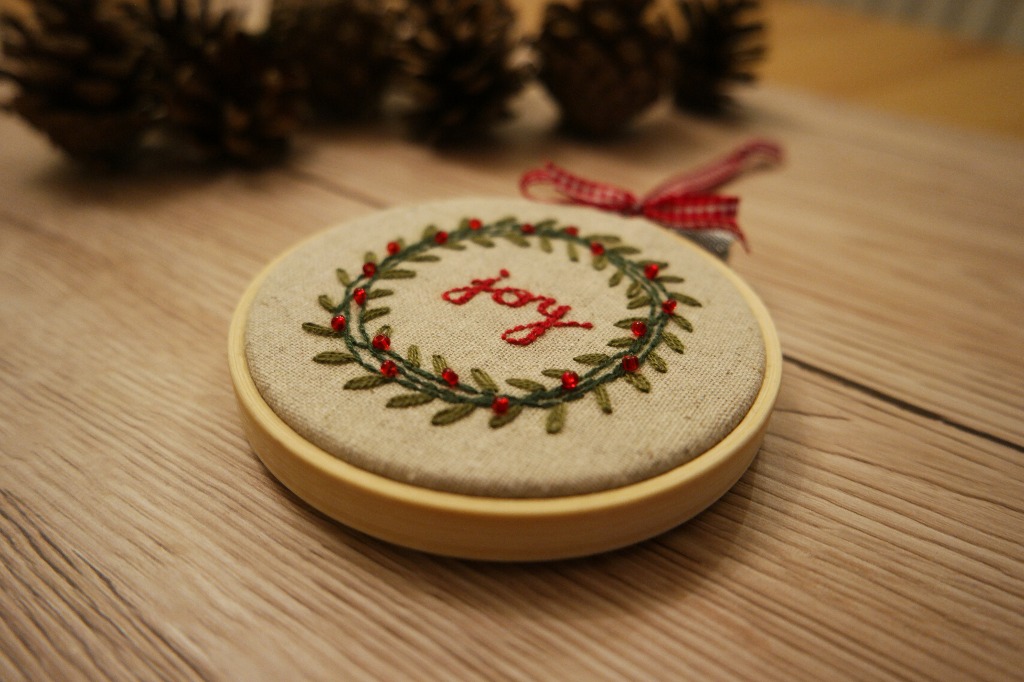 The back of the hoop is finished with a piece of felt.
You can find the tutorial here. There's a free pattern for the embroidery if you want it, but the tutorial includes instructions for drawing the designs yourself if you prefer.
They're small enough to hang on your Christmas tree, but you could hang them wherever you like! I've got plans to hang mine in the window of the front room.
If you want to make one but you don't want to faff about finding the stuff to make it, or if you know somebody who would like one, I have some kits for sale on Etsy.
If you like free embroidery projects, I have another Christmas one here!