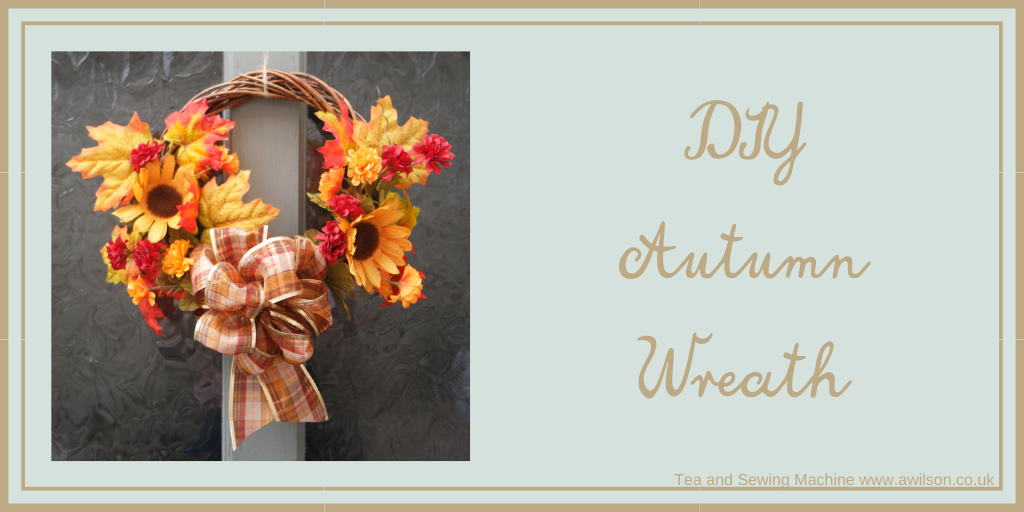 DIY Autumn Wreath
One of the things I really like is coming home and seeing a wreath on my door.
To be honest, there's not an awful lot of other things to like about the outside of my house at the moment. But if nothing else, at least my front door is pretty!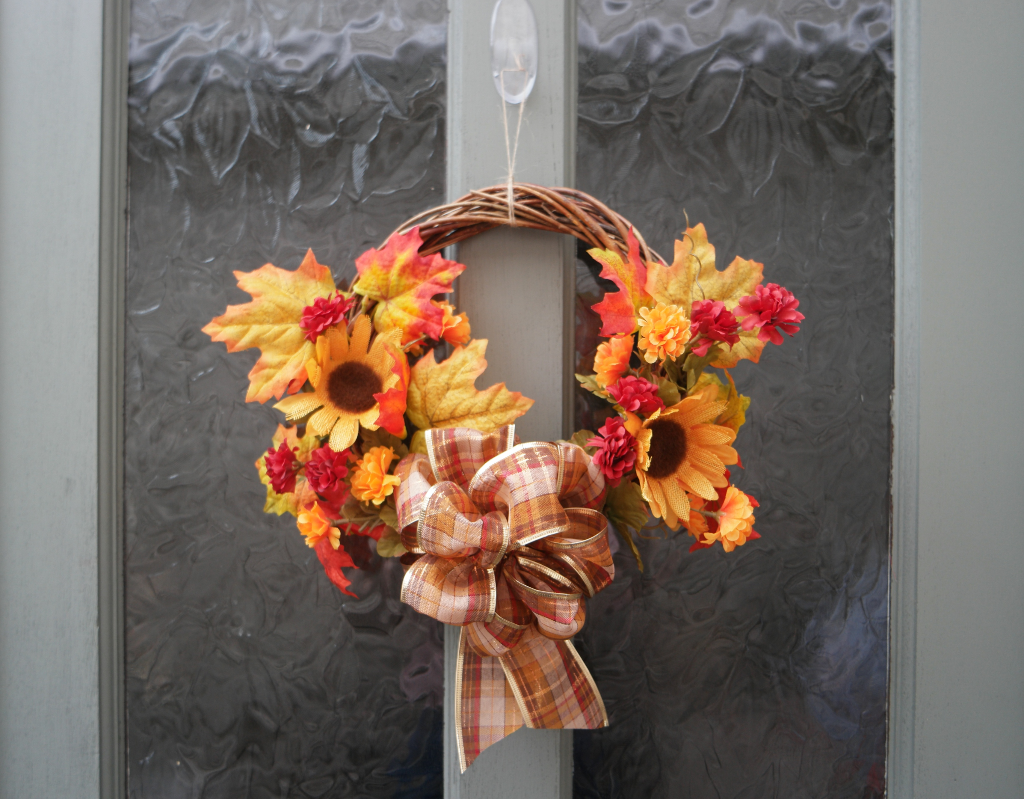 My latest wreath is one I made from some bits and pieces I bought from Dollar Tree while we were in the USA in August.
For those of you who are fellow English people, Dollar Tree is a lot like Poundland, except there's more craft stuff.
The lovely leaf lights that are now on my dresser came from Dollar Tree, along with the flowers and the ribbon I used to make this DIY autumn wreath.
The wreath form is the one I used to make this wreath. I just pulled the flowers off and put them in a safe place in case I want to use them again in the future.
It was very easy and it didn't take me very long. An hour would be plenty of time! If you live in the UK and you're not likely to be visiting a Dollar Tree any time soon, you might find similar flowers and things in Wilko.
Instructions For Making a DIY Autumn Wreath
You Will Need
A willow wreath form
Artificial flowers and leaves
Wired ribbon (I used just under 3 metres)
A pipe cleaner or wire (for the bow)
Twine or similar for hanging your wreath up
Old scissors or pliers
Instructions
Make the bow. Doing this first will allow you to work out how much space you have to fill with the flowers on either side. There's no point sticking flowers into your wreath, only to find that you can't see them because they're covered up by the bow!
To make my bow I used this YouTube video.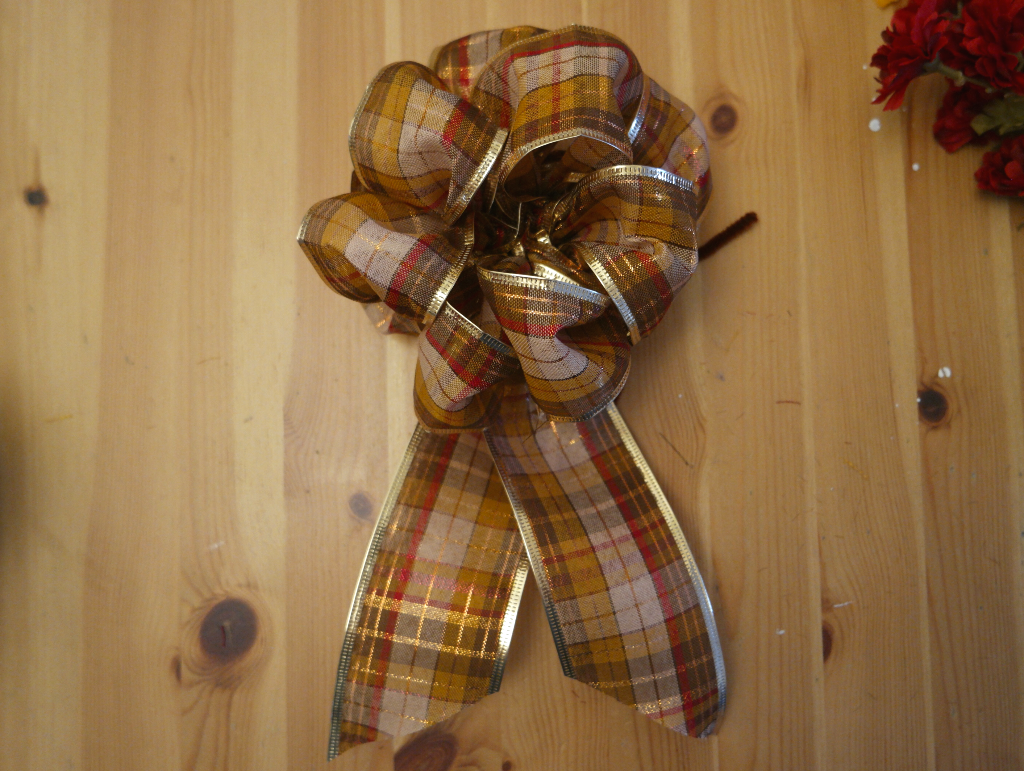 Cut the flowers, leaving 8-10 cm of stalk. With artificial flowers there's usually wire inside the plastic. If you're using scissors, you probably won't be able to cut right the way through. Just cut through the plastic then bend the wire until it snaps. I'd recommend not using your best scissors! Otherwise use pliers.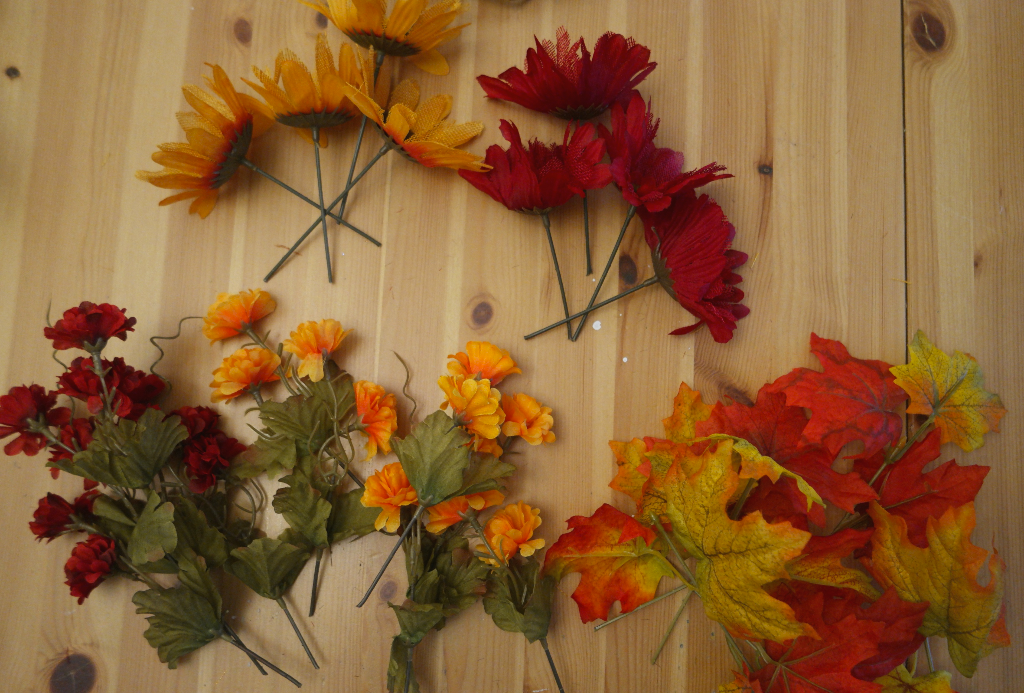 Push the flowers into the wreath. I started with the big ones, then I added the smaller ones. Lastly I added the leaves.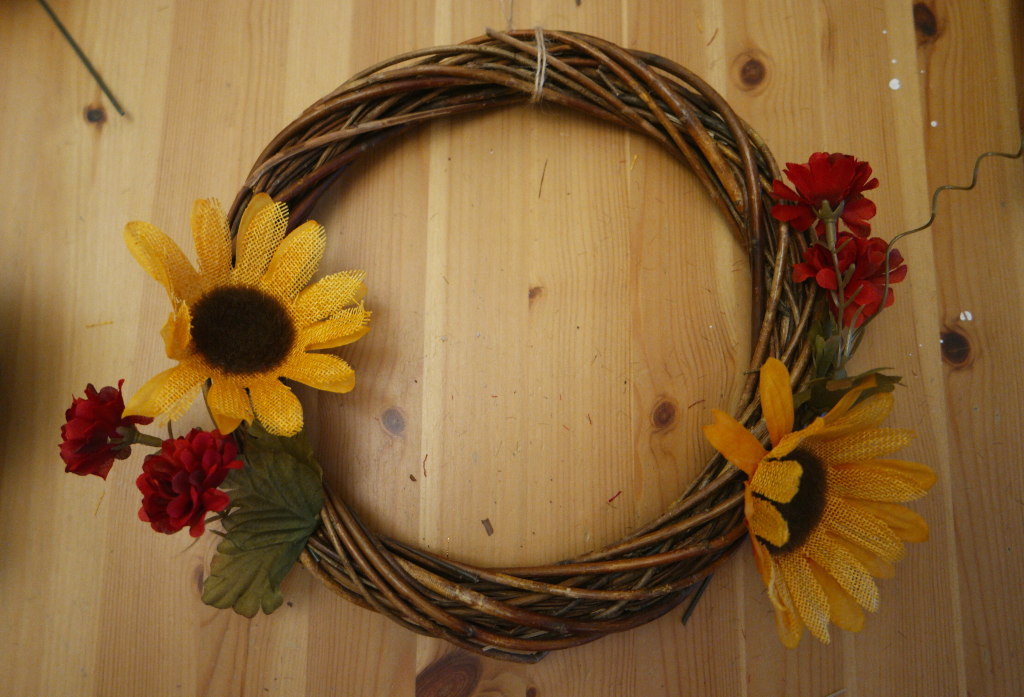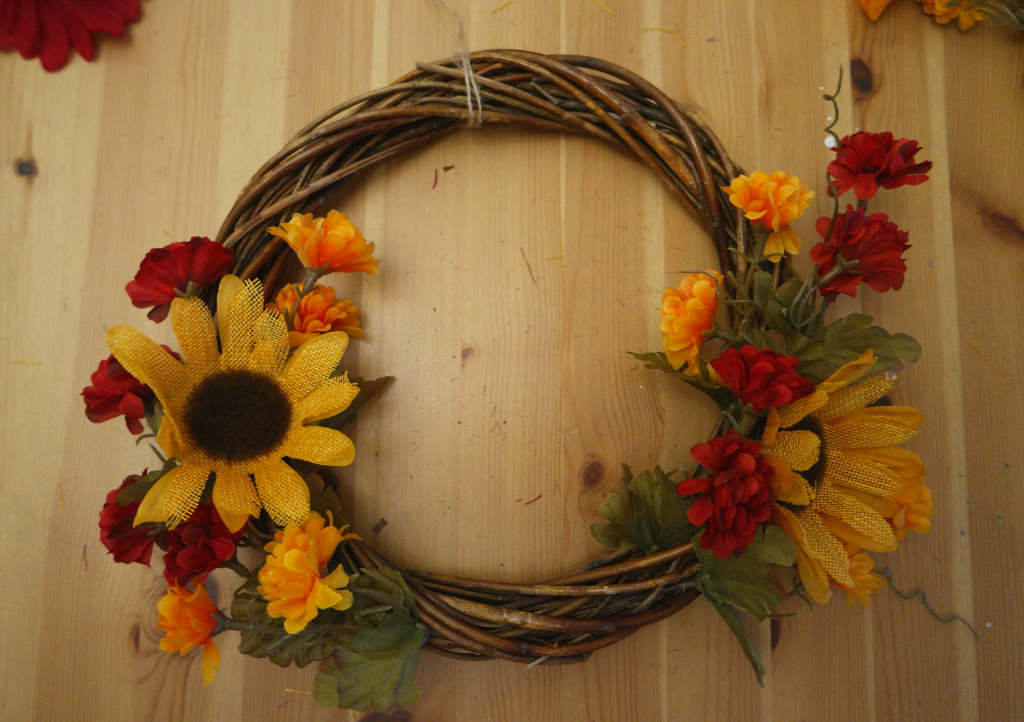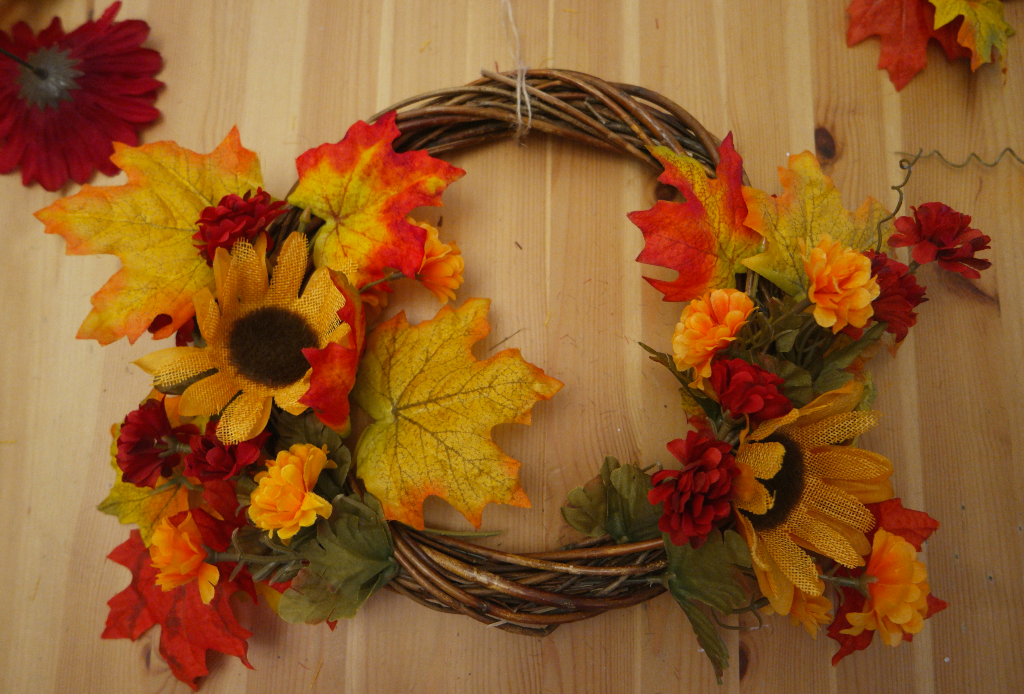 Tie a loop for hanging.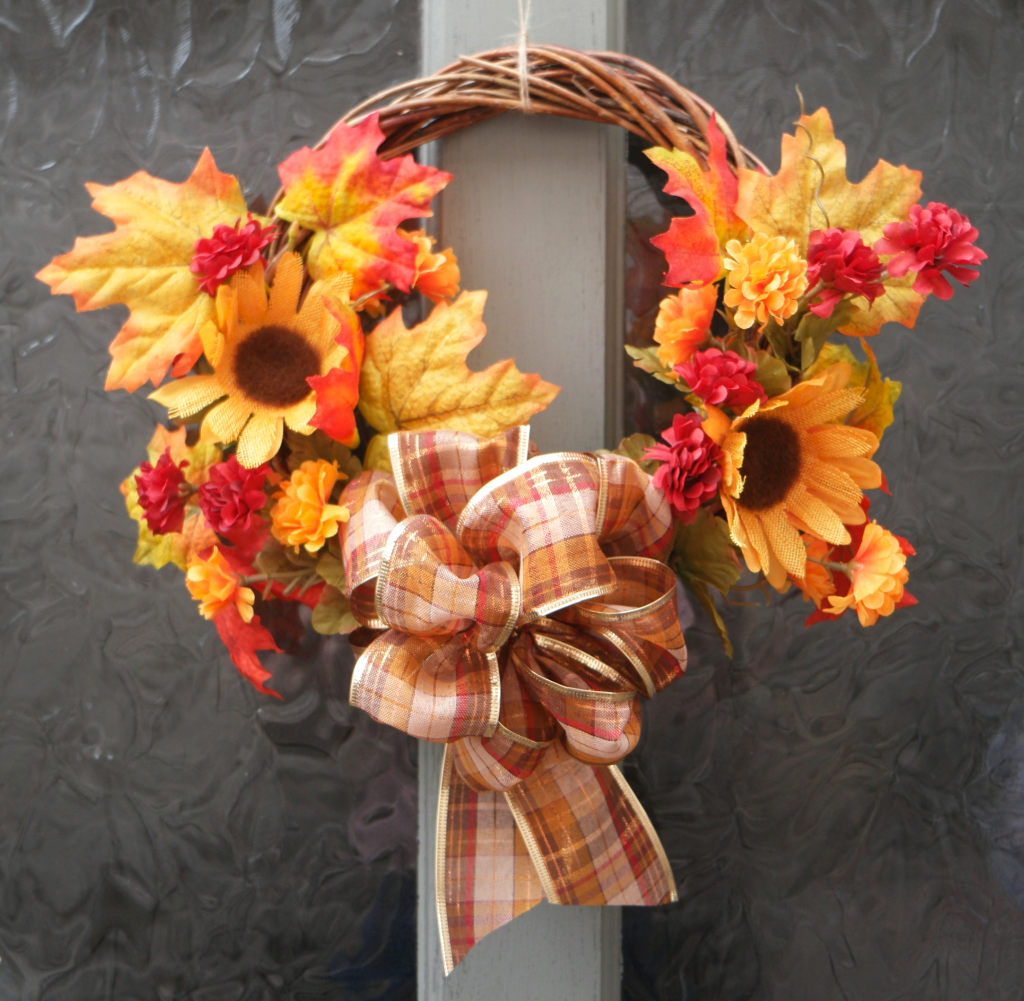 Tips
Wired ribbon is best because it's much easier to shape the loops and bend them into where you want them to go.
Odd numbers look better than even, so try to use an odd number of flowers, especially the larger ones. It's less noticeable with smaller flowers. I used 2 of the larger flowers, but as there's one each side of the bow, that works!
Remember that the wreath is a pretty thing in itself! It's fine to have some of it showing.
When it comes to larger flowers, you only need a few. Space them out and fill in the gaps with smaller flowers.