How to Make Clothes Without a Pattern
Can I Make Clothes Without a Pattern?
A couple of years ago I started asking myself whether it was possible to make clothes without a pattern.
Was it possible for somebody with no formal training to make something completely from scratch?
Would it be enough to arm myself with my measurements and some bits of greaseproof paper?
Or would it prove to be impossible, with only sewing disasters to show for my hard work?
The short answer is yes, you can make clothes without a pattern!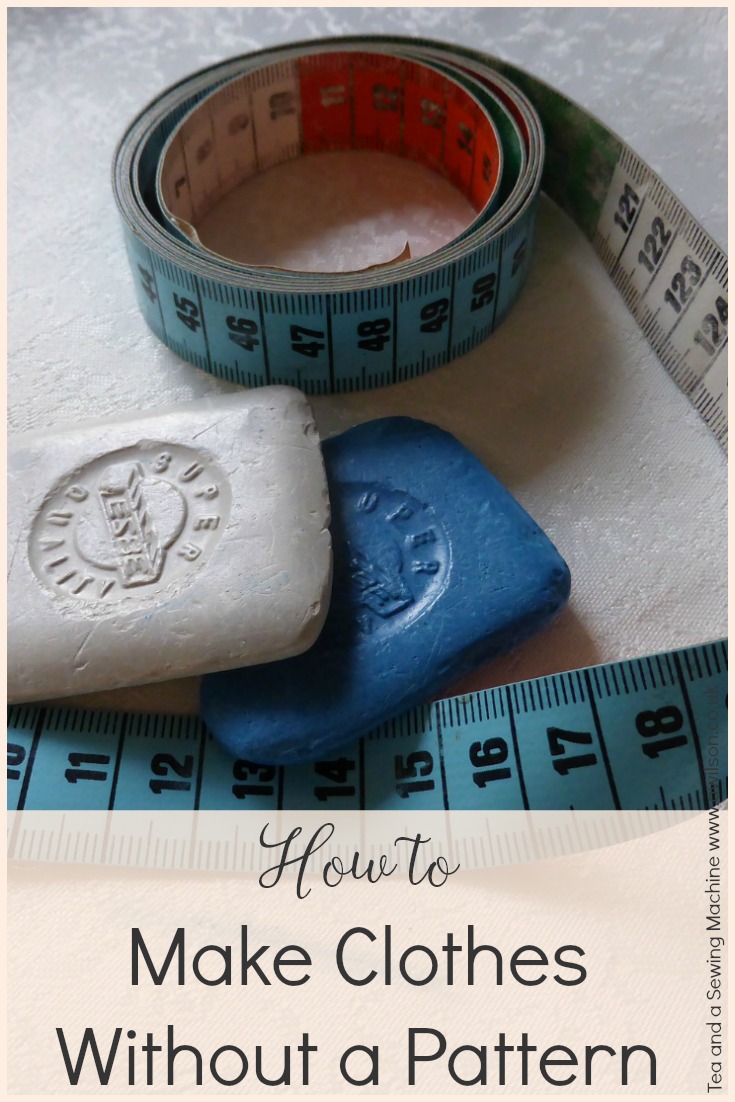 Why Make Clothes Without a Pattern?
There are sometimes issues with using patterns. One of the problems is getting things to fit. The sizing on the back is totally different to high street dress sizes and although patterns can be adapted, it can be tricky and there's no guarantee that you'll end up with something that is a good fit.
Often the instructions are confusing. There have been a number of times where I've got into a total muddle with the instructions, or not been able to figure out at all what I am supposed to do! I've ended up putting the instructions to one side (cough, throwing them across the room, cough) and finishing the thing off myself in the way I think best.
Also, patterns rarely show the easiest way of doing things, even if there would be no obvious difference between doing something the easy way and doing it the proper way!
On top of all of this, it all takes so long! Wading through the instructions, identifying the pattern pieces you need, ironing the pieces, laying them out, cutting out, reading the instructions again, getting into a muddle, it takes ages. And ages is not what most of us have.
Making bags and cushions and things without a pattern is possible. So I decided to try making clothes without a pattern to see whether that was possible.
And I am pleased to say that it is totally possible!
You can end up with something that fits right, in a style you like, in less time and with less faffing about.
Where Do I Start?
The key thing here is to keep things simple.
I should probably say at this point that if I was going to make something difficult or complicated, or something I hadn't tried before, then I would probably use a pattern. It would give me a sense of how to go about making a similar thing without a pattern in the future.
A good, simple project is a circle skirt. There's a tutorial for one here.
Loose fitting pyjama style trousers are also a good place to start, or you might like to try some of these.
Do I Need Particular Skills or Knowledge?
Making something without pattern requires using the skills and knowledge you have, plus your creativity.
It will help you a lot if you have made clothes for yourself before. This will give you an idea of:
How clothes are put together
The shape of pattern pieces
Potentially tricky areas
Sleeves
Zips
Darts
Getting something to fit.
Keeping it simple here means being aware of and keeping within your own limitations when it comes to making clothes without a pattern.
This doesn't mean you have to stick to making things that are so easy they are completely shapeless! It just means being aware of what you can do and how you can use that knowledge to make something for yourself. Simple is best. It doesn't have to mean shapeless.
Do I Need Any Particular Equipment?
You'll need your usual sewing supplies, including pins, tape measure and decent scissors
.
Large bits of old fabric are very useful. Try old curtains or old duvet covers. You'll also need pattern paper
, although greaseproof paper or newspaper will do.
Swedish pattern paper
is supposed to be very good as you can use it in the same way as ordinary pattern paper, but you can also sew it. I haven't tried it myself though!
A dress form
is nice to have as it does make things easier, but it's not essential.
(These are affiliate links.)
If you don't have a dress form, a friend or a cooperative husband is useful.
Where Else Can I Find Inspiration?
The best place to look is your own wardrobe. Identify clothes that you like to wear and why.
Do you like the colour?
Is it comfy?
Is it a good fit?
Do you like the style of it?
Then have a good look at it and try to figure out how it is put together. Look for the size and shape of the pieces, how the necklines been finished, and generally how the thing is constructed. If you can bear to, take it apart! Then try to make something similar.
Other Tips and Advice
Keep it simple. I keep saying it because it's important! Stick to simple shapes and simple construction and it will probably turn out fine.
Don't be afraid of darts. Darts give things shape where they need it. If the thing you have made is a bit shapeless, darts are probably the answer.
Don't be afraid of zips. Doing them the proper way is a fiddly nightmare, but there is a much easier way!

Things go wrong sometimes. Our mistakes are an opportunity to learn. Most mistakes are fixable with a little bit of creativity.
If you would like to know more about making clothes without using a pattern, I have a free ebook for you! Just fill in the form here with your email address and it will be sent to you.
(Please be aware though you will be added to the newsletter list. I send this out every Saturday. There's links, updates, tips, free stuff and no spam. You can unsubscribe if you don't want to get it.)
You might also like my ebook, Sewing Clothes Without a Pattern: 6 Easy Projects to Kickstart Your Handmade Wardrobe.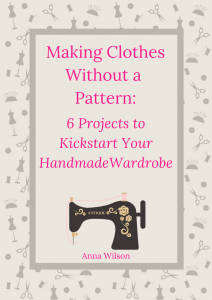 It contains 6 projects that you can make yourself without using a pattern, using a circle skirt as a starting point. There's also a free printable for recording your measurements.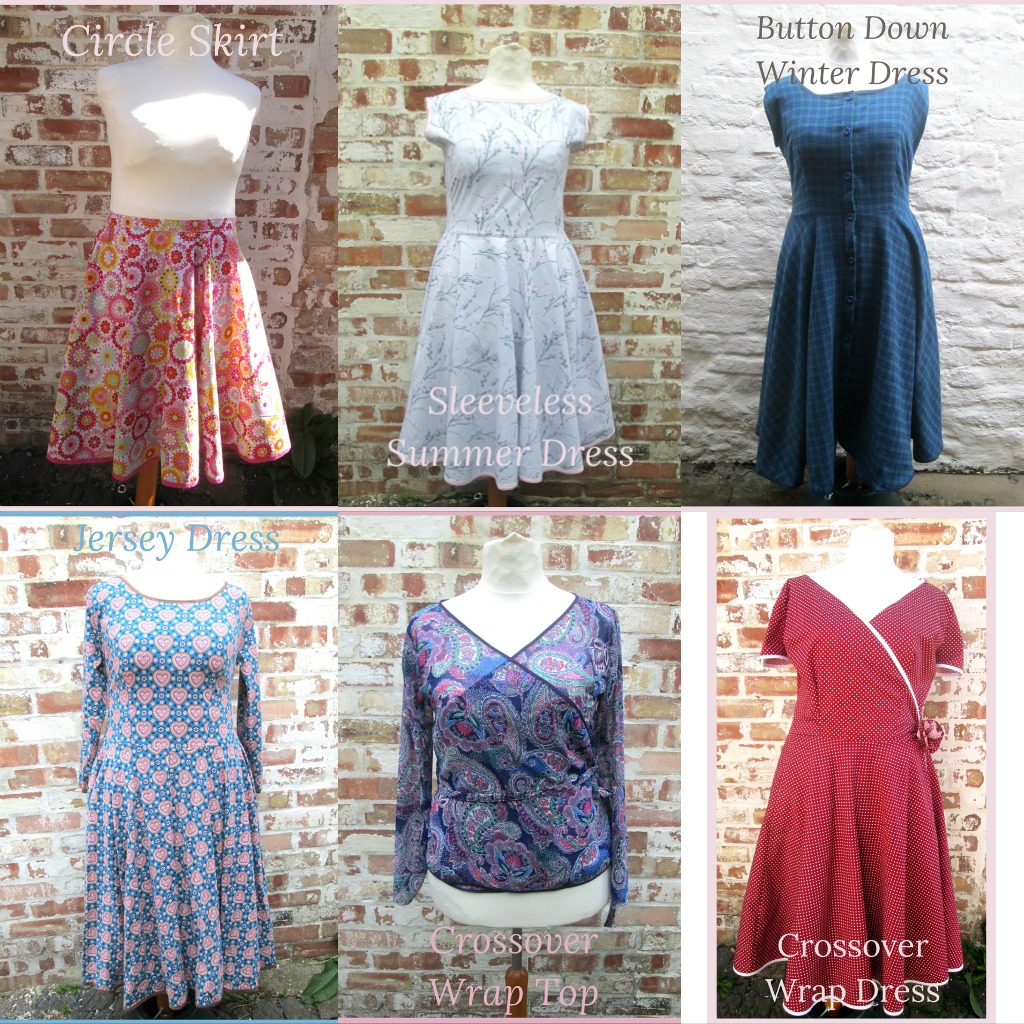 If you want to make clothes without a pattern, you might also find these posts helpful.
Linking up here