This post contains affiliate links.
Although autumn is my favourite season, spring comes a close second.
Springtime is like the earth waking up from a long sleep. I love spotting buds and snowdrops while it's still winter. It's like the earth knows, even though we can't see it yet.
There's a poem that starts, Her early leaf's a flower/ but only so an hour. It's not leaves that appear first but flowers, and they don't last very long.
In Japan, they have a cherry blossom forecast for when the cherry blossoms hit their peak. They only last for a few days and people need to know when they are so they can have their hanami celebrations, which involve picnics and singing under the cherry trees.
Because spring has been slow to get going here (it feels like early April even though it's the beginning of May), some of the cherry trees here are still in flower.
And even though the blossom doesn't last for very long, the season of blossom lasts for several months.
Tree identification is not my thing, so I don't know exactly which trees do what when. But I do know that cherry trees usually flower in April (I have one in the garden that's still in flower now thanks to the slow spring), but there are other trees that flower in early March. Blackthorn in the hedgerows flower in March and early April, followed by hawthorn in May.
So the blossom might only last for a little while, but we have a whole season of it!
I think the best way to celebrate spring is to get outside and enjoy it, but spring themed crafts are fun too, especially if it's cold and pouring with rain!
So I have made some needle felted cherry blossom.
Originally I was going to needle felt blossom onto the dress with princess seams that I have made, but I'm now thinking I might leave it. The dress is both warm and comfy, and I think I might want to wear it in the winter too! So I've left it for the moment and instead I've made it on a piece of the same fabric so I can put it up as a picture somewhere.
If you haven't tried needle felting, it's quite easy to do. The rovings are nice to work with and they come in all sorts of colours. The only thing is the needle, which is very sharp, but you can wear finger guards if you tend to be accident prone.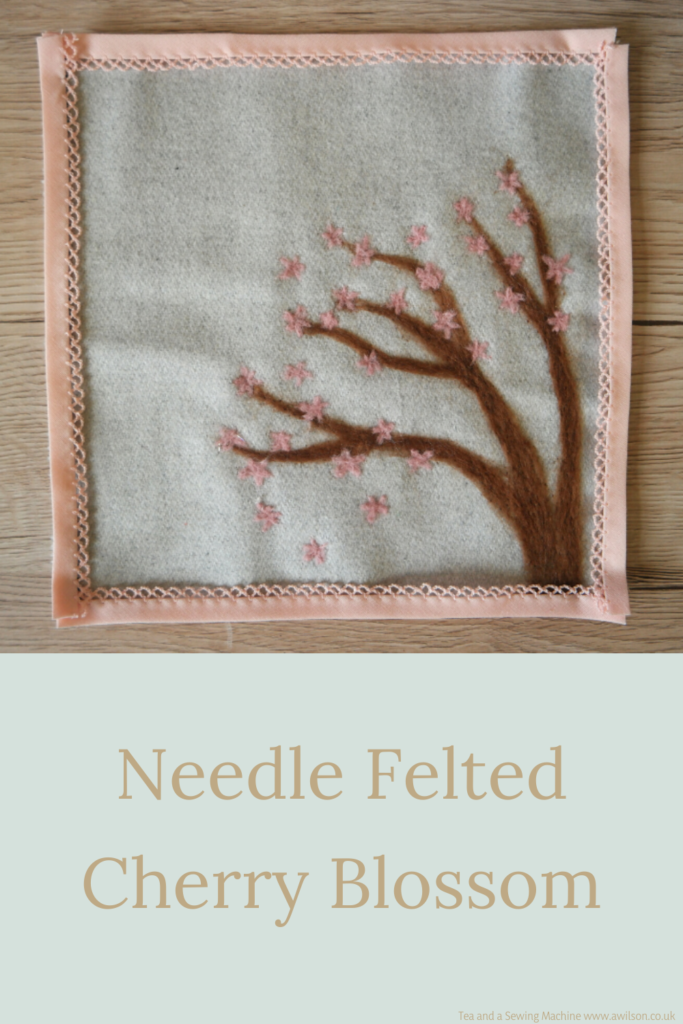 You Will Need
To make a needle felted cherry blossom picture, you will need:
A piece of fabric to felt into. I used the same wool suiting I used for my dress. A piece of felt would work well, especially half felted wool felt.
Rovings in pink and brown.
A felting needle
A foam pad or a wheat filled pad. A washing up sponge will do if you don't have one.
Finger guards (optional)
This lady on Amazon sells felting stuff, including a starter kit.
Using the Rovings
It's best to use a little bit at a time. The more you use, the more felting it will require. You can always start with a bit, then add a bit more if you need to.
Pull off little bits at a time. Separate out the fibres a little bit, grab a small amount and pull. It's easier to do if your hands are further apart.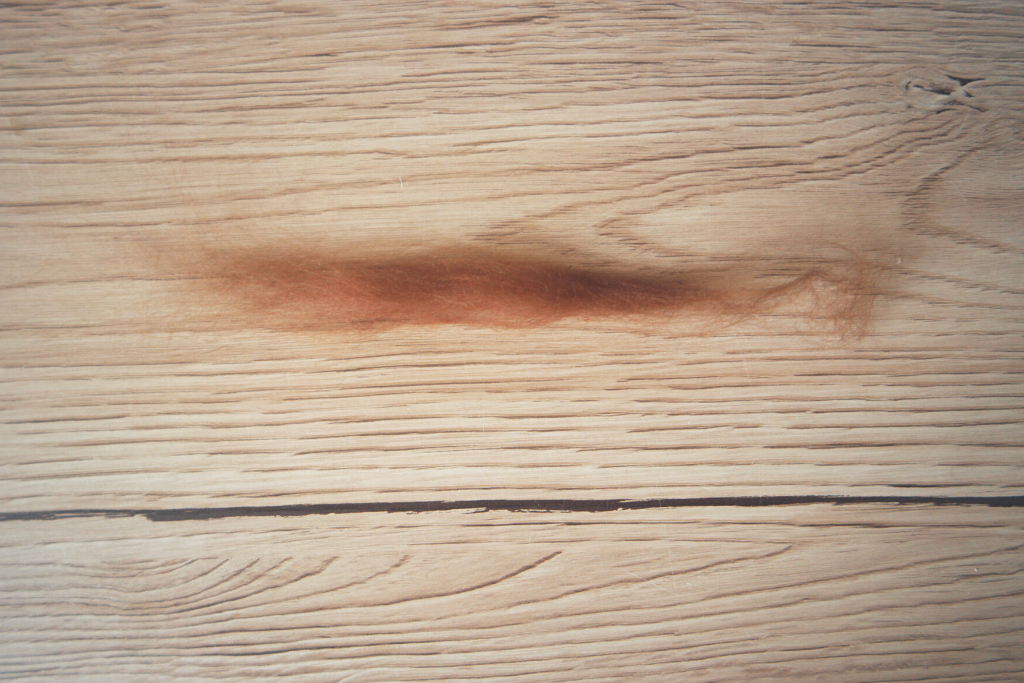 Stretch out little bits of it and decide where you want it on your fabric.
Using the Felting Needle
A felting needle is different to an ordinary needle because it has barbs on it.
Stabbing the rovings catches the fibres on the barbs and makes them fuse together.
It takes a little while and quite a lot of stabbing to turn the wool into felt. You'll know when it's done because it won't be fluffy any more.
Making the Branch
Arrange pieces of brown rovings into a branch shape and start stabbing! Remember to use small amounts. You can add more as you go.
Start stabbing with the needle. You can twist it if you want to, but I'd try to avoid it becoming too bulky or it will be difficult to felt.
Add in more if you need to.
Making the Blossom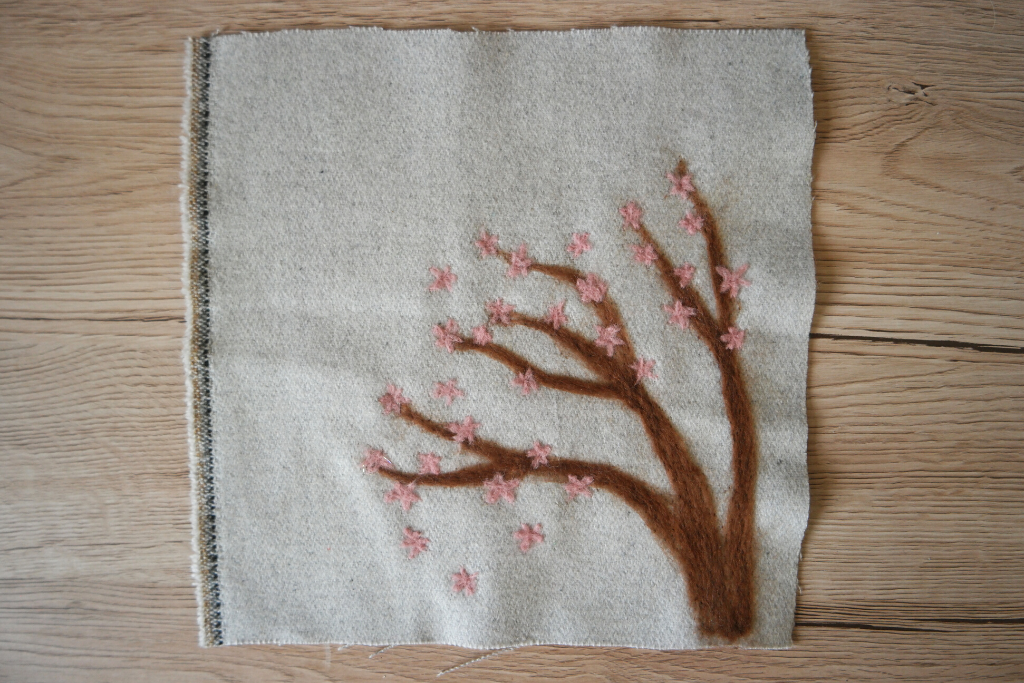 Blossom often has 5 petals, but if you make one that looks a bit odd with just 5, then make a 6th.
You only need a small amount. Twisting it once or twice makes it easier.
You can add as many or as few flowers as you like!