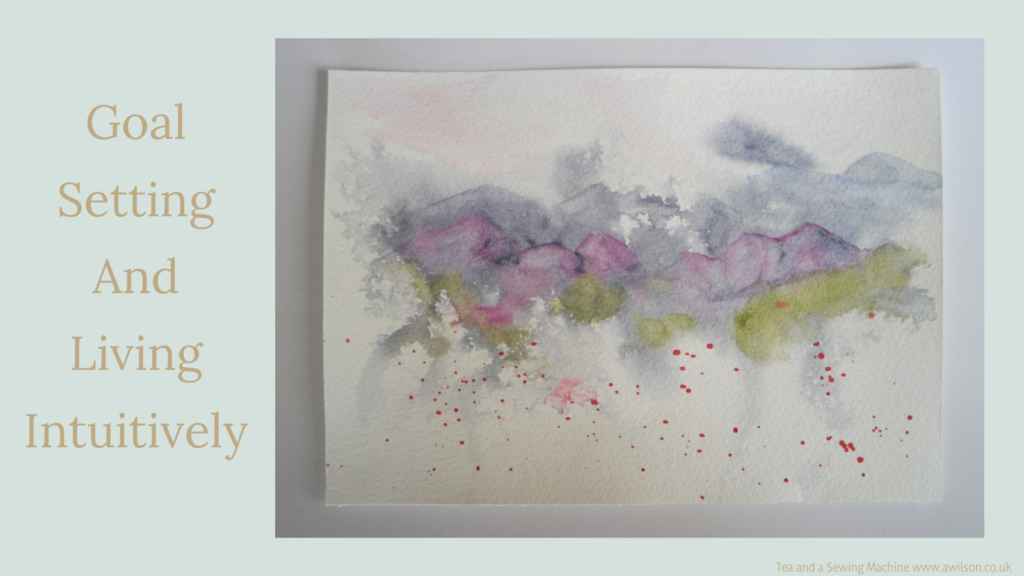 In some ways this seems like a better post for January, or perhaps September, as those are tines of the year when lots of people are thinking about goal setting. But I'm sure I'm not the only person who has set goals when it's not the 1st January or September, a Monday or even the morning!
I have mixed feelings about goal setting, and recently I've been wondering whether this is the best way to go about things. I've got a sneaky feeling that sometimes it might not be.
Goal setting has been a thing for a number of years now. Everybody seems to be setting themselves goals, sometimes very ambitious ones, and managing to achieve amazing things because of it. People have transformed their lives, started businesses, moved to where they've really want to live and done the things they've wanted to do. They are living their lives in the way that they want to because they have set goals and strived to accomplish them.
Obviously there are good things about goal setting, and there have been occasions when I've successfully used them myself.
If you're somebody who tends to get lost in the woods with a project, if you have a good idea, start enthusiastically but your interest in it fades and you get into a muddle, then goal setting can be a useful way of ensuring that the thing you've started gets finished.
There's no denying that if you have a clear idea of the end goal, then breaking things down into bite sized chunks and writing them all down as a list which you can tick off as you go gets things done. This has worked very well for me when I've been writing an ebook. It also helped me to deal with a particularly messy room in my house!
Despite goal setting being a useful tool at times, there are some issues with it.
Negative Feelings Associated With Not Achieving Goals
One of the things I've learnt from my own experiences with goal setting is that you have to have the time to work on them. Sometimes it's about making time, but it's not always that simple.
If you're somebody who spends hours every day mindlessly scrolling through Facebook or bingewatching junk on Netflix, you have the option of putting the phone down, turning off the telly and doing something about the things that you have identified as being important to you. If you don't achieve your goals because of your 3 hours a day Facebook habit, that's down to you.
But if you are genuinely very busy, it can be hard to find the time to make any real progress with goals you might have. Paid jobs and family responsibilities have to take priority, and depending on what stage of life you are at, time that is not already allocated to other things could be very limited. It might be unrealistic to set lofty goals and expect to achieve them.
There is a culture, particularly in the USA but we have it here in Britain too, that not achieving goals or being seen as unproductive (this includes looking after your own children full time) is perceived as a character flaw, a personal weakness that somebody just shouldn't have.
So when we don't achieve our goals, it's easy to bash ourselves over the head and feel really bad.
This in itself might not be a reason to abandon goal setting completely, but it's important to realise that goal setting on its own isn't going to work if you genuinely don't have much time. It is possible to chip away at things, but anything big is unlikely to get done quickly if at all.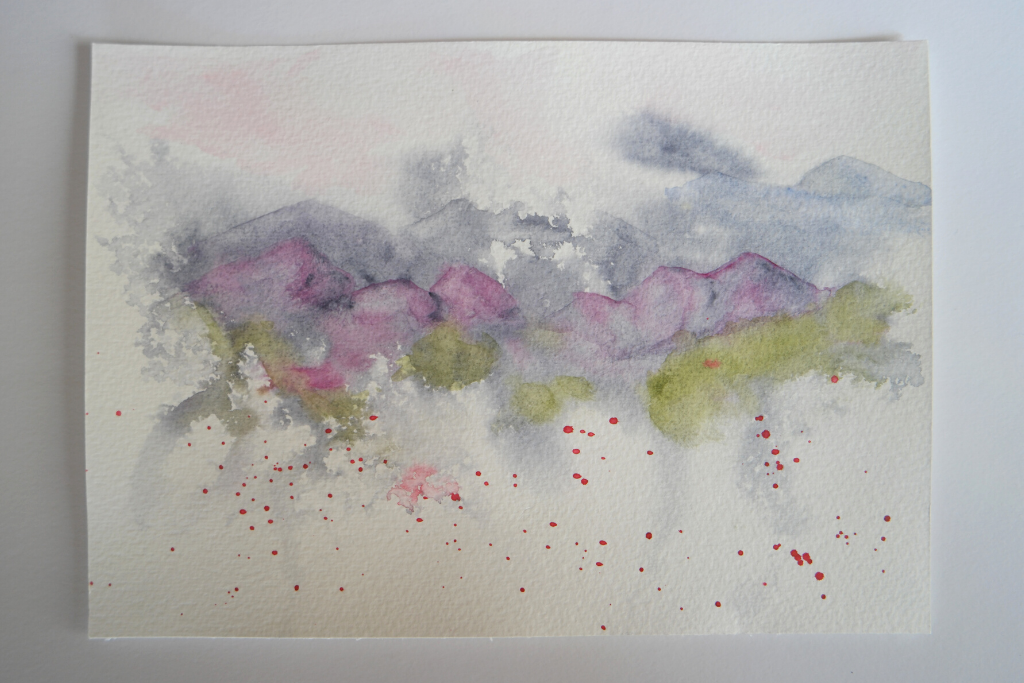 Changing Your Mind
As we grow older, we learn more about ourselves. We don't enter adulthood fully formed. Also the way the school system works means that lots of us don't really have a chance to find out who we truly are before arriving at adulthood.
Life changes us as well. The things that seemed important to us when we were 20 might have completely changed by the time we are 45. This is one of the reasons why career changes in middle age are quite common.
If we set goals only to find a couple of years down the line that we've got a nagging feeling that the goals we set are not right for us any more, it can make us feel bad. What should we do? Abandon the thing that we were so sure about, the thing that we've spent time and energy working on? Or carry on with it even if we are no longer sure that this is the right thing or what we want?
Setting big goals assumes that we won't change our minds, or even that having a change of heart isn't alright, when it's normal to feel differently about things as we get older.
Needing to Have a Clear Goal
Like not achieving our goals, not having a clear idea of what you want for your life and how you are going to get there can be seen as weakness.
The problem is that you don't always know!
Sometimes you might have a vague idea, like, "I want to do a job that allows me to be creative", or, "I want to live in the country", but not know exactly how that might look or how you might get there.
Sometimes the best thing to do is to start on the journey and the way will become clearer as you go, rather than not starting at all until you have a clear map in front of you.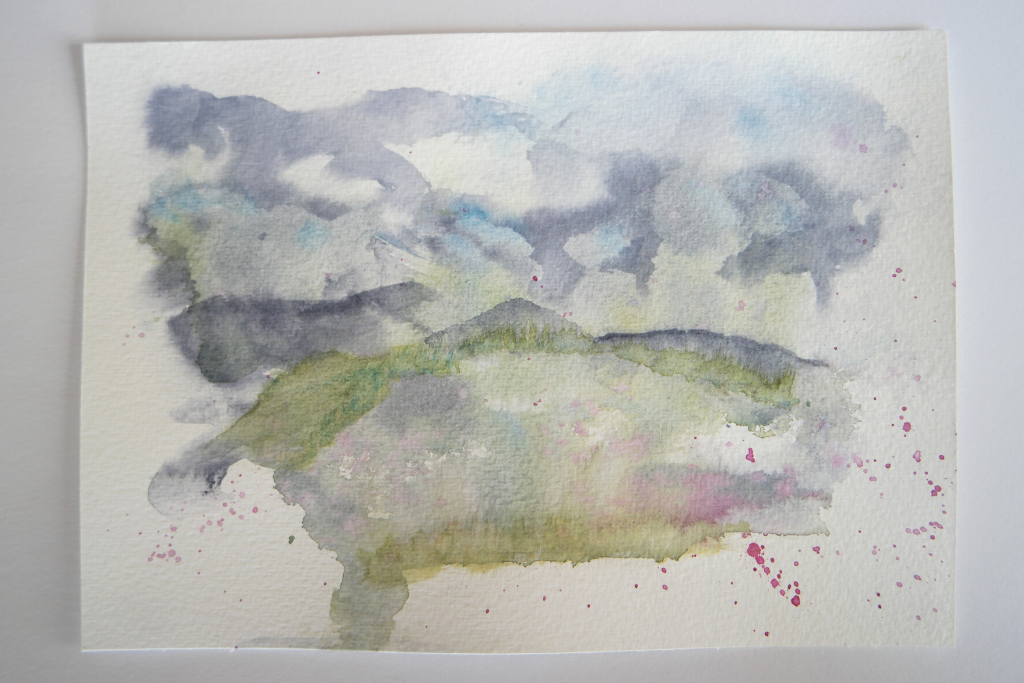 Plans Get Derailed
We can set all the goals we like and have time to work on them, but from time to time life throws a spanner in the works and things takes a different turn.
It happens to all of us, and no amount of planning or checklists can prevent it.
We need to be able to cope with life's spanners. If we're very focussed on what's ahead, we might not see them coming or deal with their impact as well as we might otherwise.
Being very focussed on goals that we have not achieved, even if it is because life got in the way, can make us feel like we have failed.
Missing Out on Other Things
Saying yes to some things invariably means saying no to others. Travelling down a motorway as fast as the speed limit allows means that you will arrive at your destination quickly.
The downside is that you will miss other things that you might see along the way.
If you are heading towards your goals as fast as you can, you are going to miss other things. There might be better opportunites, possibilities that you haven't thought of that might suit you better, more ways to help people, friends you could make, tihngs about yourself that you could learn, but you're going to miss them all.
Motorways are not fun. Even the novelty of the German autobahn with no speed limit wears off eventually. Jungly footpaths and twisty roads with grass growing down the middle are fun. I want there to be enough flexibility in my life to wander down some overgrown footpaths. I do not want to spend my life on a motorway.
Maybe Life is More than a Checklist
I'm not sure that treating life like it's a big list of things to tick off before be we die is the way is the best way to live. In fact, I'm certain it's not.
Going back to the footpath analogy, I like to feel the path under my feet and the wind and sun on my face. I like to hear the birds singing and smell the smells of outside. I want to stop and take a photo of the view, listen to my children when they want to tell me things or have a chat with them. I want to see what happens when we venture down that path, even though I don't know where it will lead and I can't control it. Perhaps even because of those things! But wandering off and seeing where things go is never going to be on a conventional goal setting checklist.
It's a peculiar thing to prioritise the checklist because I don't believe many people say at the end of their lives, "I wish I'd ticked more things off." They're surely far more likely to say, "I wish I'd slowed down."
Sometimes motorways are necessary, and sometimes we want to get things done and ticked off. But I think I want as many winding roads and mystery footpaths as I can manage.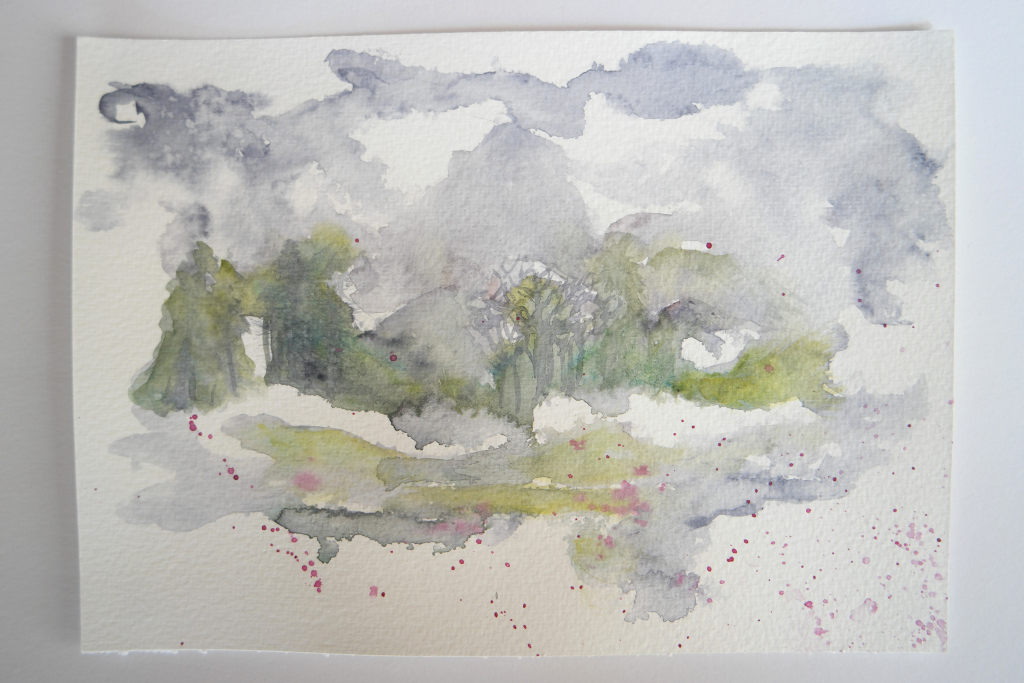 An Alternative
Obviously goal setting is not all bad, and at times it can be very useful.
With no goals at all, we would be in danger of drifitng through life, never really achieving anything and possibly feeling frustrated with ourselves and our lack of purpose.
So maybe there is another way.
Intuitive Watercolour Painting
Recently I discovered intuitive watercolour painting. This might sound like I'm heading off down a road with grass growing down the middle now, but bear with me!
One of the things that makes watercolour painting difficult sometimes is that it is hard to control. A little bit too much water and it goes beserk. You can't control exactly where it goes or what it does.
With intuitive watercolour painting, you start off with lots of water. You cover the paper in water, either in patches or completely, pick 3 or 4 colours and start splodging paint on. As it goes it on, the splodges might start to look like things, and you can encourage the things you see to come out of the splodges.
It's often a good idea to have a bit of a plan, so you might put some sky colours near the top and some other colours that might work as trees or land.
It's also worth remembering that shadows will be lower down, so you might want some darker colours in the lower half. You're not trying to control your painting, though, t's more like nudging things along and seeing what happens.
You've probably realised by now that the pictures in this post are paintings that I've done using this method. It was a lot of fun, and knowing that I couldn't control the outcome removed a lot of stress associated with not wanting to mess it up/ doing it wrong/ ending up with something that looked rubbish. I actually didn't plan to paint mountains, but mountains were what came out!
How This Relates to Goal Setting
I think it's possible to use goal setting in the same way as an intuitive watercolour painting.
It's not bad to have goals, but perhaps it would be helpful to think about them in a different way.
My goal with the painting was to see what happened and what appeared in the splodges.
So maybe a goal could be to see what happens and respond accordingly.
It's not about drifting, or having no ideas at all about your life, what you're going to do with it or how you might want it to look. It's about being in tune with the things around you, listening to what people are saying, learning about yourself and taking notice of things that might be signposting you in a particular direction. It's about responding to life as at happens and not being afraid to change and grow.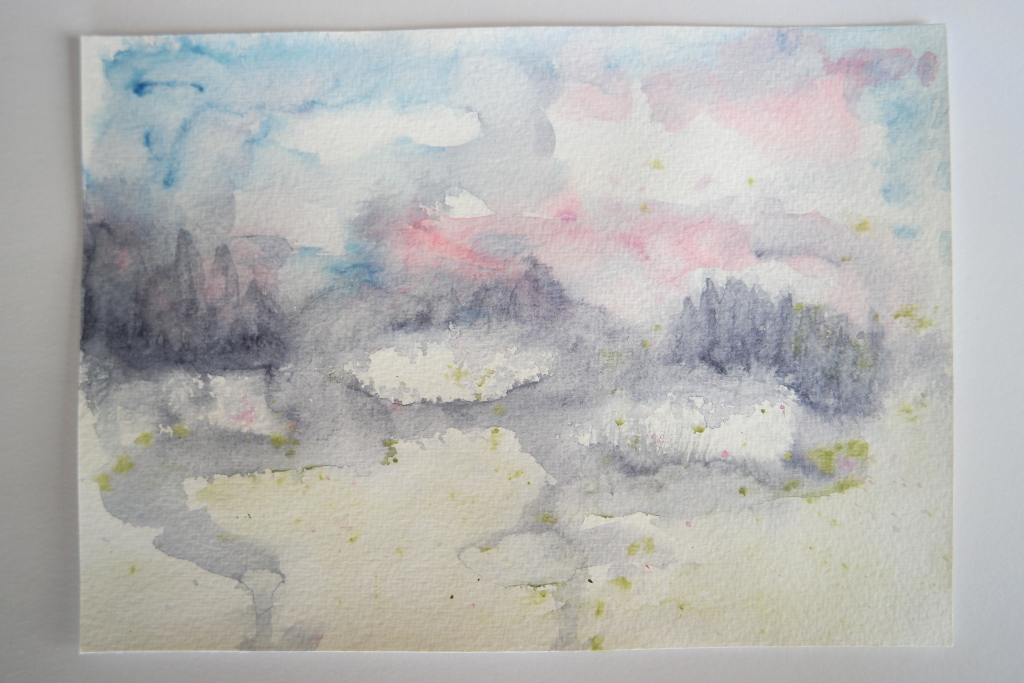 Advantages of Goal Setting in This Way
Thinking about goal setting in this way means has some advantages.
You don't have to have a clear roadmap ahead of you. You can start out, build as you go and make decisions as they arise. For some of us that works much better than having everything planned out.
As we learn and grow and change, we can embrace those changes.
We can make choices that we know will change us and that will open us up to things that at the moment, we can't even imagine.
It's impossible to always know what is going to happen, and that's fine. This way we can adjust and make changes as we need to.
We can respond and react, change and grow, take time or move quickly as the situation allows. We can allow our lives to shape us as much we shape them. We can change our minds and do what we feel to be right and what is best for ourselves and our families.
The Way Foward
I'm still going to do some traditional goal setting. Like I've already said, breaking things down into bite sized chunks can make a seemingly impossible task achievable. But my main goal is to step out into the rest of my life and see what happens along the way.