Well that was a busy week! As well as making sure everything was ready for the summer holidays so that we all stay sane, all the normal domestic jobs and taking care of two preschoolers, plus the other two, on Wednesday morning the cat came in with half his face hanging off and then Boy 3 threw up. And now they're all on holiday so I won't be able to finish a thought for the next 6 weeks. Happy times!
The cat is fine. He's on antibiotics and isn't allowed out (although that doesn't stop him from trying, and succeeding once!) Boy 3 is also fine. My plan for the summer holidays seems to be working, and later this week there's a children's club at church in the mornings, so that should break the days up a bit.
I have managed to find a few minutes to finish a dress I've been working on. The pattern was Sew La Di Da Sweetheart Dress, which came free with Sewing World a few months ago. It's taken me ages, partly because I don't have a lot of time but also because the pattern pieces were in several bits. They were actual size, which was great, but the piece of paper that they were printed on was not big enough for the pieces, so the pieces were in pieces. The patterns for the other projects were also printed on the same sheet, so it was tricky figuring out which bits I needed and how they fitted together.
Once I'd got all the pieces cut out, it came together very quickly. The dress is made up of 7 panels, 3 for the front and 4 at the back, so you just sew them together and ta-dah! You've got a dress!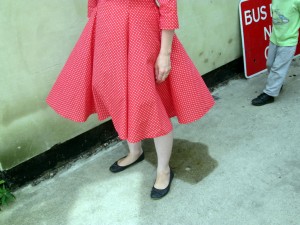 The zip is at the back, so you make the dress up, then check the fit and put the zip in by sewing up the back seam then attaching the zip. There is enough spare in the last seam just in case you mess up the measuring, another thing about  pattern that I really like!
When I tried it on, I found t the top section was a bit big, but it was easy enough to alter it. I find this generally with clothes. It's that tyre around my middle that makes clothes so snug there! I just took a little bit in at the sides and now it fits much better!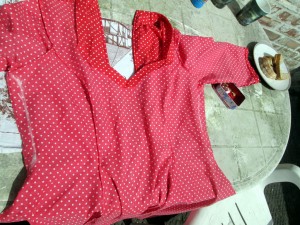 The great thing about this pattern is that it is designed for normally proportioned people instead of skinny model folk, people whose bodies have carried babies and processed cake. Without being hideously complicated, the dress has shape, so in no sense at all is it like wearing a sack. When I checked my measurements, I came in at a size 14 – 16, which corresponds with the size if clothes I usually wear.
The pattern can be bought from the Sew La Di Da website here. It's more expensive than other patterns I have used, but it was so easy to make, the instructions were clear, it's designed  fit even bulgy people like myself, the sizing makes sense, it's easy to fit and there's enough in the seam allowance if you make some small miscalculations with your measuring. It's better to have something that fits that you will wear than something you can't wear because it doesn't fit right, right?
I love it! It's comfortable and one of the school mummies asked me if I'd got it from Cath Kidston! That just about made my day!