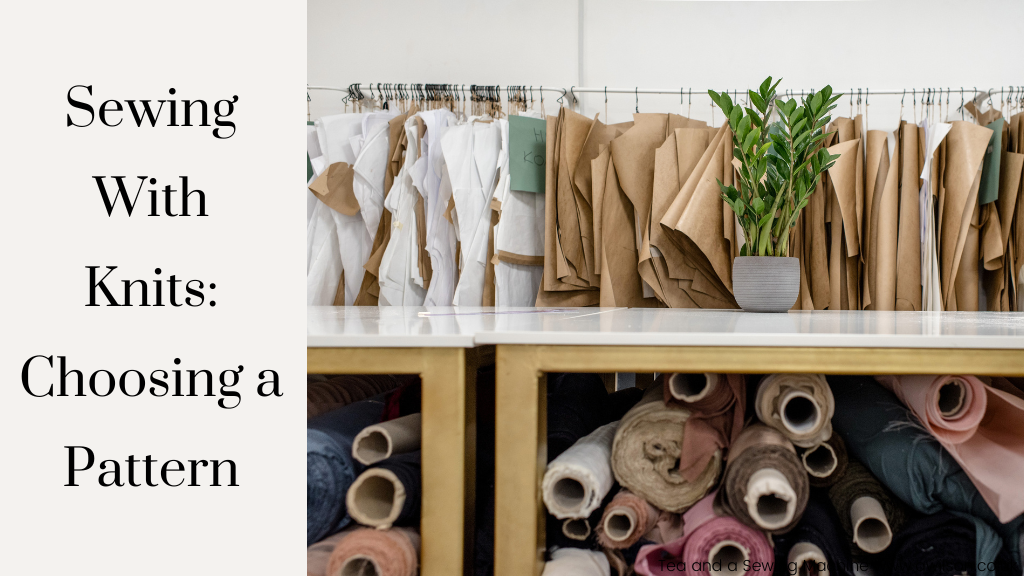 If you've missed the previous posts in the Sewing With Knits series, you can find them here.
Once you've started to think about the fabric you'd like to use, the next step is finding a pattern.
Stretch knits are great for tops and comfy dresses. You can make skirts from them as well.
If you are choosing a pattern, often it will say on the packet what kind of fabric to use. But if you are drafting your own, adapting or reusing a pattern you already have, or if you are wondering how to narrow down the bewildering array of choice, here are some tips and things to take into account.
Simple is Best
As I've said already, the thicker kind of knits are easier to sew with. However, this does mean that they tend to be quite bulky. So keeping things simple will help to keep random lumps and bumps at bay, and you'll be more likely to end up with something that is both comfy and looks nice.
For this reason, gathers and pleats are probably best avoided. If you're drafting the pattern yourself, and you want a fuller skirt or sleeves, it just means drawing the pattern pieces so that you get the fullness from the shape rather than from gathers.
Heavier fabrics like stretch knits tend to behave differently to lightweight fabrics. Cowl necklines, fluttery sleeves and drapey skirts are not going to happen with cotton interlock jersey! You'd have more success with a lighter stretchy fabric, but they are harder to sew with. It's probably best to save them for lighter, more stable fabrics.
Another issue is that knits will sometimes drop, so you have to be careful of anything that's not cut on the grain.
Dresses
One thing I've found with making dresses from knits is that knit fabric can be quite heavy. This means that if there is a lot of dress, especially in the skirt, the weight will pull it down. This will result in a dress that doesn't feel like it fits properly, or it will slide off your shoulders, or dig into you.
A better option is to make a dress that is not too long and doesn't use too much fabric.
One one my real successes was this dress I made a long time ago, and I made something similar the spring before last. Although the originlal dress had darts, in the end I lost at least one set, and the others weren'y necessary. I wore this dress a lot until it sprang holes!
Simple sleeves and not too much fabric in the skirt works really well.
If you need a way of getting in and out of it, a button or two will be better than a zip.
Tops
Both fitted and looser tops can work well with stretch knits. As with dresses, fancy sleeves are best avoided. Cross over tops are great, and you can rely on the stretch without needing gathers.
Anything frilly isn't going to work, at least with the kinds of knits that aren't too difficult to sew, so keep it simple. If it feels boring, you could try colour blocking or mixing patterns and solids.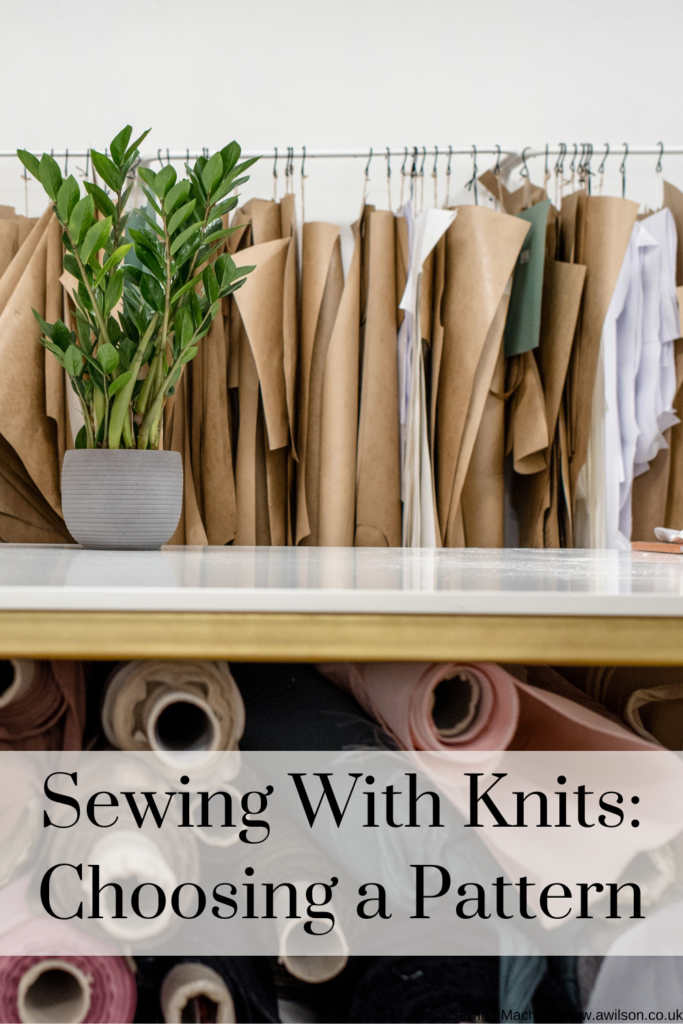 Skirts
For children and people who are slimmer, skirts made from knits are great. There's no need for zips and they are super comfy, so a perfect solution for anybody who can't bear itchy scratchy things next to their skin. All you need to do is make the skirt pieces with the grain running down the centre front and back, and the waistband made from the same kind of fabric, also with the stretch side to side.
As with dresses, a lot of bulk will result in a skirt that falls down! So something simple that doesn't require too much fabric is best.
Another thing to consider is that the fabric will drop if it is on the bias, so something like an A line skirt where it is mostly on the grain will be better than a style of skirt where a lot of it is on the bias.
For those of us who are a little bit bigger, especially around the middle, a skirt made from knit fabric might be more likely to ride up. The style of skirt you can make from a knit might not be the most flattering either. With cotton, there is more stability and it will hold its shape more and cling less. But you could try it and see!
Trousers
I'm not a big wearer of trousers, so these are just my thoughts!
Trousers from knits are going to be comfy, and they will allow for movement. If you choose a bright colour or a colourful print, they could be fun things to have in your wardrobe for dull winter days.
For smarter trousers, I suspect woven fabric would be better. The weight is less likely to be a problem and being woven rather than stretchy, probably also more flattering. But again, the best thing to do is to try it, and if you make a pair and you like them, then why wouldn't wear them?!