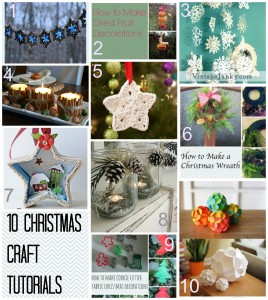 Christmas is a great time for making stuff. Now we're only 2 weeks away and I keep finding more stuff I want to make and there just isn't time!
Here is a round up of 10 Christmas craft tutorials. Some of them are my ideas, most of them are not. Some of them I have made, some of them I am planning to make but I haven't got round to it yet!
All the things in the tutorials can be made using stuff you will probably either have already or can obtain easily. All of them could be made within a couple of hours or an evening.
1. Snowflake Suncatcher Garland
This is genius. It's such a simple idea and they look amazing. The snowflakes are made from salt dough using a cutter. The centres are filled with plastic beads which then melt when the decorations are baked in the oven. Full instructions how to make them can be found here on Homegrown Friends.
 2. Dried Fruit Decorations
I have made these for the last two years. It's very easy to dry the fruit yourself. Instructions for how I did this are here, How to Dry Citrus Fruit.
All you do is thread the fruit onto twine, cord or raffia and decorate with bows. You might also like to add pine cones or cinnamon sticks.
Putting the holes in before you dry the fruit makes the whole thing a lot easier! Full instructions can be found here, How to Make Dried Fruit Decorations.
If you have a bit more time (and a bit more fruit!), you could make a garland in a similar way. Instructions for a garland using just dried fruit, raffia and ribbon can be found here, Fruit Garland and Decorations.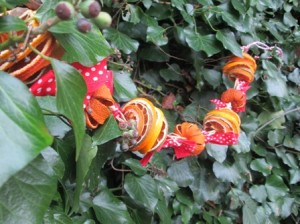 There are instructions for making a garland using dried fruit and pine cones here, How to Make a Pine Cone Garland.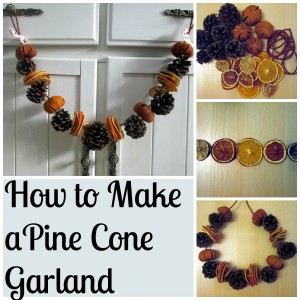 3. Paper Snowflakes
Making paper snowflakes is not just for the kids! These snowflakes on Vintage Junky are so gorgeous. Templates are available to download and print out so you can recreate them yourself!
4. Cinnamon Stick Candles
While I was pregnant, strong synthetic scents made me throw up, with fake coconut and laundry detergent featuring top of the list.
I still associate these scents with feeling ill, so generally I steer clear of scented candles and anything that smells strongly of fake stuff.
However, natural scents are fine!
These cinnamon stick candles on Home Stories A toZ are easy to make and look lovely. When the candle warms up, so do the cinnamon sticks and the scent is released without being overpowering.
5. Crocheted Stars
Crocheting Christmas decorations is great for using up odds and ends of yarn and, being small, they don't take to long to make.
The pattern for these stars is here on One Dog Woof. If you like crochet, there are lots of other crochet projects too, including some very cute little elves!
6. A Christmas Wreath
Maybe it seems a bit late to suggest making a wreath now that Christmas now is only two weeks away. However, historically, people used to bring greenery into their homes on Midwinter's Day which is on 21st December. So there's still time!
Christmas wreaths can be expensive to buy, but they are not expensive to make and it's easy and fun to do.
To make this one, I used a flower foam wreath and greenery from the garden, berries and pine cones just from around outside, fruit that I dried myself (instructions here!) and some ribbon.
Once I'd collected everything together, it took me about an hour and a half and it cost less than £10 to make.
Full instructions are here, How to Make a Christmas Wreath.
7. Box Ornaments
This tutorial involves covering a little star shaped box, the kind that can be bought from craft shops, and decorating it to make a 3D scene. I suspect if I start making these, I won't be able to stop! I can imagine all kinds of cute scenes in tiny little boxes!
The instructions for this can be found here at American Crafts Studio.
8. Candles in a Jar With Greenery
This comes from a French site, Le Cottage De Gwladys. There are lots of ideas on here for using candles and greenery to decorate your home for Christmas. The photographs are beautiful and Google Translate is very useful if you don't speak French.
9. Cookie Cutter Felt Decorations
These decorations are great for using up scraps of felt and cookie cutters make perfect templates. A little bit of polyester filling in the middle gives them a slightly padded look. They are easy enough for older children to make too!
Full instructions can be found here, Cookie Cutter Felt Decorations.
10. 3D Paper Ball Decorations
These decorations are made from 12 paper flowers that slot together. The tutorial and printable templates for different sized decorations can be found at How About Orange.
For more Christmas themed stuff including crafts and crafts for children, please visit my Christmas Pinterest Board!
Happy Christmas Crafting! xx
This blog is featured as part of Twinkl's Eco-Friendly Christmas Crafts for Kids blog.