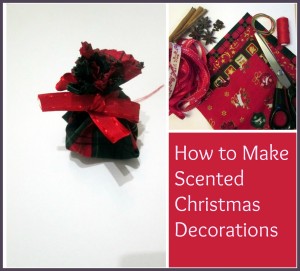 According to something I was reading on the internet, cinnamon is officially the smell of Christmas. I associate lots of smells with Christmas. Not only cinnamon, but cloves, ginger and nutmeg. These were all ingredients in the Christmas cake and the Christmas puddings. Also pine, the smell of the Christmas tree (we always had a real one, the smell of plastic doesn't quite do it!) and tangerines, when fruit and vegetables were seasonal and you couldn't get tangerines before November.
These scented Christmas decorations contain cinnamon, cloves and star anise for a perfect Christmas smell.
How to Make Scented Christmas Decorations
You Will Need: fabric, elastic bands, ribbon, pinking shears (optional), cinnamon sticks, cloves, star anise, needle and thread.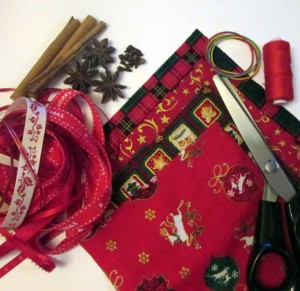 1. Cut a square of fabric 15 cm x 15 cm. Finish the edges with pinking shears.
2. For the spices you will need a few cloves, 3 or 4 little leaves of star anise and half a cinnamon stock, broken up. Crushing them a bit will help to release their scent.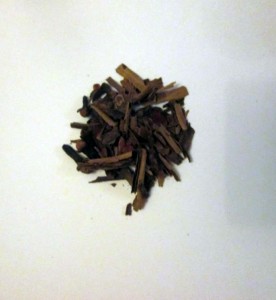 3. Place the square of fabric wrong side up and put the spices in the middle.
4. Gather up the corners and wrap an elastic band round the top of the bundle to hold it.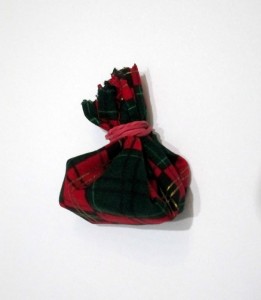 5. Cut a piece of ribbon 25 cm long. Tie in a bow around the elastic band.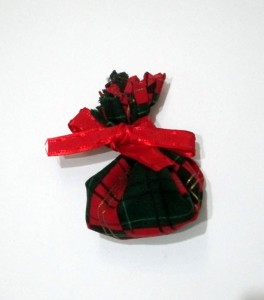 6. Sew a loop into the back of the ribbon.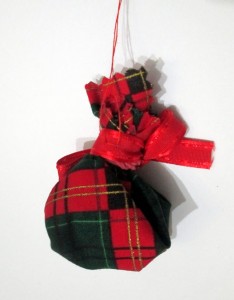 If you like a stronger Christmas smell, you could put the spices into a muslin bag or a tea infuser and pop it in a pan of warm water.
Wishing you all a pleasantly scented Christmas xx