It's been a while since I've made anything from a pattern. Since the wrap dress that didn't fit debacle, I've been put off. I've found anyway that as long as you keep it simple, it's fairly easy to make clothes without a pattern.
Anyway, I was reading Sewing World a few months ago and there was an offer that I couldn't ignore, so I sent off for the patterns. I particularly like this one, New Look 6571, because for my £2.95, I got patterns for 2 tops, 2 dresses and a skirt. Bonanza!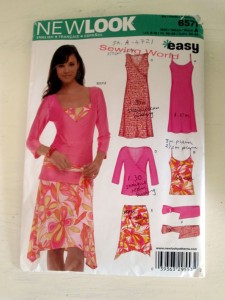 I searched for fabric for ages. I really liked the fabrics used to make the one the model on the packet was wearing but, although I could find pink jersey easily enough, I couldn't find anything close enough to the skirt fabric that would go with the pink. So I went with brown and turquoise instead.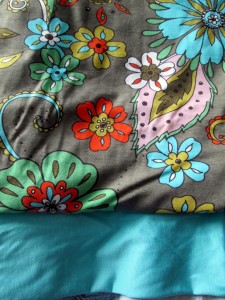 I did have some concerns as the pattern stated jersey fabric and the only other time I have tried sewing with jersey I ended up giving up as it was horrible. The other thing that set alarm bells off in my head was when I noticed that this pattern was classed as "easy". In my experience, sewing stuff from "easy" patterns results in clothes that are shapeless and sack like in form. I also do not really agree that making something out of jersey fabric is going to be easy.
I started with the skirt and, to be fair, it was easy! It has an interesting shape which justified it requiring a pattern, but it only has two pieces and the waist is elasticated. The jersey fabric I had bought was not too stretchy and having a sewing machine that has special stitches for knit fabrics made it possible to sew it up. There is a little bit of puckering in the hem, which wouldn't pass muster on the GBSB, but I was pleased with the result.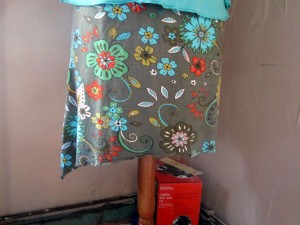 The tops unfortunately did not go to well. I had huge issues with the measurements on the back of the pattern. Having had 4 kids and a fondness for cake meant that when I checked my measurements, I was a size 16 in the top part but off the end around the middle! I did think this was a little odd. Usually when I buy clothes a size 14 fits just fine.
I decided to make the vest top in a size 16 and hope for the best. The fabric was stretchy and there's always control underwear, right?! So I made it up. It was fairly easy. The straps were trickier and I have learnt a technique by doing this! When I tried it on, it was too big! In fact, it was massive on me!! I took 2-3 cm in at the top of both the side seams and it's still a bit too big. The straps keep slipping off too, so I'll need to adjust them.
As a result, before embarking on the wrap top, I checked my measurements again before cutting the pattern bits down so that the top part was size 14 and the rest size 16. But guess what, it's still too big! It needs taking in at the sides and the sleeves keep slipping down. I don't really know how to fix this. I might try taking the back seam in a bit. And it looks shapeless, although it might me that's shapeless as it looks alright on Betty!
I'm going to attempt to sort it out, but I am a little bit annoyed. I cut the pieces out accurately, stuck to the seam allowances and I was worried that it would be too small. I did not think I would end up with something too big.
Well there we go. I like the skirt. I might have a go with some different fabric, maybe cut on the bias. But the tops! Grrr!