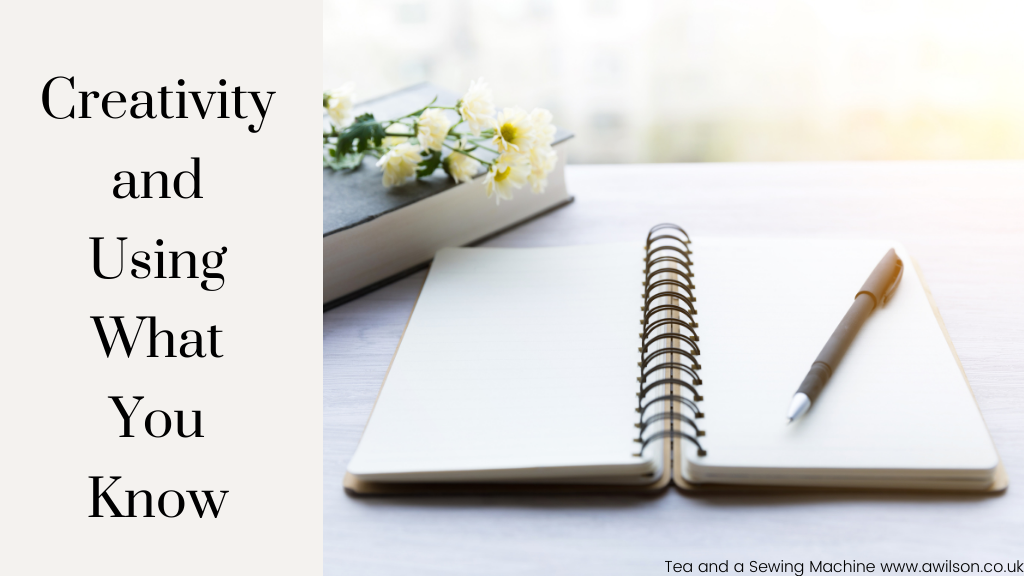 Where Does Creativity Come From?
There's an idea that creativity comes out of nowhere. Or maybe not nowhere, but certainly from somewhere outside of everything else.
It's the idea that, to be truly creative, you have to have lots of ideas that just or drop from heavens into your brain like manna in wilderness.
Sometimes that happens.
But most of the time, it's not like that at all.
People are often amazed when I tell them that I've made the outfit I'm wearing. And when I say that I made the pattern as well, they are even more amazed! And then I feel like a fraud because what I'm doing isn't especially amazing!
Over the years, I've made dozens of things. For some of them, I've used patterns. For others, I've had a good look at ready to wear things, and made patterns based on the shapes used in their construction. I've made things by draping fabric over myself or a dress form, and drawing on it with a felt pen. On other occasions I've made patterns from my measurements and used those.
The point is that I know how clothes are made. I know what pattern pieces I'd need and the kind of shape they'd need to be. I know about darts and different kinds of fabrics, how to put a zip in, and what order to do things in to avoid getting into a muddle.
So when I make a new outfit for myself, all I do is take this knowledge that I've gained over the years and apply it to make something new.
A lot of creativity is like this. We start with what we know, then ask, "I wonder what would happen if I tried this," then try it.
A big step on my own creative journey happened when I made my cherry blossom dress. I needed an outfit to wear to a wedding. My boys were all still quite small then, and the idea of dragging them all round the shops made me feel both sweaty and cold at the same time! I decided to make a dress, but I didn't have much time.
So the question I asked myself was this: "I wonder what would happen if I made a circle skirt and sewed it to a bodice and put a zip in the side seam?"
The result was a dress that I loved. I wore it to the wedding, and then many times afterwards! I took the knowledge I had about making clothes and applied it to an idea I had, and it worked.
Creativity in Maths and Science
This might seem like I'm wandering off down a rabbit hole now, but bear with me!
People are often either drawn to arty, "creative" subjects or to the sciences. Whereas this is true, it is not true to say that maths and science are not creative.
In school, maths and science are not taught in a creative way. I don't mean that teachers are not creative in their approach in teaching these subjects. What I mean is that the subjects themselves are seen very much as straight forward and logical, with right answers and correct processes.
However, outside of school, these subjects can be very creative!
Giant steps forward in science and maths occur when people ask "what if…?" They take the knowledge they have, and use it to test a theory or an idea. Sometimes things work, sometimes they don't. Other times, they might work a bit, which then leads to more questions and more testing and experiments.
An example of this is how maths and science is used in space exploration. Scientists take what they know about all sorts of things, from orbits of planets to the trajectory of rockets, to attempt things that have never been tried before. It involves having the imagination to see what might be, and what could be, and use the knowledge and skills they have already to make it a reality.
In a small way using your creativity to make a pair of trousers from an idea that you have in your head is very similar! It's using the knowledge that you have already to do something different and new.
Pushing the Boundaries
Pushing the boundaries is what happens when the things we know are tested to their limits.
Breakthroughs in science, maths and technology all happen when people push at the boundaries. New ways of farming, developments in medical science and new technologies wouldn't be possible if it wasn't for creative people pushing the limits of what we know.
It's similar in the creative arts. Artists of all kinds ask "What if…?" and then try it and see what happens.
Sometimes the boundaries are pushed to real extremes, to the extent where we are led to ask actually what is music, or what is art, or what is a textile.
It's also something I've come across as a home educator. I have found myself questioning what I thought I knew about education, what education is and how children learn without school, including school-at-home.
An interesting point here is that boundary pushers all start off inside the boundaries. We need to know where they are before we can push at them!
When I was at school, we weren't taught art. It was the late 1980s, and art was seen very much as self expression.
I have no problem with this idea. Of course the arts are about expression. The difficulty was that I had very little in the way of raw skill! And because the art lessons I had a school didn't teach me anything, I didn't have any basic skills which I could use as a launchpad to then make my own art.
It's the same with music. What could be more creative than composing music? Yet without a basic knowledge of notes, scales, and harmony, and some degree of skill in playing a musical instrument, composing is very difficult.
It's not to say that all music has to obey the rules. But it's useful to know what the rules are before deciding whether or not to follow them!
Rick Beato on YouTube talks a lot about what makes certain songs remarkable. An interesting thing is that the people who wrote the songs would not always have been able to identify what it was about them that made them work so well. For some musicians, their musical education was listening to music in their bedrooms and figuring out how to play the guitar, rather than a formal musical education. Yet this still counts as learning about music, and they have been able to use that knowledge as a starting point for their own creativity.
Philip Glass famously composed a piece of music called 2 1/2 minutes, and it is not what most of us would think of as music at all. The "music" is all the sounds that occur during that 2 1/2 minutes. It sounds crazy, and it kind of is, but it is an example of somebody pushing the boundaries as far as they can, even to the extent of questioning what music is.
But Philip Glass proably didn't leap out of bed one day, never having listened to a single piece of music or having no clue at all about notes or harmony or anything, and cooked up this idea out of nowhere.
It would have been as a result of gaining knowledge and experience of music, exercising his creativity and asking, "Why?" and "How?" and "What would happen if…?"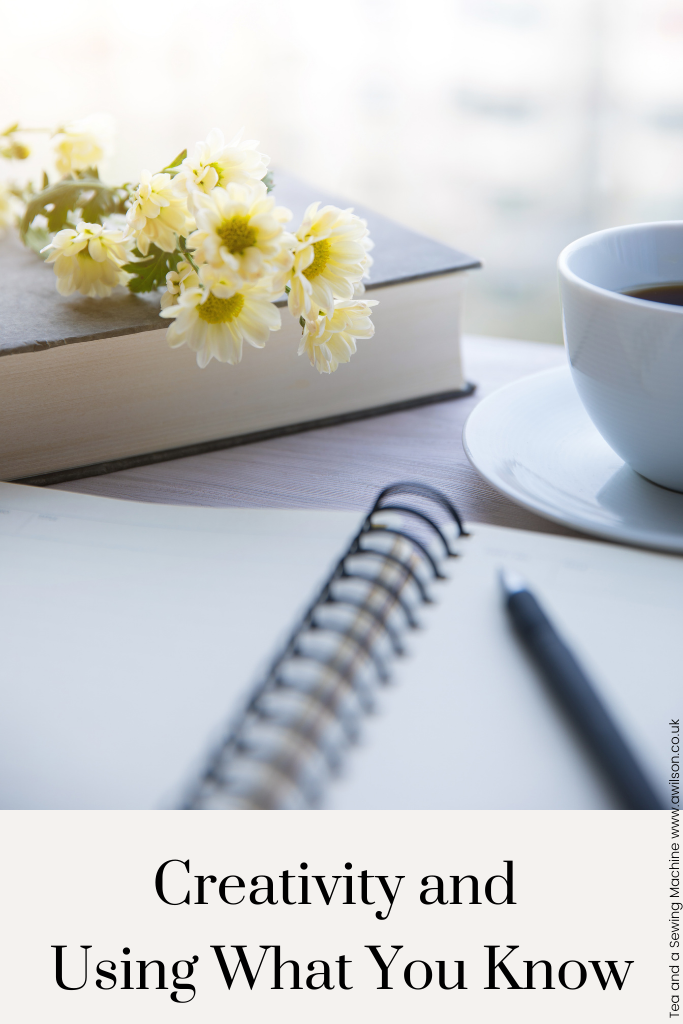 Being an Expert
The idea of creativity being about using the knowledge you have raises the question of whether, in order to be truly creative, you have to become an expert first. Do you have to have extensive knowledge and skills to be able to push at the rules and reapply them on your own way?
I would say no. You don't have to be an expert.
Some skill and knowledge is definitely necessary. But it's about using what you know, not how much you know. You might have only made summer dresses from cotton prints and made nothing else at all. But just think about how much you know compared to somebody who has never sewn anything, and what you could do with that knowledge!
The other thing is that however much you know, there's always more to learn. It's a wonderful time to be a learner, because the internet makes it easy! If you want to try something out, or if you have an idea that you want to test, and you feel that there is something missing from your skill set, you can learn it.
Experimentation and Mistakes
There is another myth is that truly creative people can produce amazing results not only from nowhere, but also with no mistakes, either in its finished form or along the way.
As a regular mistake maker, I find it reassuring to remind myself that this isn't true!
Skills require practice and knowledge has to be acquired. Everybody starts at the beginning. Even somebody who is exceptionally good at something will have had a time when they couldn't do that thing nearly as well, or even at all.
Experimentation and mistakes are a vital part of the learning process. Sometimes things will go wrong. Ideas we've had won't work, and outcomes will be different to what we were expecting. We need to expect to make mistakes!
The problem is that lots of us grew up with the idea that we needed to get things right straight away. That there was a right answer and all other answers were wrong. That there was no time for mistakes and any we made were the result of us not listening, not trying or being sloppy.
So many of us have a fear of even trying in case it goes wrong. But mistakes aren't bad! Often we learn at least as much from the mistakes and the things that didn't work as from the things we get right. Sometimes what we learn is that we need to practise a bit more, or that we need to plug the gaps in our knowledge. That's fine. We can do that. We haven't failed, we're learning.
What Do You Know?
Creativity is not a kind of mystical superpower that a tiny number of people have and the rest of us don't. It's about taking what you know and using it to make something new, and not being afraid to take some risks and make a few mistakes along the way.
We all have it in us to be creative people. I honestly believe that being creative is in essence what it is to be a human being.
This means you too. Yes it does! Even if you think it doesn't!
So what do you know?
When people ask me this question, my first thought is usually not very much!
But not very much may well still be enough. A little bit of information or skill can go a really long way. And as I've said, little gaps in knowledge are easy to fill thanks to the internet.
If the idea of asking what you know makes you feel anxious or inadequate, sometimes an easier question to ask is, "What do you like?"
Do you like to cook? Cooking is very creative. If the answer is yes, you probably have lots of cooking knowledge. You might know what flavours work well together, even some unusual ones. There will be technical things you know how to do, like how to make jam or how to bake a cake that doesn't sink in the middle.
If you like to knit, there will be all kinds of things you know. Different stitches, increasing and decreasing, buttonholes, even things like cabling. You'll probably know about different sorts of yarn as well. This knowledge can be reused. For example, you might decide that the jumper you've made needs a matching hat, 70s style! So you can take you hat knitting knowledge, combine it with the stitches and things you used to make the jumper, and you have a jumper and a hat!
If gardening is your thing, you probably know lots about different plants, when they flower, what kind of conditions they like and how big they get. I imagine your garden is lovely! If even this is a step to far, perhaps you like flowers, or being out in nature. Even something as simple as liking the colours on a leaf, or in a bunch of flowers, can be the inspiration for a project, like a quilt, a blanket or even an outfit.
With sewing, having a basic knowledge of different kinds of fabric and construction techniques is a really good place to start. If you know about the kinds of shapes that pattern pieces are, how darts are used and where they might need to go, how to sew a seam, and a hem, and how to put in a zip, then you have the tools you need! You can take that knowledge and apply it elsewhere. You can change things up on an existing pattern, or even be brave and draft your own!
So have a go! What do you know? What can you do? What do you like? How can you use the knowledge and skills you have? Those, with a little bit of imagination and the courage to try are the superpowers you need to spark your creativity, and you have them already.
If you've enjoyed this post about creativity, here are some more you might like:
The Healing Power of Creativity