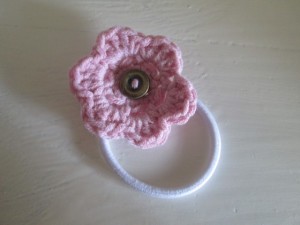 Boy 3's preschool's Easter Fair is now less than a week away and I've pretty much finished the crayon rolls. I had a list of other things I was going to make, but off the list I have only managed to make some hair bobbles, these crocheted ones and also some fabric ones.
I'm not feeling too guilty though, I've got raffle prizes I've been saving since Christmas ;).
I'm pleased with how the crocheted flower hair bobbles have turned out, not least because this is the first time I have crocheted something from a pattern I have devised myself. I made three pink ones and three purple. The yarn was left over from another project and the button was a spare that came attached to a cardigan I bought a year or two ago. It only took me a few minutes to make, then I just added the button and sewed them onto the hair elastic.
So crochet hooks at the ready, here's how to make it!
How to Make a Crocheted Flower Hair Bobble
I used a 4mm crochet hook and dk cotton yarn. If you are used to American terminology in crochet patterns, pleased be warned that I have used English ones here!
Round 1: 6 dc into a magic ring, join with ss or 4 ch, join with ss, 6 dc into ring, join with ss.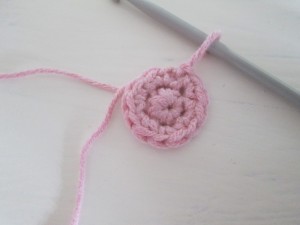 Round 2: 1 ch, then 2 dc into 1st dc from previous round. *2 dc into next dc. Repeat from * 4 times. Join with ss. 12 stitches.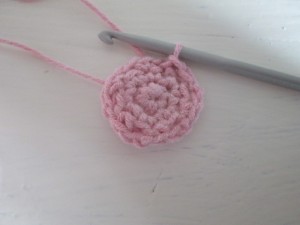 Round 3: 3 ch, skip 1 dc, dc into next dc. *2 ch, skip 1 dc, dc into next dc. Repeat 4 times.
Round 4: Into 2 ch space, *1 dc, 3 tr, 1 dc. This makes 1 petal.
Repeat from * into next 2 chain space. Repeat 4 more times.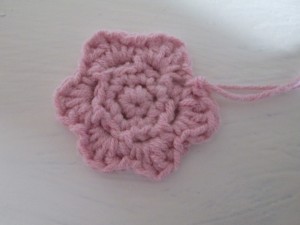 That's it!
Add a button or a bead and attach to a hair elastic. There's probably lots of other ways these little flowers could be used, I'd love to see what you do!