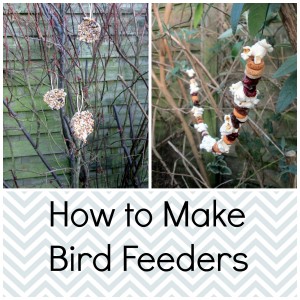 Making bird feeders is not just a Christmas thing! Apparently the birds benefit if you put food out for them all year round. Apart from anything else, they learn that your garden is the place to go if they are feeling peckish.
Boy 2 likes birds and I like the warm fuzziness that comes with being kind to animals.
These bird feeders are good ones to make in the winter. The bird cakes are made with lard, which stays firm when it's cold out. If you hang them out in warmer weather, you might end up with a sticky bird seedy mess all over your garden.
The garland bird feeders are a lovely natural way to decorate your garden for Christmas!
How to Make Bird Feeders
Bird Cakes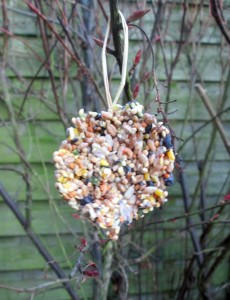 You Will Need: bird seed, lard, raffia or twine, paper cake cases, a jug or a bowl.
1. Melt the lard. As I had Boy 4 helping me, I melted the lard in a jug in the microwave then poured it into a bowl.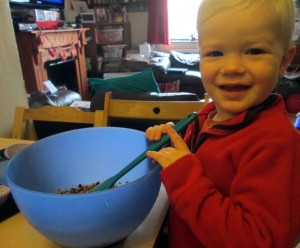 2. Stir in the bird seed. You will need more bird seed than lard. I don't have exact measurements because I didn't weigh it out!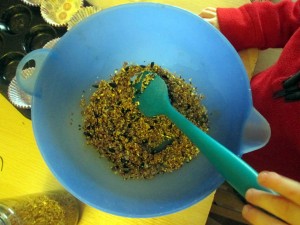 It needs to be sticky. If there is not enough bird seed, the cakes will be squishy and fall apart.
3. Dollop half the lard bird seed mixture into the paper cake cases so that they are half full.
4. Cut pieces of raffia or twine about 10 cm long. Put the ends into the paper cake cases on top of the bird seed to make a loop.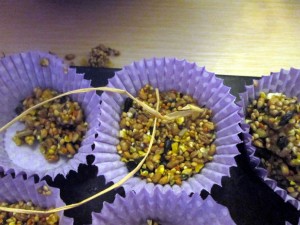 5. Fill the paper cake cases with the rest of the lard and bird seed so that the ends of loops are inside the cakes.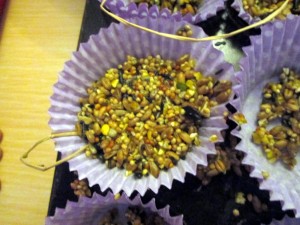 6. Press the cakes down with the back of a spoon.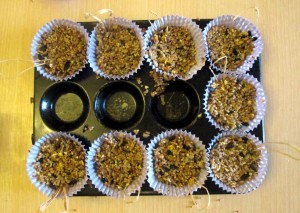 7. Pop the cakes in the fridge for a couple of hours to set.
8. Hang them up in the garden, ideally out of direct sunlight.
 Bird Feeder Garlands
You Will Need: string or strong thread, a darning needle, popcorn, an assortment of dried fruit and cereal (I used raisins, dried cranberries and cheerios).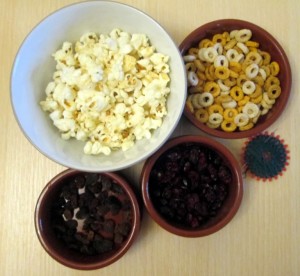 1. Cut a piece of string 50 cm – 80 cm long. Tie a loop at one end.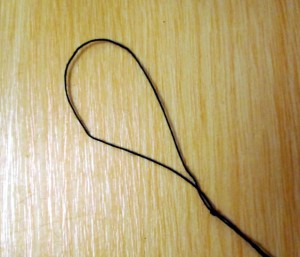 2. Start threading the popcorn, dried fruit and cereal onto the string.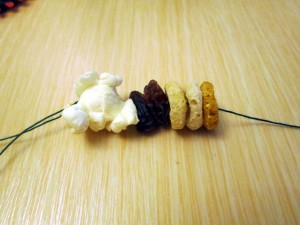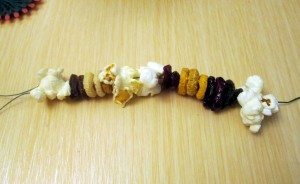 3. Tie a loop at the other end.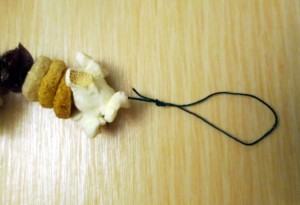 We've  had noticeably more birds in the garden since I put out the bird feeders!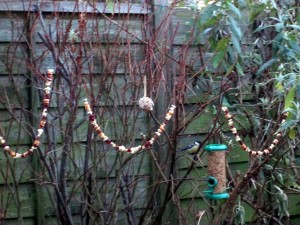 This is my last post of 2014, so Merry Christmas and best wishes for 2015!