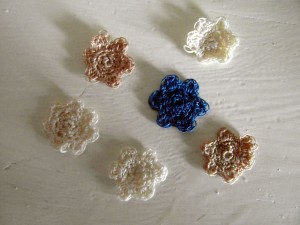 I've been crocheting for years but it's only very recently that I bought a set of crochet hooks. Usually I either manage with the hooks I have (I've got three) or I have to go into town to visit the craft shop to get one. All I can say is i can't believe that I've managed so long without a complete set! There are 12 of them, from tiny to very chunky. I've got plans for the chunkies but it is becoming less and less scarf weather. If I was knitting a scarf I would need to start now to have it finished by the autumn but I find crochet much quicker and I hopefully won't have need of a nice warm scarf in June.
I have some thread that Husband bought me from either Aldi or Lidl, and as I was looking at my shiny new hooks, i decided to try the tiniest hook with this thread. I don't really know what the thread is actually for, it's too thick for ordinary sewing, it's on a disc thing rather than a spool but it's not like embroidery floss either. Maybe its purpose is to be used to crochet pretty little lacy things.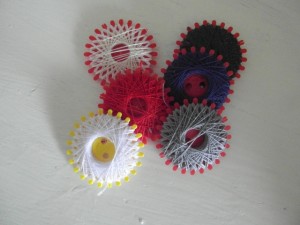 I have made some crocheted lace flowers using the pattern that I posted about previously. It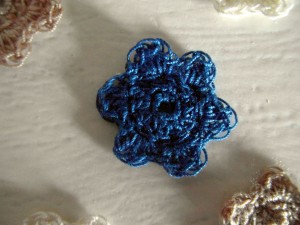 was a bit fiddly and the first one I made ended up with 7 petals. I'm not sure how that happened! Also energy saving light bulbs might be good for the planet but they're not great for seeing by, which didn't help as all the spaces in the tiny flowers were also tiny.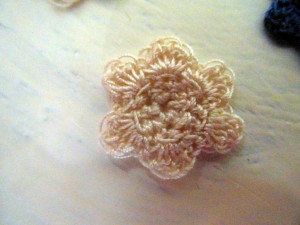 I'm pleased with the results though. I might turn some of them into jewellery or I could sew them onto something, a top or a wristband or something. I've also got plans to experiment with edgings. We could end up with quite a lot of frilly stuff!