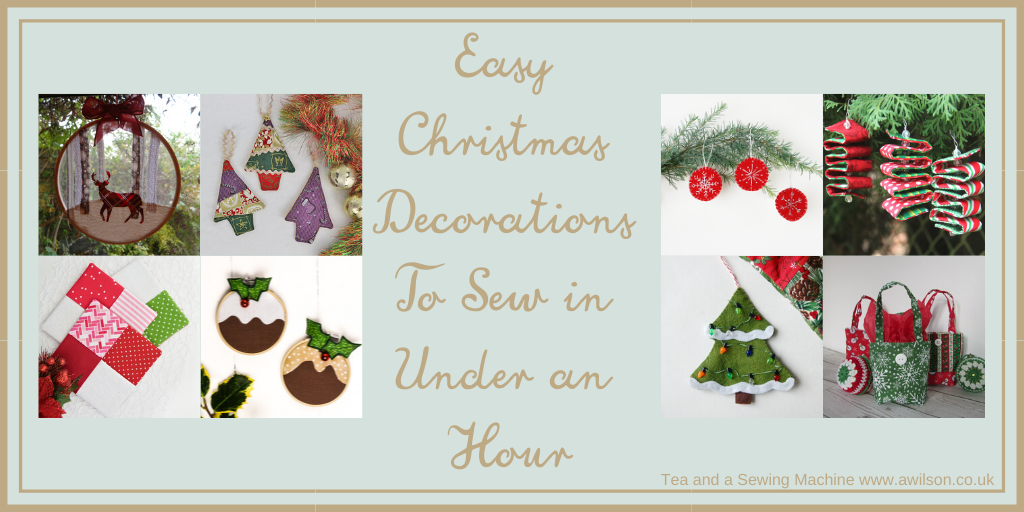 Easy Christmas Decorations To Sew in Under an Hour
Welcome to the Easy Christmas Decorations To Sew in Under an Hour blog hop!
It's a lovely idea to make things for Christmas, but it can be difficult to find the time when everything's so busy.
I used to have this perfect idea of how I wanted Christmas to be at my house with lots of things I'd made, and then feel annoyed with myself that I'd not managed to do even half the things I'd wanted to!
One solution to this is to start early. I even did this one year (it was the year of the dinosaur hats when I still only had 3 boys!), but I don't like making Christmas things when Christmas is still some way off. Also I like autumn and I want to enjoy it as a season in its own right.
So the other option is to choose things that are quick to make and not too complicated.
If this is you too, you've come to the right place!
Here are 8 ideas for things you can make for Christmas that are both quick and easy. I've included the links below and I encourage you to pop over to these talented ladies' blogs to have a look.
All the links will open in a new tab, so you don't have to worry about getting lost in the internet jungle!
Embroidery Hoop Christmas Decoration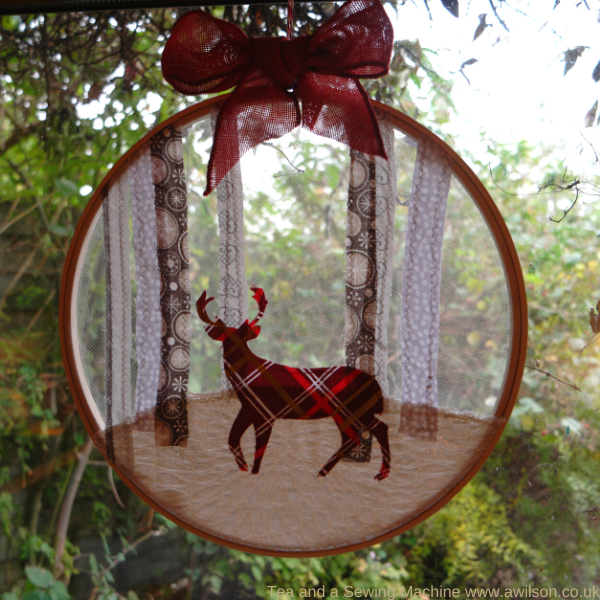 This one's mine :).
It's made from tulle and scraps of cotton fabric, and a 30 cm embroidery hoop. I wanted to make something that I could put up straight away and leave up for the rest of winter.
There are downloadable templates (in exchange for an email address) and you can find the instructions here.
Embroidered Snowflake Felt Ornaments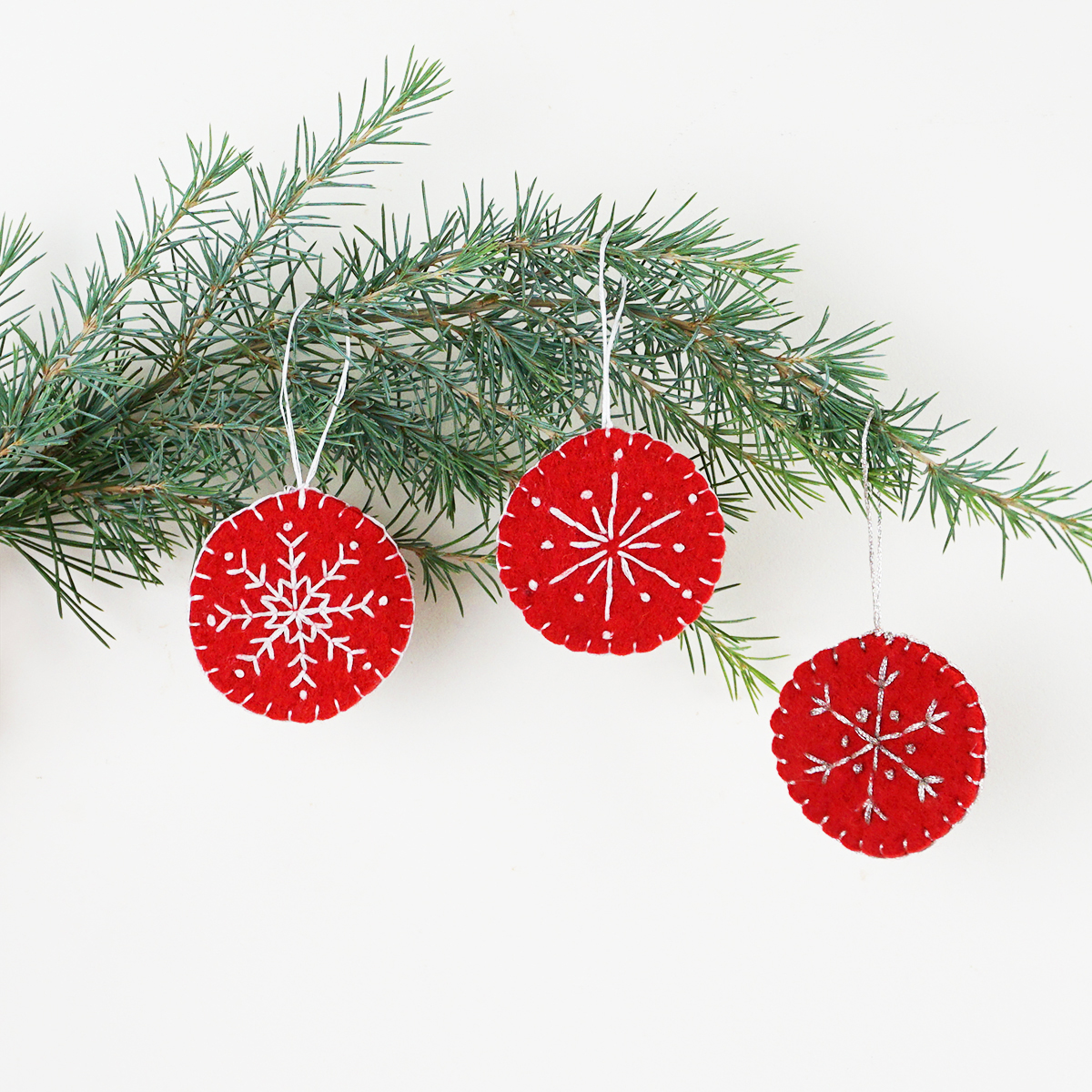 These lovely felt ornaments by Lisa from Cucicucicoo are made from scraps of felted jumpers and embroidered with white thread. There's a link in the post to the embroidery pattern.
If you don't have any jumpers that have suffered a mishap in the wash, or any that you have felted on purpose, you could always use ordinary felt instead.
The tutorial for the embroidered snowflake ornaments is here.
Fabric Christmas Tree Ornament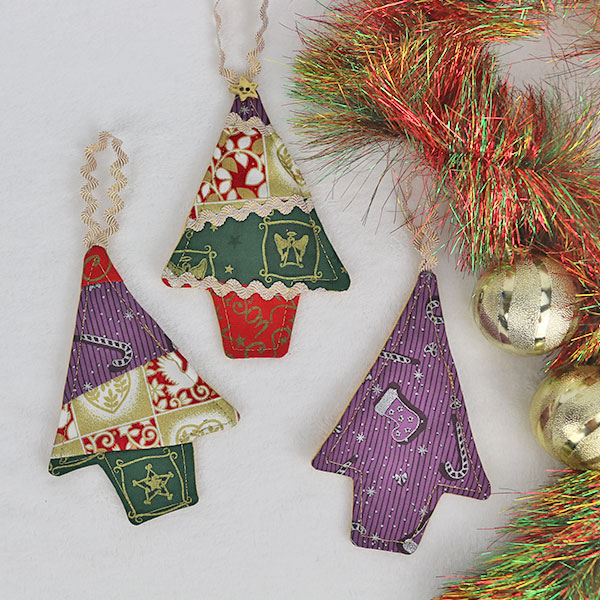 This tutorial from Domenica from Easy Sewing For Beginners shows how to make Christmas tree decorations from scraps of Christmas fabric.
She uses ricrac to decorate them, and there's one with a star button at the top! Obviously you could something else if you don't have ricrac. As you won't need very much, it's a good way to use up little bits of ribbon.
Christmas Pudding Decoration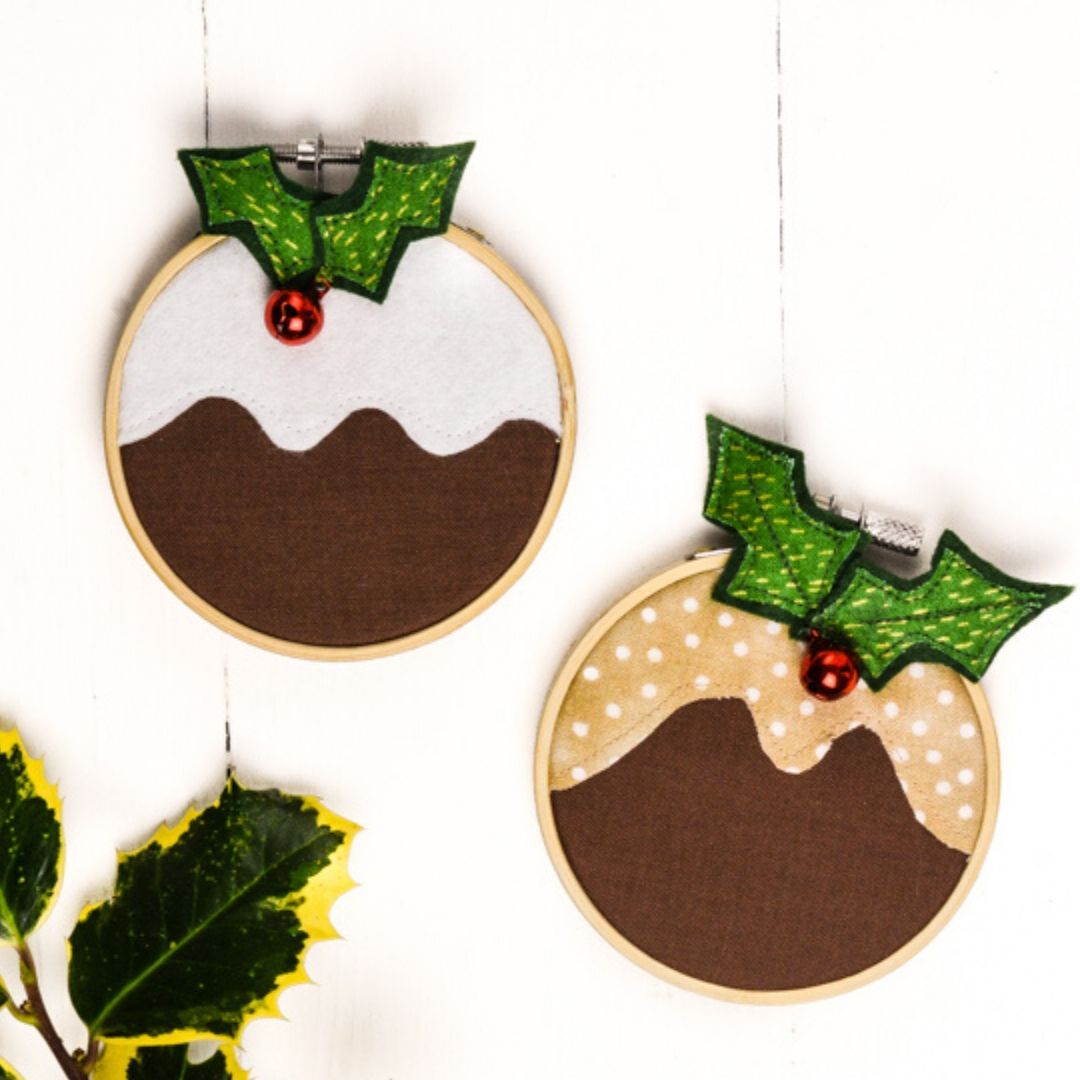 If you're not British and you don't know what a Christmas pudding is, you're missing out! It's a delicious, very rich fruit pudding that usually needs to be steamed for several hours if you make it yourself in the traditional way, or warmed up in the microwave if you buy one from Marks and Spencer.
These decorations are made using scraps of fabric and a little embroidery hoop. Vicky suggests putting them on a card as a little extra thing for somebody to hang on their own tree.
There are templates for the applique, and the post can be found here.
DIY Christmas Coasters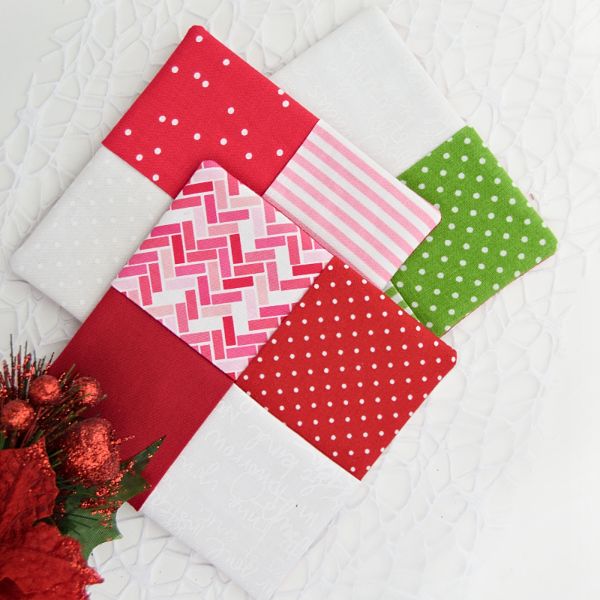 These coasters by Damjana from Apple Green Cottage are made in an ingenious way.
You know how annoying it is trying to get all the edges neat when you've had to leave one open so that you could turn it the right way out?
These coasters are made in such a way that you don't have to do this!
Damjana's coasters are made from fabric that are Christmas colours but are not specifically Christmas prints, so they can be used at other times too.
You can find the tutorial here.
Fabric Ribbon Candy Ornaments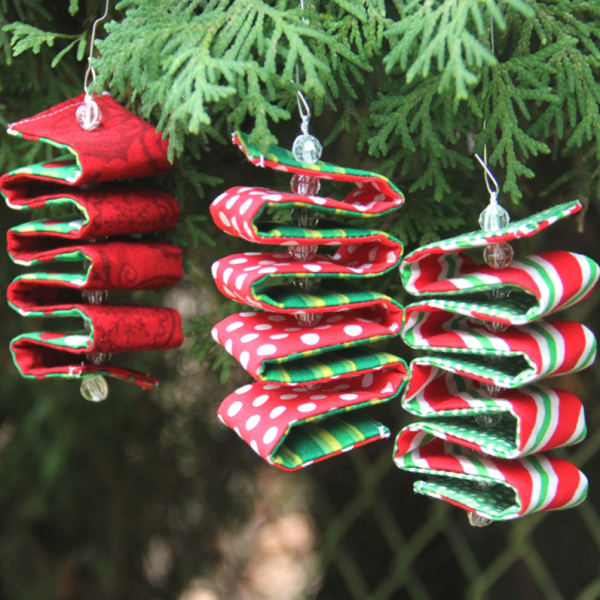 Staci from Crafty Staci has made these fabric ribbon ornaments. I've seen something similar before made from ribbon, but these are made in a different way using 2 strips of fabric in contrasting prints.
Staci has used lovely fabric in candy cane colours, but you could use whatever you have or what you would like to use to fit in with your Christmas colour scheme.
Mini Gift Bag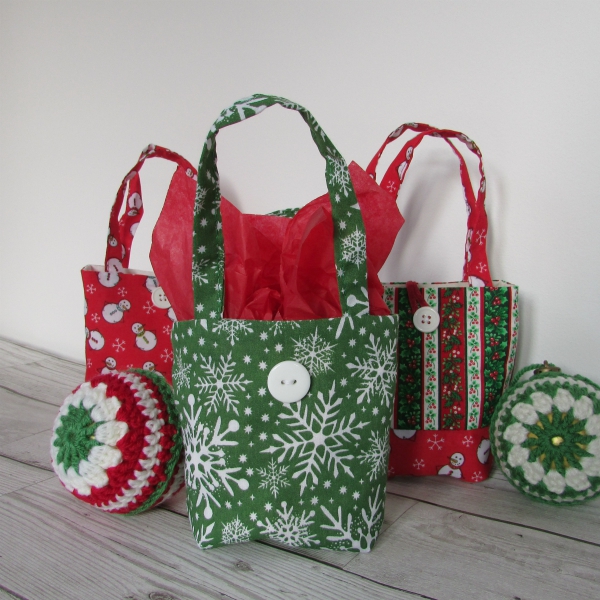 It's an uncomfortable truth about Christmas that it generates an awful lot of waste.
One way to cut down on stuff that ends up in landfill is to make beautiful handmade decorations like the ones in this blog hop! They'll last and you won't want to throw them away just because you're bored of them.
Another way to reduce waste at Christmas is to wrap presents in something that can be reused.
Julie from Sum of Their Stories has written this tutorial for making little gift bags from Christmas fabric. She even suggests mixing Christmas prints with plain fabric to make them go further.
The instructions for making the bags are here.
Felt Christmas Tree Ornament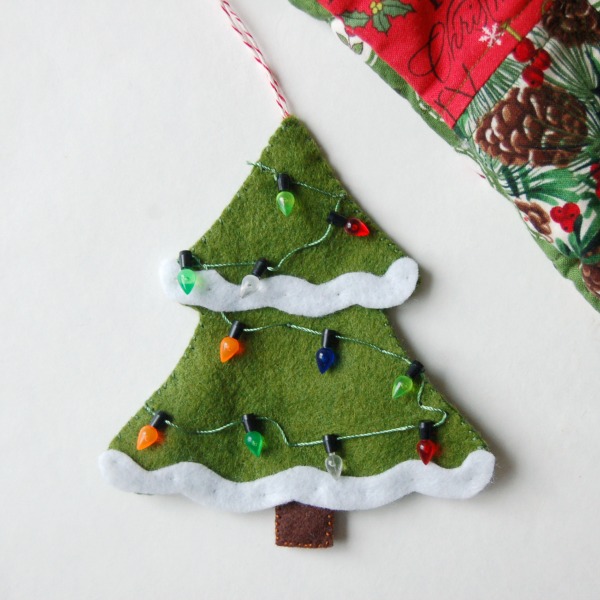 This Christmas tree decoration from Lulu and Celeste is a nice little project if you want something that can be sewn by hand.
Sometimes it's nice to have a project that you can pick up and work on when you have a few minutes, then put it down and come back to it later. This is that kind of project!
There's a downloadable template for the tree. The post is here.
I hope you feel inspired to make some easy Christmas decorations. Happy making!