Rotary Cutter or Scissors: Which is Best?
Until about a year ago, I'd always used scissors and pins. I'd never even considered that I had a choice between using a rotary cutter or scissors until I saw them on The Great British Sewing Bee.
Cutting out always takes ages, so it's easy to see why on the Sewing Bee they would want to speed the process up a bit, and using a rotary cutter seems to do just that.
The other thing with using a rotary cutter is that you can use pattern weights instead of pins. You just lay the pattern piece over the fabric, drop your pattern weights on and away you go!
But is it always better to use a rotary cutter? Do we still need scissors or should they be consigned to museums like the treadle sewing machine? Although a treadle sewing machine seems like a good idea if you want to sew during a power cut or if you're camping!
Here are the pros and cons of both.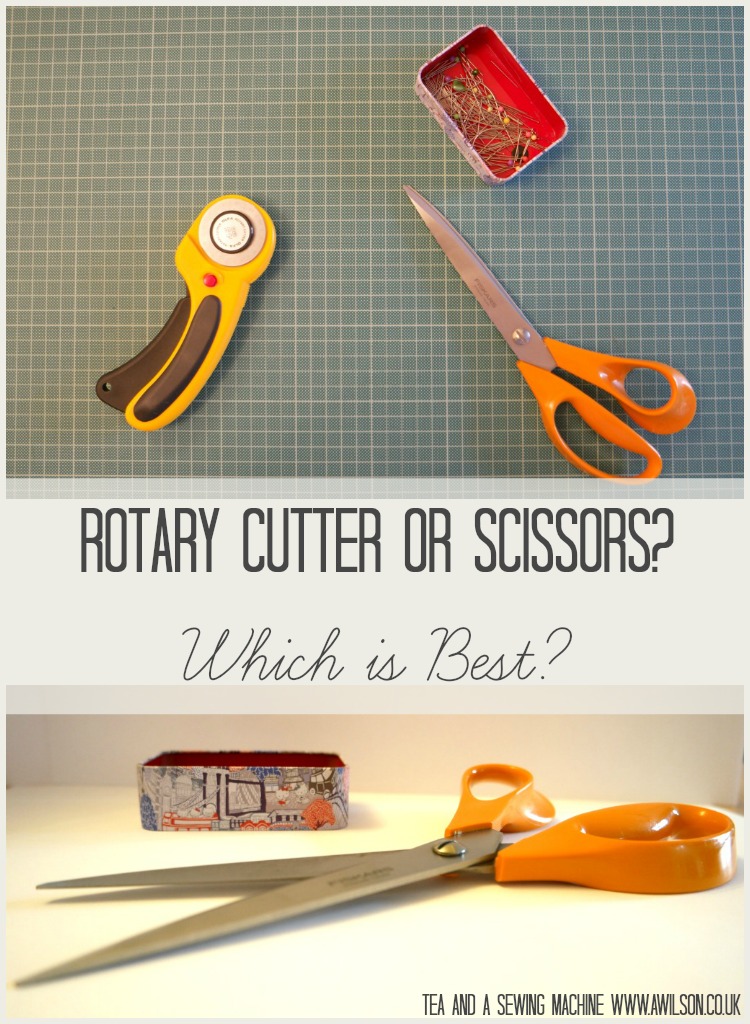 Rotary Cutter
Pros
Cutting is quicker than using scissors.
Using the rotary cutter doesn't lift the fabric in the way that cutting with scissors does, which means that you can cut quickly, accurately and easily, providing you're careful!
You don't have to pin the pattern pieces to the fabric as the pattern pieces and the fabric are not being moved about. Pattern weights can be used as an alternative, and they are much quicker than pins as you can just drop them on!
Other people in your house are less likely to pinch your rotary cutter and use it to cut paper than your scissors.
Cons
It gets easier with practice, but it can be hard to cut accurately.
Cutting out fiddly bits with a rotary cutter is very difficult.
It can be tricky to cut through more than 2 layers of fabric, whereas I can comfortably cut through about 4 layers with my scissors.
As well as a rotary cutter, you need a cutting mat. Both things combined cost more than a pair of scissors. Obviously a cutting mat is quite a big thing and you need to be able to store it and generally look after it. There's a very informative post about doing this here.
I'm not sure how you'd go about sharpening a rotary cutter!
It's easier to cut notches with scissors.
Scissors
Pros
We've all used scissors since we were very young, so no new skills need to be learnt!
It is possible to cut accurately and close to the pattern, as long as you keep the lower blade on the cutting surface.
Cutting out fiddly bits isn't usually a problem, and you can always use smaller scissors.
It's possible to cut through several layers of fabric.
If they get a bit blunt, you can always sharpen them. There's a handy little gadget here
, although I haven't used it so I can't vouch for how well it works (affiliate link).
Cons
Cutting with scissors takes longer.
You can't use pattern weights with scissors, so you have to pin the pattern pieces on, which takes an age.
This means that the table or the floor is going to be out of action for longer. It might also be enough to put you off starting a project because you feel that you don't have enough time to get the cutting out stage completed.
On Reflection
Rotary cutter or scissors? I'm going to sit on the fence here!
Ultimately I think it depends on what you are doing. If you have a choice, you can pick the right tool for the job.
For cutting out clothes patterns, a rotary cutter is probably best. It's quicker to cut and you can use pattern weights instead of pins. The lines that need cutting are usually fairly straight or gently curved. It's possible to cut neatly and accurately with a bit of practice.
For small or fiddly things, scissors are probably better. They are easier to control and you can always use smaller scissors if your big ones prove to be awkward.
If I had to choose between a rotary cutter or scissors, I would pick scissors. And if people develop an overwhelming urge to use them to cut paper, you can always do this.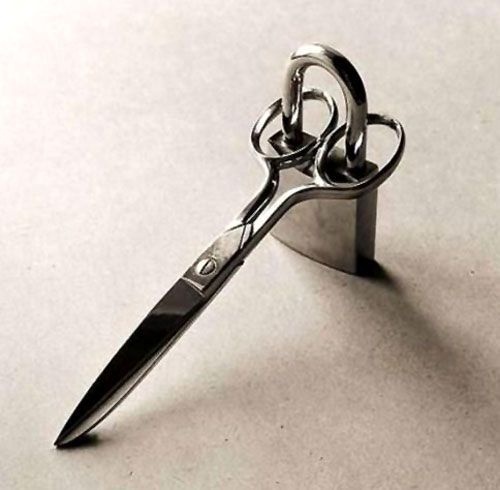 If you are in a shopping kind of mood, these are affiliate links.
You might also like this tutorial for making a wrist pincushion.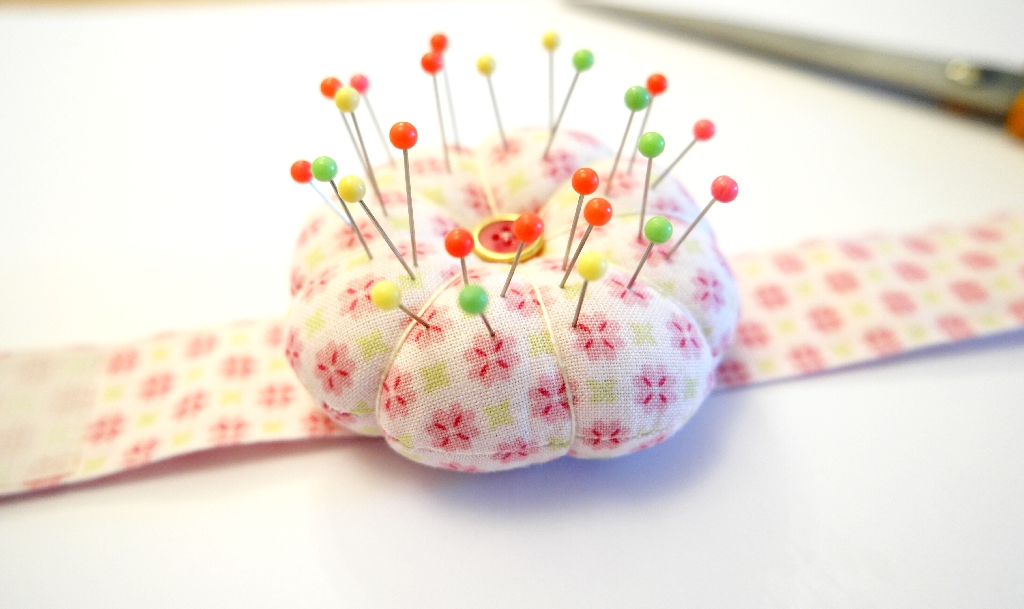 Linking up here.