Tips For Sewing With Jersey
Jersey is fabulous for sewing with for various reasons.
It's often thicker, which makes it warmer to wear in colder months.
It's very comfortable to wear. This dress that I made a while ago is still wearing well and I wear it all the time because it is so comfy!

Clothes made with jersey often don't need darts and rarely need zips.
You can make all kinds of things with it, from skirts, tops and dresses to pyjamas and exercise clothes.
It's available in all kinds of colours and prints.
But if you are new to sewing, or if you just haven't tried it, the idea of sewing with jersey can be off putting.
How on earth do you sew something that stretches?
What if the edges curl up and make it impossible to sew?
Do I have to do something complicated to my sewing machine in order to sew it?
How do I sew hems without them looking frilly?
How do I use bias binding on this stuff when it doesn't stretch enough?
Fortunately there are few things you can do to make sewing with jersey easier.
I have included some affiliate links.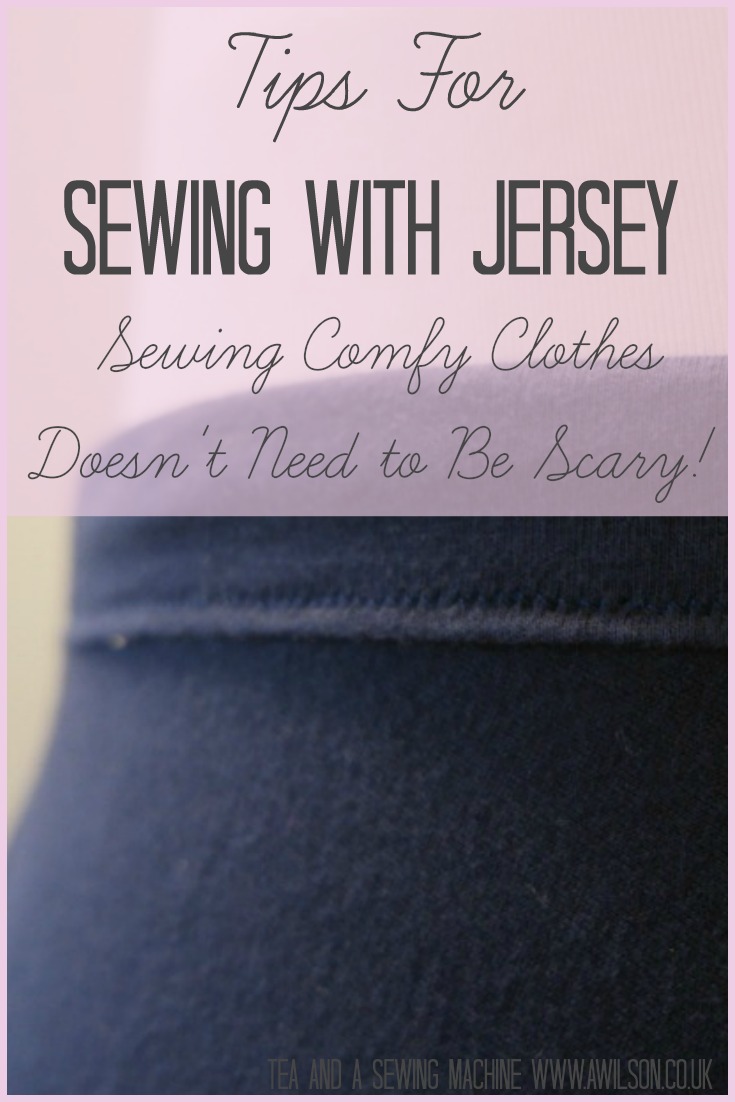 Use Jersey With a One Way Stretch
Knits come in varying forms of stretchiness. The kind that usually stretches least is the kind with a one way stretch. This is much easier to work with as it stretches in one direction.
Choose Cotton Interlock Jersey
Cotton interlock jersey is usually thicker and more stable than other kinds of knit fabric.This makes it easier to sew as it doesn't stretch too much while you're sewing it. It also wears and washes well.
Check How Much it Curls Before Buying
The stuff that curls a lot tends to be the thinner, stretchier stuff. If it has lycra or spandex in it, there's a good chance that the edges will curl.
When buying your fabric, if you normally visit a shop in person, the assistants will probably be happy to help you. If you buy your fabric online, in my experience people are often willing to help via phone or email. Otherwise, lots of places will send you a sample if you want to check the fabric out first.
Use a Stitch For Knits
Most modern sewing machines will have a stitch specifically for knits, so check your machine. If you are unsure, check the manual. If you have lost your manual, try searching for it online and there might be a pdf version you can download. I found this to be the case for mine!
If your machine does not have a stitch for knits, then use a zigzag instead. All you need is a stitch that will stretch with the fabric.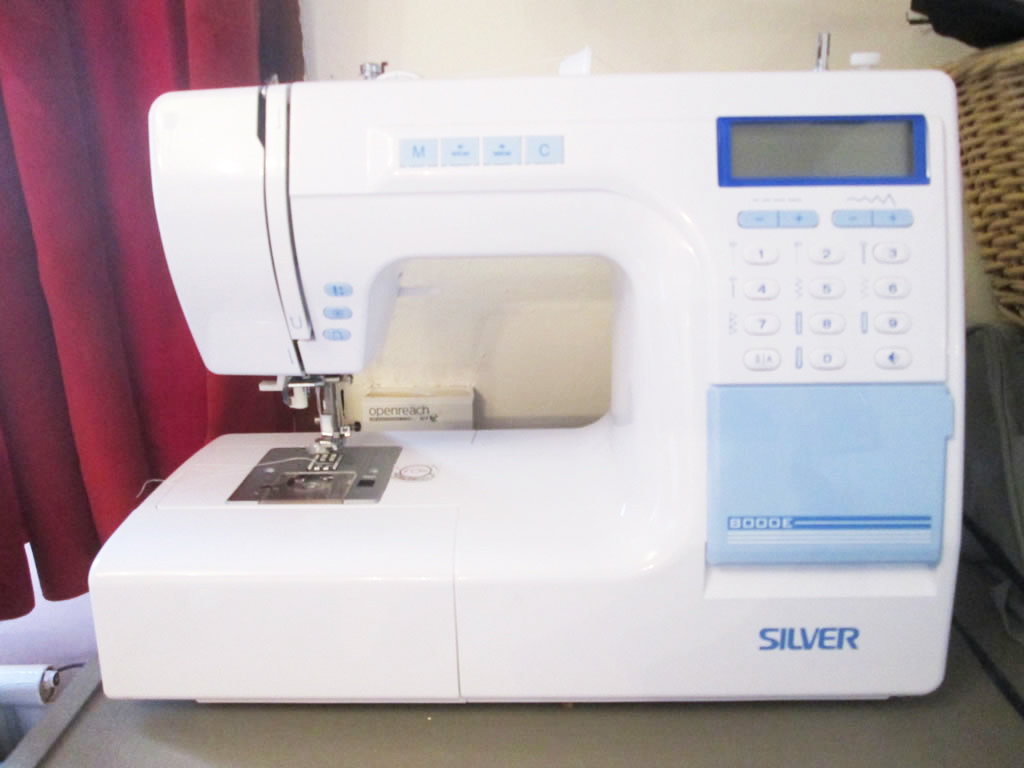 Try Not to Pull the Fabric Through the Sewing Machine
Pulling it will cause the fabric to stretch and this is where you'll end up with puckering and frilly hems. Use your hand to guide it but don't pull! If you can't help yourself (been there!), just guide it through from the back.
Consider Using Interfacing on Seams
If your fabric is still curling up horribly, you could use a little bit of fusible interfacing on the seam allowance. This will help to stabilise the fabric and, if you use a lightweight interfacing and just in the seam allowance, it shouldn't be noticeable on your finished garment.
You will need to use interfacing specifically for knits
. This has a stretch to it so it will still allow the fabric to stretch.
Finish Raw Edges With Stretch Bias Binding
Yes, this stuff actually exists!
Ordinary bias binding does have a bit of a stretch because it is cut on the bias. But usually this is not enough if you are sewing it to jersey. Stretch bias binding on the other hand will stretch as much as you need the knit fabric to stretch and is perfect for necklines and armholes.
The stuff with lycra will be stretchier. For cotton jersey, cotton stretch bias binding works just fine.
I hope you've found this useful. Now go and make something comfy!
If you have sewn with knits before, do you have any tips to add? Leave them in the comments below!
If you liked this post, you might also like these:
Simple Jersey Dress Without a Pattern
Half Circle Jersey Skirt