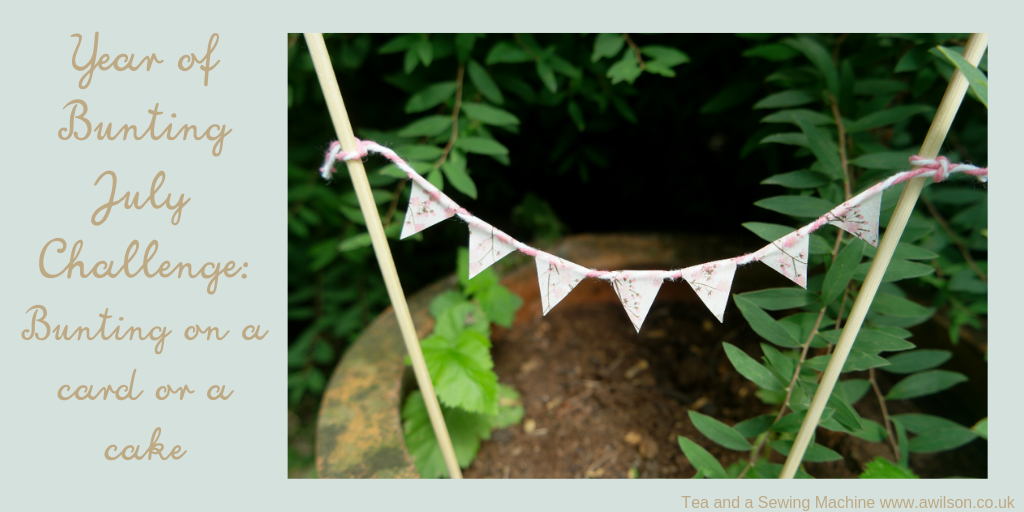 Year of Bunting July Challenge: Bunting For a Card or a Cake
Over the last 10 days or so, it's somehow become July.
So it's time to have a look at what people who took part in June's Year of Bunting challenge made!
There was only one entry last month. It was this bunting from Hazel, cleverly made from compost bags.
This isn't something I would have ever thought of doing, so it didn't make it onto the list of possibilities when I introduced last month's challenge. I did think of using a plastic table cloth, but not compost bags! And actually they are often quite pretty with pictures of flowers on them.
Onto July's challenge!
This month the challenge is to make bunting for a card or a cake. July is the month when I'm required to acknowledge that I'm a year older! I will be making some bunting to stick into the pink cake I will be making (and eating!) a bit nearer the time.
Here are some ideas for making tiny bunting and for using bunting on a card or a cake.
Ideas For Making Tiny Bunting
There are lots of different ways to make tiny bunting.
One option is to make it in the same way that you would if it was larger, by sewing little triangles to ribbon.
Or you could cut diamonds from scraps of fabric, fold them over a length of bakers' twine and sew the sides together with a couple of stitches in the middle. That's what I did here with these bunting pincushions.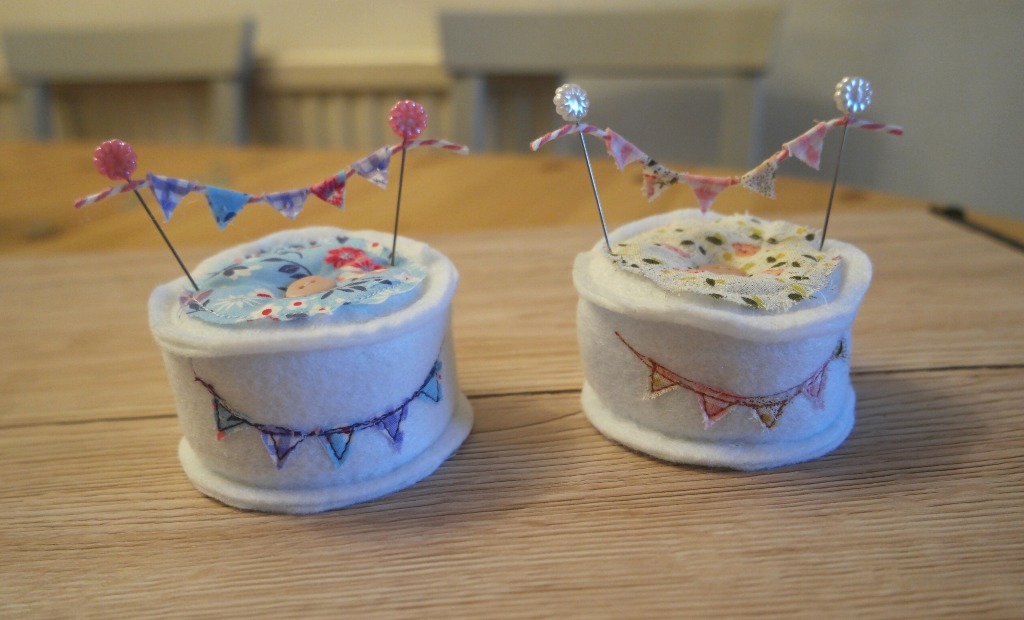 A less fiddly alternative is to use washi tape. Cut some pieces of washi tape, fold them over some thread or baker's twine and then cut into triangles. I'm going to write a post about this, so watch this space!
You could do the same with scraps of paper.
Ribbon bunting can be made in a similar way (there are instructions for this here).
Using Bunting On a Card
When I made this card, I used scraps of paper folded over bakers' twine to make the bunting. This could work equally well with washi tape or ribbon bunting.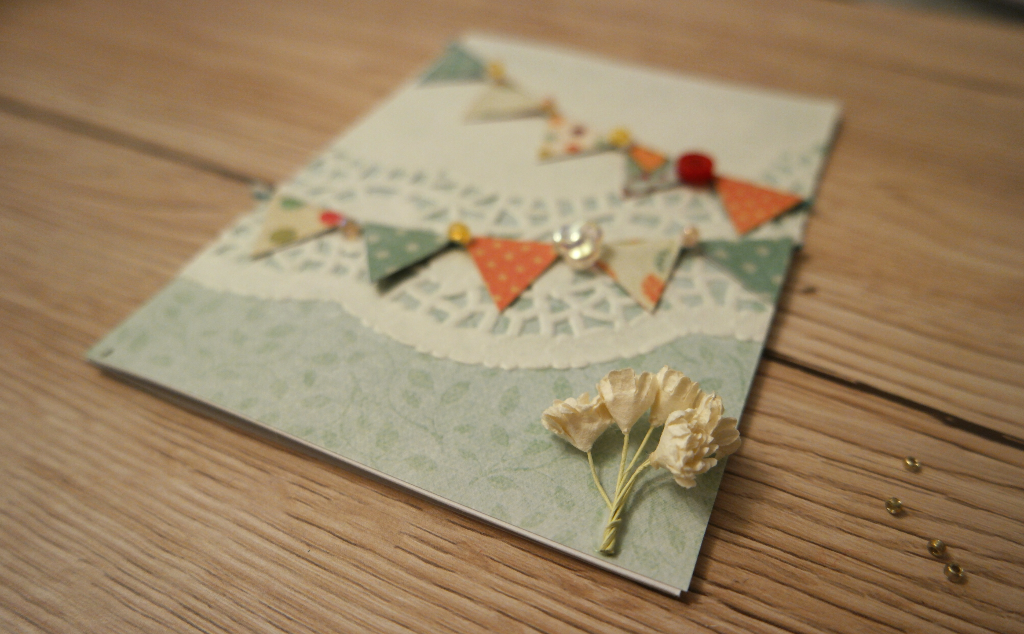 Sewing triangles made either from paper like this one, or from fabric like this one, is another possibility.
I like this card with bunting on the inside. The link doesn't go anywhere but it would be quite easy to recreate something similar. The only thing to watch out for would be making sure that the bunting is contained within the card when it is folded up.
If you get carried away, you could make a whole range of bunting themed stationery! These bits are for a wedding, (warning: this site is very pink and has lots of adverts!) but it could be adapted for a party. You could also make sets of little notelets and things if you prefer to send handwritten notes rather than updating the whole world via Facebook. They would make a nice gift too.
Using Bunting On a Cake
A word of warning here too: looking at all the bunting themed cakes on Pinterest made me very hungry for cake!
You could use your washi tape or ribobn bunting, tie it to kebab sticks and push them into the cake, like this one.
Another option is to make flags from royal icing, like on these cakes.
If you'd like some more ideas, there are plenty more on my bunting Pinterest board!
If you want to take part (go on!), you have until the end of July. When you're ready, take a photo and either share it on Tea and a Sewing Machine's Facebook page, or on Instagram with the hashtag #yearofbunting. If you don't do social media, you can email me a picture instead at teaandasewingmachine@gmail.com.
I'm looking forward to seeing what you make!