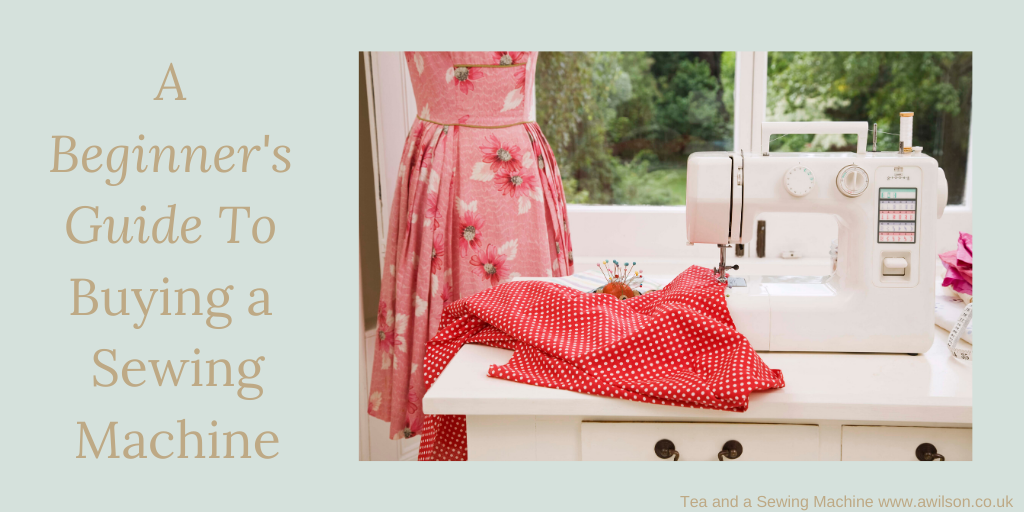 This is a guest post brought to you by Top Sewing Machines UK.
There is no better time than right now to practice a new hobby. Why not try sewing? Sewing is relaxing and meditative, and at the end of a project, you could end up with a fabulous garment or exquisite quilt. Buying your first sewing machine can be a bit intimidating; after all, sewing machines have quite a few settings, knobs, and buttons. Educate yourself on a few aspects of sewing machines, however, and you will be able to find the best one to fit your beginner sewing needs.
Vital Features

There are several features that are on sewing machines that are definitely necessary if you are a beginner. Whether you decide to take up embroidery or garment making, the following are vital features you are going to want to look for on your new sewing machine.
Built-In Needle Threader
When you sew with a sewing machine, you have to thread your needle every time. Why not make things easier on yourself and purchase a new machine with a built-in needle threader? This little gadget will save you tons of time and trouble, especially if you have difficulty seeing the eye of your needle.
Top Loading Drop-In Bobbin
Like threading your needle, you will definitely be using your bobbin every time you use your sewing machine. A poorly designed bobbin system can be a huge annoyance and will take the pleasure right out of sewing.
With a top loading bobbin system, the bobbin can easily be popped in and out of place without the operator having to dismantle the bobbin casing in order to get to it. This bobbin system is also fitted with a clear plastic cover plate so that you can monitor the amount of thread. This way, you can easily see if you are running low on thread while you are sewing.

Free Arm

If you plan to be sewing and hemming clothing once you learn how to sew, then it is definitely worthwhile to purchase a sewing machine with a free arm. With an added free arm, you will be able to sew round garment pieces like sleeves, collars, and trouser legs. If you cannot convert your sewing machine to a free arm, it will be very difficult to sew these pieces.
If you find a sewing machine with a built-in needle threader, a top loading drop-in bobbin, and free arm capability, then buy it! These three features will save you time and hassle again and again on your sewing journey.
Needles
One of the biggest learning curves to overcome when learning how to sew is which needle to use with which project. Make sure that you keep your sewing room stocked with a variety of needles because you will need to use different sizes and shapes for different projects and different fabrics. Sewing machine needles are classified according to their point type and their thickness. These characteristics will change depending on what kind of fabric you are using. Sewing machine needles include regular point needles, ball point needles, stretch needles, and wedge needles just to name a few.
Also ensure that you change out your needle with every new project. It is such a hassle when a needle breaks in the middle of sewing a hem or straight line. At the very least, be sure to change your needle after sewing with it for six to eight hours.

Consider a Mechanical Model
When buying your first sewing machine, you may be tempted to get one that is computerised or electrical. Once you get good at the craft, of course you can add one of these more difficult to operate devices to your collection. As you are just starting out, however, we suggest that you go with a simple mechanical sewing machine.
The first reason you should get a mechanical sewing machine is that computerized and electrical ones have an over-abundance of options and settings. These can be confusing and overwhelming when you are sitting down to learn sewing from scratch. Learning the basics on a mechanical sewing machine will make your life so much easier.
Computerised machines also require regular maintenance from a professional. So it is always a good idea to have a backup mechanical sewing machine, even if you have a computerised one. That way, if the fancy machine is in the shop, you can keep on sewing with your simple mechanical one.
If you follow these tips when buying your first sewing machine, you should be happy with your purchase. Make sure that you buy a simple enough machine that you enjoy learning how to sew, but check to see that it has the features listed above. Happy sewing!

I use a Silver 8000e and I would definitely recommend it for beginners! (This is an affiliate link)