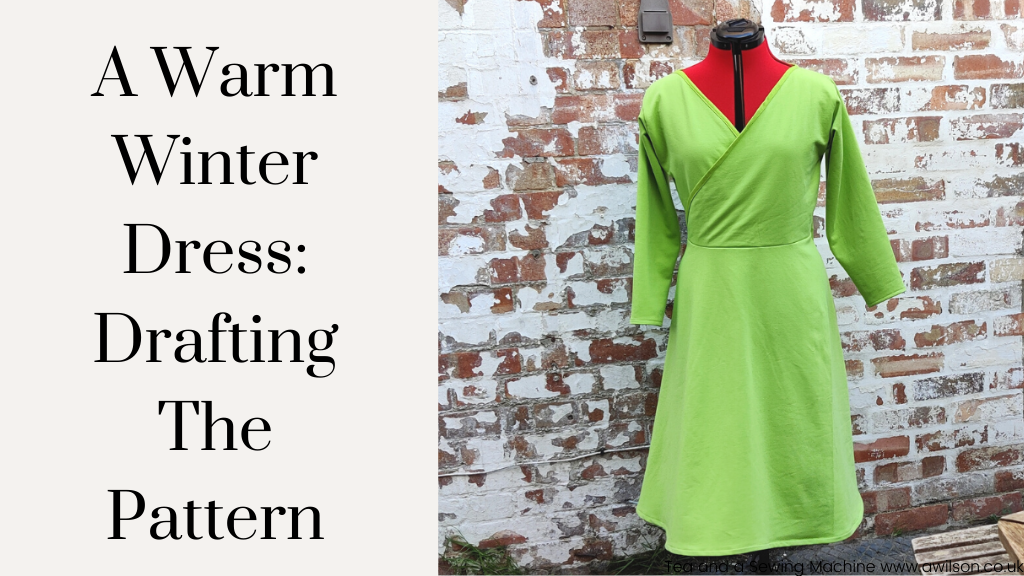 One of the negative things about winter is the clothes.
In summer, we wear pretty colours, pastels, bright colours and prints.
In winter, everything is drab. Sometimes we might be able to find something brighter for Christmas, but party dresses are not known for being warm. Much as I love my gold sequinned dress I wore on Christmas day, there is no way I'm going to stand and shiver at the bus stop or at forest school just so that I can wear something sparkly! Weighing it all up, I would rather be warm.
Feeling somewhat bored of my current winter outfits (apart from the grey dress I made last spring, they're all quite old), plus the depressing fact that things are too tight again, I decided it was time to make something new.
My priorities were warmth, comfort and not drab! I wanted to make a warm winter dress!
I've chosen some sweatshirt fabric from Minerva Crafts. It's normally associated with sportswear, or thinking about sports and wanting to feel like you're wearing pyjamas!
I am not a sportswear kind of girl. I am however very much in favour of feeling comfy.
So I decided to make a warm winter dress from sweatshirt fabric that would fulfil all the above criteria and not look like pyjamas!
This is the end result. Happy :)!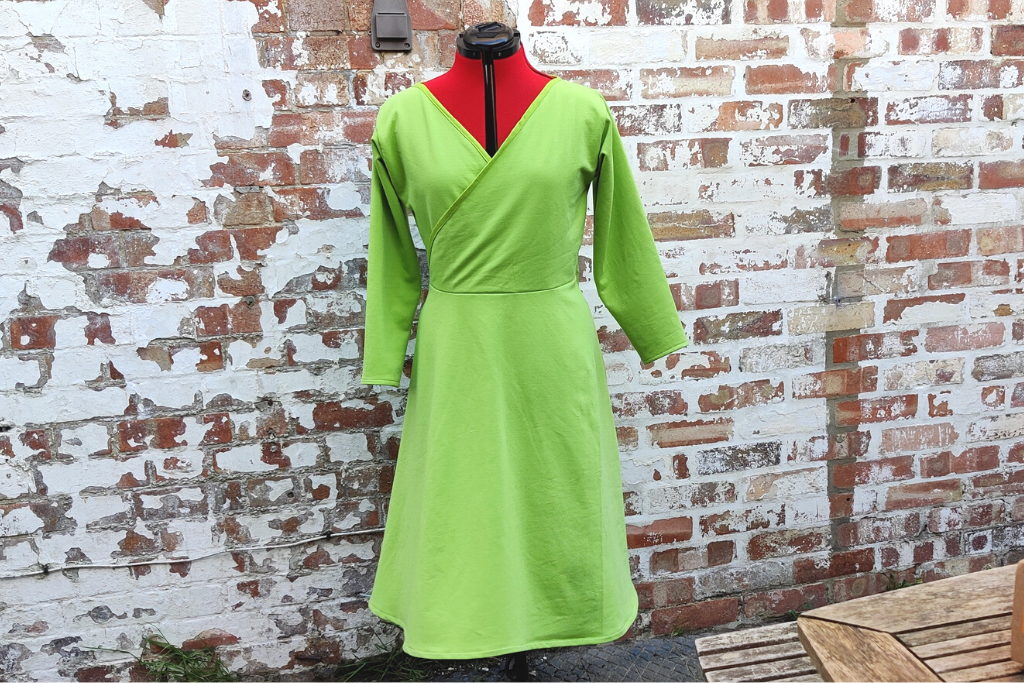 I couldn't decide between pink, which I love, and emerald green, which I know was a colour that suited me when I was younger. After much dithering, I decided to go for a chartruesey, new leaves kind of green instead.
I made the pattern from my own measurements. The dress is very simple with no zips, buttons or darts. The shape of the top plus the stretchy fabric means that it doesn't need them.
In this post, I'm going to explain how to make the pattern for a warm winter dress from your measurements. Then I'll walk through sewing it together in the next post.
Drafting the Pattern: You Will Need
Pattern paper (I find the kind with the grids easiest to use)
Ruler
Pencil
Tape measure
A French curve is useful, but you could use a plate if you don't have one.
Taking Measurements
When it comes to taking measurements, it's worth being careful! Use a decent tape measure, check that it is level and don't be tempted to pull it too tight! You're far more likely to think about the pounds you can't shift if you are wearing something that squeezes you in where you would like to be thinner!
Where to Measure
Across your collarbone
Across your shoulders
Chest (under your arms)
Boob area
Waist
Around your hips
Top of your shoulder to your waist
Top of your shoulder to where you took your chest measurement
Top of your shoulder to where you measured your boob area
Top of your shoulder to your wrist
Around your wrist
Waist to just below your knee (or wherever you want the hem of the skirt to be)
Drafting the Pattern Pieces
The back piece is drafted first, then it can be used for drafting the front.
Using a knit fabric means not having to worry about darts as the stretchiness of the fabric will take care of that side of things.
The skirt is an a line skirt made from 2 pieces, so all you'll need is your waist measurement and desired skirt length.
Sleeves can be tricky! To draft them, the front and back pieces will be joined at the shoulder and then traced to get the top bit the correct size and shape.
Comfy is the aim with this warm winter dress, so providing your measurements are accurate, you won't need to spend masses of time getting an accurate fit.
Back
Usually when drafting a back piece, I would only make a half then cut it out on folded fabric, but as the front section will need to be drawn as a whole, the back needs to be whole as well.
Fold a piece of pattern paper in half. The fold is going to be the centre back.
On the fold, mark where the top will be. Then measure down and mark off your shoulder to chest measurement, shoulder to bust and shoulder to waist measurement.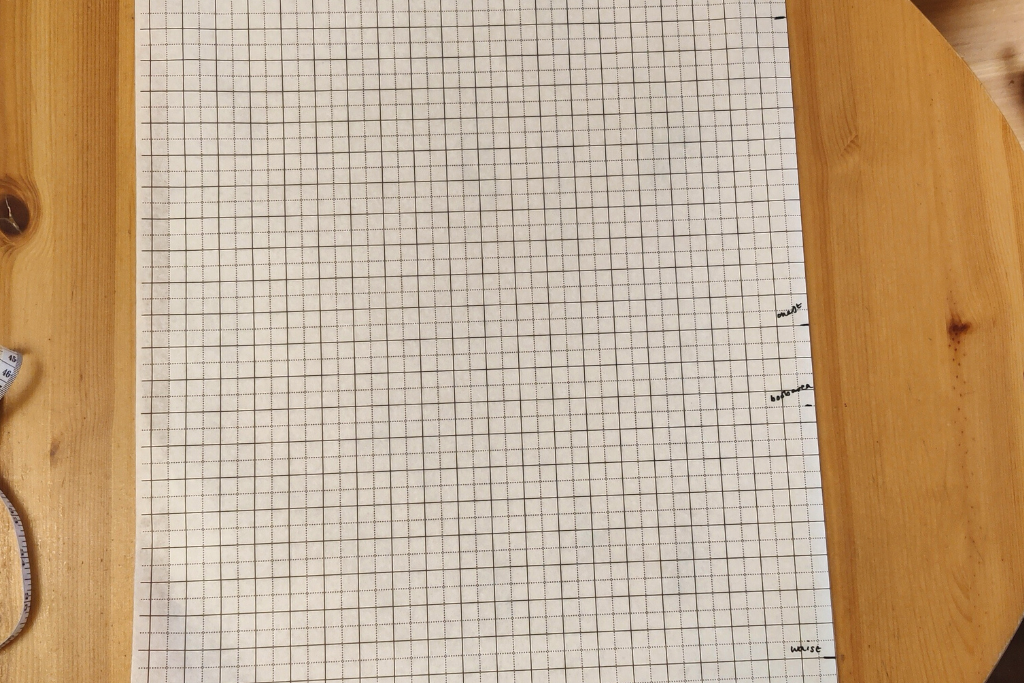 Take your collarbone measurement and divide it by 2. Measure this distance out from the fold, where you marked the top, and make a mark.
Do the same with your shoulder measurement.
Now take your chest measurement and divide it by 4. Find where you marked your shoulder to chest measurement and measure out from there, and mark it on the paper.
Do the same with the bust and waist measurements, each time dividing by 4.
Now to join them up!
Waist to bust and waist to fold are easy because they are straight lines. The collarbone to the shoulder is also a straight line (this will need adjusting as most people's shoulders slope at least a bit).
The collarbone to the fold will need to curve downwards. On my pattern piece the curve ends at the fold 5 cm down from the original top mark.
For the armhole, you'll need to draw a curve from the shoulder to the bust, passing through the mark you made for your chest measurement. This where having a French curve comes in handy!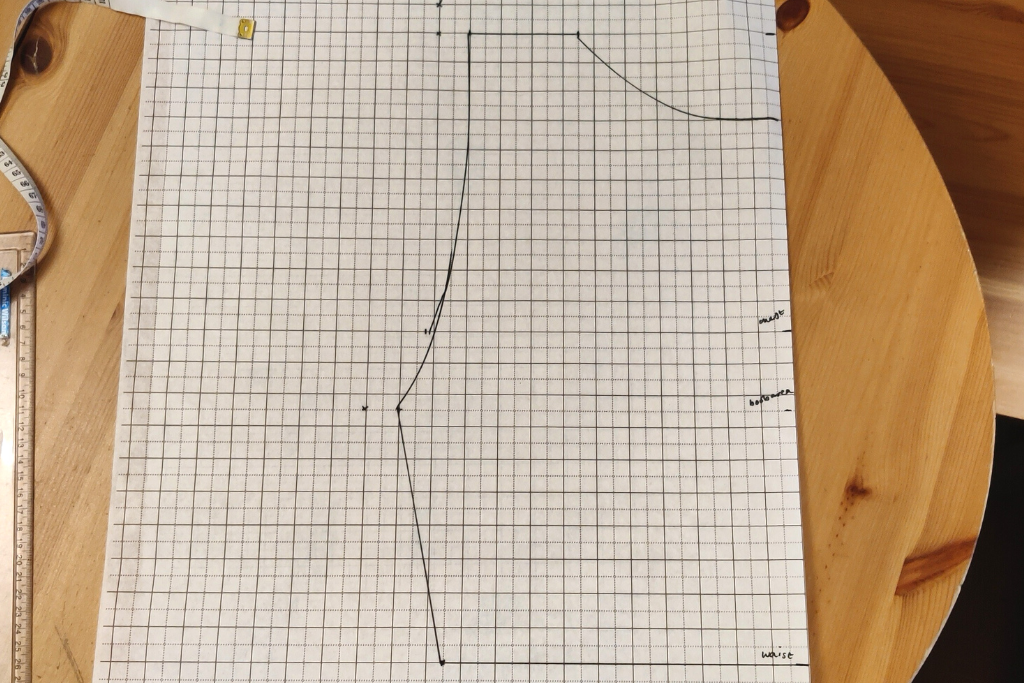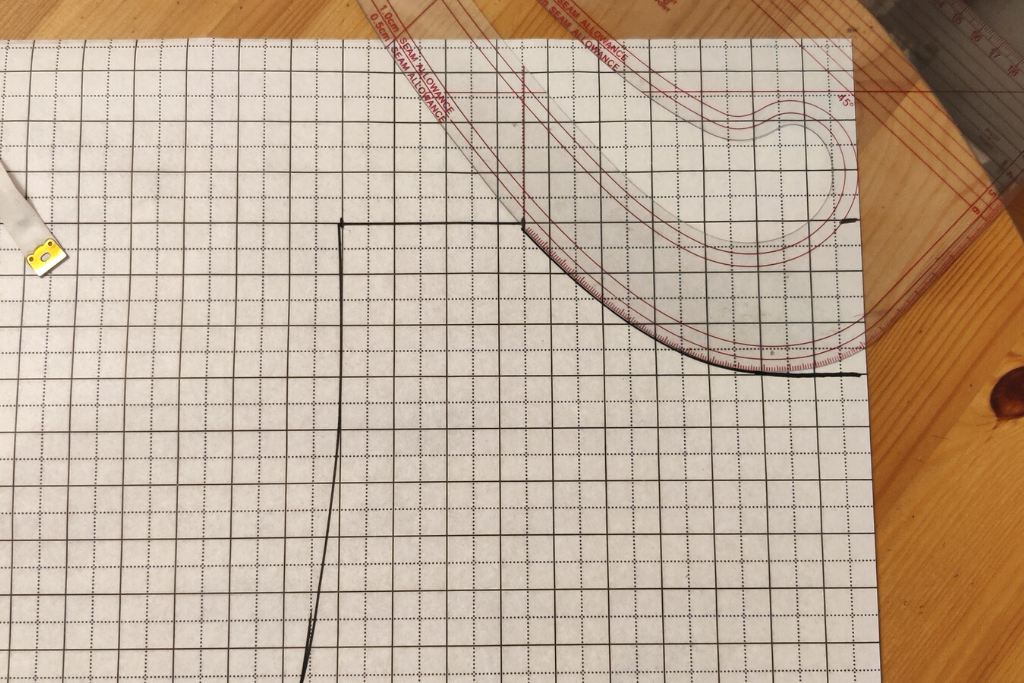 Once you've done this, add a 2 cm (3/4 inch) seam allowance to the all the edges except the neck.
Now cut out your pattern piece! This is the hardest and most important bit done!
Front
Pop a fresh piece of pattern paper over your back pattern piece.
Trace over the shoulder, armhole, side and waist, including the seam allowance.
Now draw a straight line from the collarbone to the waist.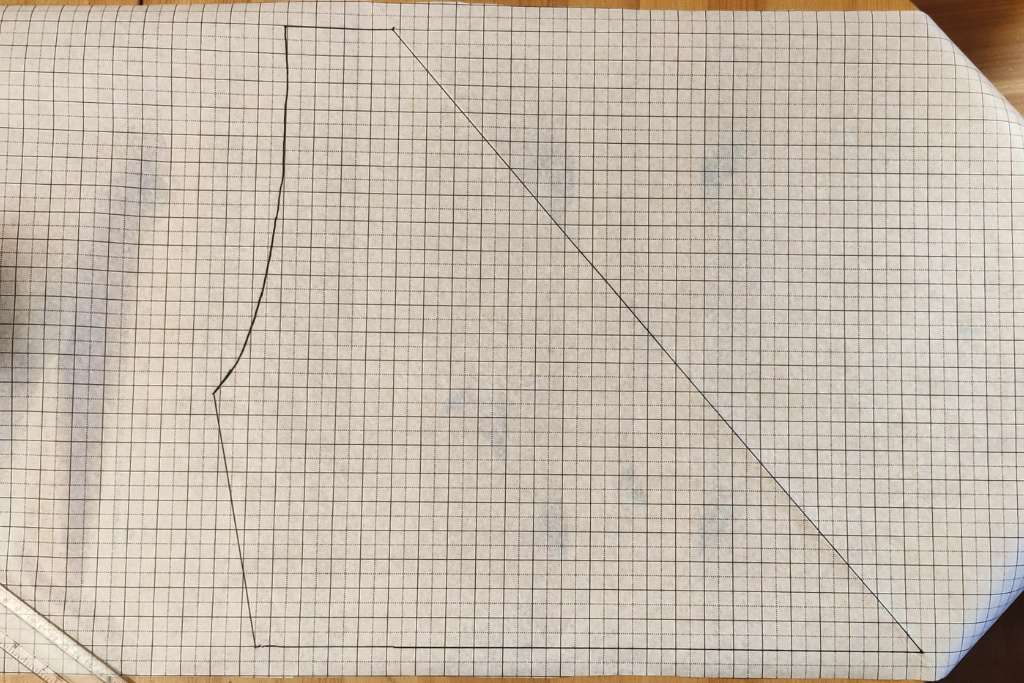 The front is done! You don't need a seam allowance on the diagonal line because the raw edge will be finished with bias binding.
When we get to the cutting out stage, you'll need to cut two front pieces, so whether you want to use just one pattern piece, or cut out another for the other front section, is up to you.
Sleeves
This isn't the official way to draft sleeves, but it's the easiest way of getting a sleeve that fits in the armhole of the dress!
Take the front and back bodice pieces and pin them at the shoulder, taking into account the seam allowance.
It's a good idea at this point to check whether you need to adjust the shoulders. So pin the sides as well and pop it on. Adjust the shoulders as necessary. Using a mirror will make things easier!
Now take another piece of pattern paper. Make sure that it is at least as long as your arm.
Trace around the armhole of your top.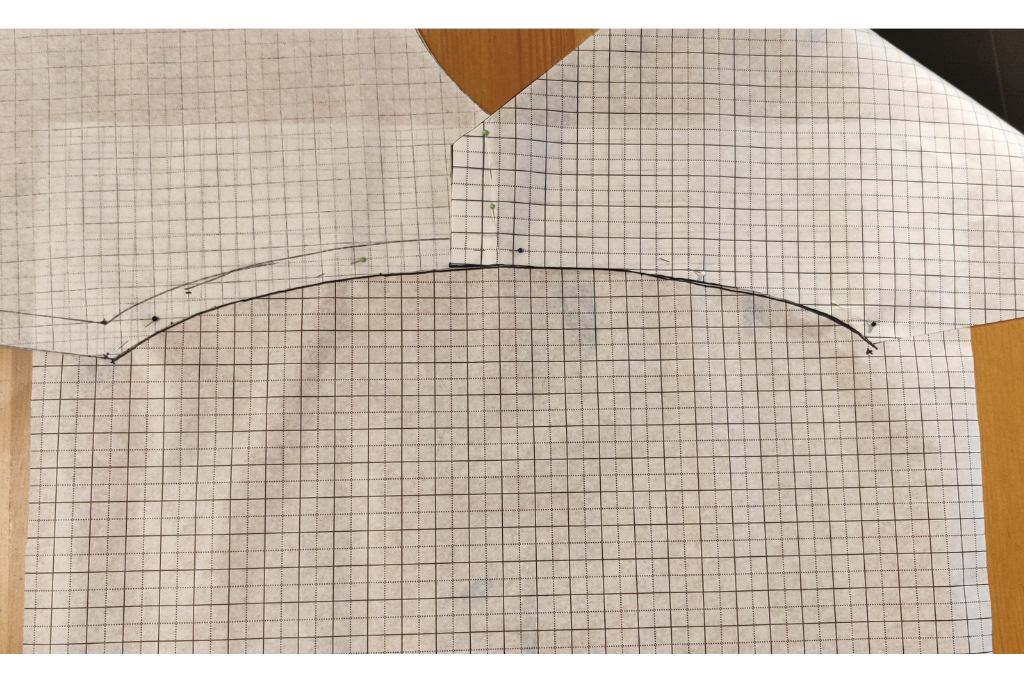 From the shoulder seam, measure down the paper and mark off the length of your arm.
At the other end of that line, draw a perpendicular line the length of the distance round your wrist, plus a couple of extra cm for comfort.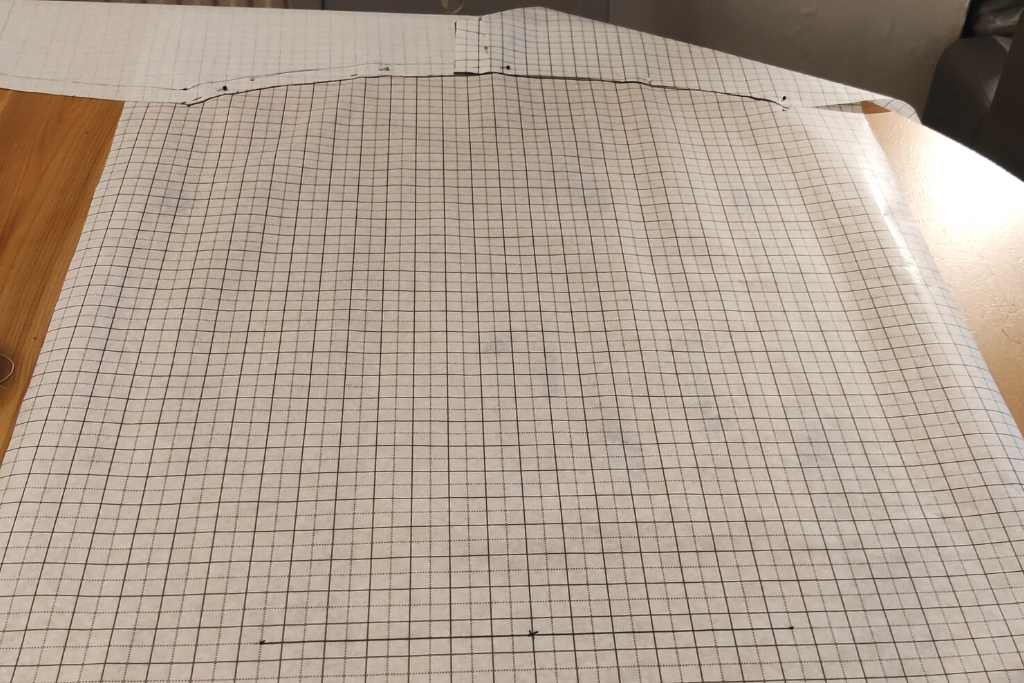 Now join one end of this line to the end of the armhole. Do the same with the other side of the sleeve.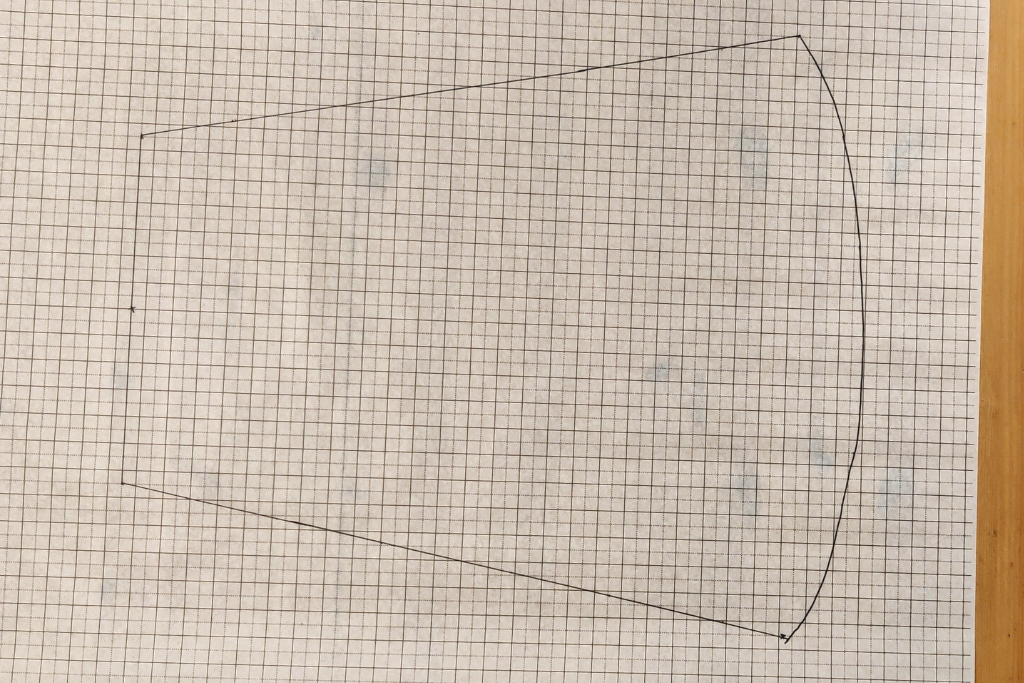 Add a couple of cm to the end for the hem of the sleeve. You shouldn't need to add a seam allowance anywhere else as the front and back pieces already had the seam allowance included.
Skirt
Find your hip measurement and divide it by 4.
Draw a rectangle that is your hip measurement divided by 4 by your desired skirt length.
Along one of the short edges, find the half way point and draw a line 10 cm (4 inches) downwards.
Now you need to work out the difference between your hip measurement divided by 4, and your waist measurement divided by 4.
Divide that number by 2, then mark off that amount on either side of the line. SO the total distance between the 2 marks should be the difference between your waist measurement divided by 4, and your hip measurement divided by 4.
I know it sounds like a horrible amount of maths!
To make it clearer, this is what I did. My waist measurement was 84 cm, and my hip measurement was 104 cm. Divided my 4, my waist measurement became 21 cm and my hip measurement 26 cm. So the difference between my waist measurement and my hip measurement was 5 cm.
So after drawing the vertical line, I marked off 2.5 cm on either side.
Once you've done this, join the marks to the end of the line to make a triangle. Draw from the point of the triangle down to the hem.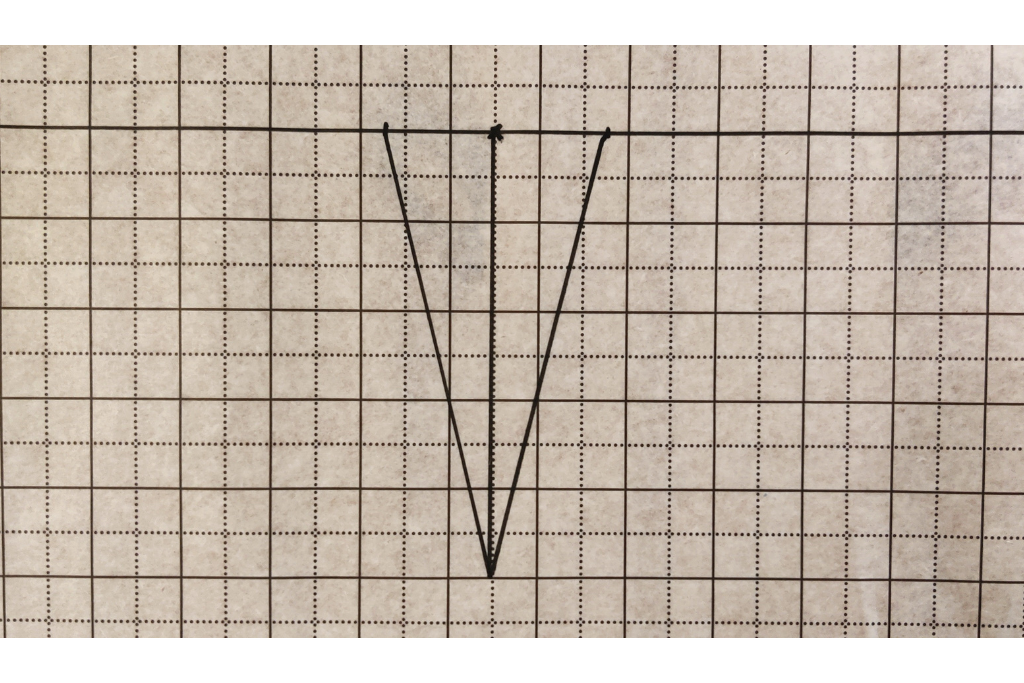 Now cut out the rectangle. Then cut out the triangle.
Cut along the line almost to the triangle. If you go too far and it ends up in 2 bits, don't worry!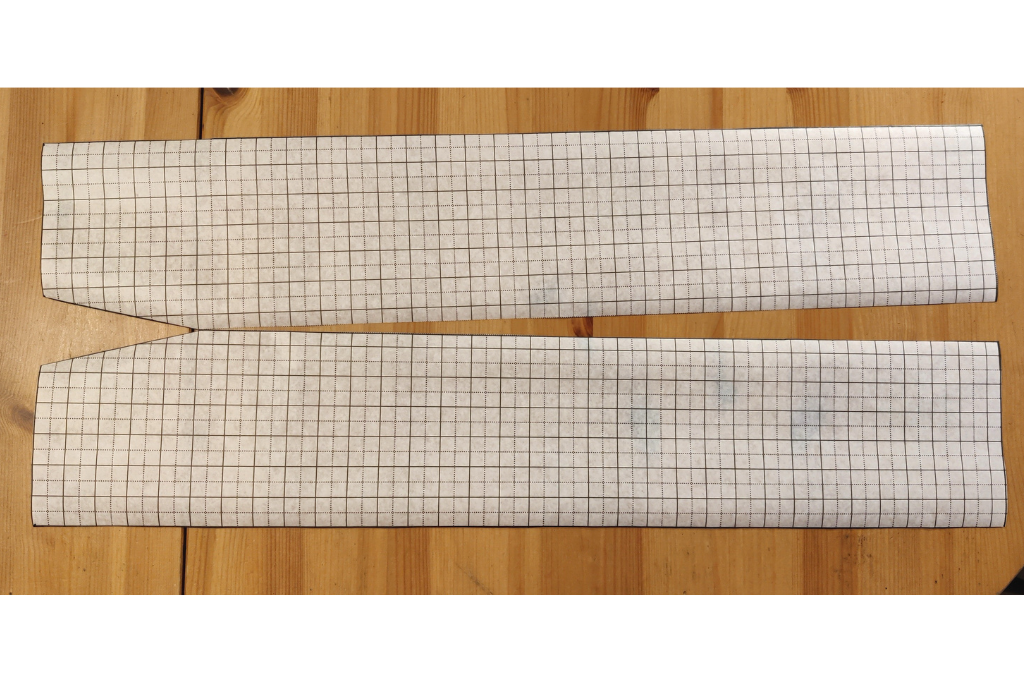 Push the sides of the triangle together and stick it with tape.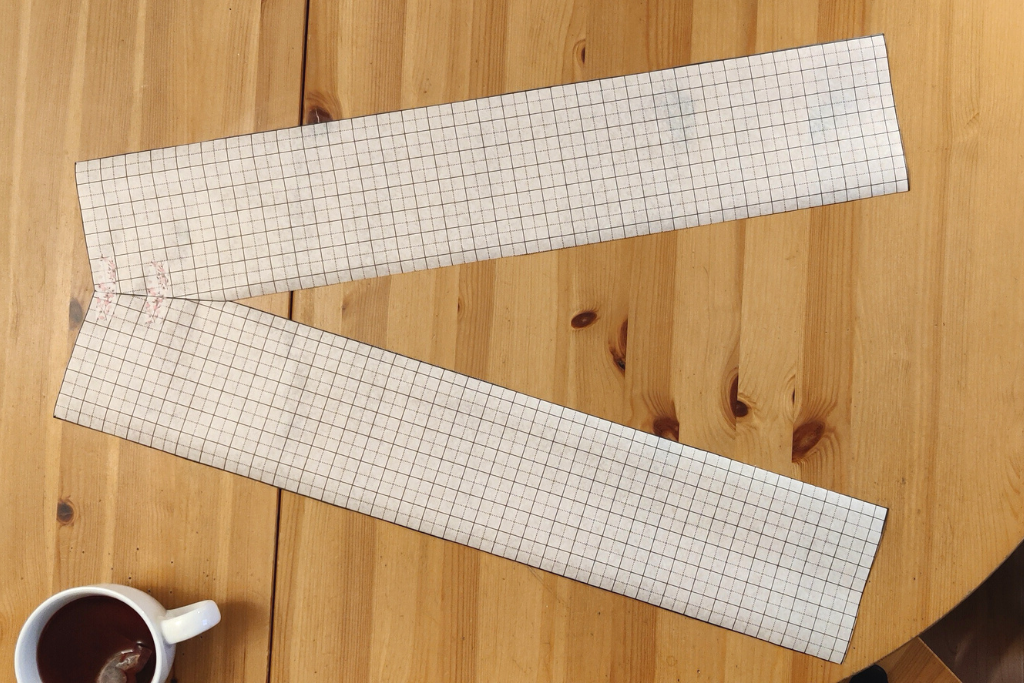 Now redraw the skirt. You might want to make the waist and the hem curved. Add the seam allowance.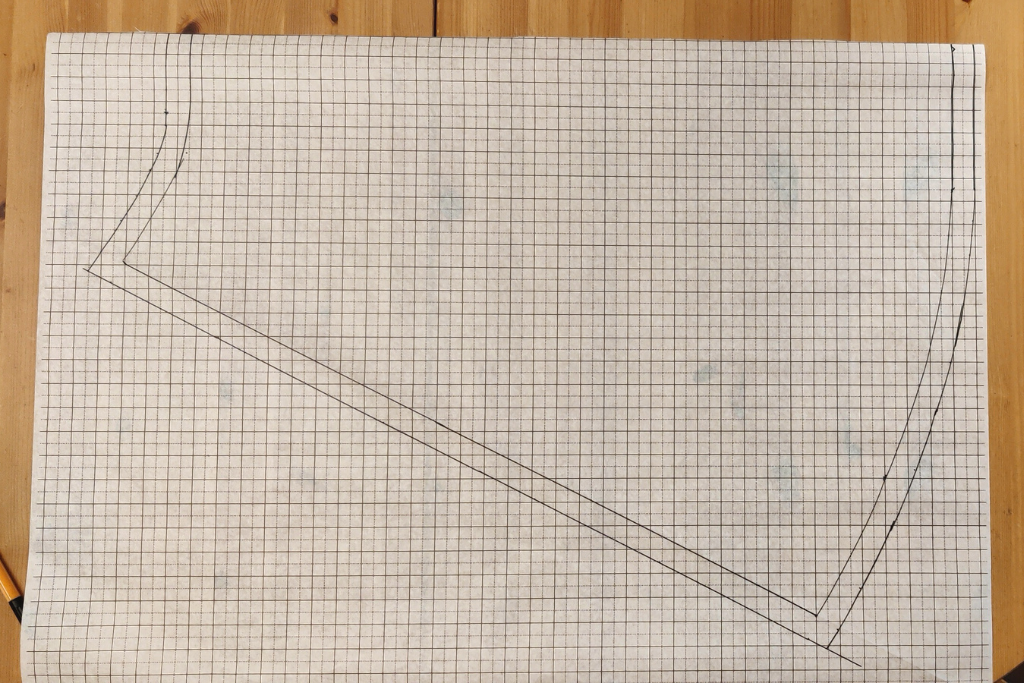 Last Things
I'll talk about assembling the dress in the next post. If you want to get ahead with your warm winter dress, here is what you can do.
Check that all your pattern pieces have a seam allowance
Cut out your pattern pieces
Buy your fabric. 3 metres will be enough, although if you choose something with a directional print, you might need a bit more. It will need to have a bit of a stretch to it. I chose a sweatshirt fabric with a fleece back.
You will also need a couple of metres of jersey bias binding.