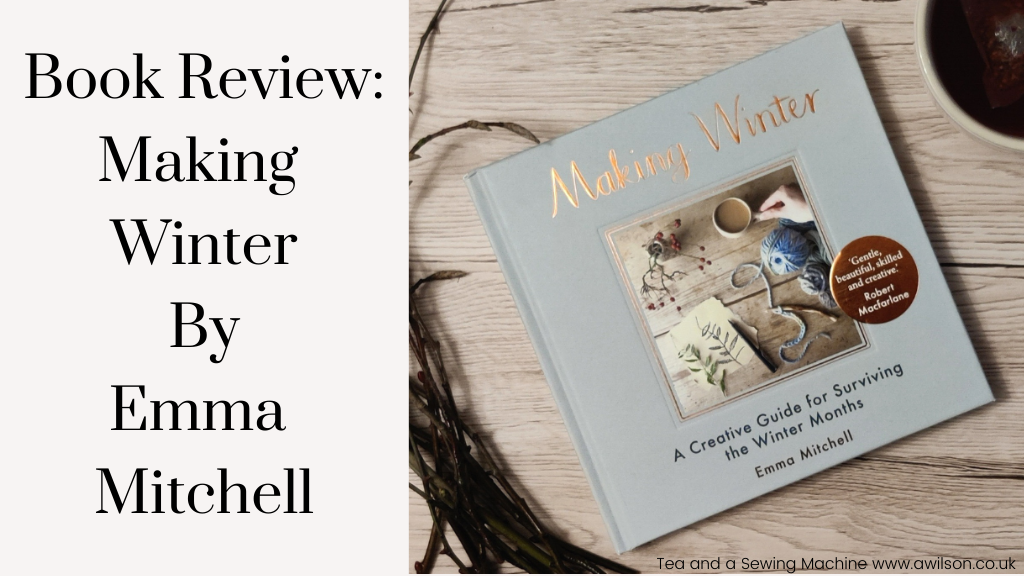 I think being a homebody is one of the reasons why I like sewing and making things.
With this being the case, it probably comes as no surprise that I like books and reading just as much!
My funny old house is stuffed full of books. Looking at them on the shelves around me, they feel like old friends. Especially the ones that I have read more than once!
I love a story book. There's nothing quite like getting lost in a story and almost forgetting that the characters aren't real! But I also love other kinds of books, especially beautiful books with lots of pictures.
Books about crafts often fall into this category. It's what I was aiming for when I wrote Things to Make and Do in the Autumn. I can't resist a craft book and they often have lovely pictures.
Making Winter
Making Winter is a beautiful book with crafts and recipes to make in the winter. The author is a self professed winter hater, and the book contains crafts and recipes to boost one's mood when the days are short, grey and cold.
There are crochet projects and recipes, ideas for nature journaling and ways to use things you might find while out on a walk.
In addition to the crafts themselves and the beautiful photos, there are several things in particular I like about this book.
It's a Seasonal Craft book That is Not About Christmas.
There are not many books out there that take a seasonal approach to crafting unless it's Christmas or else accidently ends up being summery. You'll know the kind of thing I mean, pictures taken in summer with flowers all around and sunshine, and items made in pretty, summery colours and fabrics.
There's really not much out there that acknowledges the dreariness of winter. Even as somebody who quite likes winter, it does drag on a bit. Some specific winter themed crafts that aren't all about snow or Christmas does help a person to enjoy it more, whether they like winter or not.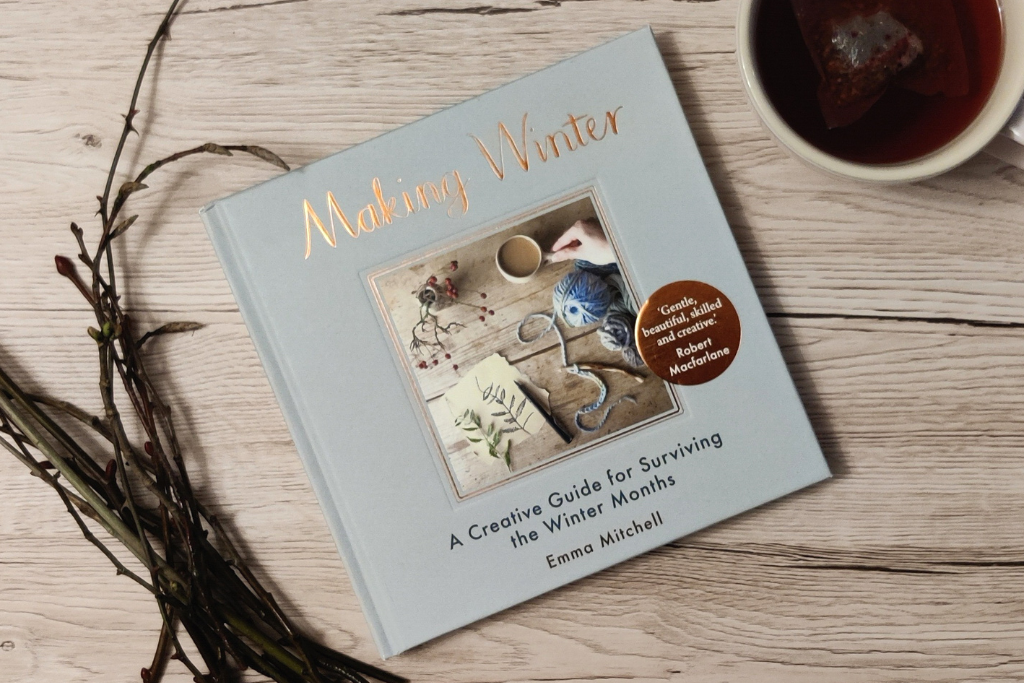 It Acknowledges That Using crafts and Making Things Can Help to Make Us Feel Better
This is something that as crafty people, we know, but isn't always acknowledged.
Making things helps us to feel better. Whether it is a chance to forget about the worries of everyday life while we concentrate on something else, a sense of purpose, a way to connect with countless women down the ages, or a combination of these I don't know. But what I do know is that it works. I've talked about it before in this post here.
It Encourages Us to Slow Down
We're all so busy and we spend a lot of time rushing around. Modern conveniences like cars and electric light, and supermarkets that stock the same things all year round regardless of the seasons, mean that we've lost touch with some of life's natural rhythms.
Living life at modern speed is not good for us. It results in deterioration of our mental and physical health, and burnout. Making things yourself, by hand, forces us to slow down.
I recently wrote a post about slowing down being part of the cycle. Winter is a chance to slow down, to rest and to plan.
The projects in Making Winter are by their nature slow. You're not going to crochet beautiful hawthorn inspired fingerless mittens in half an hour! And plum and ginger blondies are going to take a little while to cook. So take the time, slow down and make the most of it.
It Gives Us Reasons to be Out in Nature
Along with doing something creative, there's nothing like going out for a walk for lifting oneself out of the dumps.
It's almost irony that when I feel metaphorically in a sad and boggy place like poor Eeyore from Winnie the Pooh, going out for a brisk walk, ideally somewhere involving muddy, boggy footpaths does me no end of good.
If you are a city person, mud might not appeal quite as much! But there is still a lot to be gained from being out in the fresh air and in nature, even if the nature is a city park.
In the winter months, everything seems lifeless. Tree branches are bare, there are no flowers and everything looks dead. But if you look carefully, there are signs of life.
One of the projects in the book is to gather some twigs from trees and bushes that have buds on them.
I've noticed buds on horse chestnuts as early as November! Conker season is only just over and the trees are already preparing themselves for spring!
So you won't have to look very hard for twigs with buds.
If you know about plants, blackthorn, cherry and plum are good because they flower early in the spring.
I don't have much clue about trees, especially when there are no leaves on them to help with identification! So when I did this the other day, I just cut twigs at random that had buds on and we'll wait and see which plants they belong to!
The book contains more ideas for using things you might find out on a walk, including nature journaling, painting and sketching, making wreaths from hedgerow finds and making pendants by pressing leaves and plants into silver clay.
Finally…
I'd had my eye on Making Winter for a while and it didn't disappoint. It's a beautiful combination of doable and varied projects and lovely photos, including photos of the area where the author lives. It would make a nice present for somebody who likes to make things, or you could do what I did and buy it for yourself!
It's available on Amazon and this is my affiliate link here.