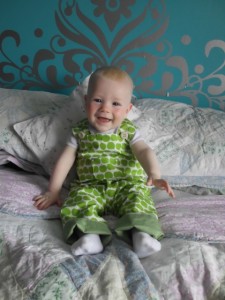 It had been a while since I had made anything clothes-wise for the boys. I think the last things I made for them were probably the dino hats. Boy 4 is growing alarming quickly, he'd been too big for most of the 3-6 months clothes since he was about four months, and he is now seven months. Husband finally had a rootle about in the loft for the next set of boxes last weekend. Unfortunately we only have a step ladder and he'd put most of the boxes where he couldn't reach them. So poor Boy 4 has five babygros, a couple of pairs of trousers and some t shirts.
Thankfully, while having a rummage (I'm always in the middle of a sort-out 😉 ), I found a Simplicity pattern for some baby boy dungarees that I had bought when Boy 1 was about the age that Boy 4 is now. I quite like to make my own patterns despite having no training in this area and I felt a bit of a fraud even considering using a commercial pattern, but you know what folks? I'm tired, Boy 4 is almost crawling (so wriggling and rolling and grabbing everything in sight!) and if it's good enough for the Great British Sewing Bee, well it's good enough for me. Using a ready made pattern meant that Boy 4 would get his dungarees sooner, they would probably fit and probably not look daft and I would not end up ruining fabric that cost almost £10 a metre :0
Anyway, using a commercial pattern doesn't mean necessarily following it to the letter. My motto for playing the piano is "thump out the tune and make the rest up" and this same attitude could be applied to making stuff from bought patterns.
I only made a few small changes in the end.
Firstly, my sewing machine doesn't do button holes so I added two loops of elastic instead.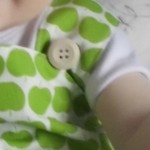 Secondly, I really, really abhor facings. Hardly any clothes I buy have them and the ones that do require ironing, which I do not do. A much neater finish can be achieved with bias binding or a lining. I opted for a contrasting lining, inspired by the dungarees on this lovely blog The Crafty Kitty .

Thirdly, I didn't want to applique any of the weirdness the pattern people suggested. Dungarees need a pocket. Unfortunately I put it a little bit to low and the pocket is on Boy 4's tummy instead of his chest.
Lastly, the dungarees didn't need the elastic. They fitted perfectly well without it, which saved me some brain-ache how I was going to attach the elastic between the outer fabric and the lining.
I considered changing the shape of the back but decided it was too much of a faff. I wasn't sure about the shape of the front either but I felt in the end that curves were probably easier to get neat with a lining than pointy corners.
I'm quite pleased with the results! There's some growing room but they fit him and he looks comfy. Two more pairs are currently in the cutting out stage and I am contemplating making him some warmer ones in the autumn. I might have to size them up a bit though if he keeps growing at the same rate!