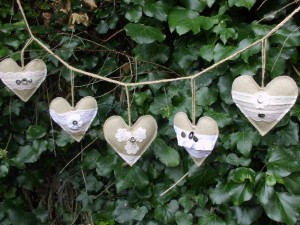 I've been inspired recently by some beautiful things I have seen made by some very talented people, both on the interweb and in magazines, using burlap, linen, lace and vintage buttons. Little purses, bags and decorative objects, all just lovely 🙂 It occured to me that a burlap or linen heart garland could be something special.
I was having a sort out (I usually am 😉 ) in my bedroom, mostly in an attempt to unearth a space in there to use as a craft area, when I found a bag with some bits of fabric in that I'd used for making cushion covers about ten years ago. In there was some burlap. Hooray!! I got some lace and some vintage style buttons off Ebay and got thinking.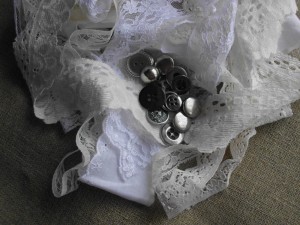 The first issue was how to actually make the hearts. Burlap is very thick and not really all that bendy, compared to craft cotton. It also frays quite badly, so making squishy hearts like I did for the other heart garlands was not going to be possible. So I decided instead to back each heart with interfacing to reduce fraying, then join each pair of hearts by sewing them together on the right side, then stuffing.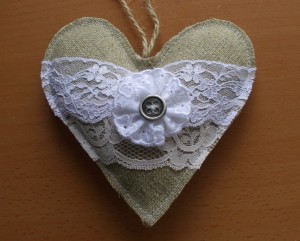 With that sorted out, I could turn my attention to decorating the hearts. I wanted to make each one different. For the first one, I layered two pieces of lace. Then I gathered a piece of broderie anglaise until I had enough to make a circle, then I attached a little button and sewed it onto the middle of the heart.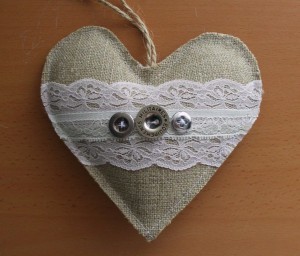 In my bag of goodies from Ebay, I found some pale pink scalloped lace. For this heart I used two pieces of scalloped lace and covered the join with a piece of cream lace. I chose three different buttons and sewed them to the middle of the heart.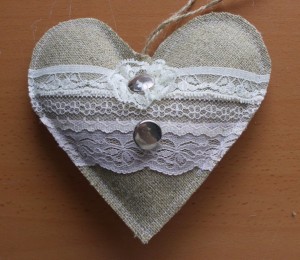 I took the same approach with this one: three pieces of lace layered, 2 shiny buttons and a lace flower made in the same way as the broderie anglaise one.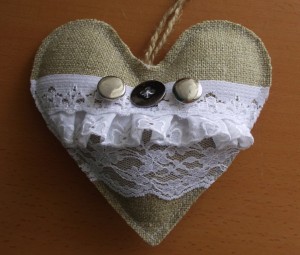 To make this one slightly different, I gathered some borderie anglaise and sewed a layer of lace to cover the raw edge at the top.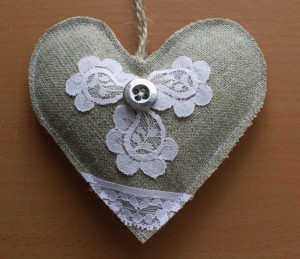 For the last heart, I cut some flowers out of a piece of lace and sewed them on, using a button as a focal point in the middle of the heart, and a small piece of lace at the bottom (which I unfortunately did not manage to attach straight!!).
With the fronts decorated, my next task was to attach the loops. I used some jute twine to compliment the burlap, sewed to the hearts at the back of each pair. Then I sewed each pair of hearts together and stuffed them using polyester filling. To assemble the garland, I cut some lengths of twine and plaited them together, adding the hearts as I went.
Now I've finished it, I've got lots of other things planned to make! I've got two more heart garlands ready for assembly, one pink and one blue, both will say "BABY". I had an idea to make personalised garlands too, with a child's name instead of "BABY". I need to get making kits for Christmas decorations too, and I want to make a changing bag for the baby, ideally before he arrives!! He's due in 7 weeks so I'll have to get on with it 🙂